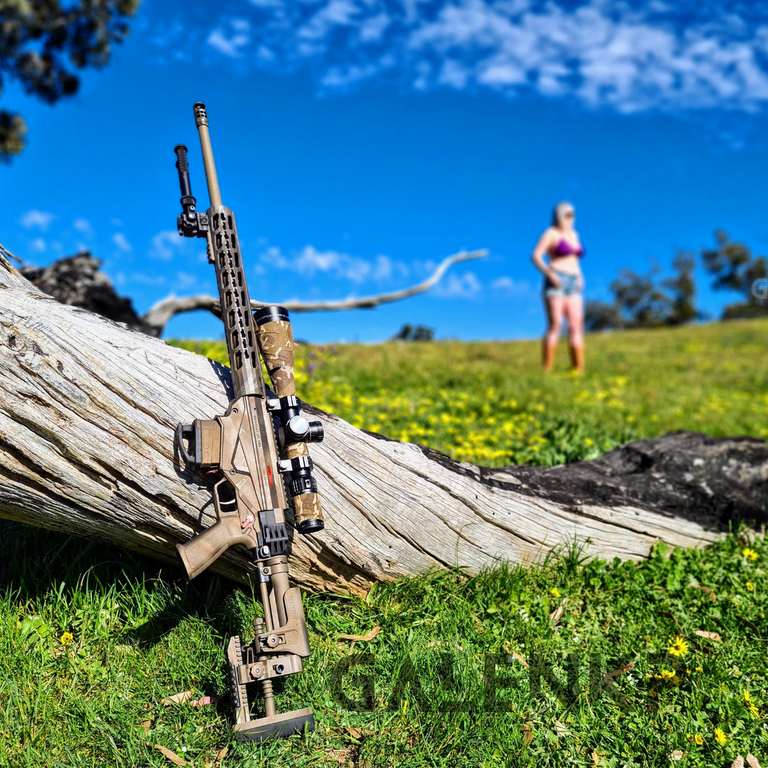 If you were at my front door you'd accurately determine how far the door was from you right? Let's say one metre. If you were looking at my house from several hundred of metres away would you be able to judge the distance that accurately, to within a metre? No, probably not.
---
---
I'm a long-range rifle shooter and can make accurate and repeatable shots at well over a mile; I never disclose my true limit, but it's a long way out there. Many things come into play to make shots like that, most of which I've written about previously, but one of the most fundamental is knowing exactly how far away the target is. Without that knowledge, to within a metre or so, shots miss - Not acceptable.
The easy way - Laser tech
I've used laser rangefinders a lot; This technology shoots a laser onto the target which returns to the device giving an incredibly accurate range-reading, to the metre, very quickly.
The range is then combined with a lot of other information to determine a field firing solution (FFS), meaning the amount of elevation and windage to input into the scope to make the shot.
Temperature, altitude and humidity combined as Density Altitude, wind speed and direction, azimuth, spin drift, Coriolis effect, muzzle velocity, the speed and direction of the target (if moving), projectile specifications, aerodynamic jump and other elements all combine to make a long-range shot possible, and knowing the range to the target is also vital.
On a firing range, distances are known, marked with flags or range-markers in intervals, but in the field the shooter must obtain the range to target for himself/herself; with laser technology that is easy enough.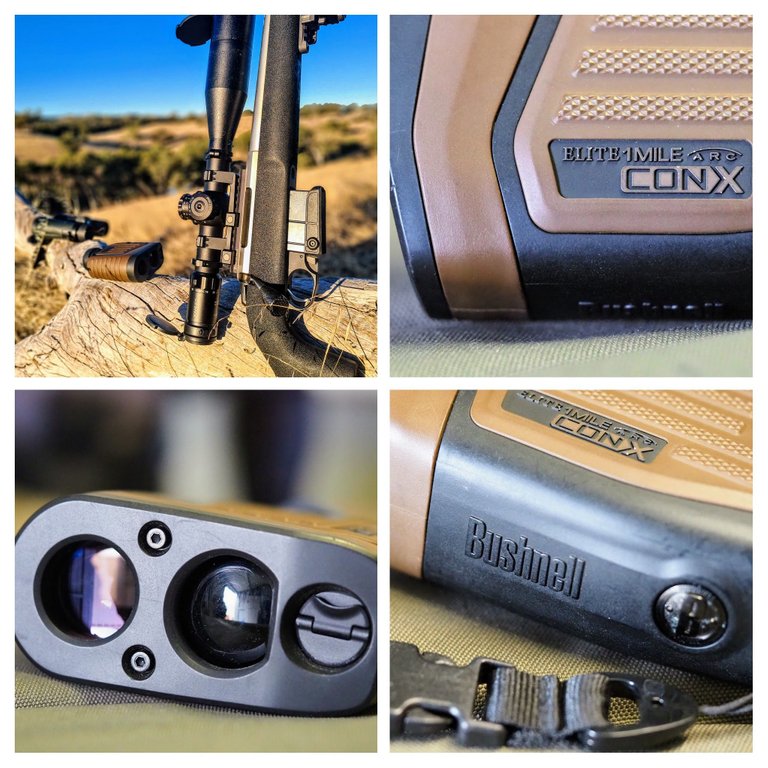 Images of my laser rangefinder above; you can see it in the field also, top left, sitting on the fallen tree to the left of my culling rifle.
I currently use the Bushnell Elite 1 Mile CONX which ranges out to one mile (1609 metres) with relative ease.
I've used much better equipment, Vectronix rangefinders, used by the military; they're generally cost preventative though and most of the really good ones are government-regulated meaning restricted to military applications, anyway. Some have a range of twenty five kilometres and more and are used to range targets for missile and artillery strikes and other such devastating purposes like long range shooting, none of which a civilian would need...unless they're a terrorist I guess...hence why they're regulated here.
The one I use is awesome though, works very accurately and suits my needs, and at $1,200 AUD was affordable enough. But what happens if it breaks or the battery goes flat in the field?
A less techy solution
I can range-find with the naked eye. I practised by looking at things in the distance, guesstimating the range then range-finding them with laser equipment to see how accurate I was. I'm reasonably good at it, but sucked at first - Practice makes better though.
This only works out to fairly close ranges though, a couple hundred metres, and is not one-metre-accurate; at greater distances accuracy is much-reduced. With long range shooting, small margins of error mean failure to impact one's target and a lower hit-probability and that's never a good thing.
But there is a way to do it with almost perfect accuracy using just the rifle scope...and one's eyes, some geometry and mathematics.
But first, some information on milliradians for perspective.
Mil-whatians?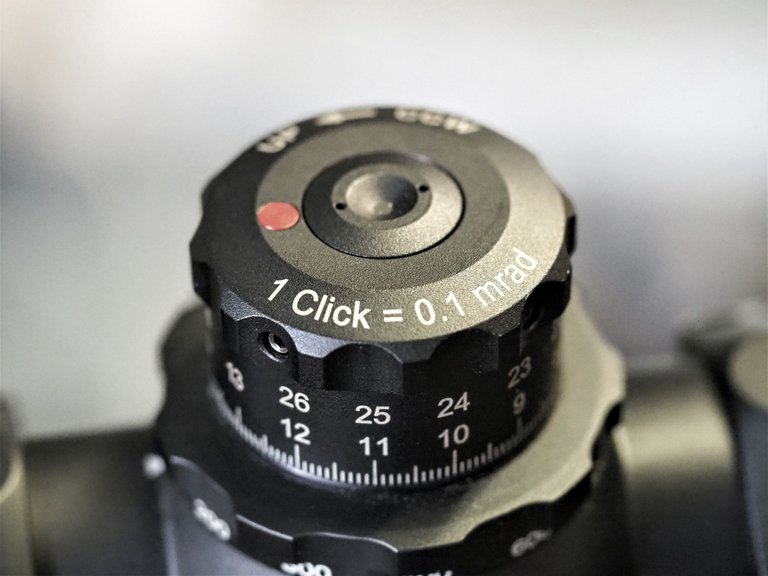 The elevation turret and MRAD adjustments on my Kahles k624i 6-24x56 rifle scope.
Milliradians [MRAD] (Sorry this part is kind of technical)
My scopes all have reticles with hash-marks in Milliradian (MRAD). MRAD is an angular measurement of part of a circle and, when applied to a reticle, allow the shooter to get better results from the rifle scope, shoot more accurately and to greater distances with a greater hit-probability and repeatability. There's other measurements used for the same thing, MOA for instance, but I use MRAD.
But what the hell is it?
Imagine a round pizza (or simply a circle as below) cut into six even slices with each beginning in the centre. The distance around the outer arc (crust) of one of those slices represents one radian.
To explain...The circumference of the entire pizza (circle) is two times Pi times the radius right? As we all know, Pi is 3.14159265 with some more numbers on the end, but let's say 3.14 ok? That means the entire circle of pizza is 6.28 radians...so, the outer edge (crust arc) of each of the six equal slices will be about one radian, as depicted in red below.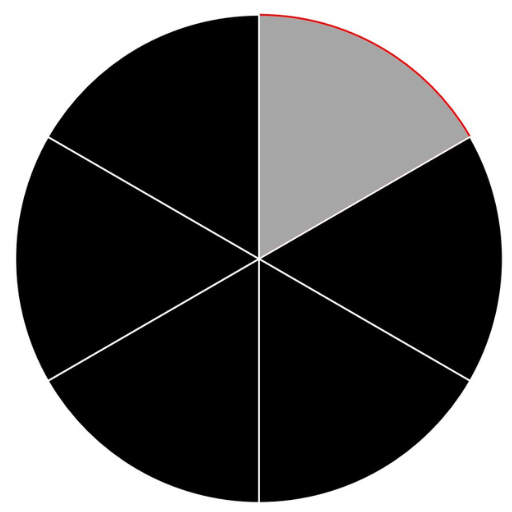 That's not so hard right?
Imagine just a single slice now - the grey one above - there's the pointy end and the outer arc in red right? Got that image? Just remember that that's one radian.
Now, imagine we cut that single slice (the one radian) into one thousand perfectly equal slices from the centre-point to the outer arc...now we have milliradians. See how easy it is? One thousand milliradians all side by side within the radian, like one thousand very thin slices within the slice.
Imagine that single pizza slice with the thousand milliradians in it again...now imagine it is one thousand yards in size from the pointy end to outer arc...the crust. Got that?
Now imagine the one thousand slices we cut it into again...The outer edge (crust) at 1000 yards from the centre-point will be precisely 36 inches (a yard) wide at the outer arc edge (the crust part) which means we now understand and accept that a milliradian at one thousand yards is equal to 36 inches (one yard). That means at one hundred yards, for instance, it's a tenth of that, so 3.6 inches.
The further out towards the crust of the pizza slice we go, the wider it becomes because the diverging lines - the angle. MRAD is a simple angular measurement.
Because I can't insert a thousand milliradians into the slice below I've just used the arrow to depict one milliradian, of course, the arrow is not true to the angle as it's not made of diverging lines. You get the idea though I guess.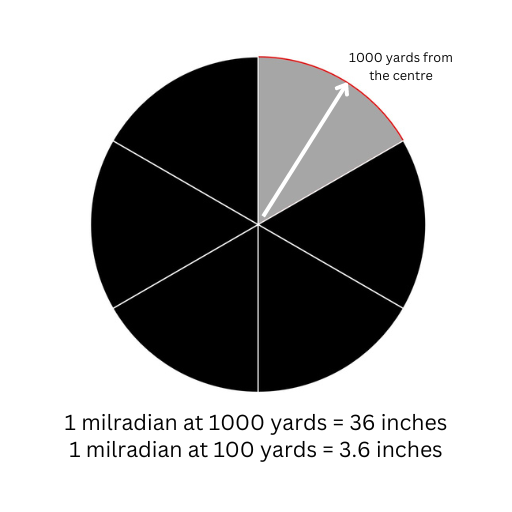 Anyway, that's milliradians in a nutshell just to set a basic understanding of the measurement and how it works. I went through all that above so that we all understand that angles are distance-proportional and because proportional relationships can assist us in determining the range of a target as I'll demonstrate below.
How it works in the field
Before we bring it all together we need a little more information and that can come in many different ways.
The whole concept of gaining a range using the scope and milliradians relies upon understanding the height of something downrange and applying a simple formula using that information. Let me explain.
Bad guys don't broadcast their height measurements, right? So we need some other reference which can be any known height downrange where the target is. Stay with me, it'll all make sense soon.
The front door to a house for instance...they're generally standard heights. An army tank track or turret height, roof-height of cars, road signs, 44 gallon water/fuel drums, jerry cans, an AK-47 leaning on a wall, RPG-7 (rocket propelled grenade launcher), a Humvee, Bushmaster, Land Rover, market stall roof, power pole, fence post, telephone or postal box...all have reasonably standard heights when found in the same area of operations and, if known, can be used to get a range using a simple formula...and all because we know that...at one thousand yards a milliradian is precisely 36 inches; it's proportional mathematics.
You'll not go wandering about measuring things, you'd look like an idiot; but long-range shooters will, and do, as it could be critical information if and when their laser rangefinder breaks down. Most of the information is available without having to wander about in hostile territory through studying data on previous engagements (DOPE), but a decent long-range shooter will verify data where possible; accurate shots may depend on it.
Now, lets get to the exciting bit; the formula.
Mil-ranging
Looking through the scope shows the shooter the reticle, see the example below taken from my ballistics solver, StrelokPro. There are many different reticles, the one you see below is the SKMR3 reticle in my Kahles k624i 6-24x56 rifle scope.
You'll notice those little black hash-markings - just ignore the red numbers ok? Those black hash-marks are used to make shots and also can be used to range a target. They measure in milliradians. This scope is also a first focal-plane scope meaning when I add or take away magnification the markings still measure 1:1 in MRAD (consistent subtension).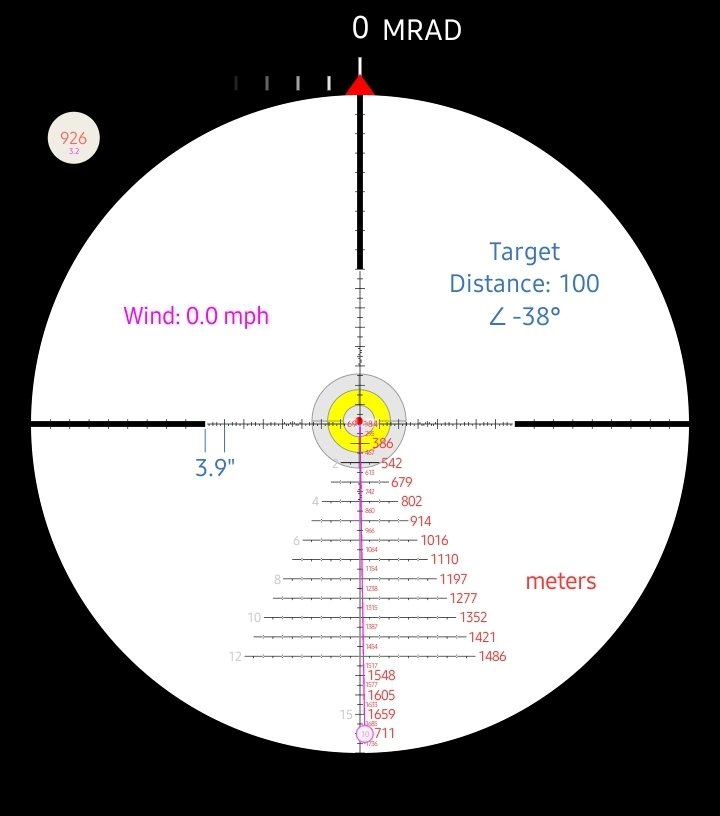 So now you know what the reticle looks like, here's the magic, but very simple, formula that allows me to range a target without a laser rangefinder. It's pretty simple if the height of something near the target is known.

The mil-ranging formula.
Here's what we know, if I placed a thirty six inch tall (one yard high) garden gnome at one thousand yards it will measure in the scope as one mil on the reticle. We know that because...one milliradian at 1000 yards measures precisely 36 inches (one yard) remember? Don't worry, the garden gnome is safe...but let's consider a real world situation, a terrorist down range.
Let's say the fellow is laying next to a Humvee which, we all know, has a roof-height of two yards (72 inches) - You can look that up if you like. I measure up the Humvee, ground to roof, through my scope and see it measures four mils tall in the scope. Great, now I have something to work with.
Applying the mil-ranging formula as below gives me a range of 500 yards (457.2 metres) to the target.
What I've done is use the known height of the Humvee roof, two yards/72 inches, to work into the formula because the chap is laying next to the Humvee - How tall he actually is doesn't matter at all, I know the range now, input the correct elevation adjustment to the scope and aim for the cross-hairs and...shoot.
Below the black up-down arrow shows 4 mil measured on the scope and I've added the Humvee Used as the known height.
72 inches (represented as 2 yards)* 1000/4 = 500.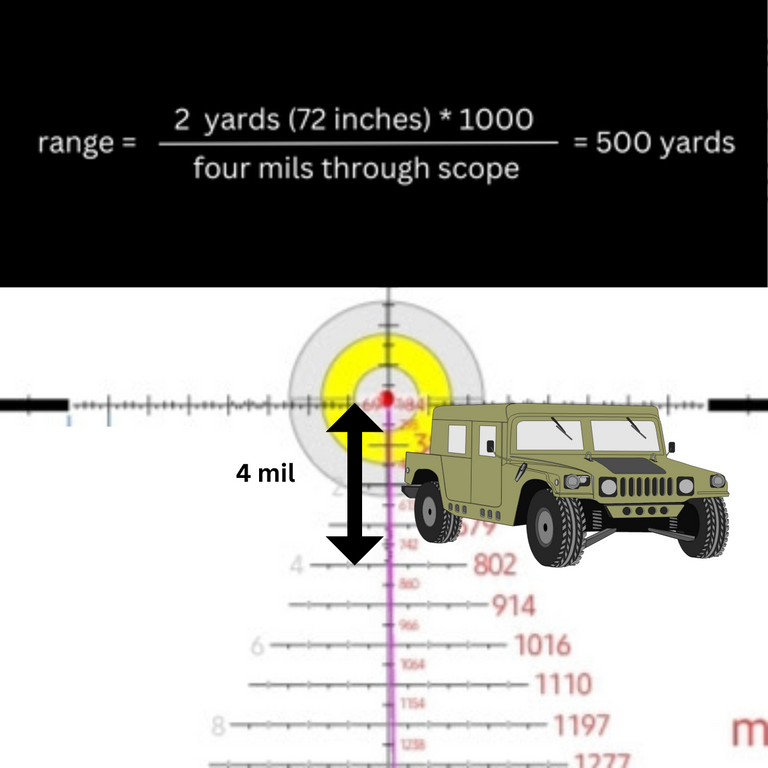 Forgive my nutbag graphics design work, I'm a good shooter, but a shit graphics artist. Also ignore the red numbers.

The mil-ranging formula using real values
You can see how knowing the height of things around the area of operation is vitally important to figuring out the target range and once that is known a field firing solution (FFS) can be created and the shot taken with confidence. How often is this technique actually used? Preference is given to laser rangefinders these days of course, but this method has been used and will be again when needed.
I love the technology of laser rangefinders and ballistics calculators (StrelokPro for instance) and how they simplify a shooters process of shooting at long-range, but I'm a prepared man and not having a back-up method isn't my way. I need to know how to do what I do without the reliance on tech and whilst it might not happen as efficiently, the outcomes are usually the same.
---
This is a very basic explanation of some of the concepts around obtaining a target's range using a reticle, the eye, some geometry and math. I've kept it straightforward and simple and explained things in terms anyone could understand I think.
So many people think shooters are idiots who pop pumpkins in the back yard whilst swilling beer and, sure that probably happens, but not in my world; I'm a serious shooter, have serious skills and, whilst I depict myself as a nutbag and knucklehead most times, am neither. A lot goes into shooting at long-range effectively, safely, with high hit-probability and with repeated results and it's concepts like above that all come together to make it happen. I've spent thousands of hours in the field and classroom learning my craft and many countless more keeping those skills sharp.
That's it folks. If you have any questions feel free to ask in the comments and I'll answer as best I can.
---
Design and create your ideal life, don't live it by default; tomorrow isn't promised so be humble and kind - galenkp
[All original and proudly AI free.]
Any images in this post are my own. Main image is one of my ling-range rifles.