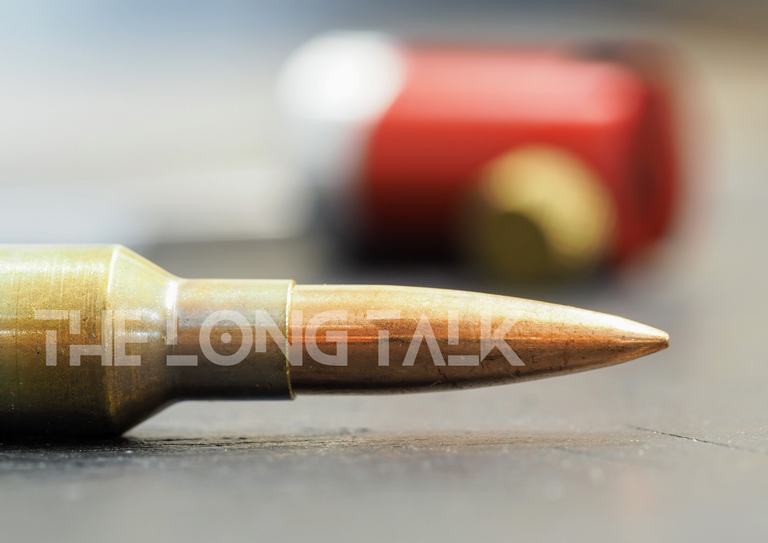 "The scientist is not a person who gives the right answers, he's one who asks the right questions."
Claude Levi-Strauss
You'll know I've been a shooter for over thirty years if you follow and read my posts. I'm good at it, I won't lie. I hope that doesn't seem immodest; it's just a fact. I'm good at it because I'm trained, because I train and practice and because I do it a lot. Shoot.
I'm often running-and-gunning on the range working on speed and accuracy, movement, shooting and moving, draw and target acquisition among other various things required to operate effectively. I'd say safety here but I don't need to, that's intrinsic to who I am and happens without thought.
My true love is the long gun though, my long-range rifle systems which I operate with great effectiveness, accuracy and speed at great distance; sixteen hundred metres and more - The real number shall remain off the blockchain.
Banging away on my long guns is pure to me; the combination of many things coming together all at one instant to ensure an effective shot - that is - a round on target, in the intended spot on the first shot. It's joyful...But you'll not get it unless you do it, or know and appreciate the many elements that come together to make it happen. I don't just mean aiming and pulling the trigger. There's a long list of elements from making the ammunition [I make my own] to rifle-system set-up, equipment quality, reading the environmental conditions and many other factors. Science is involved and without it the result is not possible - A simple fact.
The talk
Last week I spoke to a young chap, [thirty is young] who knew I was a shooter but had never discussed it with me. He asked about long-range shooting [he called it sniper shooting] and I'll admit in my head the thought was, here we go G-dog, another fool that want's to tell me about all that firearms knowledge he learned on PlayStation. I settled in for the long talk but,hmm, what is this? intelligent questions? What madness is this?
The chap wasn't interested in what I kill or have I've killed. Didn't spend much time on my longest or most difficult shot. He didn't want to see pictures of my rifle-systems nor did he tell me about the Barret M82, SSG 69, Arctic Warfare Magnum by Accuracy International, SAKO TRG 42, R93 Tactical by Blaser Jagdwaffen, SSG 3000, McMillan TAC-50, the CheyTac M200 Intervention rifle or any other weapon-system or platform preferred by snipers, and there are many. Nope...He asked not told and the words PlayStation didn't come up once. Ok young fellow, you have my attention now.
We had a great conversation about the science of long-range shooting in which he asked about the effects of altitude, humidity and temperature upon the trajectory and how the shooter reads it, adjusts and accounts for it. In this case I talked about how I combine those three things into a single measurement called Density Altitude and how that is applied through my ballistics solver and then to the rifle-system itself via the scope elevation and windage turrets.
That brought up then the Coriolis force and Eötvös effect on shots taken due East or West force upon a projectile sent at long-range - The turning of the earth. A bullet in flight isn't subjected to the Earth's movement whist the target [if on the ground] is. I went into some detail on how the shooter accounts for it, calculates speed of the target, angle of movement and therefore where the round needs to go to eventually meet up with the target. More science.
I spoke about aerodynamic jump which can effect shot placement. It's the effect of a bullet fired into cross-wind which causes the bullet to yaw in an attempt to align with airflow. The resulting gyroscopic action will cause it to nose-up or nose-down marginally which will change the point of impact if not accounted for or understood.
Questions kept coming
Muzzle velocity and effect of inaccurate measurement, uncalibrated scope-clicks - 0.1 MRAD not being 0.1 MRAD all the way through the scope adjustment, headwind, tailwind, incline [slope angle] and inaccuracies in those calculations, light conditions, mirage, wind-calling, parallax and correct adjustment of it, station pressure, barometric pressure and their differences, spin drift, bore temperature, reloading techniques, neck-tension, load development, different powders and primers, projectile weight and shape, drag-models G7 and G1 [ballistic coefficient], scope height from the centre of barrel, MRAD and MOA, rifle-system zeroing. There's more, and more with each thing effecting the end result in some way. That effect means a miss down range if not considered.
All of that without talking about equipment, set-up, shooter-technique, gaining DOPE [data on previous engagements] and other elements that go into a long range shot.
What struck me was the excitement on this blokes face as I explained the concepts, even as basically as I was doing. I could tell he was interested in the science which is rare to be honest; most just want to shoot guns.
Towards the end I told him how impressed I was with his questions, the interest he showed and the fact he was clearly after more. Don't worry little fella, there's more. Way more. He never once mentioned going shooting with me but asked if he could ask more questions some time. Of course I said yes and suggested it would be easier to show and explain than simply explain. He was up for it. That means he'll get to shoot.
It was a cool long talk and I was happy to represent a thing that is often misrepresented in society these days. It was nice to demonstrate that firearms are nothing to do with getting drunk on a case of beer and shooting watermelons in the back yard.
---
So, that's about it I guess, although I felt inclined to share a few of my other posts on various topics around firearms. If you're keen you can click some links below. I always try to write in a very basic, non-technical, fashion so most should be able to follow them.
Send it
Size matters
Going long
The grain
Weighed and measured
Box test
Levelling up
The DOPE
Get fingered
Cold bore DOPE
Anti-reflection device
Get measured
---
Design and create your ideal life, don't live it by default - Tomorrow isn't promised so be humble and kind
Discord: galenkp#9209
Image is mine