Safety: The condition of being protected from, or unlikely to, cause danger, risk, or injury.
As someone who has operated firearms for over thirty years and done a great deal of shooting I've learned many things with the most important aspect being firearm safety.
Firearms are dangerous, there's no question about it; Of course a firearm in isolation is harmless; But put one in a human hands and it becomes a very dangerous tool...Much like a car in the hands of a drunk driver or a knife in the hands of a crazy person with murderous intent...Harmless inanimate objects, until a human comes along.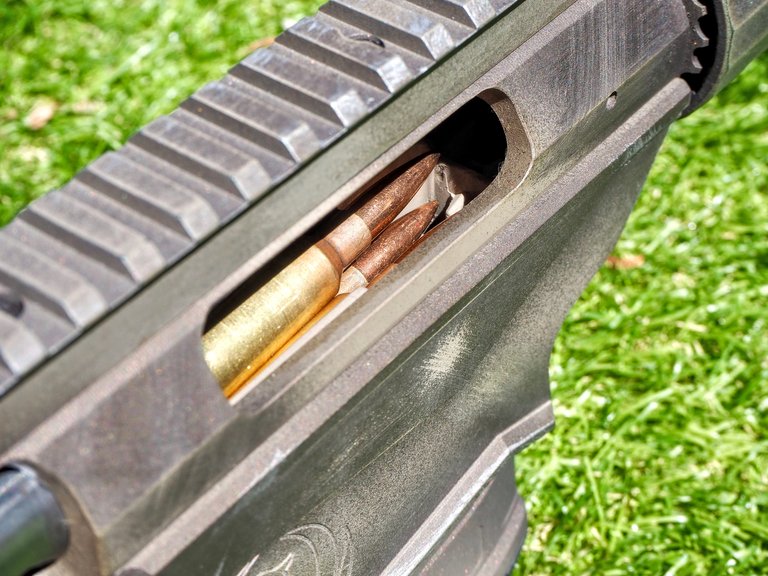 A round ready to go into the chamber and the next waiting to push up.

So, firearms are dangerous when in the hands of human beings and safety is a very important element of firearms use; When done well firearms are enjoyable and when not done well people can get injured and killed.

Over the years I've seen many dangerous and unsafe things occur around firearms; Some so shocking that they begger belief and there's several that reoccur all the time...All of which are stupid, unacceptable and avoidable through common sense and proper training. Some though are a little less common but equally dangerous.
---
The firing process
In very simple terms, when an operator triggers a firearm the firing pin is released and it strikes the base of the primer; The resulting explosion is forced through the flash-hole into the case of the round which is full of gun powder. It also ignites and the expanding gases push the projectile along the path of least resistance, the barrel and out the muzzle to head down range.

That all happens safely within the chamber; All those explosions would be extremely dangerous if they occurred out in the open.
Hangfire
The term hangfire is used when that process does not happen correctly; When there's a delay between the trigger-pull and the ignition of the propellant and subsequent firing of the projectile. When it happens the delay could be unnoticeable or even up to several seconds. It generally occurs through a light primer-strike or bad ammunition but a damaged firing pin, failure to close the bolt down properly, reloading issues and even using the wrong grease can cause it.

Of course, there's many reasons a round may not fire which are not hangfire's such as malfunctions, faulty primers, dud rounds and so on, however unless the firearm has clearly malfunctioned the safe course of action is to wait...Simply wait, and this is where many people go wrong either through inexperience, ignorance, lack of training or sheer stupidity.
Handling a hangfire
The correct process, if the operator is sure the firearm has not malfunctioned, is to keep the firearm pointed in a safe direction for thirty seconds waiting for the round to actually fire which it may, or may not. After that time the round should be removed from the chamber and dismantled, or destroyed. Of course, when in combat this never rarely happens as a working firearm is much more important. In these cases the round would be ejected, firearm reloaded and operations would continue within a second or two...One doesn't want to be waiting around for hangfire's whilst in a firefight.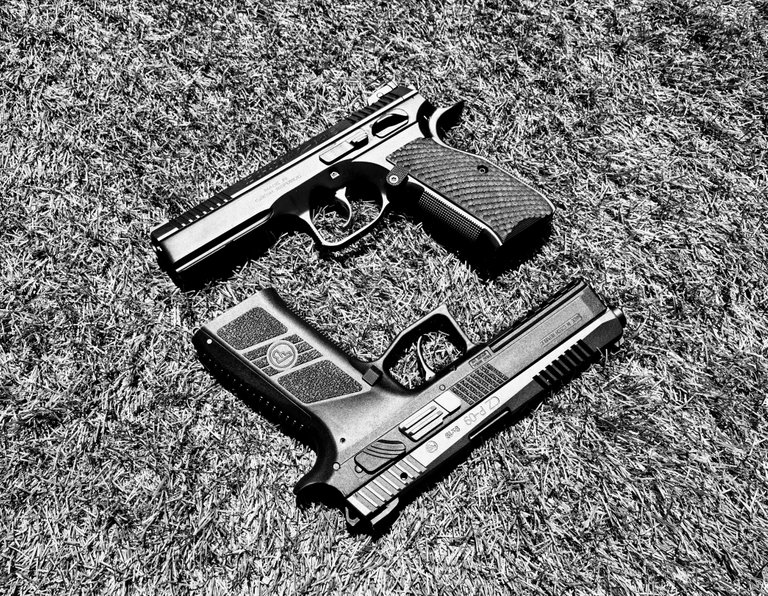 A couple of my handguns making shapes on the ground

The idea behind the hangfire rule is to keep people safe which is why the firearm is pointed in a safe direction like down range. The round is left within the chamber for that half-minute period as that's the safest place for it to go off. If ejected immediately and it then ignited it could cause serious injury to the operator or others around. Keep in mind when laying prone behind a rifle ones head and face is only a few centimetres away from where the round ejects. It could easily take an eye or worse. I've seen people eject and pick up rounds that haven't gone off...A nice way to lose some fingers and an eye.

Hangfire issues were very common in the days of inconsistent powder-quality and firearms with open primer-pans however it happens still with modern firearms and ammunition; Not often, but it happens. This why I put so much effort into teaching new shooters about it, and the other safety elements prior to letting them do live firing at the range. Safety is the key focus with new shooters, most of whom just want to start banging away on the guns. They laugh and joke until I pull out some photos of people who got it wrong.

I had one person pull the trigger on a handgun and nothing happened, they spun on their heel, firearm now pointing at me, and said, it didn't go off. I hit the deck and yelled at them to turn around and point the handgun down range. It was my fault of course. I'd gone through the safety requirements, but clearly not well enough. I've heard stories of people turning the gun around and looking down the barrel too, which you do not want to be doing.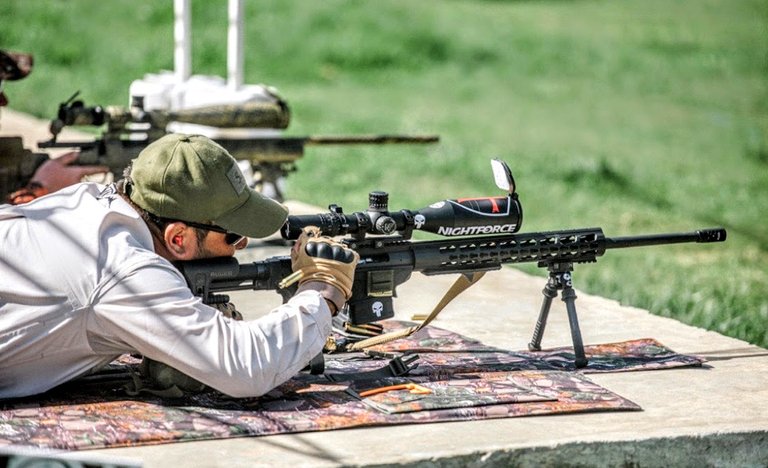 Me doing some shooting. If you look carefully you can see the ejected case still in the air just to the edge of my hand

I've also had hangfire's of my own of course; Only three or four in thirty years but all were only very slight delays of under a second...It seems like a long time when behind the gun and expecting it to fire immediately though. Naturally I handled them as per procedure...There was no looking down the barrel.

Hangfire's are reasonably common, but not as common as poor firearm safety; The rule of thumb is to get educated and properly trained. I know people who say they read books and learn about firearms in that way and I agree that some knowledge is better than none, but some knowledge can also get a person into a lot of trouble too...I mean you can read a book about brain surgery but it doesn't make you a brain surgeon right?

With firearm safety there should be no compromise and there's nothing better than instruction from a qualified person; Lives depend on it.
---
Design and create your ideal life, don't live it by default - Tomorrow isn't promised.

Be well
Discord: galenkp#9209

This is not designed as a training document or exhaustive text on the subject and the information contained here should not be relied upon. You are strongly advised to do your own research on the subject matter.