It sped through the air on the way to the target travelling at 2843 feet per second, well over twice the speed of sound, but slowing as it went...At that speed the distance to the target closes quickly and in only 1.6 seconds it impacted after slowing to only 1487 feet per second...1000 metres away I saw the impact through my scope, and the target drop - It simply collapsed as the imparted energy from the projectile transferred into its head. I felt...Satisfied. The cold bore shot went where I sent it and did it's job. I worked the bolt to reload and settled in to scan for more targets silently satisfied that all the work I'd put in verifying my data was well spent.
[Image removed]
---
A few days ago I wrote a post about cold bore shift, how to map it and why the data is so important to a long range shooter. It was called cold bore dope and this link will take you to it.
Today I want to talk about the last step for a marksman in gaining confidence in his or her rifle. This step has a few different names but I know it as trajectory validation and it is simply the method in which the ballistics calculator (solver), StrelokPro in my case, is tuned to the rifle, scope and the ammunition - It is essential if a marksman wishes to make cold bore shots and get first-round hits on targets. I'm not talking about shots at close range, I'm talking 800 metres plus and more...Out to over a mile and more where every minute detail matters.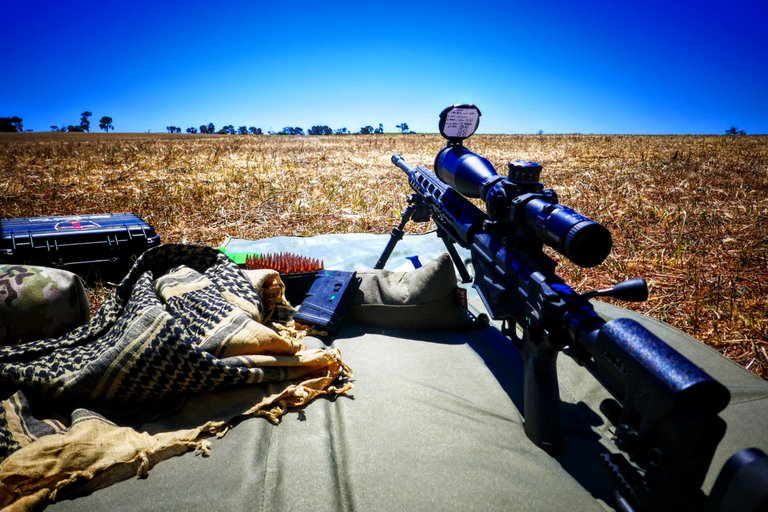 Basically what one does during trajectory validation is ensure that the data in the ballistics calculator is adjusted perfectly to the data that was shot in the field. Below you can see the trajectory page from StrelokPro.
Here you can see the tested muzzle velocity in blue, my shot at 700 metres using 4.7 MRAD of elevation and the calculated muzzle velocity based on that shot. It's different than that as tested and so this data is adjusted in the calculator and is considered validated at 700m. On to 1000m validation. Generally I'd want those two figures, tested and live-fired, to be no further apart than 20 feet per second (fps), but they need to match, and so I adjust the calculator.
Read on for the process.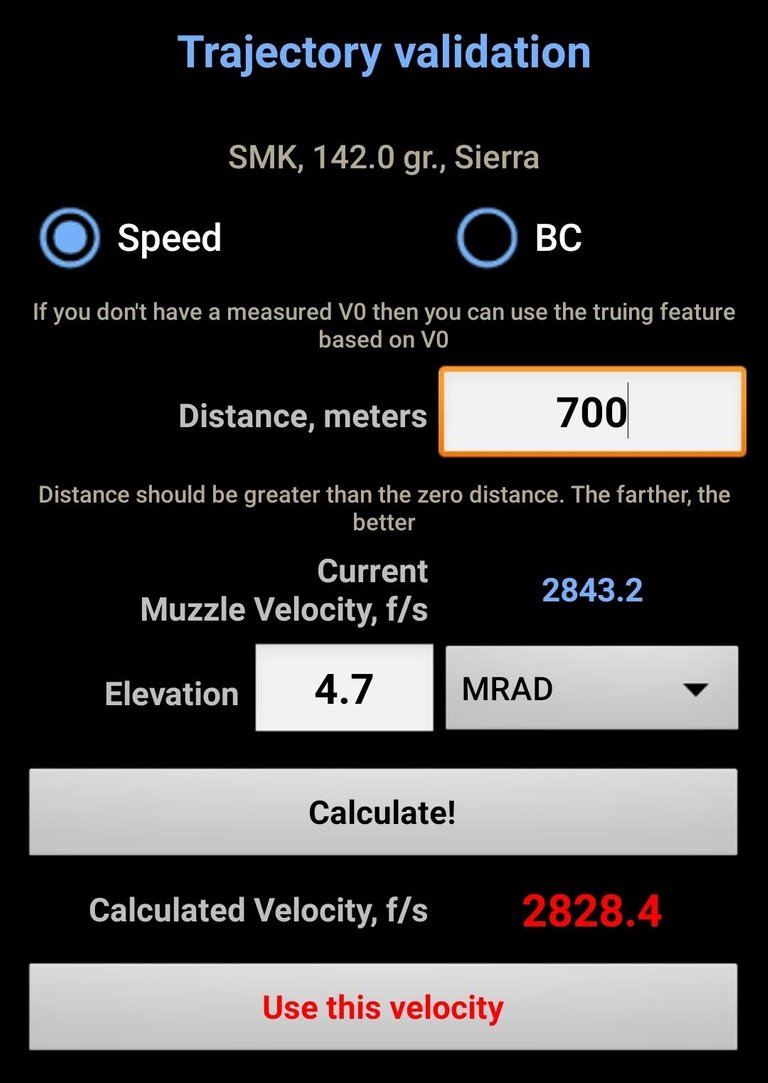 Trajectory validation - My method
This may sound like a basic step but it's amazing how many shooters fail to gain a repeatable zero despite it being the platform on which every other factor is built upon. I use a 100 metre zero and at that range I need to be shooting hole-in-hole meaning each round goes in the same hole on the target. I always use top quality scopes so they hold a zero with ease. As stated, the zero needs to be repeatable.
I use the Labradar doppler radar chronograph to gain this measurement. It measures the speed at which the projectile is travelling as it exits the muzzle. The muzzle velocity (MV) is used to determine the extreme spread (ES) and standard deviation (SD) of the load. I know I say this about every element of long range shooting but, it's critical to know MV. This tested MV is adjusted after the live-fire testing is done to true up the data as I said above.
This is a post in itself and I've written about it previously. You can see the post Levelling up, here. Canting a rifle when shooting will send the projectile away from the point of aim - The marksman needs to know the elevation, when dialled, is going directly upwards and if a cant is introduced the elevation will go up and to the left or right, away from the point of aim. The other post explains it pretty well.
The below image is from that post and shows cant in a crude diagram I drew. Read that post for a full understanding.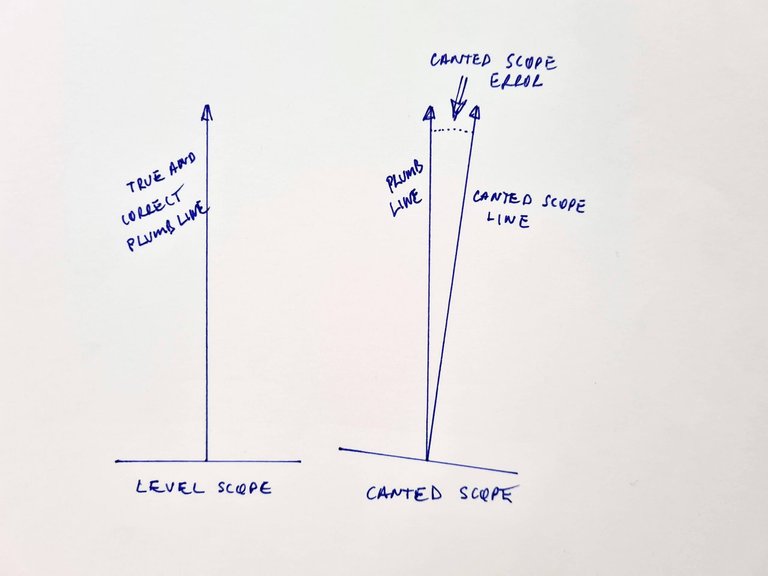 Scope error shown on right through a canted (right) rifle. Forgive my crude drawing please.
👆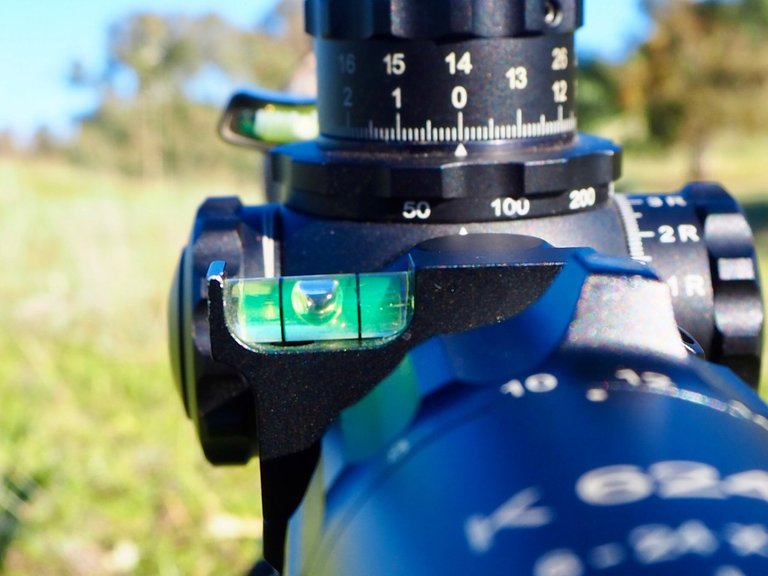 I expend a lot of effort to make sure my scope and scope levels are perfectly level when fitted. Once done it's easy to ensure a level rifle prior to every shot.
👆
Ensure an accurate ballistic coefficient (BC) is used
I use the G7 drag model as provided by the projectile manufacturer but the G1 model works ok too, or so I'm told. I'll be honest here and say that I don't play around with the BC too much at all. Some I know will use custom drag curves but I'm a bit of a blunt instrument so I like to keep it simple.
This process is all about precision and it makes little sense to attempt do trajectory validation in poor conditions; Too much rides on the data. Wind is the enemy here as it can effect the trajectory left and right and elevation. Crosswinds and swirling winds in gullies and off hills can greatly influence bullet-lift also. So, trajectory validation has to be done in the most favourable conditions, i.e. no wind at all. Not always possible of course, which why it needs to be done well when those conditions exist.
This is also not the time to get creative. Assume a standard prone position and work hard to eliminate any variables the body may introduce...A marksman should be doing this anyway to be honest.
Mirage is another factor to eliminate. In the field it's impossible to avoid and at some stage the shooter will have to shoot through a boiling sight picture. I use the mirage to read the wind speed and direction a lot, but when doing trajectory validation it's the enemy. This is why I always do this process in the early morning or as late in the day as I can, and still actually see. Any time of day with no mirage will work though.
Taking accurate environmental readings and inputting them correctly into the ballistics calculator is a huge factor. Using cheap sub-standard equipment is not recommended. Making sure the shooter understands the equipment and how each element of data correlates to the other is important. I play around a lot with mine to ensure I understand how it operates. Understanding density altitude, Coriolis, spin-drift, altitude, temperature and humidity and how they all affect the trajectory is very important...As is the correct equipment to measure it. I use Kestrel meters for that purpose and have never been let down. My ballistics calculator is StrelokPro but I used to use Applied Ballistics...I like the more user-friendly nature of StrelokPro though. (Both available on AppStore and PlayStore.)
Unfortunately truing drops, trajectory validation, has to be done at a fairly long range as trued data at say, 500 to 600 metres, won't work out further. I start at 700 metres and go out 300 metres at a time out to 1600 metres or beyond. The further the better as I get better data; A little hard work early on will make things much easier later.
Taking the time to do this process right, every process around long range shooting really, will pay dividends later. This means working through each step carefully and recording the data; It pays to be meticulous.
Logging all of the shots, recording the environmental situation, the wind call including estimated and the actual wind-correction and elevation adjustment required into a data book is worth the effort. In short, everything needs to be recorded.
---
For a marksman making that first shot count is important. Hunting at long range, cold bore competition shots or other cold bore shooting is a one-shot opportunity and that shot needs to impact the target...The marksman needs the confidence in the rifle to make it happen and validating the drops, trajectory validation, is how it is done.
Thanks for reading all the way, if indeed you managed it. As always this is not a complete explanation of the process and is not designed to be a manual or training document - Those would be far more complicated. It's just a cut down basic version of the process. Probably it has bored you to sleep, but if you've ever relied on a marksman on overwatch to make a cold bore shot then you'll be glad people know how to do it.
---
Design and create your ideal life, don't live it by default - Tomorrow isn't promised.
Be well
Discord: galenkp#9209