I've been shooting rifles for a long time, some thirty years, and over that time I've shot in many environments and situations. Over that time the range at which I would shoot, wanted to and needed to shoot, got greater and greater - Targets at 1600+ meters (a mile or more) is not unusual and there was a steep learning curve, a lot of training and practice, to gain the skills to do so.
Many things come together to make a long range shot accurately, first time, and I've written about it in the past; You can scroll through The Pew Community to see some of my previous posts on the topic if you like.
It can get technical, as my posts will demonstrate, but getting the round accurately onto the target on the first shot can be critical in certain circumstances, low percentage exposure engagements for instance, and the elements that make that happen are equally as important as each other and understanding what one's rifle will, or may, do in any situation is critical to that first-shot accuracy.
It's for this reason marksmen collect data; It's called data on previous engagements or simply dope.
In my experience there's one area that many shooters neglect when it comes to dope and that's what their rifle's do in a cold bore scenario. The concept is called cold bore shift and for any serious long range shooter it's critical to understand, in my opinion anyway.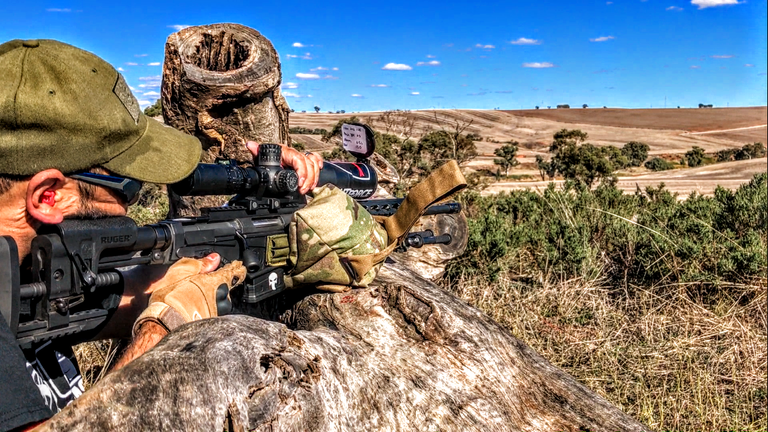 Here's me taking some shots - The little white card on the scope cap has some dope written on it - Ranges and elevation adjustments.
Cold bore shift
This simply refers to the deviation between the point of impact and the point of aim which occurs when a rifle is fired in a condition when it is at the same temperature as the ambient temperature - i.e. The ambient air temperature is 5 degrees Celcius and the bore/barrel/rifle is also.
When the first round is fired the bore heats up and with more shots the heat becomes greater than ambient which could bring a change to the dimensional characteristics of certain parts like the barrel, bolt, action and so on. That can affect the subsequent shots.
Essentially, the second and subsequent rounds could impact the target in different locations than the very first cold bore round, even when the point of aim is exactly the same. Not knowing how one's rifle performs in different cold bore scenarios could mean that first fired round could result in a miss.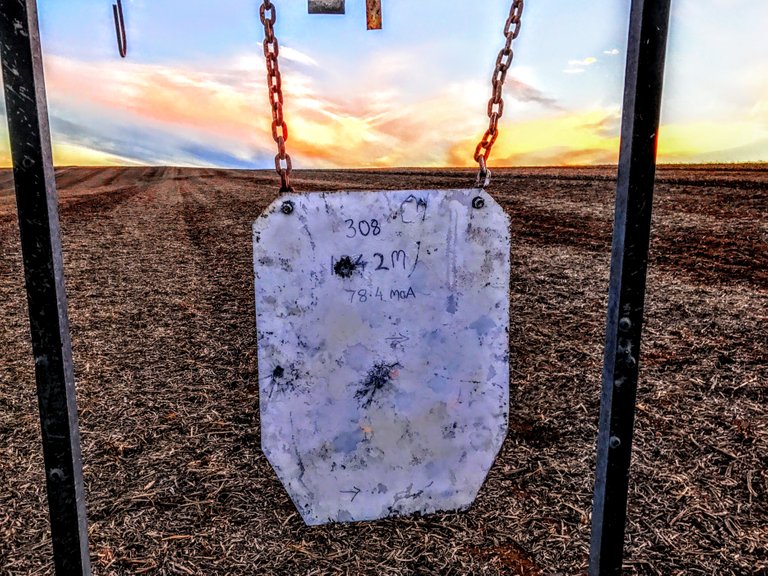 This is one of my steel gongs. See that impact at almost dead centre? That's a cold bore shot I made late evening at 1400 meters or so. I never miss the chance take a cold bore shot at a decent range to check dope I've collected previously. The idea is that I use the process below to gain the dope for shots like this.
Due to the possible deviation as mentioned above I have always gathered data on my cold bore shots...It's called mapping and is done as follows.
1 - Make sure rifle is at ambient temperature, has a fouled bore (see below re: fouled bores), and turrets are set to zero zero (no elevation or windage input). Shooting from the prone position (the most stable) fire a single round at the left target.
2 - Shift aim right and fire four rounds at the right target to obtain a mean point of impact (POI). Clearly the shooter needs to aim at dead centre in both cases.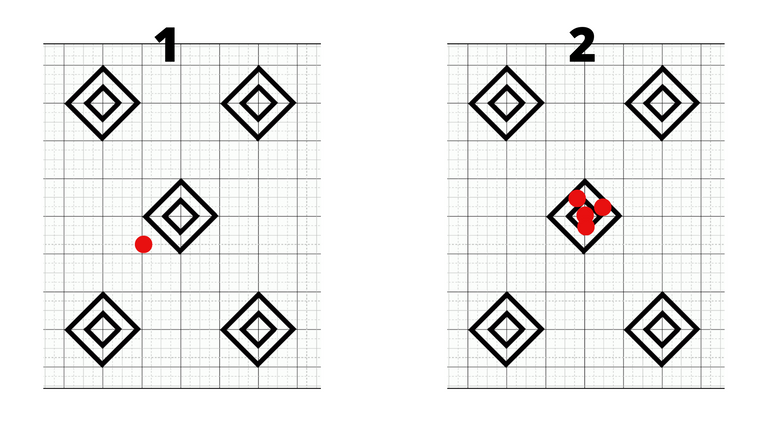 3 - Measure the angular deviation present from the mean POI of the last four rounds on the right target to the first round on the left target. This can be done using the reticle or by heading down range and using an MRAD ruler. (Mean POI and angular deviation in green below.)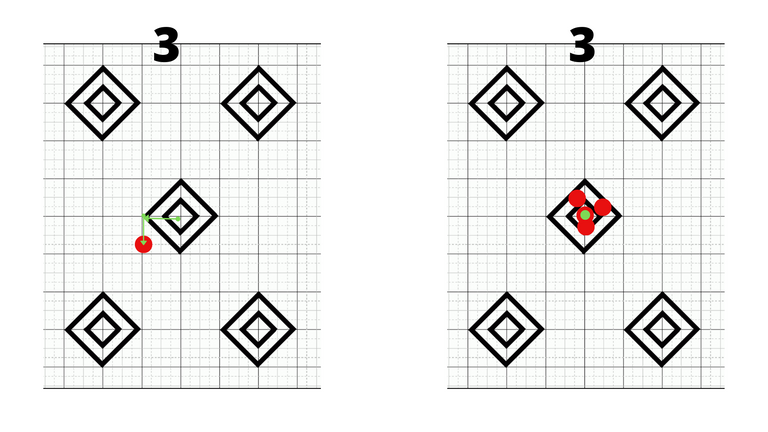 4 - Repeat this process, being careful to make sure that the rifle is at the ambient temperature prior to beginning, to determine the average cold bore shift compared to the average mean point of impact. One is left with an average angular deviation which can be compensated for with dialling elevation and windage or holding over together with ballistic solutions - I use StrelokPro for my ballistic solutions.

Below you can see the two subsequent shot-groups, so three in total, and the average angular deviation to the centre of target on the left which is what would be measured and then compensated for. It is better that more than three tests are done for the best results, I usually do four to five but have done up to ten.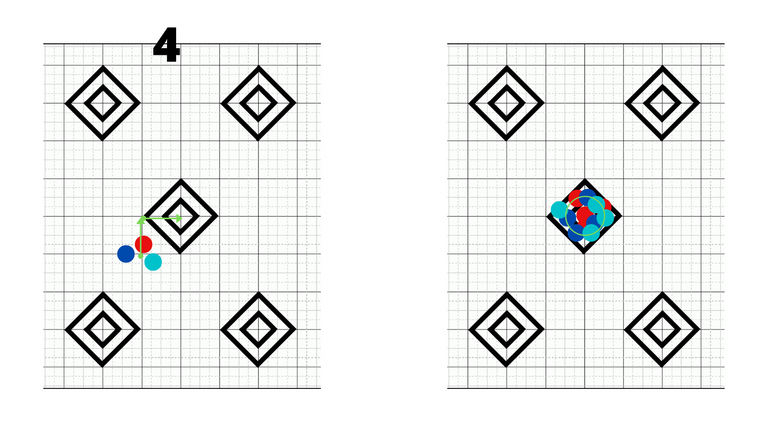 Above adjustment would be something like UP 0.5 MRAD and RIGHT 0.4 MRAD (Figures used for demonstration purposes only and are not accurate).
My long range rifles show a cold bore deviation although some rifles do not. The complication is that it's impossible to know how a rifle will perform in a cold bore condition without the mapping. It is critical to shot placement that the marksman knows how his or her rifle will perform in a cold bore condition, and failure to do so can be catastrophic especially during engagements where that initial shot needs to count. There are so many variables when shooting and a rifle with undocumented and unknown cold bore performance is most often going to let the marksman down.
There are a couple of other conditions I want to briefly mention here. The first is not a position a marksman should find himself/herself in when in the field as it is completely avoidable and the second...Well, that's why we train and practice.
Clean bore shift is inconsistency/deviation between the point of impact and the desired point of aim which occurs after a rifle has been cleaned. The cleaning process removes copper and carbon build up changing the dimensions of the bore. Cleaning products can also bring inconsistencies in the friction-coefficient of the bore...This is why I mention above that the cold bore mapping process requires a fouled bore - A bore that has had several rounds fired through it. I would never take a rifle into the field in this condition...Although I have dope from my rifles immediately after cleaning in the advent it was to happen.
Finally is the cold shooter inconsistency. This is basically the inability of the shooter to operate the rifle consistently: Head and eye placement, trigger-pull processes, breathing and body position are all vitally important to an accurate shot, cold bore or otherwise. Practice and training makes one better so this situation is completely avoidable.
OK, so 1100+ words...Sorry, it's long huh?
I guess my point here is that shooting isn't all about drinking a case of beer and heading out to the back yard and blowing away watermelons, pumpkins and cans. It is science really, and a glance over some of my other posts will clearly demonstrate that.
Just a note, this is a cut down explanation of the cold bore concept and process of mapping. I don't like to over-complicate matters when there's an easy way to do things. Having said that there are things I've left out to make this a little more readable...So, it's not designed to be the definitive guide to cold bore ballistics - It's just a little post I threw together for fun.
Thanks for reading.
---
Design and create your ideal life, don't live it by default - Tomorrow isn't promised.
Be well
Discord: galenkp#9209