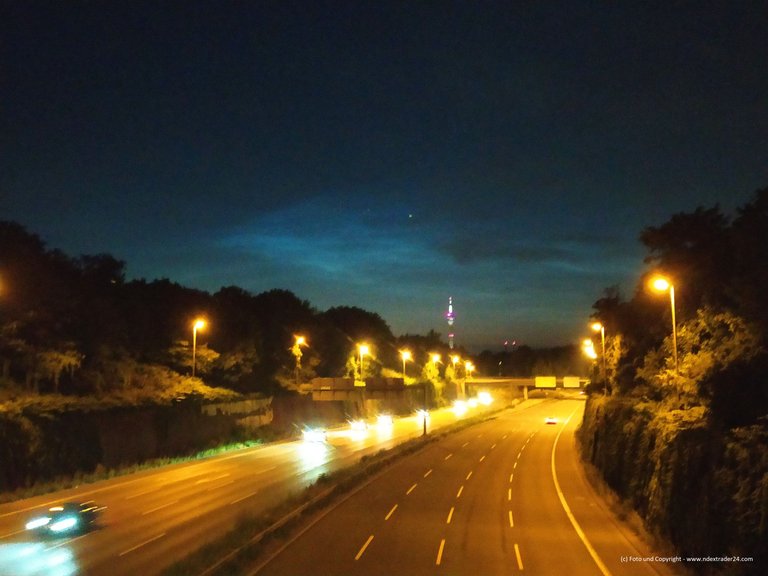 Nachtleuchtende Wolken über dem Düsseldorfer Rheinturm am 18.6.2021 gegen 23:45 MESZ - Foto made by @indextrader24 with Smartphone Xiaomi Redmi Note 8
Liebe Freunde des Friedens und der Freiheit,
liebe Freunde der Liebe und des Glücks,
liebe Weltraumenthusiasten,
liebe Mitleser,
leuchtende Nachtwolken sind die höchsten Wolken dieses Planeten. Sie entstehen in den Sommermonaten in rund 83 Kilometern Höhe durch verdunstendes Wasser, welches an Meteoritenstaub in der oberen Atmosphäre kristallisiert.
Ihr elektrisch blaues Erscheinungsbild am Firmament weit nach Sonnenuntergang ist nur selten in unseren Breiten zu beobachten und wenn dann meist um die Zeit der Mitsommernacht.
Es handelt sich im Grund schlicht und einfach um gefrorenen Rauch von Meteoriten, welche vormals aus den Tiefen des Alls kommend auf die Erde gefallen sind.
Bereits vor 2 Jahren waren über Düsseldorf diese für wahr erhabenen und höchsten Wolken der Erde zu sehen. Vielleicht sind sie Euch ja auch schon aufgefallen. Wenn nicht so achtet doch mal darauf, ob ihr vielleicht einige nach Sonnenuntergang (oder vor Sonnenaufgang) entdecken könnt.
Weitere Informationen zu diesen besonderen Wolken findet ihr unter folgendem Link sowie Bilddaten zum Vorkommen leuchtender Nachtwolken vom AIM-CIPS Beobachtungssatelliten hier
Viel Spaß in diesen lauwarmen Sommernächten in der freien Natur...
SEND with LOVE!
PEACE!