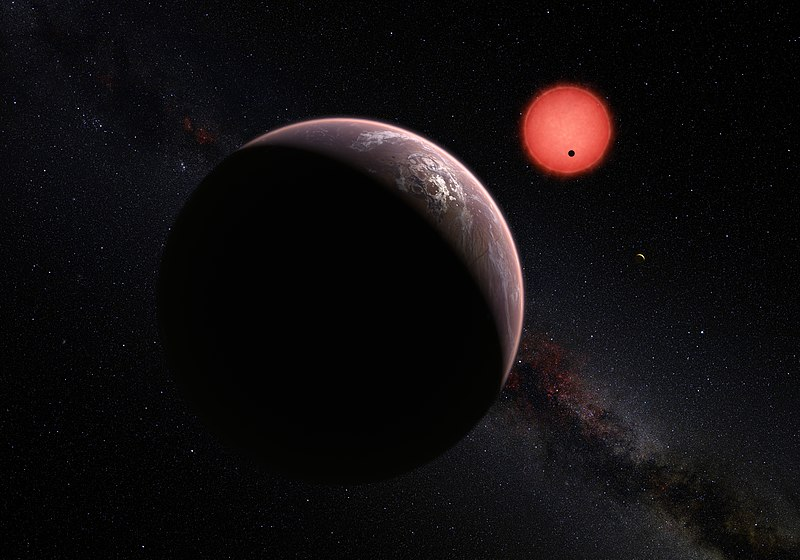 Representación Artística del Sistemas Trappist-1 / Artistic Representation of Trappist-1 Systems Fuente / Source

Español

Una Mirada a Trappist-1
Hace algún tiempo realicé una publicación sobre la posibilidad de vivir en un exoplaneta, no se trató de un escrito riguroso, desde el punto de vista académico, pero en él discutía sobre las características de tres de los exoplanetas que conforman el sistema Trappist-1, y sus posibles condiciones de habitabilidad.
Con motivo del revuelo causado por la fotografía del telescopio espacial James Webb, que, en fecha reciente, ha sido revelada, la cual muestra su primera imagen de sistema Trappist-1, confirmando el interés de los científicos, en este sistema y la posible existencia en él de planetas habitables o, más aún, habitados; he querido retomar el tema y resumir un poco en que consiste el sistema Trappist-1.
Trappist-1 es una estrella enana roja ultra fría, situada a 39,13 años luz, en la constelación de acuario. Fue estudiada entre septiembre y diciembre de 2015 por un equipo de astrónomos belgas del Instituto de Astrofísica y Geofísica de la Universidad de Lieja, liderado por Michaël Gillon, usando el telescopio TRAPPIST (Telescopio Pequeño para Planetas y Planetesimales en Tránsito), situado en el Observatorio de la Silla en el Desierto de Atacama en Chile. [1]
Las primeras observaciones usando el método del tránsito, permitieron detectar tres exoplanetas en el sistema, dos de ellos los más internos y el tercero, situado en el borde interno de la zona de habitabilidad. [1]
El 22 febrero de 2017, se anunció, tras una observación más detallada del sistema, que involucró, además del telescopio TRAPPIST, al VLT (Very Large Telescope) en el observatorio Paranal, y al Telescopio Espacial Spitzer; la presencia de otros cuatro exoplanetas en el sistema, para un total de siete, de los cuales, cuatro se encontrarían en la zona de habitabilidad. [1]
Los siete planetas que conforman el sistema Trappist-1, serían planetas rocosos de dimensiones y densidades similares a las de la Tierra, y los cuatro de ellos que se encuentran en la región habitable, podrían tener temperaturas superficiales que les permitirían tener agua líquida en su superficie, si tuviesen una atmósfera densa, con presencia de una capa de ozono, podrían tener condiciones para albergar vida. [1][5]
A diferencia del sistema solar en el que los planetas orbitan una cálida estrella amarilla, TRAPPIST-1, es una estrella enana roja con un diámetro poco mayor al del planeta Júpiter, con temperaturas superficiales mucho menores a las de nuestro Sol, por lo que los planetas que la orbitan, lo hacen a una distancia máxima que es, aun menor, a la distancia que separa a mercurio de la superficie del Sol. Sobre la superficie de estos, planetas y dependiendo de la composición y densidad de su atmósfera, a pleno día, su estrella se vería sólo un poco más brillante que una luna llena en una noche terrestre. [1]
Es posible que la mayoría, si no es que todos los planetas del sistema, tengan acoplamiento de marea con la estrella, por lo que siempre le darían una misma cara, teniendo esto como efecto, que esta cara, siempre expuesta a la radiación de Trappist-1, presentaría elevadas temperaturas que dificultarían la vida en ella, a la vez que en la cara oscura las temperaturas serían muy bajas, generando capas de hielo, de haber agua en la superficie planetaria. [1]
El acoplamiento de marea, sería un posible impedimento para la habitabilidad de estos planetas, aun en los que se encuentran en la llamada zona de ricitos de oro, sin embargo, los vientos que se producirían en las regiones cálidas, calentarían una amplia región en la línea entre ambas caras del planeta, denominada línea de crepúsculo, atenuando las temperaturas gélidas de la cara nocturna, donde como resultado, una región con temperaturas que podrían ser compatibles con la vida, como la conocemos. [1]
Sin embargo, la mayor dificultad que debería ser superada para que los planetas del sistema Trappist-1 sean habitables, sería que la proximidad de estos a su estrella, los hace victimas de una intensa radiación y viento estelar, lo que fácilmente podría barrer sus atmósferas si es que la tuviesen. Tal es el caso de nuestra vecina más cercana, Próxima Centauri, la cual posee, al menos un planeta en su zona de habitabilidad, pero que, debido a la intensa actividad estelar, se piensa que su superficie y atmósfera debieron ser abrazadas hace mucho tiempo. [2]
Sin embargo, Trappist-1 es una estrella mucho más fría y vieja que Próxima Centauri, por lo que es mucho menos activa, lo que permite aun mantener la esperanza de que sus planetas, conserven condiciones de habitabilidad.
Si hablamos de las particularidades de los planetas que conforman el sistema Trappist-1, estos son identificados por la denominación Trappist-1 b a la h, b y c, serían los más próximos a la estrella, y probablemente carecerían de una atmósfera, aunque no se descarta la presencia de una leve capa de gases carente de nubes, con poca o casi nula presencia de hidrógeno, no se ha detectado la presencia de agua en ellos, y su superficie probablemente tendría mares de roca fundida debido a la gran fuerza de marea provocada por la estrella. [1][5]
Los siguientes cuatro planetas d, e, f y g, serían los más prometedores desde el punto de vista de la habitabilidad, especialmente d y e, posiblemente tendrían una atmósfera densa, si no ha sido barrida por el viento estelar y agua líquida superficial, existe la posibilidad de que la capa de agua sea tal que no haya tierras emergidas. Dada la alta posibilidad de acoplamiento de marea, es posible que en la cara diurna las temperaturas sean muy elevadas, mientras que en la cara nocturna las gélidas temperaturas provoquen la presencia de una capa de hielo permanente. Sin embargo, en el caso de Trappist-1 e, es posible que aun en el lado diurno las temperaturas no sean tan elevadas como para que la vida no pueda prosperar en ella. [1][5]
Por su parte en Trappist-1 f y g, no se ha detectado la posible presencia de agua, y de haberla es casi seguro que se encontraría en forma de hielo. [1][5]
Finalmente, Trappist-1 h, es el más alejado de la estrella en el no se ha descartado la posible presencia de una atmósfera con grandes concentraciones de hidrógeno, y tampoco se ha detectado la presencia de agua, que en el caso de haberla sería en forma de hielo. [1]
En general todos los planetas del sistema Trappist-1 tienen diámetros, densidades y gravedades, que se asemejan mucho a la de los planetas terrestres del sistema solar, teniendo la mayoría, estos parámetros muy cercanos a los de la Tierra, con excepción de Trappist-1 h que se asemejaría un poco más a Marte. [1][5]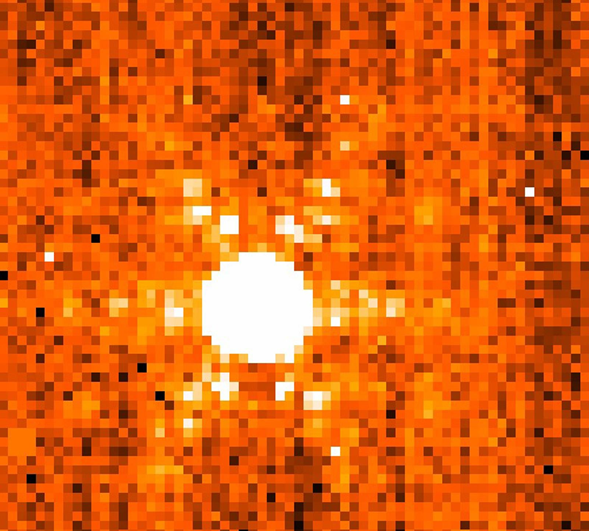 Primera imagen de Trappist-1 tomada por el James Webb, Fuente

El 19 de julio de este año, el usuario de Reddit arizonaskies2022, reveló una imagen de Trappist-1, que había logrado extraer de la data cruda, generada en el proceso de calibración del James Webb, la cual es de acceso público en el sitio web de MAST (Mikulsky Archive for Space Telescopes). [3][4]

Comentario del usuario de Reddit arizonaskies2022, sobre la imagen que recreó, Fuente
Aunque se trata de una imagen de pocos pixeles, extraída de una mayor, tomada por el instrumento NIRISS, su revelación ha reavivado el interés de la comunidad científica por este sistema planetario, a la luz de las posibilidades que el James Webb y su instrumento NIRSpec, presenta para examinar la composición de las atmósferas de exoplanetas a través de su espectro de absorción. Además de la obtención de mejores y más detalladas imágenes del sistema, a través de NIRCam. [3][4]
Texto de @amart29, Barcelona, Venezuela, agosto de 2022

English

A Look at Trappist-1
Some time ago I published a paper on the possibility of living on an exoplanet. It was not a rigorous paper from an academic point of view, but it discussed the characteristics of three of the exoplanets that make up the Trappist-1 system, and their possible habitability conditions.
On the occasion of the commotion caused by the recently revealed photograph of the James Webb Space Telescope, which shows its first image of the Trappist-1 system, confirming the interest of scientists in this system and the possible existence of habitable or, moreover, inhabited planets in it, I wanted to return to the subject and summarize a little of what the Trappist-1 system consists of.
Trappist-1 is an ultra cool red dwarf star, located 39.13 light years away, in the constellation of Aquarius. It was studied between September and December 2015 by a team of Belgian astronomers from the Institute of Astrophysics and Geophysics of the University of Liège, led by Michaël Gillon, using the TRAPPIST telescope (Transiting Small Telescope for Planets and Planetesimals), located at the La Silla Observatory in the Atacama Desert in Chile. [1]
The first observations using the transit method, allowed to detect in the system three exoplanets, two of them the innermost and the third, located at the inner edge of the habitability zone. [1]
On February 22, 2017, it was announced, after a more detailed observation of the system, which involved, in addition to the TRAPPIST telescope, the VLT (Very Large Telescope) at the Paranal observatory, and the Spitzer Space Telescope; the presence of four other exoplanets, in the system for a total of seven, of which three, would be located in the habitability zone. [1]
The seven planets that make up the Trappist-1 system, would be rocky planets of dimensions and densities close to those of Earth, and the three of them that are in the habitable region, could have surface temperatures that would allow them to have liquid water on their surface and if they had a dense atmosphere, with the presence of an ozone layer, they could have conditions to harbor life. [1][5]
Unlike the solar system in which the planets orbit a warm yellow star, TRAPPIST-1 is a red dwarf star with a diameter slightly larger than that of the planet Jupiter, with surface temperatures much lower than those of our Sun, so the planets that orbit it, do so at a maximum distance that is even less than the distance that separates mercury from the surface of the Sun. On the surface of these planets, and depending on the composition and density of their atmosphere, in broad daylight, their star would look only slightly brighter than a full moon on a terrestrial night. [1]
It is possible that most if not all the planets of the system have tidal coupling with the star, so they would always give it the same face, having this as an effect, that this face, always exposed to the radiation of Trappist-1, would present high temperatures that would hinder life on it, while on the dark side the temperatures would be very low, generating ice sheets, if there is water on the planetary surface. [1]
The tidal coupling, would be a possible impediment to the habitability of these planets, even in those in the so-called goldilocks zone, however, the winds that would occur in the warm regions, would heat a large region on the line between both sides of the planet, called the twilight line, attenuating the icy temperatures of the night side, where as a result, a region with temperatures that could be compatible with life, as we know it. [1]
However, the greatest difficulty that would have to be overcome for the planets of the Trappist-1 system to be habitable would be that their proximity to their star makes them victims of intense stellar radiation and wind, which could easily sweep away their atmospheres if they had any. Such is the case of our nearest neighbor, Proxima Centauri, which has at least one planet in its habitable zone, but due to the intense stellar activity, it is thought that its surface and atmosphere should have been embraced long ago. [2]
However, Trappist-1 is a much cooler and older star than Proxima Centauri, so it is much less active, which still allows to maintain the hope that its planets retain habitable conditions.
If we talk about the particularities of the planets that make up the Trappist-1 system, these are identified by the denomination Trappist-1 b to h, b and c, they would be the closest to the star, and probably lack an atmosphere, although the presence of a thin layer of gases devoid of clouds is not ruled out, with little or almost no presence of hydrogen, the presence of water has not been detected in them, and their surface would probably have seas of molten rock due to the great tidal force caused by the star. [1][5]
The next four planets d, e, f and g, would be the most promising from the point of view of habitability, especially d and e, would possibly have a dense atmosphere, if it has not been swept away by the stellar wind and surface liquid water, there is a possibility that the water layer is such that there is no emerged land. Given the high possibility of tidal coupling, it is possible that on the day side the temperatures are very high, while on the night side the freezing temperatures cause the presence of a permanent ice layer. However, in the case of Trappist-1 e, it is possible that even on the day side the temperatures are not so high that life cannot thrive there. [1][5]
On the other hand, in Trappist-1 f and g, the possible presence of water has not been detected, and if there is any, it would almost certainly be in the form of ice. [1][5]
Finally, Trappist-1 h, is the farthest from the star in which the possible presence of an atmosphere with large concentrations of hydrogen has not been ruled out, nor has the presence of water been detected, which in the case of having it would be in the form of ice. [1]
In general all the planets of the Trappist-1 system have diameters, densities and gravities, which are very similar to those of the terrestrial planets of the solar system, having most of them, these parameters very close to those of the Earth, with the exception of Trappist-1 h that would be a little more similar to Mars. [1][5]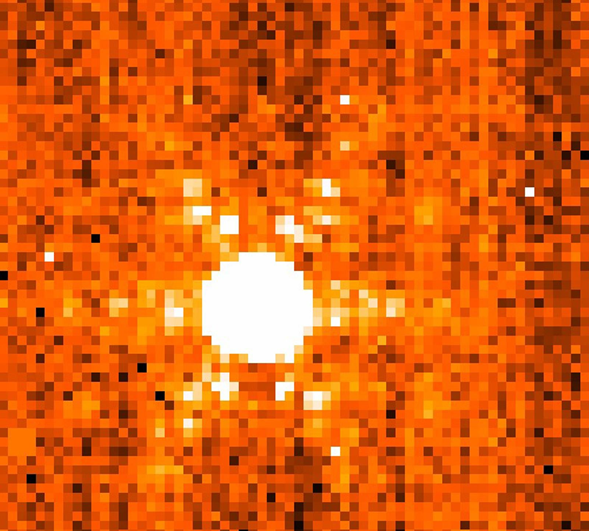 First image of Trappist-1 taken by the James Webb, Source

On July 19 of this year, Reddit user arizonaskies2022, revealed an image of Trappist-1, which he/she had managed to extract from the raw data generated in the James Webb calibration process, which is publicly available on the MAST (Mikulsky Archive for Space Telescopes) website. [3][4]

Comment from Reddit user arizonaskies2022, on the image he/she recreated, Source
Although it is an image of a few pixels, extracted from a larger one taken by the NIRISS instrument, its revelation has rekindled the interest of the scientific community in this planetary system, in light of the possibilities that the James Webb and its NIRSpec instrument present for examining the composition of the atmospheres of exoplanets through their absorption spectra. In addition to obtaining better and more detailed images of the system through NIRCam [3][4].
Text of @amart29, Barcelona, Venezuela, August 2022

Referencias / Sources
[1] Wikipedia, TRAPPIST-1, Wikipedia
[2] Sinc, La atmósfera de los planetas de TRAPPIST-1 podría haber sido destruida, Sinc
[3] Felton, J., JWST's First Image Of TRAPPIST-1 – One Of Our Best Candidates For Finding Life, Iflscience
[4] arizonaskies2022, Trappist-1 niriss image and spectra, Reddit.com
[5] Spitzer Space Telescope. The 7 Rocky TRAPPIST-1 Planets May Be Made of Similar Stuff, Jet Propulsion Laboratory, California Institute of Technology.