Technology advancement on the world's education.
ENG
Hi guys, happy weekend to us all and I hope we all are having a great day to enjoy. It is a great thing to discuss about this great topic which I tagged technology advancement on the world's education. Technology, combined with education has gotten a better pace in the world reason is, education is what most of us really need, education creates a better way for us and better opportunities to us all. Technology on the other hand has its own advantage which it has made to every one in the world.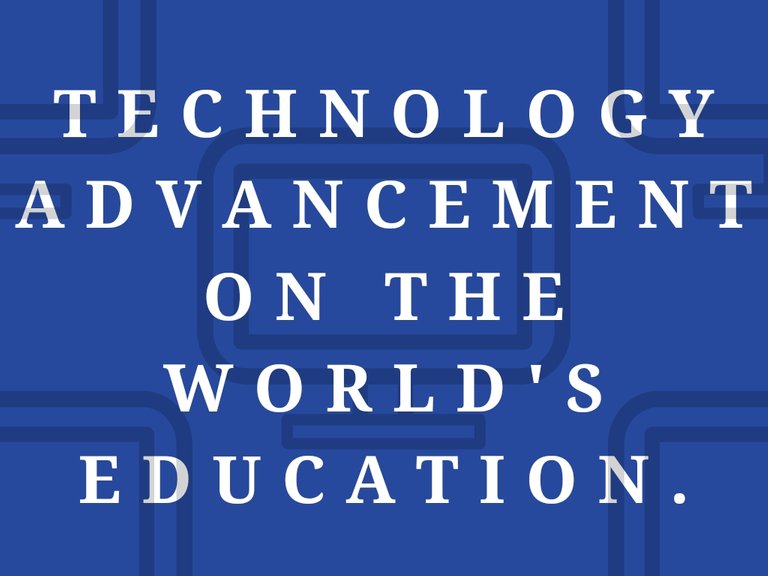 What is technology?
Technology is the application of improved knowledge to solve scientific problems. Technology can be used to manipulate need and human wants in every aspect of life making life a better place to live.
What is education?
Education is a process gaining knowledge to do things in different ways. We can get educated or become literate through different means which is because advancement came into it.
Technology advancement has made most of the people in the world become a great person, technology has helped education and made learning so easy, take for instance, education in the olden days when there was no better technology advancement when they was no upgraded system where one could learn and get involved in a better education. Then, with the olden education style, people still get better education but just that it is not the kind of modern education gotten now..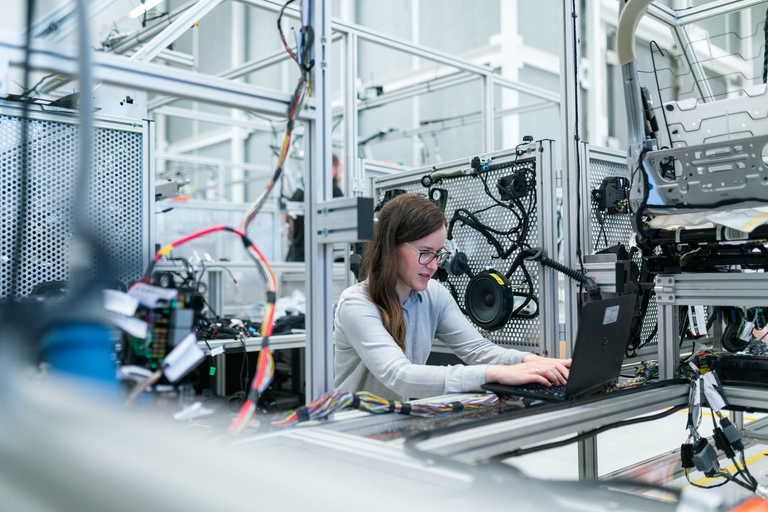 Source
Now, we have the e-learning and other digital learning avenues which make it very easy to learn. Aside the odds which technology has also created, the advantages which technology advancement has created is more that the adverse effect..
In the process of learning, the invention of smartphone, computers are now created this now grant many students easy acces to easy learning. What would have the world have been without the use of technology, one can easily stay indoor and learn what ever you want to.
We now have people that do online classes and there won't be any difference between those that goes to school to learn and those that didn't go.
Does technology cause problem or distraction to us?
For everything that has advantage, also has its own disadvantage also. Technology has lots of problems which it cause to those that misuse or abuse the use of it which are;
When you get used to technology advancement, one become used to it and then it is very hard to stay away from it.
High risk of not associating with anyone around.
It makes one too dependent on internet for many things to be used.
Excess technology usage disconnects one from social lifestyle, thereby leaving one to himself.
Technology has made alot of things so easy without stress. Take for instance, technology has help musically, electrically, and also in every aspect.
What are the advantages of technology advancement??
It allows improved collaboration between many people of the same like minds.
It allows easy accessibility to the internet and networking sites.
It allows good learning experience.
Technology advancement allows low cost of learning.
High cost of learning because you will have to stay connected to the internet always..
All these are what has caused better advancement to the world and I believe more advancements are still coming in due time...
ESP
Hola chicos, feliz fin de semana para todos nosotros y espero que todos estemos teniendo un gran día para disfrutar. Es una gran cosa discutir sobre este gran tema que etiqueté el avance tecnológico en la educación mundial. La tecnología, combinada con la educación, ha logrado un mejor ritmo en el mundo, la razón es que la educación es lo que la mayoría de nosotros realmente necesitamos, la educación crea una mejor manera para nosotros y mejores oportunidades para todos nosotros. La tecnología, por otro lado, tiene su propia ventaja que ha hecho para todos en el mundo.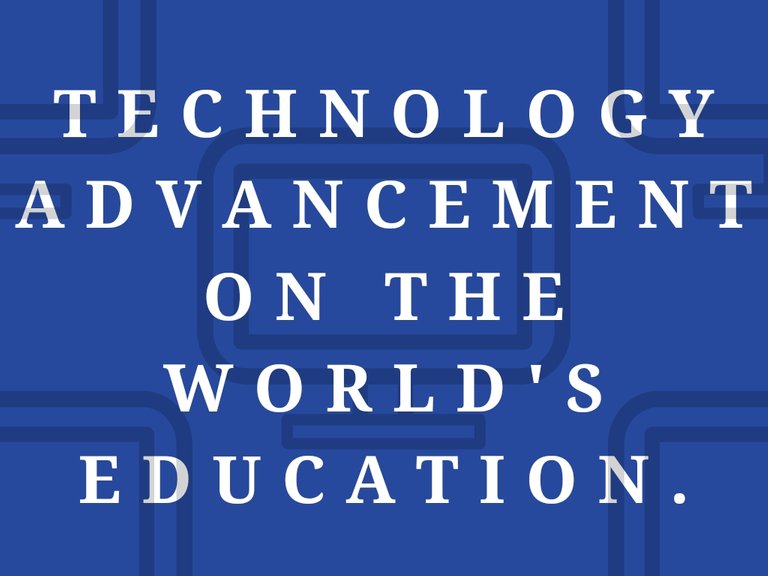 ¿Que es la tecnologia?
La tecnología es la aplicación de conocimientos mejorados para resolver problemas científicos. La tecnología se puede utilizar para manipular las necesidades y los deseos humanos en todos los aspectos de la vida, haciendo de la vida un mejor lugar para vivir.
¿Qué es la educación?
La educación es un proceso de adquisición de conocimientos para hacer las cosas de diferentes maneras. Podemos educarnos o alfabetizarnos a través de diferentes medios, lo cual se debe a que el avance entró en juego.
El avance tecnológico ha hecho que la mayoría de las personas en el mundo se conviertan en grandes personas, la tecnología ha ayudado a la educación y ha facilitado el aprendizaje, por ejemplo, la educación en los viejos tiempos cuando no había un mejor avance tecnológico cuando no había un sistema actualizado donde uno podría aprender e involucrarse en una mejor educación. Luego, con el estilo de educación antiguo, la gente todavía recibe una mejor educación, pero no es el tipo de educación moderna que se recibe ahora.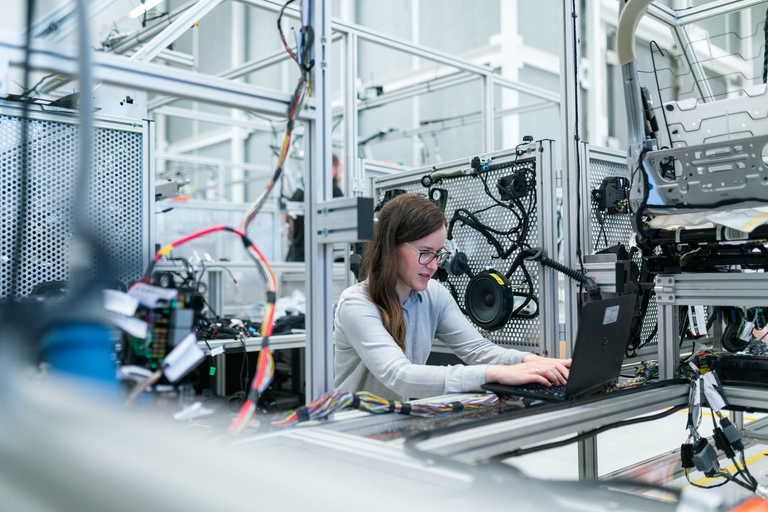 Fuente
Ahora, tenemos el e-learning y otras vías de aprendizaje digital que hacen que aprender sea muy fácil. Aparte de las probabilidades que la tecnología también ha creado, las ventajas que ha creado el avance tecnológico son más que el efecto adverso.
En el proceso de aprendizaje, la invención del teléfono inteligente, ahora se crean computadoras que ahora otorgan a muchos estudiantes un fácil acceso a un aprendizaje fácil. Lo que hubiera sido el mundo sin el uso de la tecnología, uno puede permanecer fácilmente en el interior y aprender lo que quiera.
Ahora tenemos gente que hace clases en línea y no habrá ninguna diferencia entre los que van a la escuela a aprender y los que no van.
¿La tecnología nos causa problemas o nos distrae?
Pues todo lo que tiene ventaja, también tiene su propia desventaja. La tecnología tiene muchos problemas los cuales les causa a quienes la usan mal o abusan de ella los cuales son;
Cuando te acostumbras al avance de la tecnología, te acostumbras y luego es muy difícil mantenerse alejado de él.
Alto riesgo de no asociarse con nadie alrededor.
Hace que uno dependa demasiado de Internet para usar muchas cosas.
El uso excesivo de tecnología lo desconecta del estilo de vida social, dejándolo a uno solo.
La tecnología ha hecho muchas cosas tan fáciles sin estrés. Tomemos, por ejemplo, la tecnología ha ayudado musicalmente, eléctricamente y también en todos los aspectos.
¿Cuáles son las ventajas del avance tecnológico?
Permite mejorar la colaboración entre muchas personas de las mismas mentes.
Permite un fácil acceso a Internet y sitios de redes.
Permite una buena experiencia de aprendizaje.
El avance de la tecnología permite un bajo costo de aprendizaje.
Alto costo de aprendizaje porque tendrás que estar conectado a internet siempre.
Todo esto es lo que ha causado un mejor avance en el mundo y creo que aún vendrán más avances a su debido tiempo...
---
---