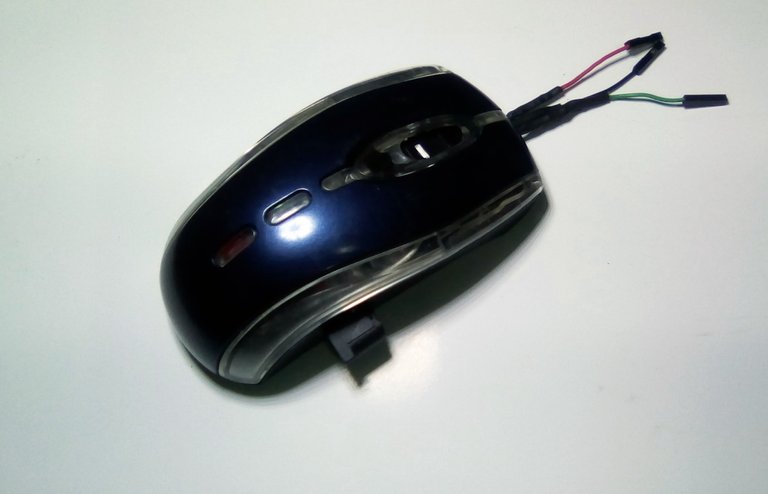 Greetings with my best wishes, wishing you have the best possible spirit in the situation in which you find yourself. This time I share with you a simple transistor tester.

I do a lot of recycling electronic equipment, so after disassembling two or three electronic boards I have a considerable amount of components to check, the use of testers helps me to do it without being too slow and laborious.

I got the scheme about twelve years ago, and although I don't have the exact source, I do have the author's name, which I leave in the original image. It is very simple and easy to assemble, no need to use a circuit board, you can use a screw terminal block, a perforated circuit board or just mount on a box, I used an old recycled computer mouse.


Saludos con mis mejores deseos, deseando que tengan el mejor ánimo posible en la situación en que se encuentren. En esta ocasión les comparto un sencillo probador de transistores.

Me dedico en gran parte a reciclar equipos electrónicos, así que después de desmontar dos o tres tarjetas electrónicas tengo una cantidad considerable de componentes para revisar, el uso de probadores me ayuda a hacerlo sin que se haga demasiado lento y laborioso.

El esquema lo obtuve hace unos doce años y a pesar de que no tengo la fuente exacta, si tengo el nombre del autor, que dejo en la imagen original. Es muy simple y fácil de armar, sin necesidad de usar una placa de circuitos, puede usar una bornera de tornillos, una placa perforada para circuitos o simplemente montar en una caja, yo use un viejo ratón de computador reciclado.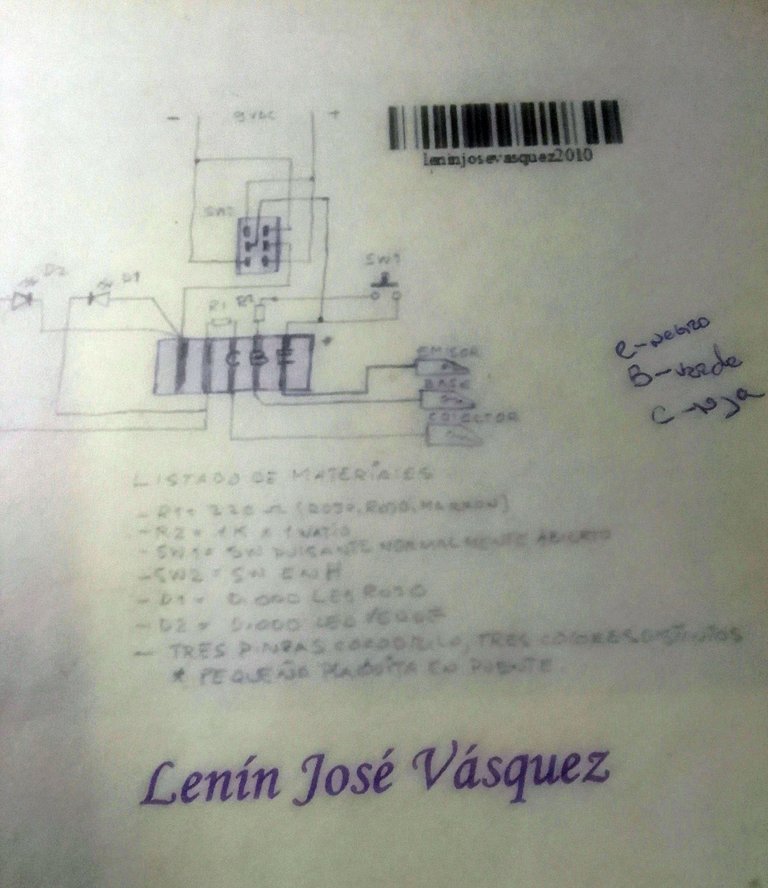 I redid the schematic for the post.


Rehice el esquema para la publicación.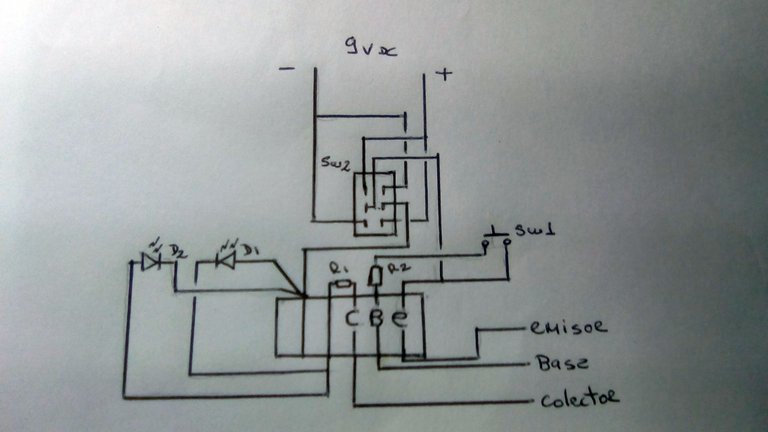 The component description:
R1: 220 Ohm (red, red, brown)
R2: 1K ohm (brown, black, red)
Sw1: push button switch (normally open)
Sw2: switch on H
D1: red LED diode
D2: green LED diode
three alligator clips

I used all the recycled parts from an old computer, the H switch I used was the 110V-220V voltage selector from the computer supply, and instead of the crocodile clips, I used the connections from the LEDs to the board.


La descripción de componentes:
R1: 220 Ohm (rojo, rojo, marrón)
R2: 1K ohm (marrón, negro, rojo)
Sw1: interruptor pulsante (normalmente abierto)
Sw2: interruptor en H
D1: diodo led rojo
D2: diodo led verde
tres pinzas de pruebas tipo cocodrilo

Yo usé todas las partes recicladas de un viejo computador, el interruptor H que use era el selector de voltaje 110V-220V de la fuente del computador, y en vez de las pinzas de cocodrilo, use las conexiones de los leds a la tarjeta.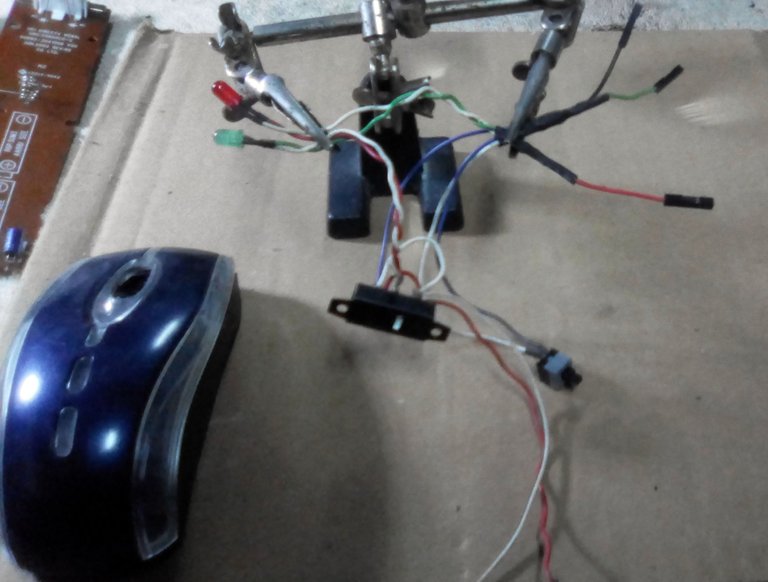 The assembly is a monument to simplicity, the resistors were hidden in the black insulation I used on the cables, the button I used was the computer reset button.


El montaje es un monumento a la simplicidad, las resistencias quedaron ocultas en el aislamiento negro que use en los cables, el botón que use era el reset del computador.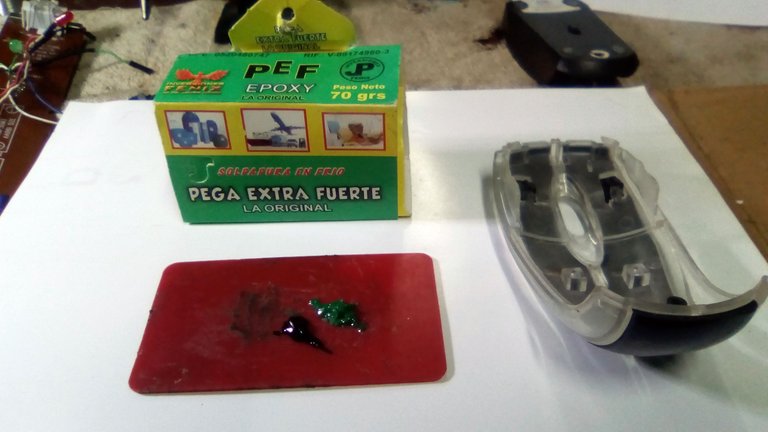 Use epoxy glue to secure the parts firmly.


Use pegamento epoxi para asegurar las partes con firmeza.


The DC voltage connector I recycled from an old modem card.


El conector de voltaje DC, lo reciclé de la tarjeta de un viejo modem.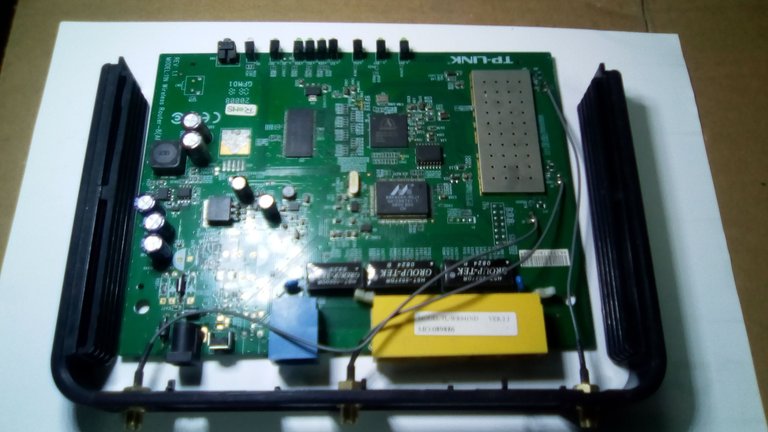 The black color looks great, but it doesn't help much with the details in the photos.


El color negro luce muy bien, pero no ayuda mucho con los detalles en las fotos.


We place the transistor according to its connection, in this case the encapsulation is To92a (e, c, b) and we press the switch, the green LED lights up, we consider it to be in good condition..


Colocamos el transistor según su conexión, en este caso el encapsulado es To92a (e, c, b) y presionamos el interruptor, enciende el led verde, lo damos como en buenas condiciones.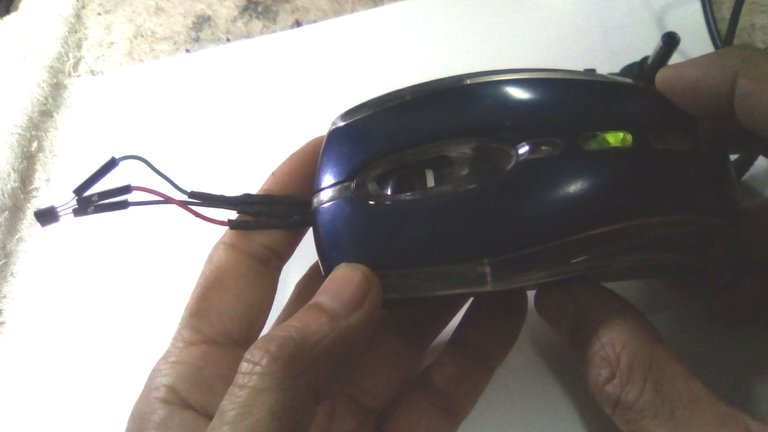 I place a power transistor and try it, in this case it is a TO220 package (b, c, e), the green LED turns on without pressing the button, so it is damaged.

Switch H is used to switch between NPN and PNP transistor.

If neither LED lights up, it is damaged, if both light up, it is damaged, and if any LED lights up without pressing the button, it is damaged (of course, in the latter case, the schematic of the component must be verified)

It is a home-made tool to quickly check and separate good components from questionable and damaged ones.


Coloco un transistor de potencia y pruebo, en este caso es un encapsulado TO220 (b, c, e), el led verde enciende sin presionar el pulsador, así que está dañado.

El interruptor H nos sirve para cambiar entre transistor NPN y PNP.

Si ningún led enciende, está dañado, si encienden ambos, está dañado, y si enciende algún led sin presionar el pulsador está dañado, (claro que en este último caso se debe verificar el esquema del componente)

Es una herramienta casera para verificar y separar rápidamente componentes en buen estado de los dudosos y los dañados.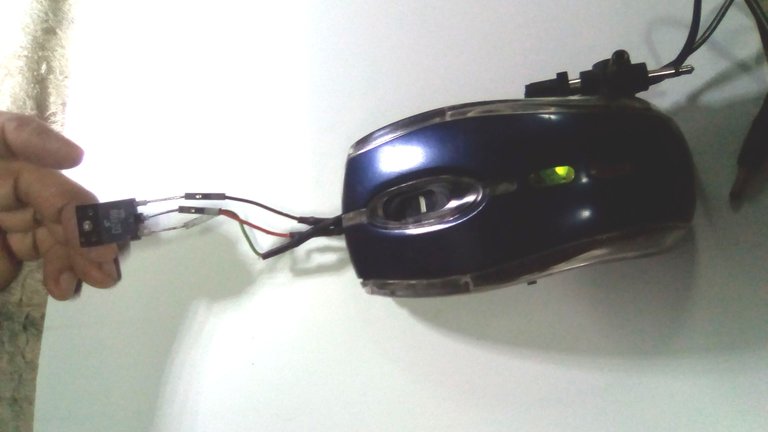 Thank you very much for stopping by and reading me, I hope I have clearly explained the details of the tester.

I have used Google Translate for English.

The images have been taken in my workshop, and the one that does not belong to me has the author's name as a reference.

Have a great week and good luck!


Muchas gracias por pasar y leerme, espero haber explicado con claridad los detalles del probador.

He usado el traductor de Google para el inglés.

Las imágenes han sido tomadas en mi taller, y la que no me pertenece tiene el nombre del autor como referencia.

¡Que tengan una excelente semana y mucho ánimo!