---
English
---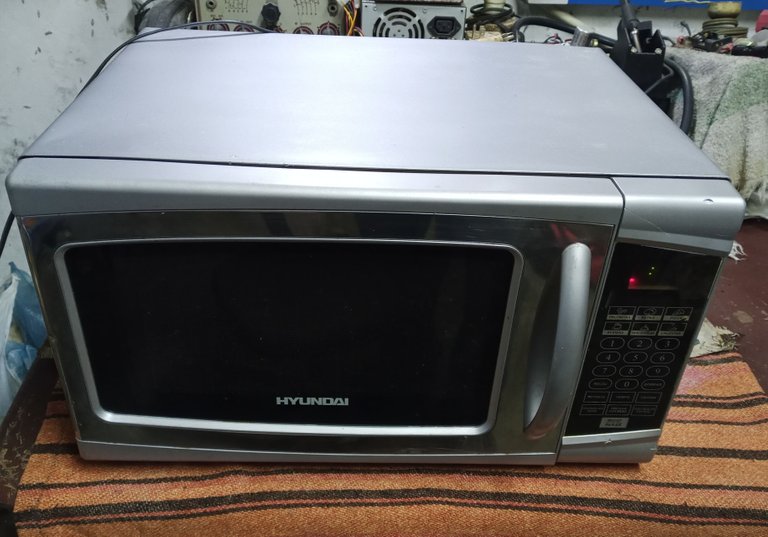 Greetings to the people of the DIY community on Hive. I have been absent for a while, fortunately my health has improved enough to be able to finish one of my pending jobs.
I was able to finish the microwave oven that I was refinishing. On the previous occasion we had restored the control card that had serious deterioration in its components, so the oven did not work.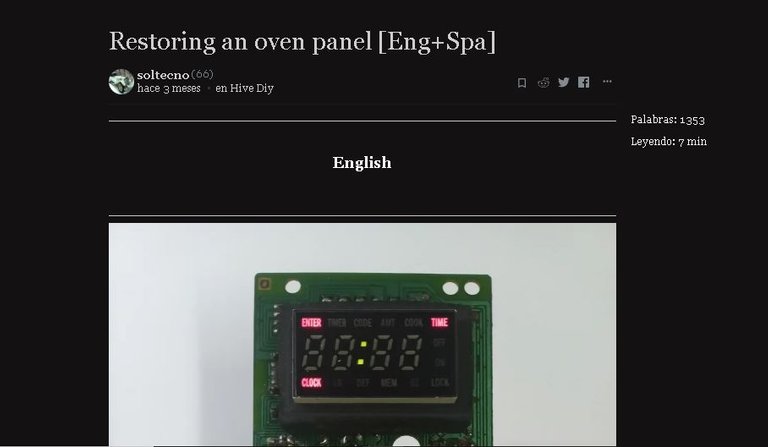 Image's Source - Image Source
I got a spray paint spray to finish the case to finish the job. The sad thing about it is that doing the last tests in the oven, I found that the keyboard template had sections that did not work.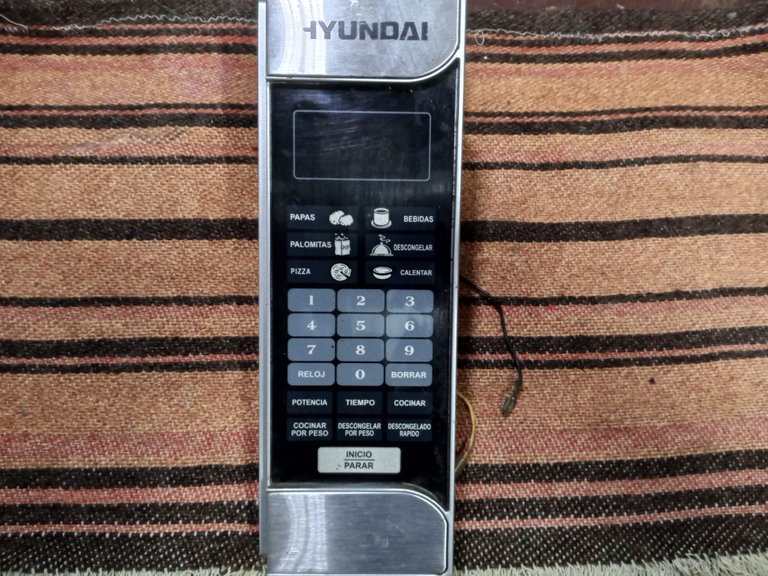 I'm going to do the repair on that keyboard template, but while I have to turn in the work, to have some money, the time in bed was not good for business.
All these pieces of equipment, in most cases, have generic components independent of the brand that they are, and in the warehouse I had a control panel recycled from another oven that was beyond repair.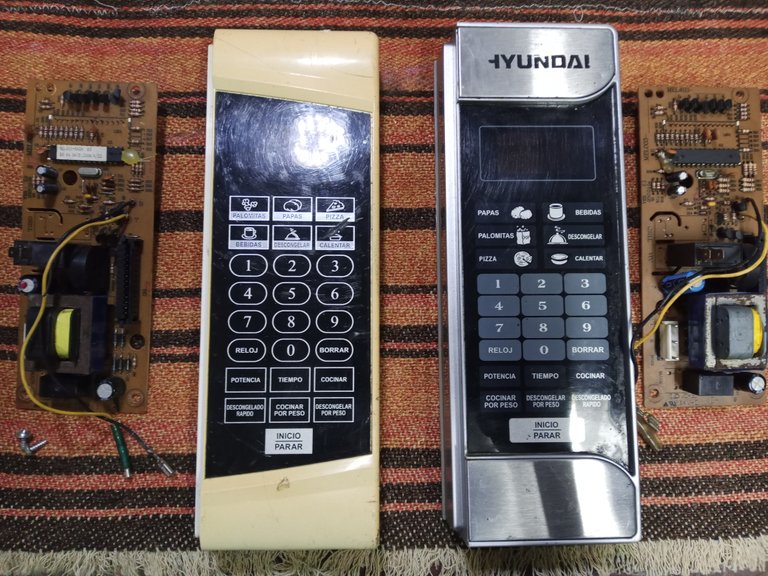 Despite being another brand, the control card was the same, of course it needs a restoration, it has part of its components destroyed.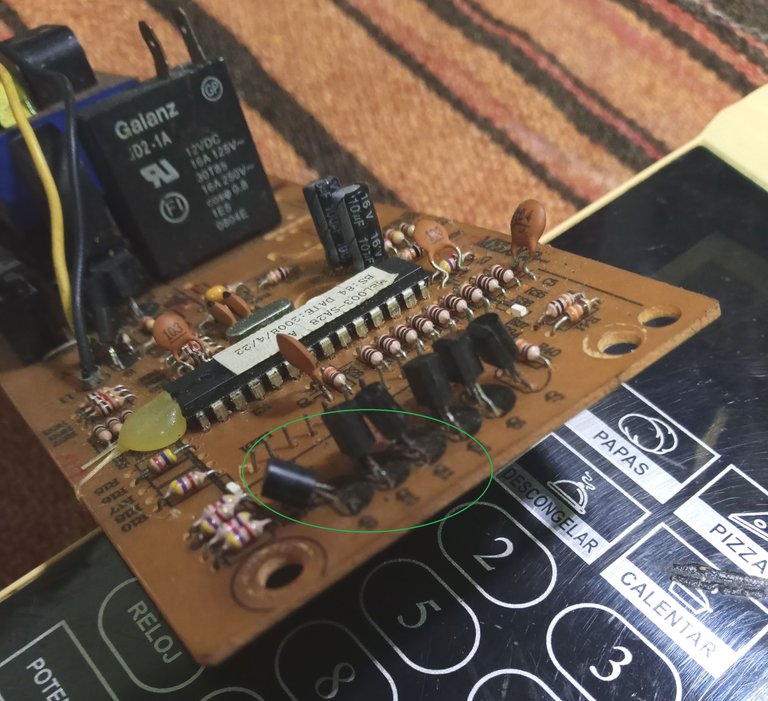 The keyboard template is fully operational, so I made the change and tried using the control card that I had already repaired, and it works without any problem, I just need to paint it to match the rest of the oven.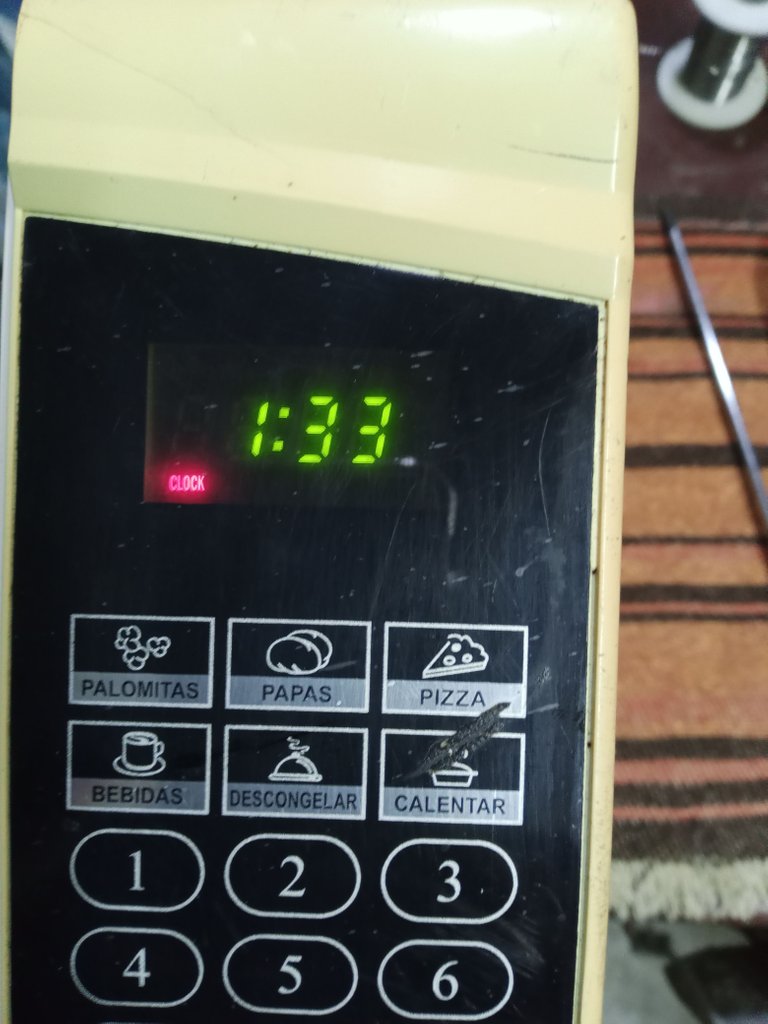 The door looked stained and dirty from the inside, of course we can't deliver a job like this, disassembly is very easy, it only has a couple of screws that fix it from the upper arm to the oven box.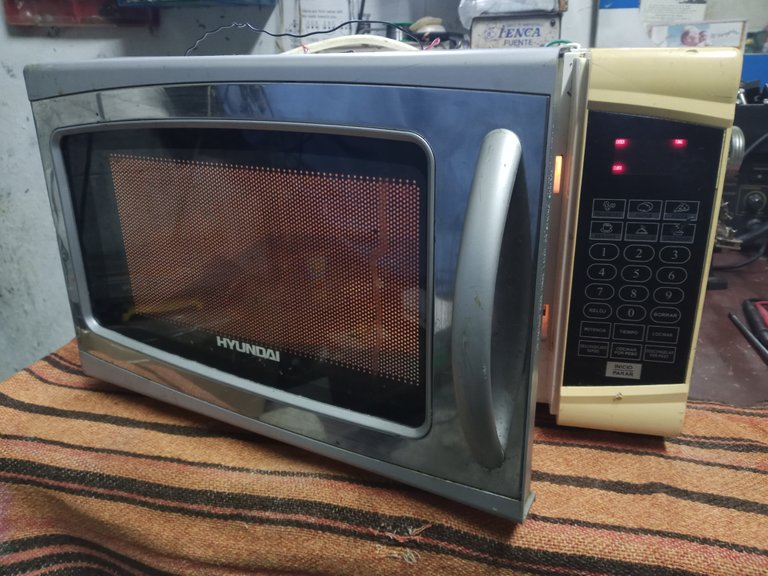 All parts of the door are assembled and held by snap tabs, just be careful and disassemble carefully not to apply too much force or the tabs will split.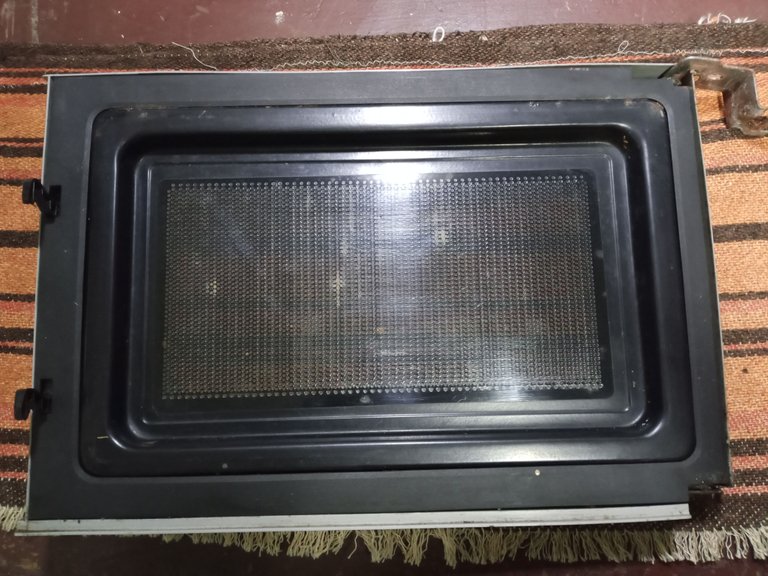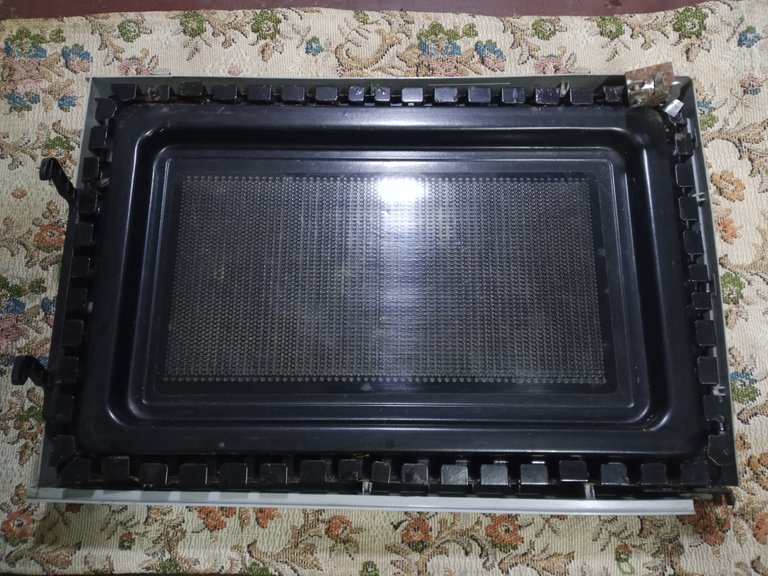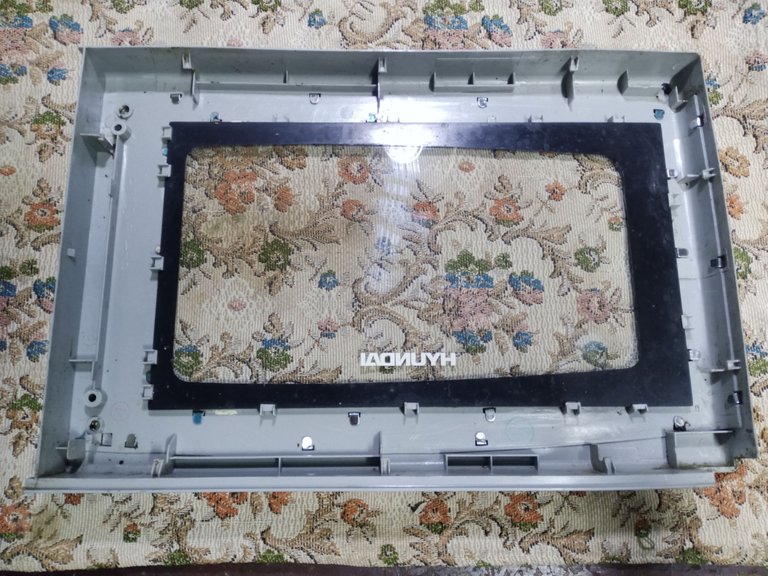 Note, if you ever have to do this cleaning, insects usually find this part of the oven irresistible, so even if you don't notice it, you may find that it is quite dirty, even on doors that look very clean .


After disassembling the door, I take the opportunity after cleaning it to touch up the paint and paint the control panel.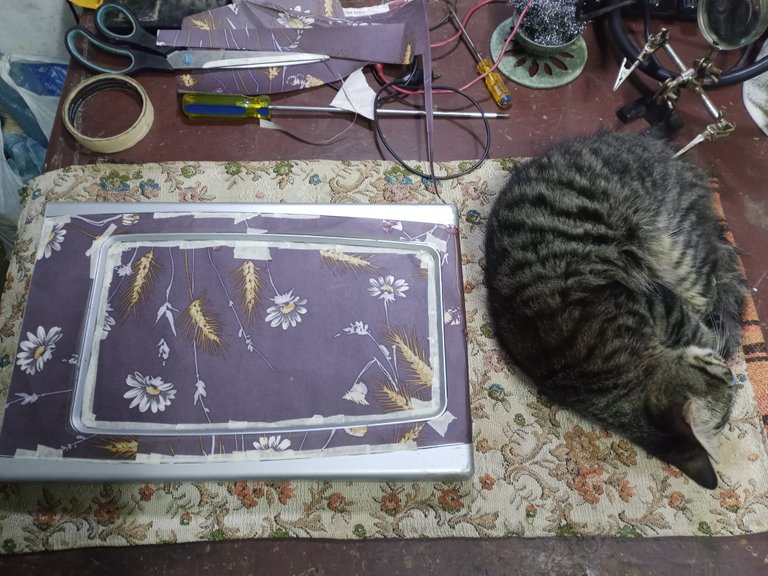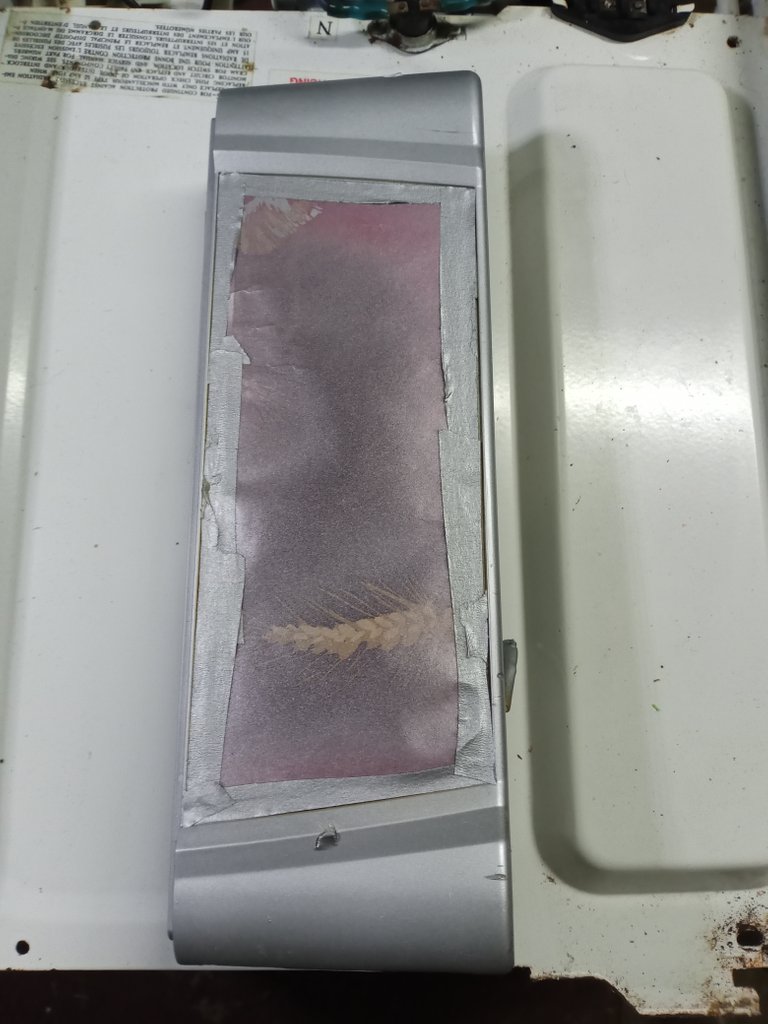 The furnace casing took a little more work, I wanted to use the wire brush from the sander, but I couldn't hold and control the weight of the tool, so it took a little more time.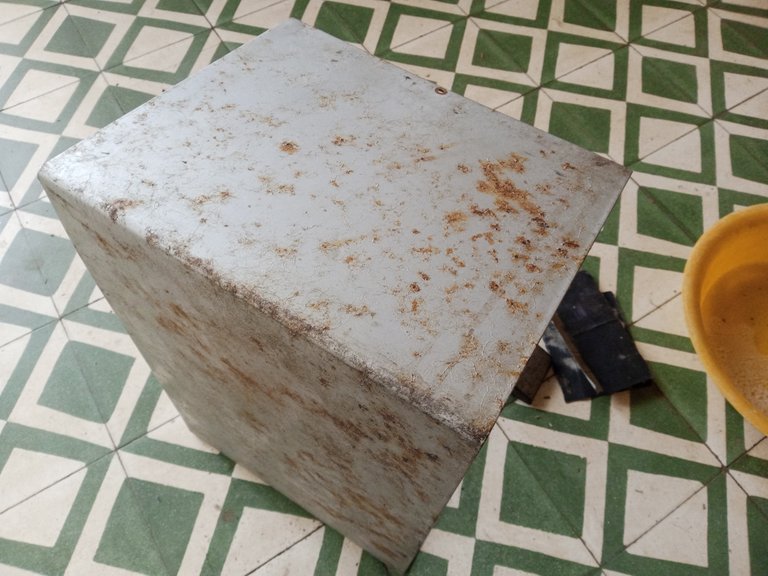 We hand sand until the surface is ready, then we apply solvent to let dry before painting.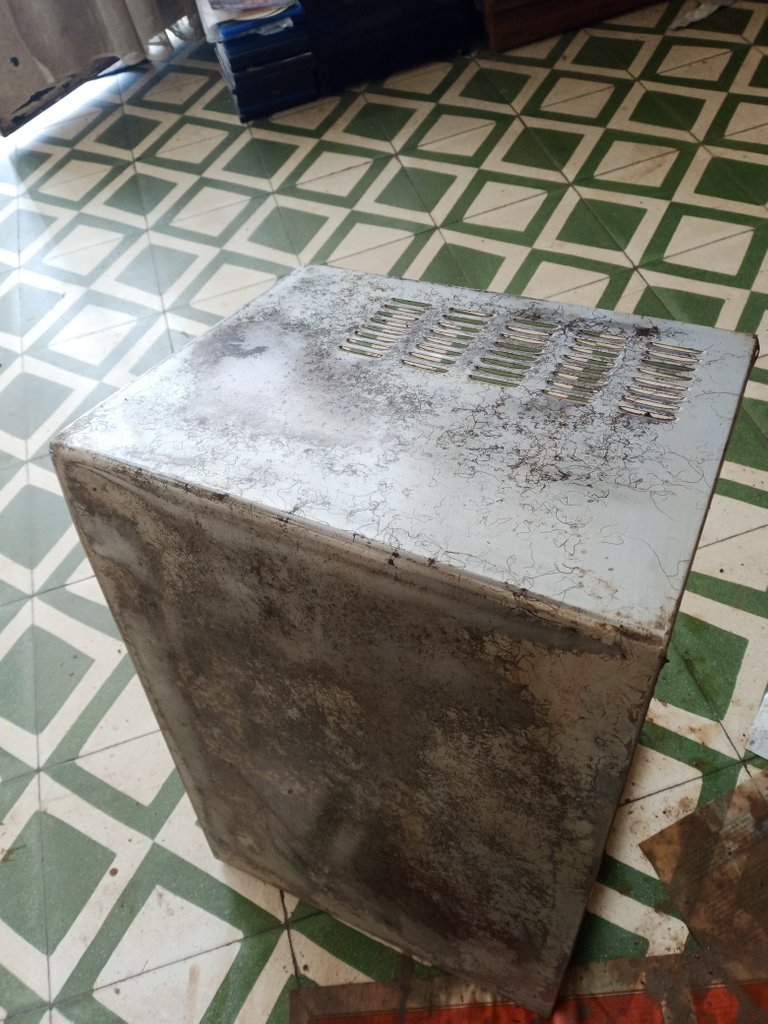 Painting is a job that, in itself, requires some patience, you should not try to finish a job with two passes of the spray, it is better to apply thin layers and let it dry. If it takes a day, it's better than having to redo the job and lose the paint.
With everything ready, we finally assemble the oven and verify that we do not have details left.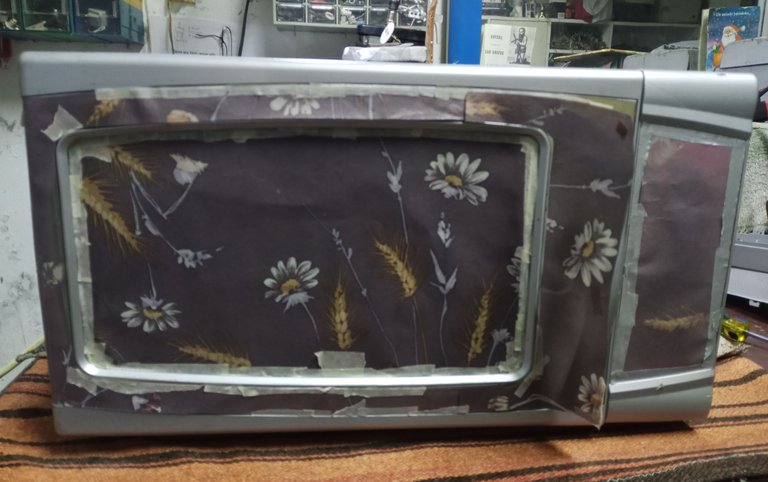 The door looks pretty good and the case has a better presentation. I am quite satisfied, I went from being an oven that went to the garbage or to be recycled, to having a new life and I hope to work for a long time.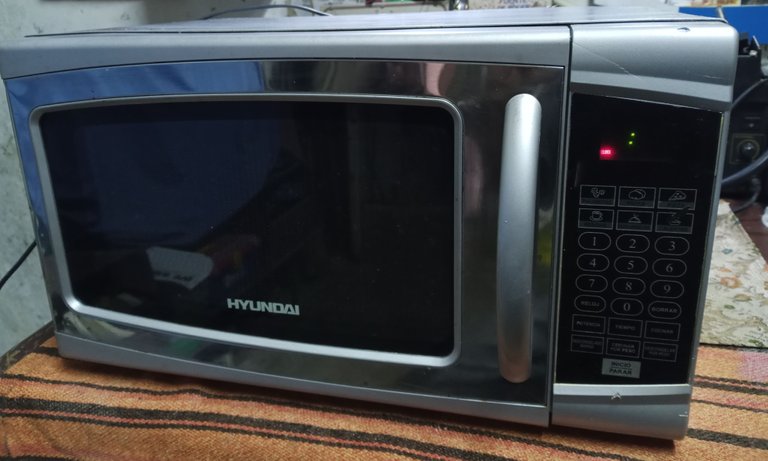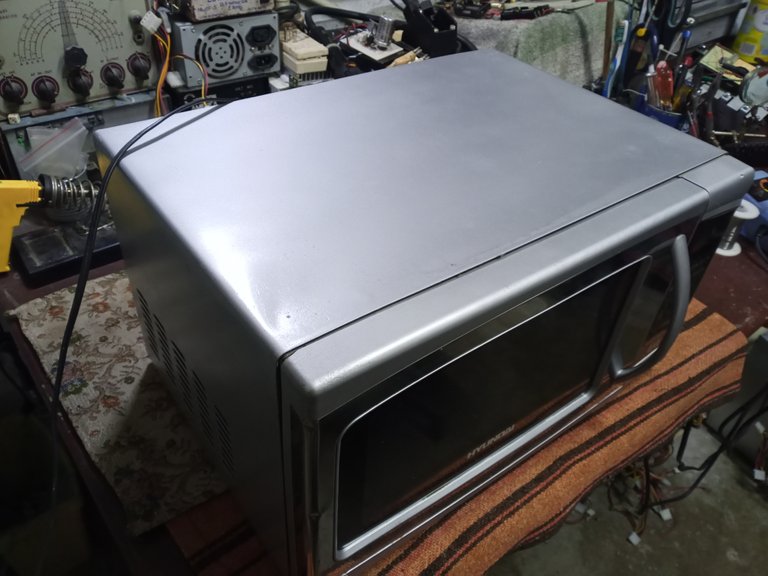 It's very satisfying to restore discarded equipment and make it useful again, it has a special feeling that I can't explain.
Thank you very much for taking a moment of your time and reading me.


People, allow me an additional comment: if at any time you meet people with mobility problems, but you see that they have a lot of spirit or good spirits as we say, do not feel sorry for them. If you can, help them get a job or if you can give them a job.
An invalid is not someone who is handicapped by some physical problem, it is someone who is handicapped by his lack of spirit.


Have an excellent week.
Peace.

Images, unless noted, are screenshots of work in my workshop.
I have used Google translate for the English language.



---
Español
---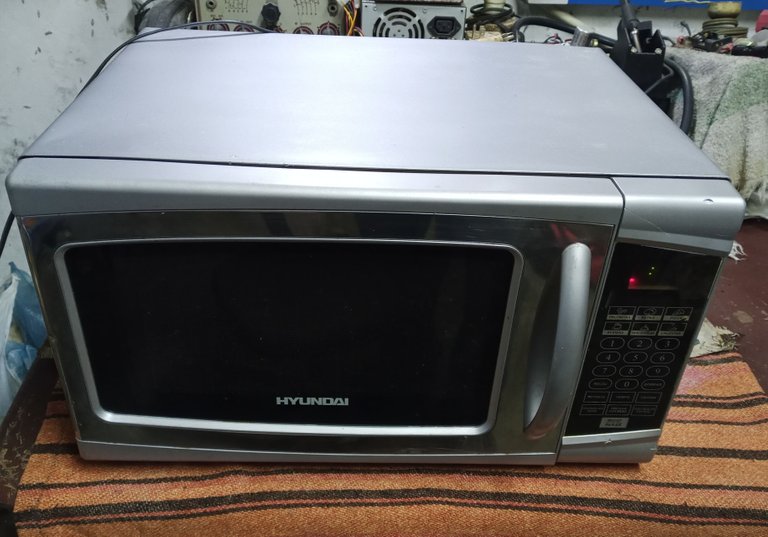 Saludos a las personas de la comunidad de DIY en Hive. He estado un tiempo ausente, por fortuna mi salud ha mejorado lo suficiente como para poder terminar uno de mis trabajos pendientes.
Pude terminar el horno de microondas que estaba restaurando. En la oportunidad anterior habíamos restaurado la tarjeta de control que presentaba un grave deterioro en sus componentes por lo que no funcionaba el horno.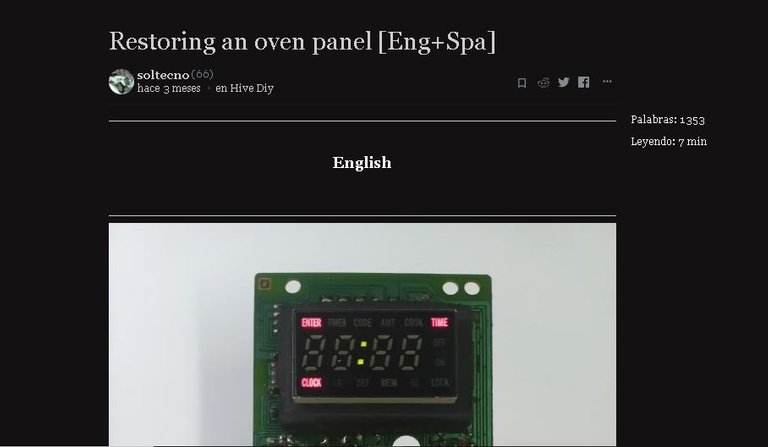 Image's Source - Fuente de la Imagen
Conseguí un spray de pintura en aerosol para el acabado de la carcasa y terminar el trabajo. Lo triste del asunto es que haciendo las últimas pruebas al horno, encontré que la plantilla de teclado tenía secciones que no funcionaban.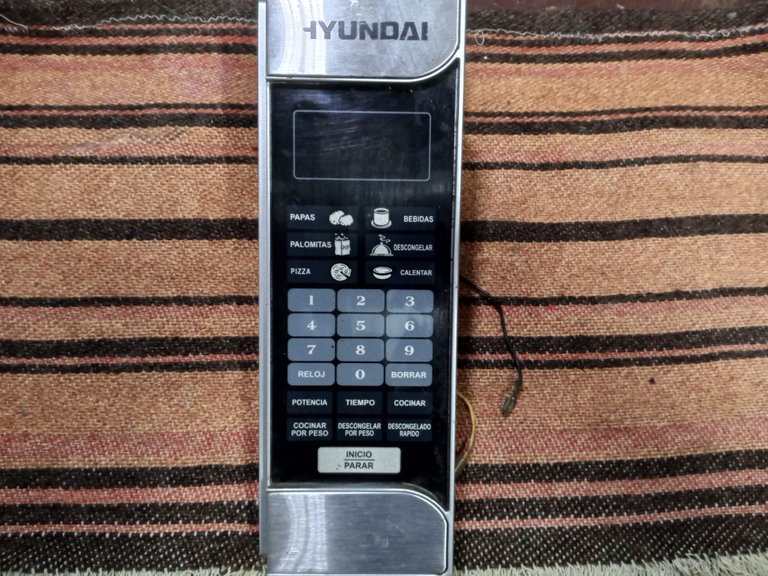 Voy a hacer la reparación de esa plantilla de teclado, pero mientras tengo que entregar el trabajo, para contar con algo de dinero, el tiempo en cama no fue bueno para el negocio.
Todos estos equipos, en la mayoría de los casos, tienen componentes genéricos independientes de la marca que sean, y en el depósito tenía un panel de control reciclado de otro horno que no tenía reparación.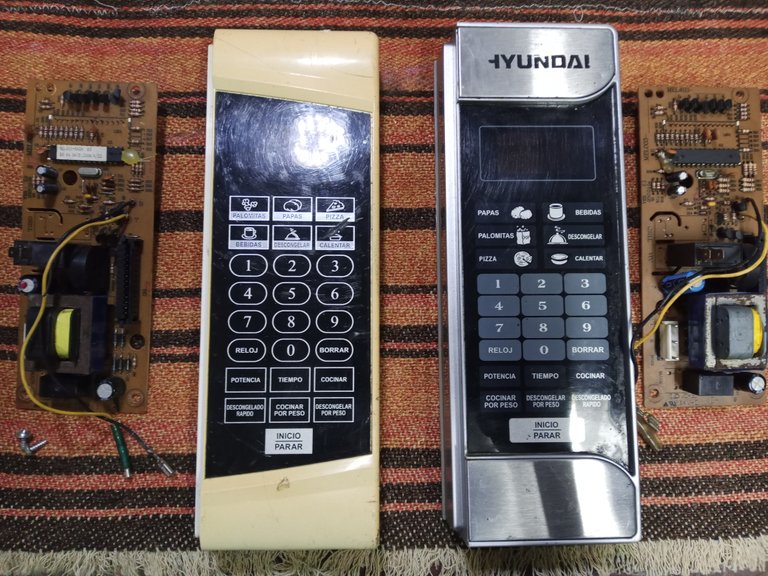 A pesar de ser otra marca, la tarjeta de control era la misma, claro que necesita una restauración, tiene parte de sus componentes derruidos.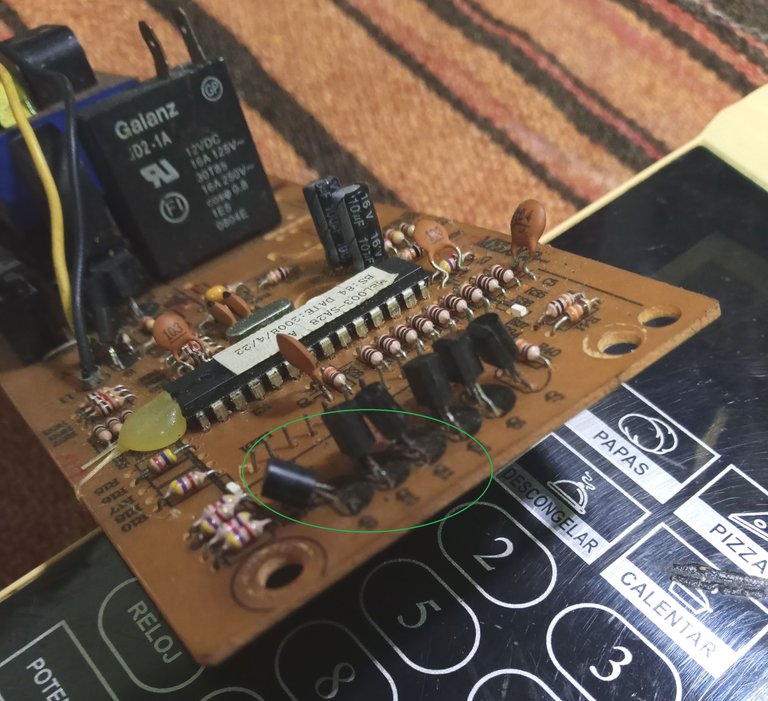 La plantilla de teclado si está totalmente operativa, así que hice el cambio y probé usando la tarjeta de control que ya había reparado, y funciono sin ningún problema, solo necesito pintarla para que combine con el resto del horno.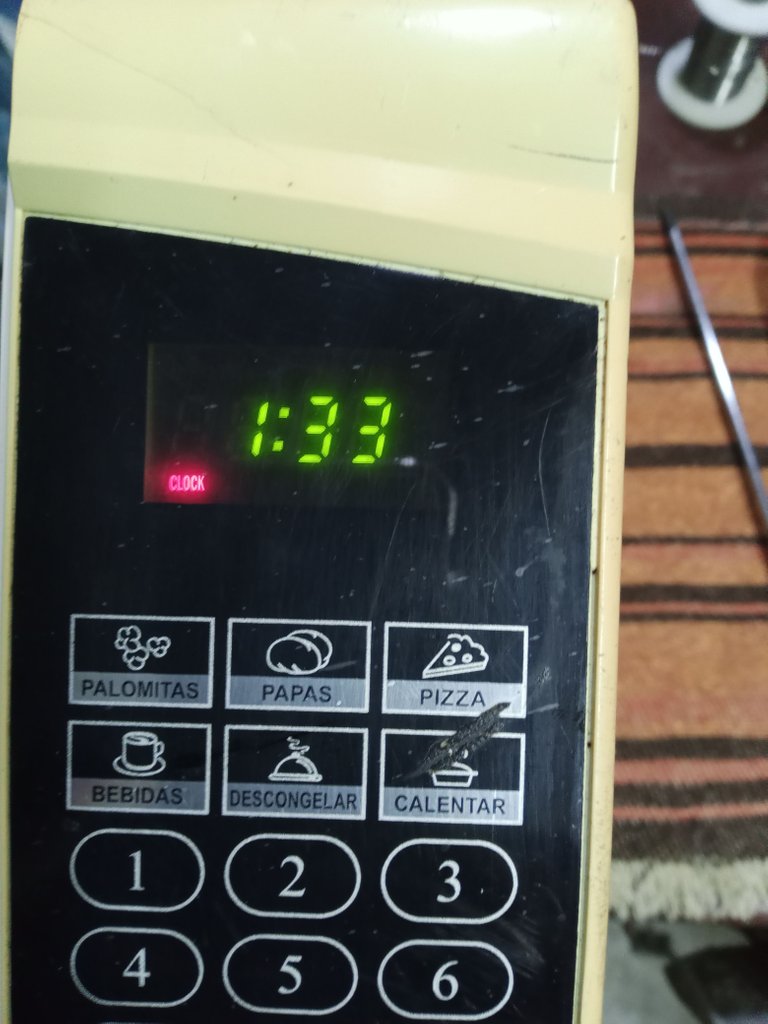 La puerta se veía manchada y sucia desde la parte interna, por supuesto que no podemos entregar un trabajo así, el desmontaje es muy sencillo, solo tiene un par de tornillos que la fijan desde el brazo superior a la caja del horno.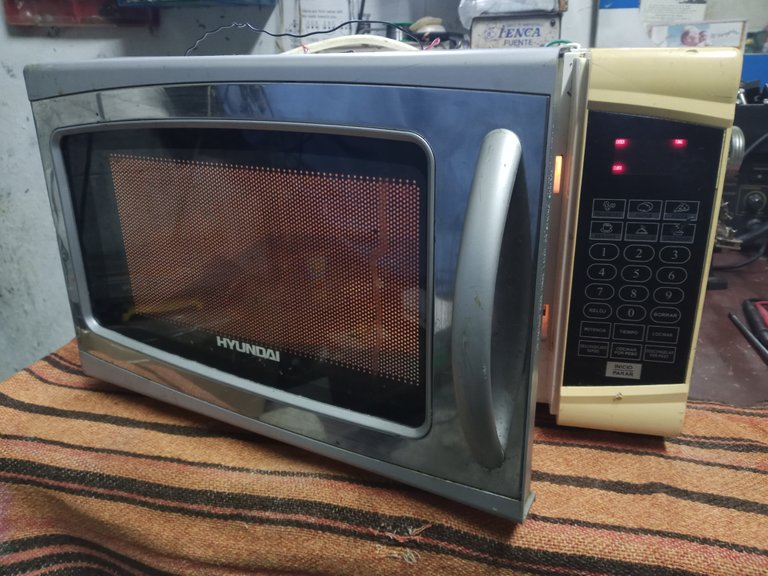 Todas las partes de la puerta están armadas y sostenidas por pestañas a presión, solo hay que tener cuidado y desmontar con cuidado de no hacer demasiada fuerza o partirían las pestañas.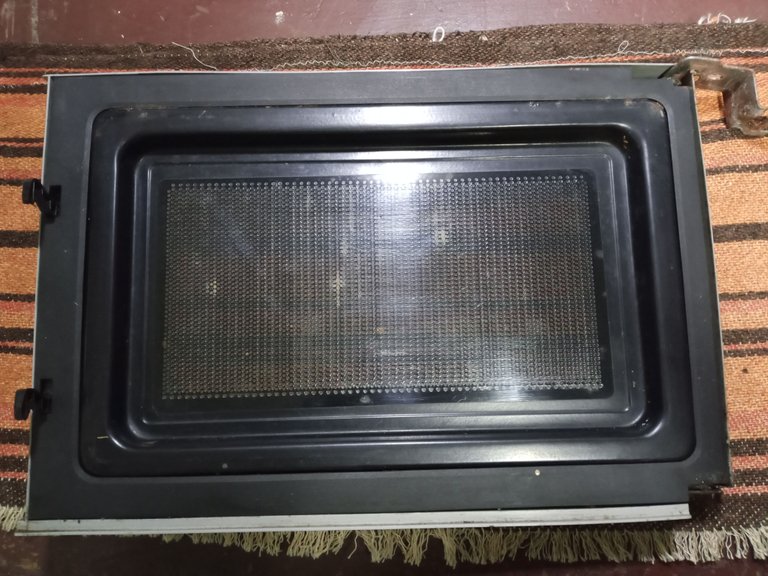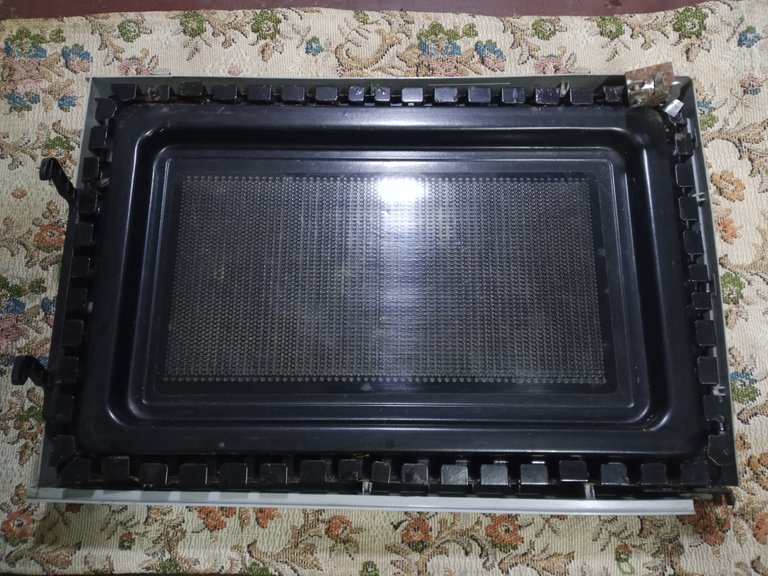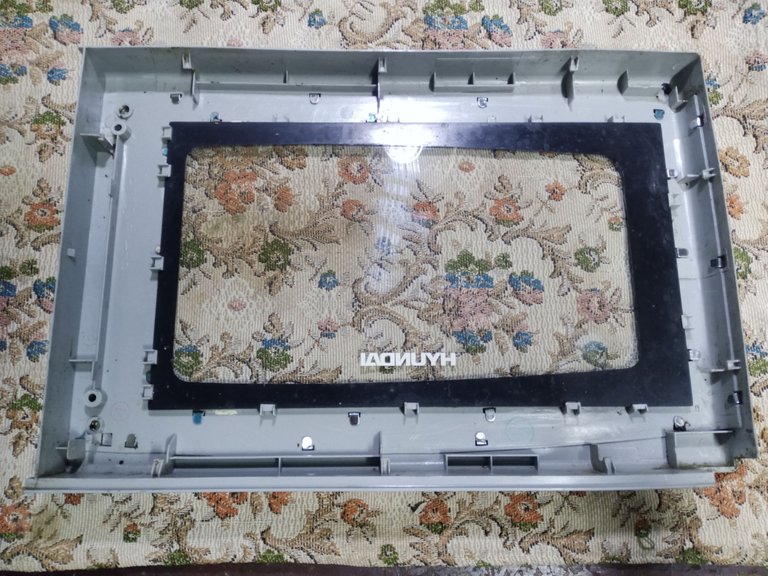 Aviso, si en alguna ocasión les toca hacer esta limpieza, los insectos suelen encontrar irresistible esta parte del horno, por lo que aunque no se note, se puede llegar a encontrar que está bastante llena de suciedad, aun en puertas que luzcan muy limpias.


Desarmada la puerta aprovecho después de limpiarla para retocar la pintura y pintar el panel de control.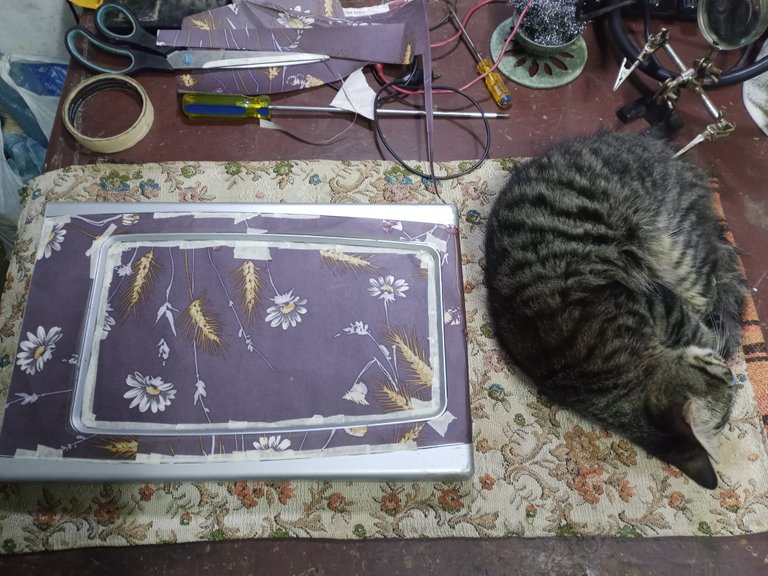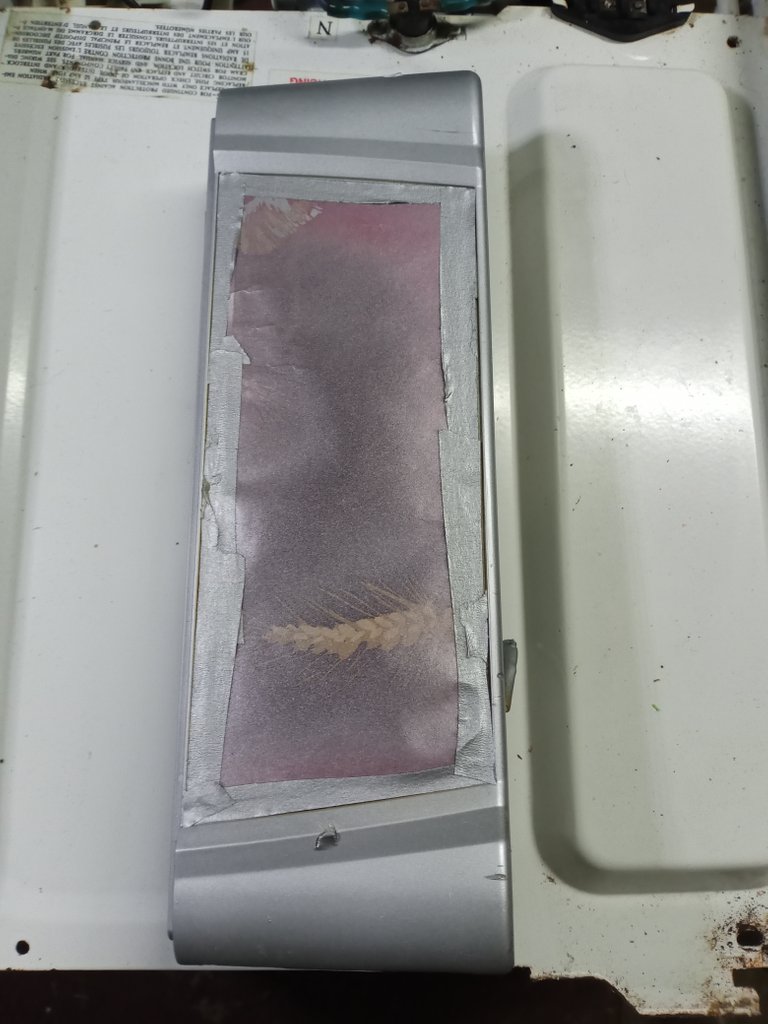 La carcasa del horno llevo un poco más de trabajo, quería usar el cepillo de alambre de la lijadora, pero no podía sostener y controlar el peso de la herramienta, así que llevo un poco más de tiempo.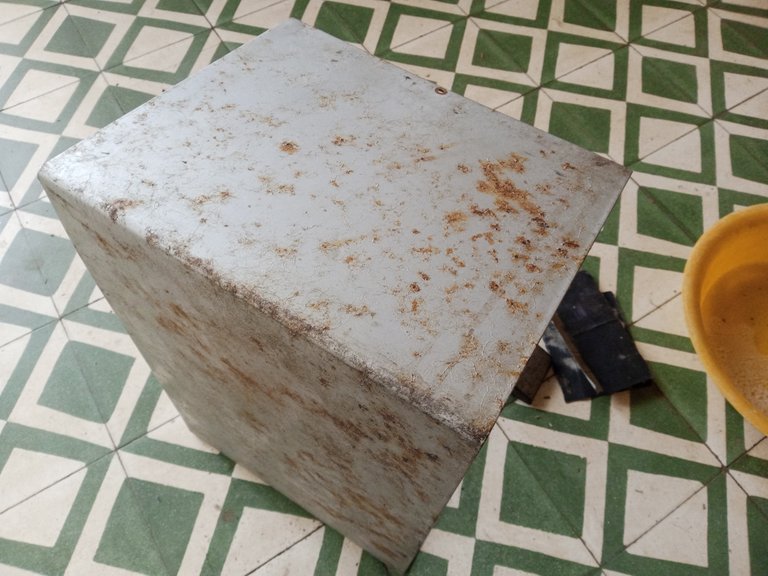 Lijamos a mano hasta tener lista la superficie, luego aplicamos solvente para dejar secar antes de la pintura.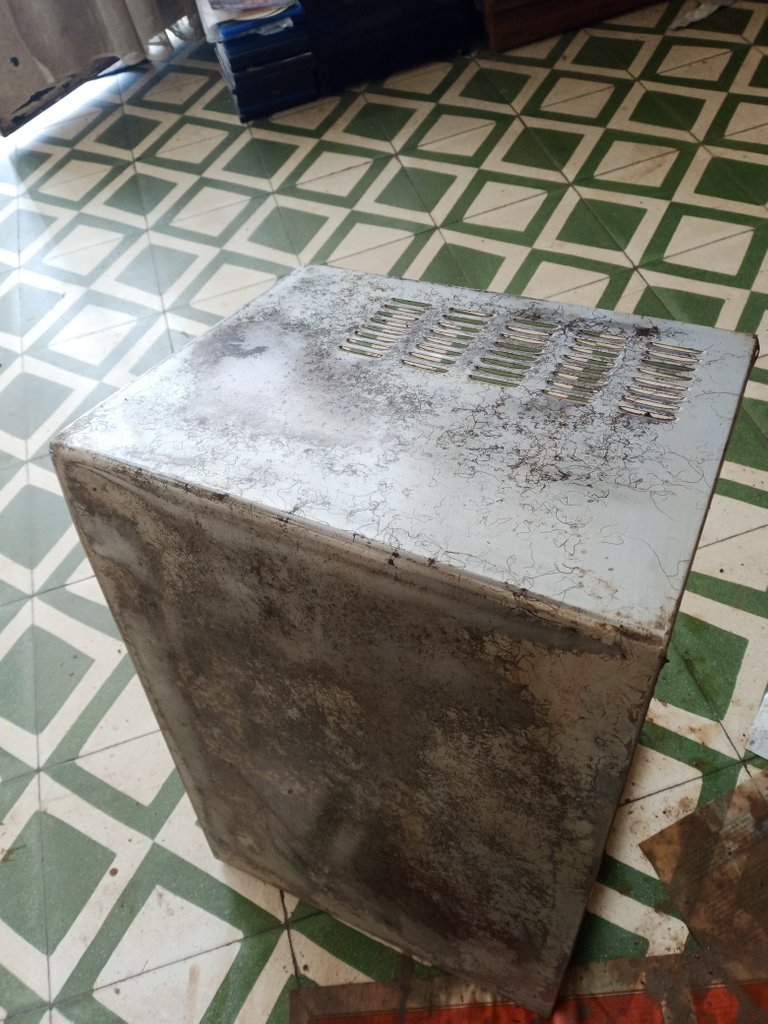 La pintura es un trabajo que, de por sí, requiere algo de paciencia, no se debe tratar de dejar listo un trabajo con dos pasadas del spray, es mejor ir dando capas finas y dejar secar. Si se tarda un día, es mejor que tener que repetir el trabajo y perder la pintura.
Con todo listo, finalmente armamos el horno y verificamos que no nos queden detalles.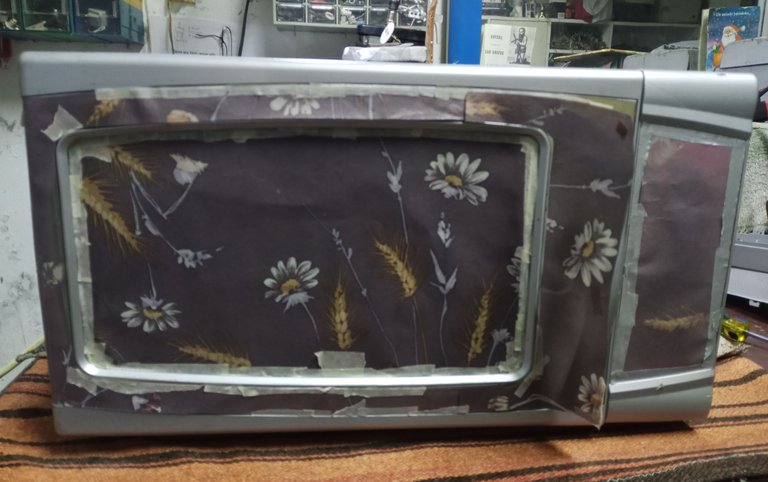 La puerta luce bastante bien y la carcasa tiene una mejor presentación. Estoy bastante conforme, paso de ser un horno que iba a la basura o a ser reciclado, a tener una nueva vida y espero trabaje por un buen tiempo más.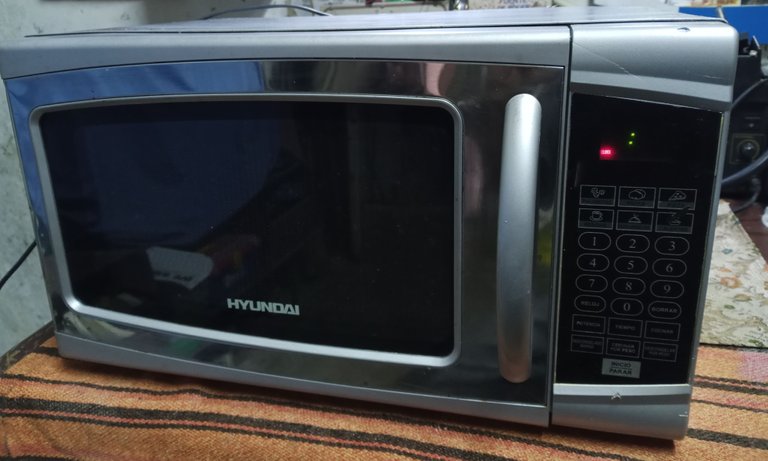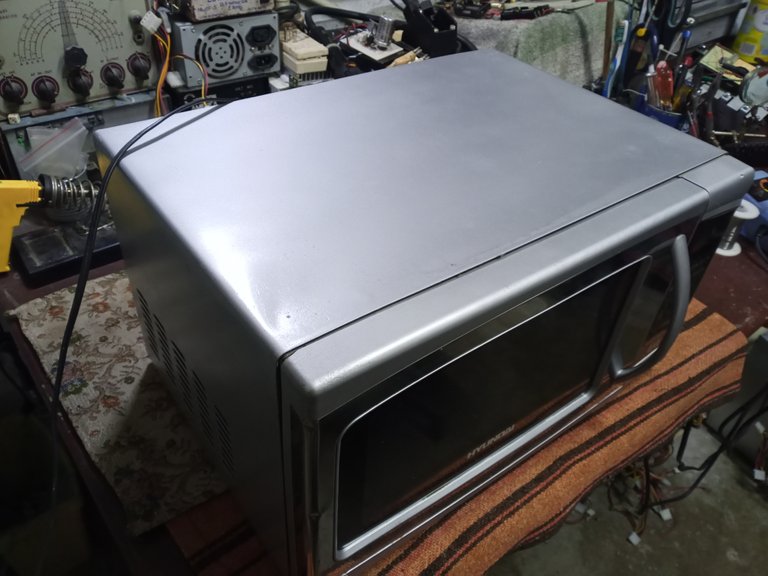 Es muy satisfactorio restaurar equipos desechados y darles nuevamente utilidad, tiene un sentimiento algo especial, que no puedo explicar.
Muchas gracias por dedicar un momento de su tiempo y leerme.


Gente, permítanme un comentario adicional: si en algún momento se encuentran con personas con problemas de movilidad, pero ustedes ven que tienen mucho espíritu o buen ánimo como decimos, no sientan pena por ellos. Si está en sus posibilidades, ayúdenles a conseguir un trabajo o si pueden denles un trabajo.
Un inválido no es alguien quien está impedido por algún problema físico, es alguien quien está impedido por su falta de espíritu.


Que tengan una excelente semana.
Paz.

Las imágenes, a menos que se indiquen, son capturas de trabajo en mi taller.
He usado el traductor de Google para el idioma inglés.