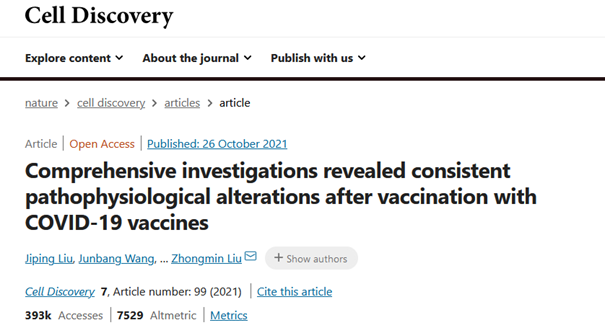 Quelle des Bildzitates - Nature Magazin - Cell Discovery vom 26.10.2021
Liebe Freunde des Friedens und der Freiheit,
liebe Freunde der Liebe und des Glücks,
liebe Mitleser,
derzeit wird bei der experimentellen und als Impfung deklarierten Gentherapie in Deutschland ohne wirklich belastbare wissenschaftliche Grundlage abseits aller gebotenen medizinischen Sorgfaltspflicht - auch im Hinblick auf Studiendesign von Menschenversuchen und vielem mehr - in ethisch nicht mehr vertretbarer Art und Weise alles und jeder kreuz und quer "geimpft" geboostert und wenn es sein muss auch einfach mal kurzerhand kreuzweise hin und her gespritzt, dass jedem halbwegs verantwortungsbewussten Arzt und Mediziner dabei schon die Haare zu Berge stehen müssen.
Dies erst recht vor dem Hintergrund der Folgen einer COVID-19 Impfung auf den menschlichen Organismus. Risiken für Leib und Leben werden in dieser schon Züge einer Massenpanik tragenden COVID-19 Hysterie kurzerhand über Bord geworfen mit möglicherweise langfristig für die so Behandelten fatalen Folgen.
Dabei ist die Gentherapie, selbst wenn sie einen schütztenden Effekt vor einem schweren Verlauf haben sollte, unter dem Gesichtspunkt der Schäden, die sie im Stande ist auszulösen, eigentlich ein Kandidat für einen sofortigen Zulassungsentzug.
Immerhin mehr als 18000 Tote haben diese Menschenversuche bereits zur Folge gehabt. Mehr als 30000 Schwerstbehinderung mit lebenslangen Folgen sind dabei zu beklagen.
Diese Zahl wird in den kommenden Monaten und Jahren vermutlich drastisch nach oben korrigiert werden, müssen, da davon auszugehen ist, dass mit jedem Booster, den sich die Menschen reindrücken lassen, das Risiko für schwere Autoimmunerkrankungen bis hin zum vorzeitigen Tode sich erhöhen dürfte.
So scheinen die COVID-19 Impfstoffe nicht nur zu Alterationen im menschlichen Immunsystem zu führen, sondern auch und im besonderen die Ausbildung eines metabolischen Syndroms der so behandelten zu befeuern.
So sind die COVID-19 Impfungen im Stande das menschliche Immunsystem zu schwächen und führen beim Menschen aller Wahrscheinlichkeit nach
zu einem Abfall der CD8+ Lymphozyten, die für eine antivirale Immunantwort und zur Kontrolle von Infektionen und zur Bekämpfung von Krebszellen zwingend erforderlich sind.

Abfall der γδ-T-Zellen (gamma-delta)T-Zellen, welche als wichtige körpereigene Abwehrzellen für die Abwehr von Infektionserregern im Bereich der Schleimhäute des Menschen erforderlich sind.

Abfall der Alpha und Beta Interferonspiegel. Niedrige Alpha und BetaInterferonspoiegel korrelieren signifiikant mit schweren und tödlichem Verlauf einer COVID-Erkrankung

aus ungeklärten Gründen zu einem Anstieg des Langzeitzuckerwertes (HbA1c), der auch 3 Monate nach der Impfung über dem Ausgangswert vor der Impfung liegt.

zu einer Erhöhung der Blutfette, allem voran des Serumcholesterins und des LDL-Cholesterins, welches mit einem erhöhten Herzinfarkt und Schlaganfallsrisiko korreliert ist.

zu Veränderungen der Gerinnungs- und Nierenwerte bei COVID-19 Geimpften*, so wie es bei einer echten Infektions mit COVID-19 Erkrankung ebenfalls der Fall ist.
Nature Zitat vom 26.10.2021:
To our surprise, we observed quite consistent pathophysiological changes regarding electrolyte contents, coagulation profiles, renal function as well as cholesterol and glucose metabolic-related features, as if these people had experienced an infection with SARS-CoV-2.
auf deutsch:
Zu unserer Überraschung beobachteten wir recht konsistente pathophysiologische Veränderungen bezüglich Elektrolytgehalt, Gerinnungsprofilen, Nierenfunktion sowie Cholesterin- und Glukosestoffwechsel-bezogenen Merkmalen, als ob diese Personen eine Infektion mit SARS-CoV-2 durchgemacht hätten.
PEACE & LOVE!
Quellen:
(1)Nature: Pathologische Veränderungen im Organismus von COVID-19 geimpften Persoenen
(2)Sicherheitsbericht des Paul Ehrlichinstitutues für April 2021
(3)Hohe Viruslasten bei COVID-19 geimpften Toten
Important note:
The information provided here is based on the author's conclusions and own considerations of community members. The author's or community members conclusions do not represent any kind of therapy recommendation for emerging infectious diseases or infected patients, since there are still no clinical efficacy tests for these theoretical considerations for therapy of infectious diseases, which would prove a benefit for this type of treated patient - also if the author of an article is propably personally convinced that such therapy or test or vaccine can be of benefit to infected patients. As there are no clinical studies to date on the use of offlabel drugs and substances for virus infections in humans, as far as I know, therapeutic treatments with these substances should only be carried out as part of a clinical trial in suitable centers. The use of drugs mentioned in this article or other articles in this community by other members as part of an off-label use in the case of coronavirus infection or other kind off illness is explicitly discouraged due to the lack of data in human use until now, as long as the benefit of appropriately treated patients with consideration of the side effects of such therapies is proven in controlled studies could.
This contribution is only intended to encourage scientists to make increased efforts to develop adequate antiviral therapies that have a broad spectrum of antivirals. They are to be understood by the author of this article as a medical-theoretical contribution to the improvement of medical care for people all over the world - but do not include any kind of trade request for their practical implementation in humans without prior clinical examination by appropriate centers.
Off-label use of such experimental therapeutic strategies in the case of emerging viral diseases is at present not recommended by the author of this article. The presented informations are only representing theoretical therapeutic strategies mentioned by the author or other members to induce further clinical investigations in the field of emerging infectious diseases in future.
Wichtiger Hinweis:
Dieser Beitrag stellt keine Empfehlung zur Anwendung von Medikamenten oder anderen Substanzen für die Behandlung von Erkrankungen oder Infektionen dar, sondern dient ausschliesslich zu Informationszwecken und dem wissenschaftlichen Austausch. In konkreten Erkrankungsfällen sollten Patienten und Erkrankte stets das weitere therapeutische Vorgehen mit den jeweils behandelnden Ärzten abstimmen - zumal der off label Einsatz von bislang klinisch nicht erforschten Therapieoptionen mit erheblichen Risiken für Leib und Leben verbunden sein kann und sich der Stand der Wissenschaft fortlaufend ändert.
Für die Richtigkeit der in diesem Beitrag gemachten Angaben wird jegliche Gewähr ausgeschlossen, da teilweise eigene Schlussfolgerungen auf Grundlage der Arbeiten von Dritten gezogen werden, für die bislang jeder wissenschaftliche Beweis fehlt. Im Zweifel ist der behandelnde Arzt zu fragen und die Möglichkeit anderer Ursachen für eine Erkrankung ebenso in Erwägung zu ziehen.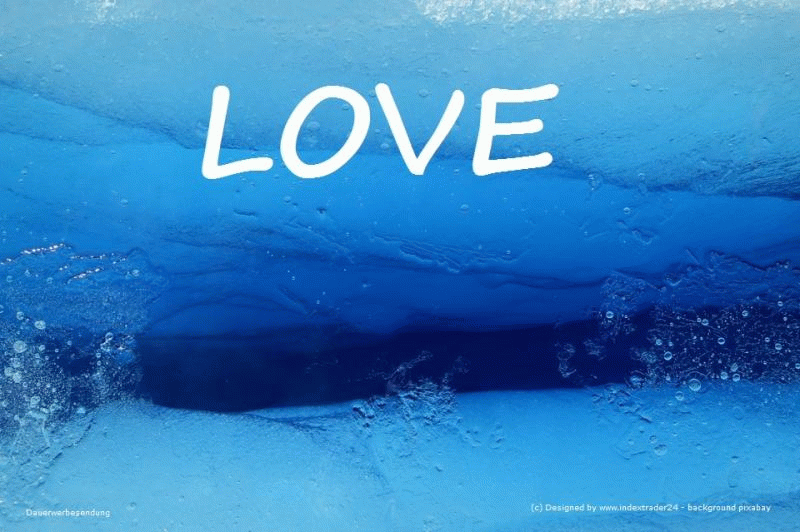 New Logo of the JANASILVER LOVE TOKEN on Steemengine
Copyright - www.indextrader24.com