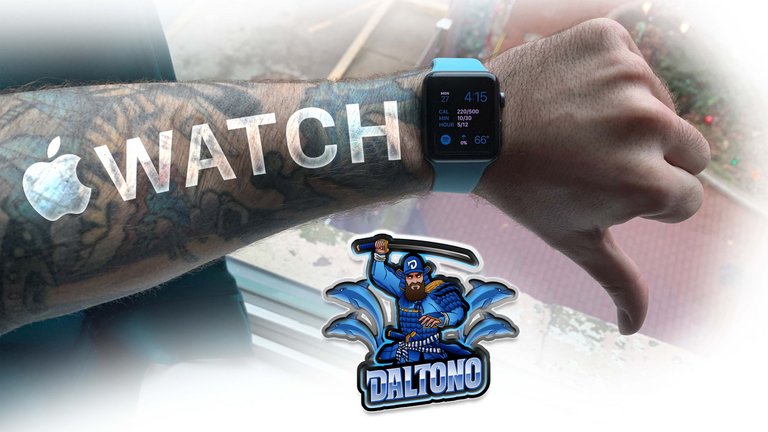 Wrist game proper 🍎⌚️
Let me start off by saying, I love my Apple Watch. I received my Series 3 as a gift from my brother whenever he got his new one for Christmas a few years ago. Before being gifted one, I swore I would never purchase an Apple Watch and thought they were a total waste.
At present time I am a huge fan of the Apple Watch and wear mine every single day. I even got @flowerbaby an Apple Watch for Christmas this year. These things are pretty awesome and I'm sure they will only get better with each new release. If you are like me and love Apple products (despite their high asking price), then you probably have or want an Apple Watch. These gadgets pair perfectly with an iPhone.
As many positive things that I have to say about the Apple Watch, there are a few negative things about this piece of tech as well. None of these issues are things that break how amazing the Apple Watch is, but there are a few quirks that I consider to be a problem and one glaring point that I hope Apple can fix eventually.
This thing gets stanky 🤢
I don't want to exaggerate here and say that my Apple Watch smells awful. I can however say without a doubt that after a nice sweaty workout, mine smells less than ideal. It helps to use a rubber watch band rather than cloth. Still, I find myself having to do a deep cleaning of my watch band after every single workout. It is pretty annoying to have to do, but I'm not about to have no stinky wrist.
I recently found out that my main issue here may have been the fact that I've been wearing the same Nike band for over 2 years now and had never swapped it with another. I didn't want to get in the habit of buying too many bands just to match outfits. The thing is, it makes sense to have multiple now that I have this new blue band, and can immediately tell a difference in the cleanliness of it. I'm pretty sure my old black band has just been worn for too long. Even after cleaning it, I found it hard to have it smelling perfect.
Maybe my sense of smell is just really strong. I know there are some people that probably never clean their Apple Watch bands and that grosses me out big time. I can only imagine how bad some people's wrists may smell because of something like this.
Basically, the only thing that I can think of to eliminate this issue is for there to be some kind of sell cleaning machine Apple releases that you put your watch in while you are off doing something else. That or some scented watch bands. I'm really not sure what would solve this problem altogether, I just know it annoys me and I hate having to clean my watch. The perks of an Apple Watch make it worth doing though and I will never be the guy with a dirty Apple Watch.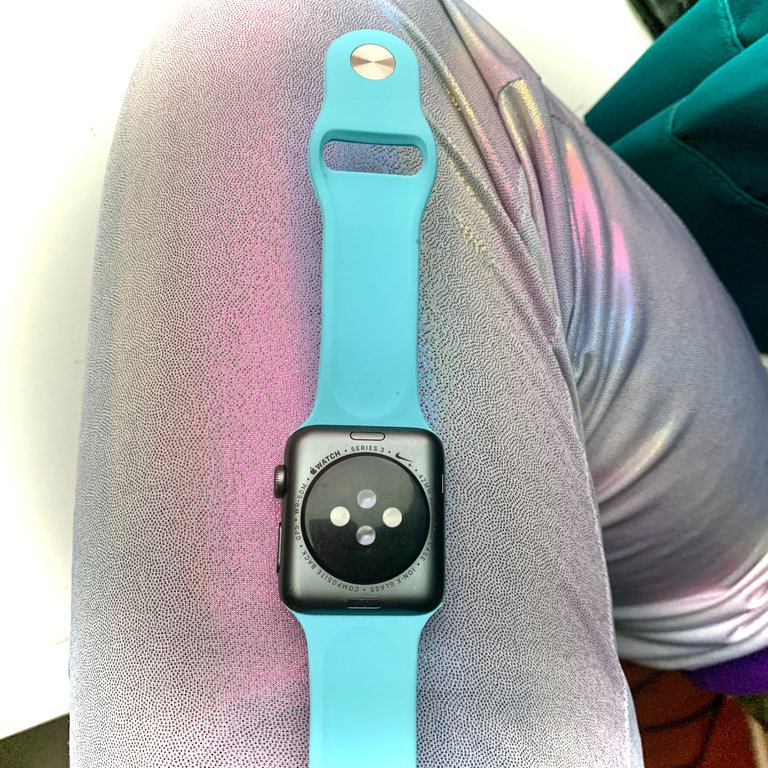 Tattoos confuse it 🥴
This next gripe is something I never even noticed until I got back into the gym. I have tattoo sleeves that go down to the bottom of my wrist. I love them and wouldn't change my ink for anything. The thing is, my Apple Watch just doesn't seem to be a fan of my tattoos.
Let me explain. When I start a workout at the gym and have my watch tracking my fitness, everything seems to work fine. However, if my watch slides down my wrist even a little bit (sweat makes that happen easily) then the lasers make contact with my tattoos instead of my bare skin. This confuses my watch and oftentimes causes it to pause my workout for no reason. It's as if my watch thinks it is no longer on my wrist. I could be sprinting and have a BPM of 190 and this thing will still sometimes pause and it annoys me to death.
If I am not paying attention to my wrist, sometimes I don't even realize that my workout has paused. This causes my watch to fail to track my fitness to the fullest. If I burned 1000 calories, I want proof that I did it!
When the watch is working, it works very well with tracking what I do. I've become pretty obsessed with my health stats and love knowing that I am going hard in the gym. Luckily I have found that wearing my watch band as tight as possible seems to remedy this issue pretty well. I just have to be careful to not let my watch slide down my wrist and come in contact with my tattoos.
This is a known issue for many users with tattoos like me. Apple doesn't seem to have an answer for it yet. This seems like something they should figure out soon. Tattoos continue to become more popular each year. If they trying to convince people to use the Apple Watch as their fitness tracker, they need to develop a way for this to stop happening to people with tattoos on their wrists.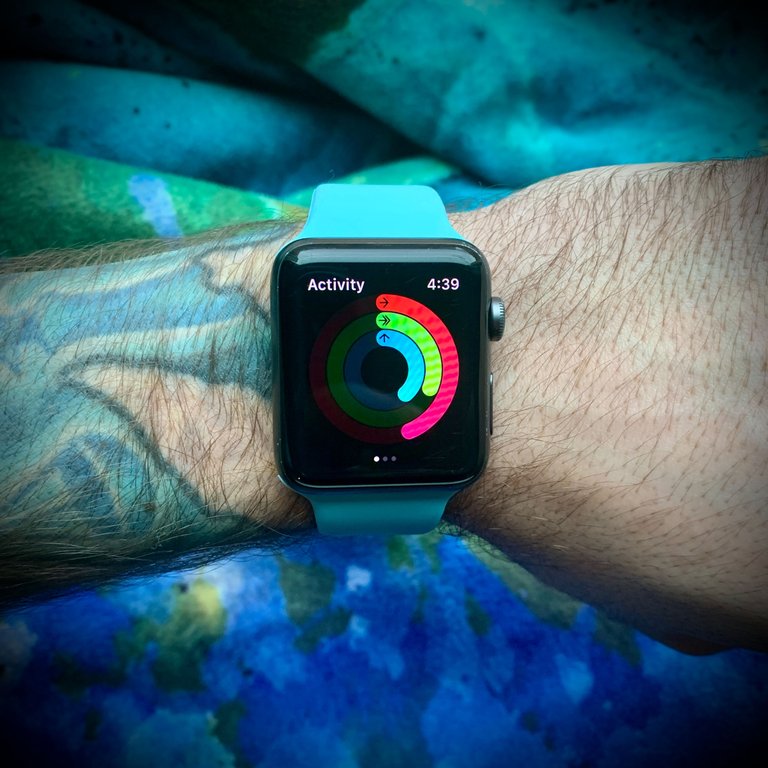 I can't really complain more 😬
That is really the only negative thing I can say about my Apple Watch. The stank band issue is something that I've found a resolution to recently. Just have to switch up which band I wear more often and maybe stick to wearing a few exclusive to the gym. The workout pausing issue is something that I have a feeling I'm going to have to continue to deal with for quite a while.
I'm pretty impressed that my Series 3 provides me with pretty much all of the features that the latest Apple Watch offers. There are a few small things that I am forced to do without, but this thing knocks it out of the park with pretty much every task that I ask of it.
I'm so happy that my girlfriend finally has her own Apple Watch. I know that she has been wanting one for a long time and it finally has happened. We can now compete with our fitness goals each day. I'm excited to see what her numbers look like once she gets in the groove of using it. She has a lot of tattoos too, but luckily I think the ones on her wrist are a little higher than mine, so she shouldn't have the same pausing issue that I sometimes have.

Do you have an Apple Watch? If so, what are your favorite and least favorite things about it? What is something that you think Apple could add to their watch?
Feel free to leave a comment below and let me know your opinion on this piece of tech.
---
---
---

My NFTs: https://inji.com/@daltono/nfts