While rambling around the meadows and taking photographs, I recorded some video - fragments along the way, in the last two months ... and here, I put them together in a relatively coherent video - Have a good viewing.
---
Here are the names of the species, or just families when I wasn't able to find the exact species, that appear in the video, in the order in which they appear - from first to the last, from the start to the end.
The Meloe violaceus blister beetle is chewing some juicy leaves, surrounded by dry and fibrous grass on the meadow near the sea.

A jumping spider, I don't know the exact species because quite a few similar looking ones are present in the area ... but the family is Salticidae for sure. This small spider is signaling with its pedipalps.

The moth from the Pyralidae family is feeding on nectar of the Euphorbia cyparissias plant, on the meadow near the sea.

Some small bee from the Megachilidae family is building a big underground nest.

A colorful spider from the Araneidae family is working on his web.

Mating of the Coccinella septempunctata lady beetles.

The Zeuzera pyrina moth.

A swarm of Malacosoma castrense caterpillars.

Mating of the minuscule Mecinus pyraster weevil.

The Tibellus oblongus spider has caught a small, recently hatched nymph of the Pholidoptera griseoaptera bush - cricket.

A group of shiny, colorful Psilothrix viridicoerulea beetles that, in this segment of the video, feed on pollen of the Ranunculus bulbosus flower.

A mating pair of Scatophaga stercoraria flies.

A mating pair of Geomyza tripunctata flies.

The big, furry caterpillar of the Lasiocampa Trifolii moth is chewing some clover on the coastal meadow.

Just a silhouette of some fly resting on some dried out plant in the evening - not much action here.

Mating of the Longitarsus anchusae flea beetles.

It looks like an aftermath of some ant battle, the big ant is a Formica fusca warrior.

Mating of the Dolycoris baccarum shield bugs.

The Xysticus kempeleni crab spider has caught a Formica fusca ant.
---
▶️ 3Speak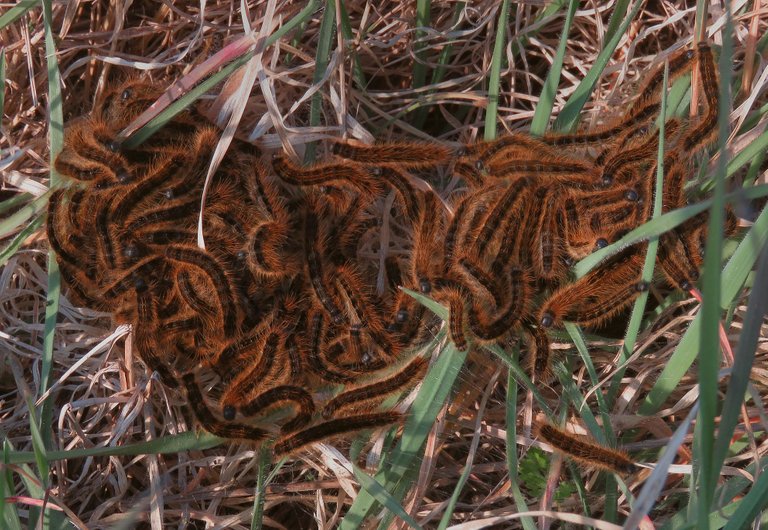 (Enlargeable)
And that's it ... as always in these posts on HIVE, the video and the few photographs are my work - THE END.