---
A couple of days ago, while photographing some other stuff in my garden, I noticed these minuscule green larvae on the leaves of one of the fig trees in my garden. I already photographed this species, adults, larvae, and everything in between a couple of years ago, so this time I decided to do something different. This time I didn't see adult insects around, so I concentrated my focus on the larvae. And since I already have plenty of photographs, I thought that some video footage could be a good idea. The trouble with the larvae is that they are pretty inactive and boring when it comes to video. They are motionless like little limpets busy sucking the sap most of the time. So I picked one of the infested leaves and put it on the lawn, moving the larvae from the comfortable shade out in the sun. At that point, they started crawling around, and I filmed this short video. I have never seen them walking before. It was a cool scene, These small insects look kinda cartoonish and pretty cute. A bit like a cartoonish version of a trilobite or something like that. After the filming, I put the leaf back on the tree, so that they can find another leaf to feed on. These little pests don't cause major problems to the tree.
---
▶️ 3Speak
If you wanna see and learn more about the species, you can take a look at my old post from the spring of 2020. Here is the link.
https://ecency.com/hive-196387/@borjan/observing-the-life-of-homotoma-ficus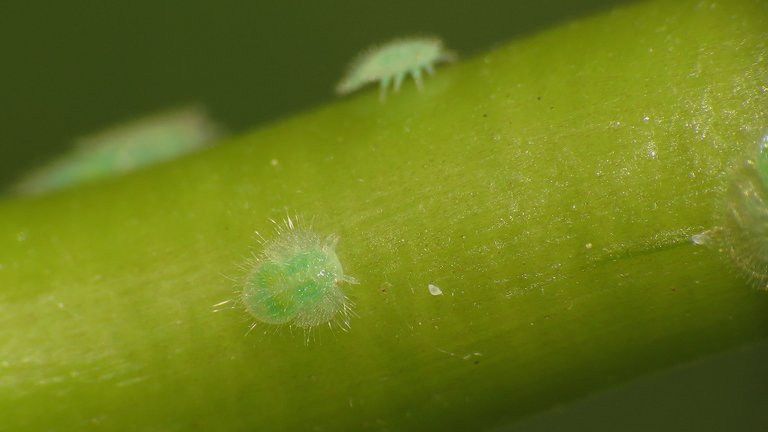 (Enlargeable)
AND THAT'S IT. AS ALWAYS IN THESE POSTS ON HIVE, THE VIDEO AND THE TWO PHOTOGRAPHS PRESENT IN THE POST ARE MY WORK - THE END.