Today we look at fun amateur electronics.
Let's build two simple turn signals.
We see the first one in the photos. We can also use old TESLA silicon transistors type KC507 in its construction with nostalgia without any problems.
It is a simple multivibrator with the use of a two-color LED, which flashes green and red alternately.
The flasher has a slightly larger current consumption and power supply from about 4V, when it starts working.
The printed circuit board is painted and soldered by hand.
You can see the diagram of this flasher below.
By choosing capacitors, we can easily change the frequency of color changes.
In the next diagram, I will introduce a simple flashing flasher. The connection uses the principle of a charge pump, which allows the use of a low supply voltage, for example in the form of a single AA battery.
I used the connection in a flasher on the bike where it is possible to connect up to three LEDs in parallel with sufficient power and brightness.
I wish you a nice game.

Dnes se podíváme na zábavnou amatérskou elektroniku.
Postavíme si dva jednoduché blikače.
První vidíme na fotografiích. V jeho konstrukci můžeme s nostalgií bez problémů použít i staré křemíkové tranzistory TESLA typu KC507.

Jedná se o jednoduchý multivibrátor s využitím dvoubarevné LED, která plynule střídavě bliká zeleně a červeně.
Blikač má trošku větší odběr proudu a napájení cca od 4V, kdy začíná pracovat.
Plošný spoj je malován a pájen ručně.
Schéma tohoto blikače vidíte dole.
Volbou kondenzátorů můžeme jednoduše měnit frekvenci střídání barev.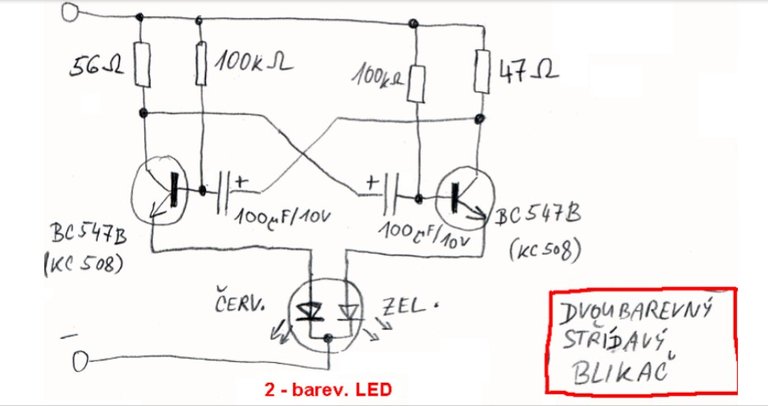 Na dalším schématu představím jednoduchý zábleskový blikač. Zapojení používá princip nábojové pumpy, což umožňuje použít nízké napájecí napětí v například v podobě jedné tužkové baterie.
Zapojení jsem využil v blikačce na kolo kde je možné zapojit až tři LED paralelně s dostatečným výkonem i svítivostí.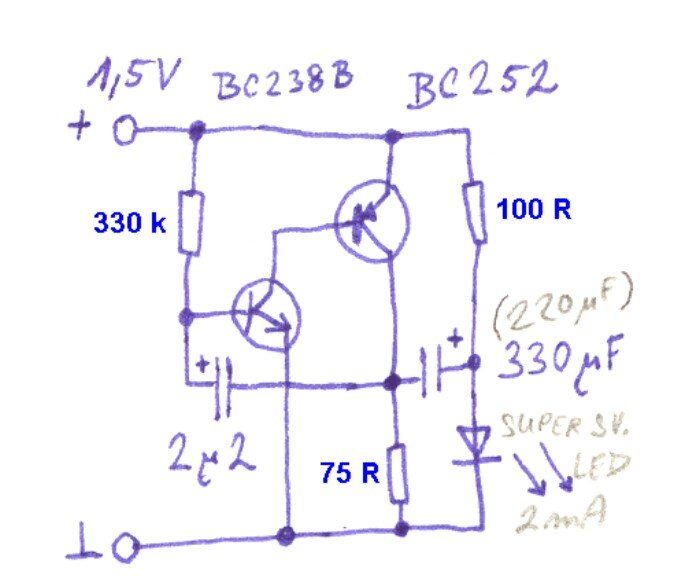 Přeji hezké hraní.