I always had weaknesses for this beautiful animal, it is the famous meerkats, from these animals I learned the ecological term sentinel! do you know what it is? I explain to you an individual sentinel is one that the herd chooses to be on the lookout for predators! interesting, right? come and learn more about meerkats!😁😁
Siempre tuve debilidades por este hermoso animal, se trata de las famosas suricatas, de estos animales aprendi el termino ecologico de centinela! sabes que es? te explico un individuo centinela es aquel que la manada lo escoge para estar atento de depredadores! interesante no? ven y aprende mas sobre las suricatas!😋😋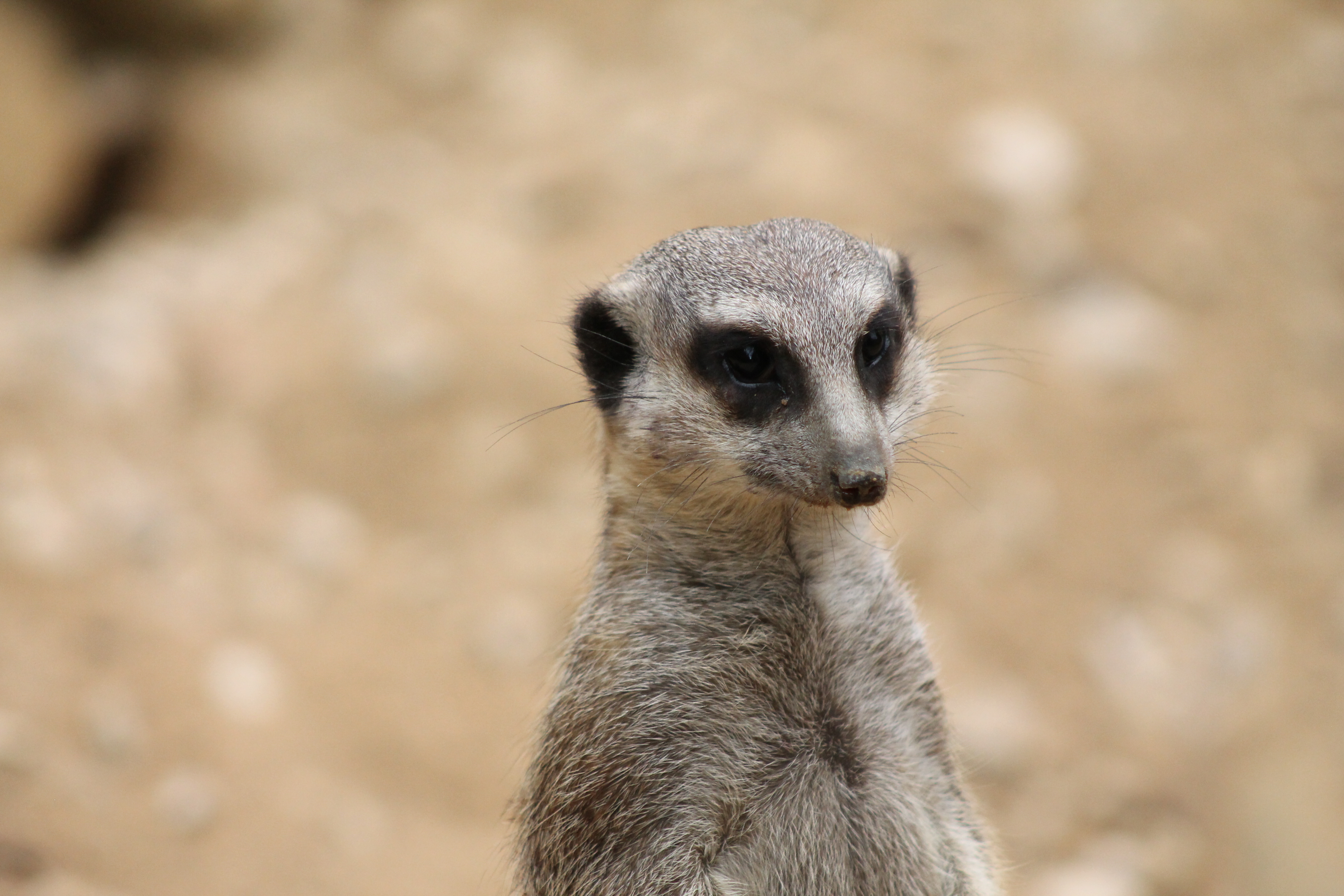 WHAT ARE THE SURICATAS??🙂🧠, QUE SON LAS SURICATAS🦦🦖??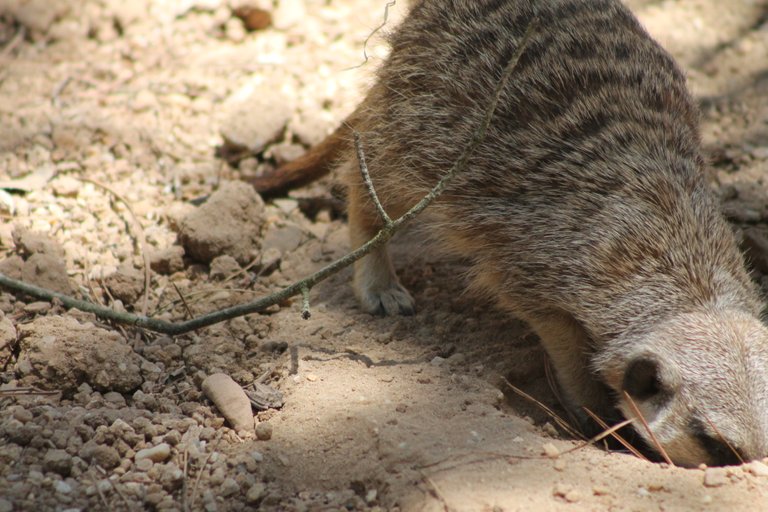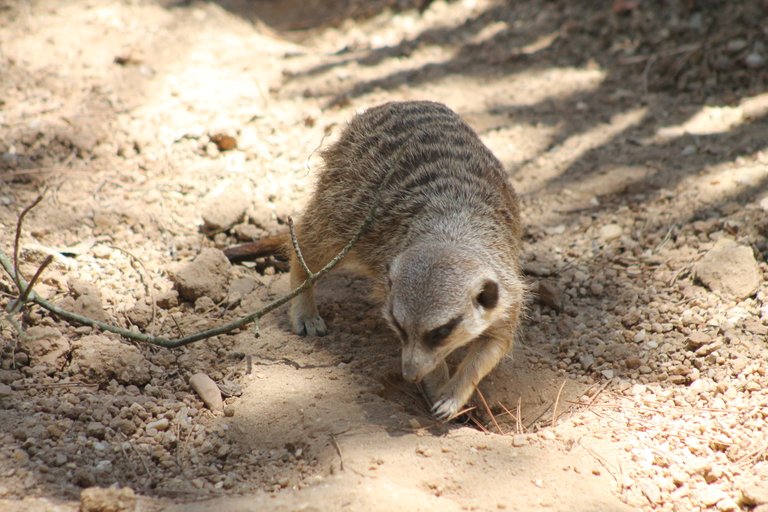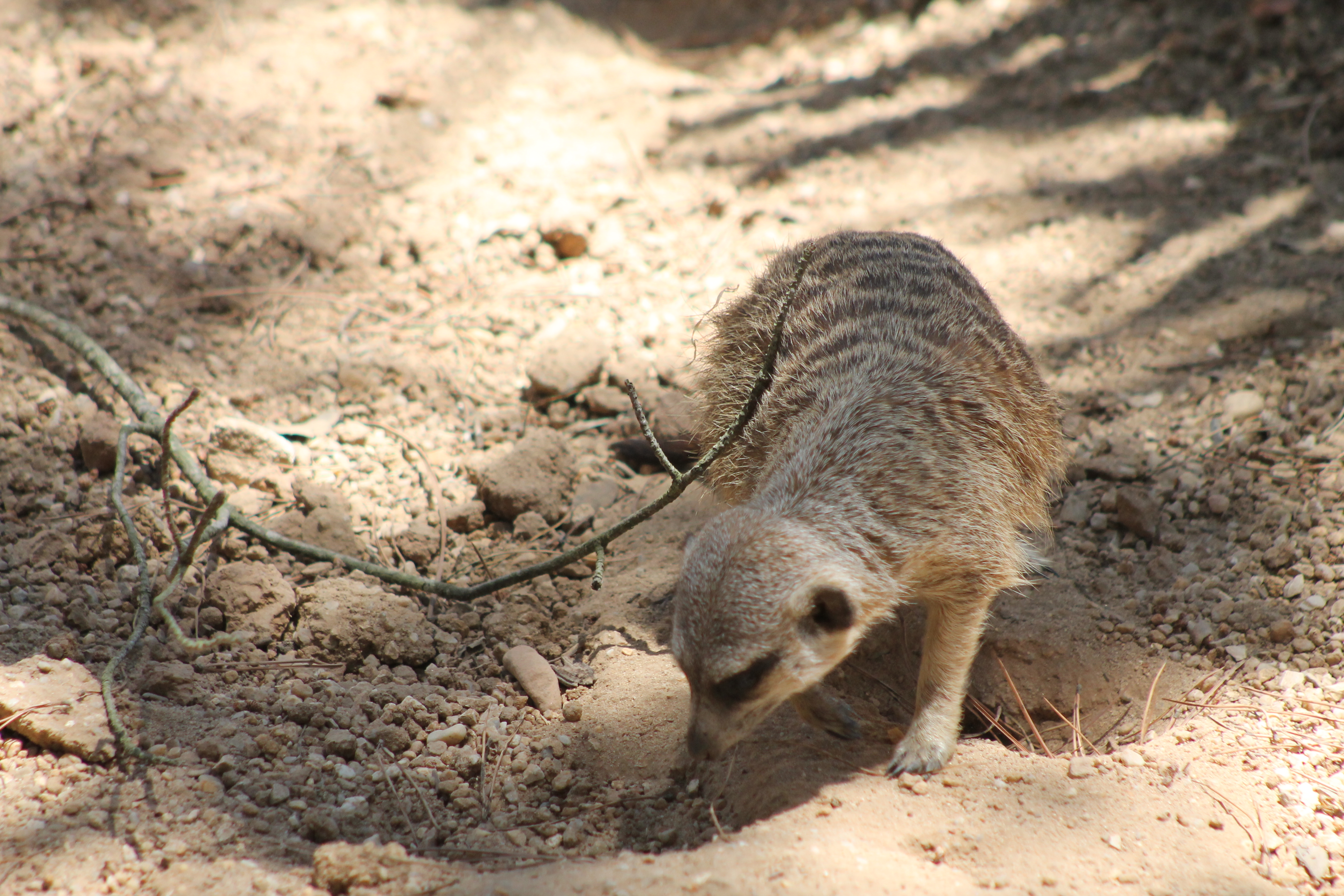 The meerkat is an African animal that is grouped in large underground networks. He is a skilled excavator, capable of creating multiple entrances for spaces that he only leaves during the day. The meerkat colonies reach 40 individuals, whose average length ranges between 25 and 35 centimeters (the tail must be added, with around 20 centimeters more). Its color is gray, tan or brown with silver streaks, although it turns black at the tip of the tail, as well as around the eyes (as a mask, with some black bands on the back). The fur is densified on the back, which constitutes a thermoregulatory tool that helps it accumulate solar and daytime heat, one of its main characteristics. This "stored" heat is progressively released as temperatures drop.🤩🤩
El Suricata es un animal africano que se agrupa en grandes redes subterráneas. Es un hábil excavador, capaz de crear múltiples entradas para unos espacios que solamente abandona durante el día. Las colonias de suricatas alcanzan los 40 individuos, cuya longitud media oscila entre los 25 y 35 centímetros (hay que añadir la cola, con alrededor de 20 centímetros más). Su color es gris, tostado o marrón con vetas plateadas, si bien se torna negro en la punta de la cola, así como alrededor de los ojos (a modo de antifaz, con algunas bandas negras en el lomo). El pelaje se densifica en el dorso, lo cual constituye una herramienta termorreguladora que le ayuda a acumular el calor solar y diurno, una de sus principales características. Este calor "almacenado" se va liberando progresivamente cuando descienden las temperaturas.🤗🤗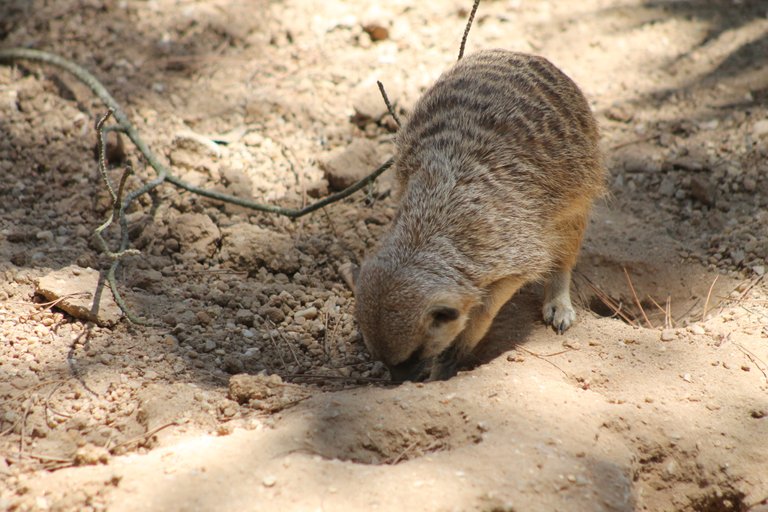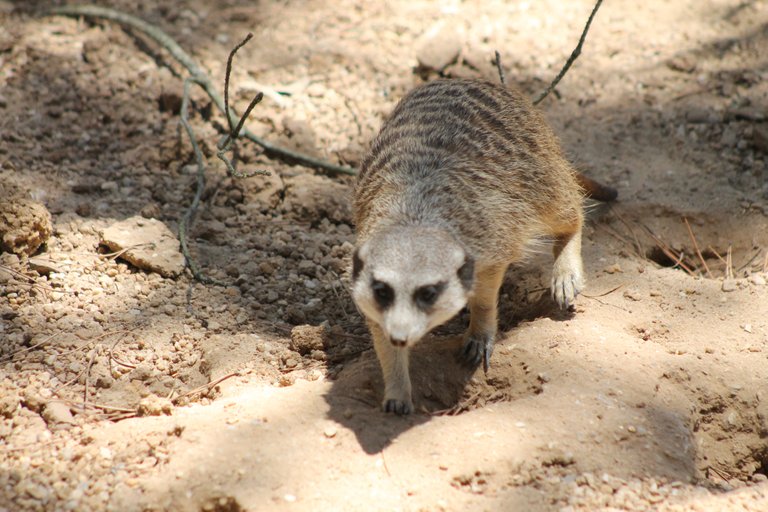 Meerkats are social mongooses that live in family groups. Several family groups can come together and form a group. They are very territorial, defending their territory from other groups of meerkats. These groups are made up of the breeding pairs (one per family) and their offspring.😃😃🤣😎😋👦👧🧒👶👶🤗🤗🤩
Los suricatas son mangostas sociales que viven en grupos familiares. Varios grupos familiares pueden unirse y formar un grupo. Son muy territoriales, defendiendo su territorio de otros grupos de suricatas. Estos grupos están formados por las parejas reproductoras (una por familia) y su descendencia.😁😁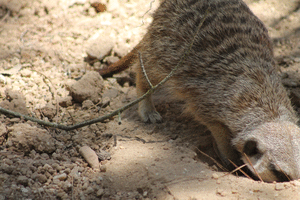 SENTINELS??🙂🧠, CENTINELAS🦦🦖??
In the group there is always a sentry who rotates and is in charge of watching out for predators and other threats. The sentry sounds the alarm giving a distinctive bark, if the alarm sounds and is aerial everyone runs to their burrows, but if they are caught without time to return to the burrow the adults will cover their young with their own bodies.😀😀
En el grupo siempre hay un centinela que va rotando y se encarga de vigilar ante depredadores y otras amenazas. El centinela hace sonar la alarma dando un ladrido distintivo, si la alarma suena y es aérea todos corren a sus madrigueras, pero si son sorprendidos sin tiempo de regresar a la madriguera los adultos cubrirán a sus crías con sus propios cuerpos.😍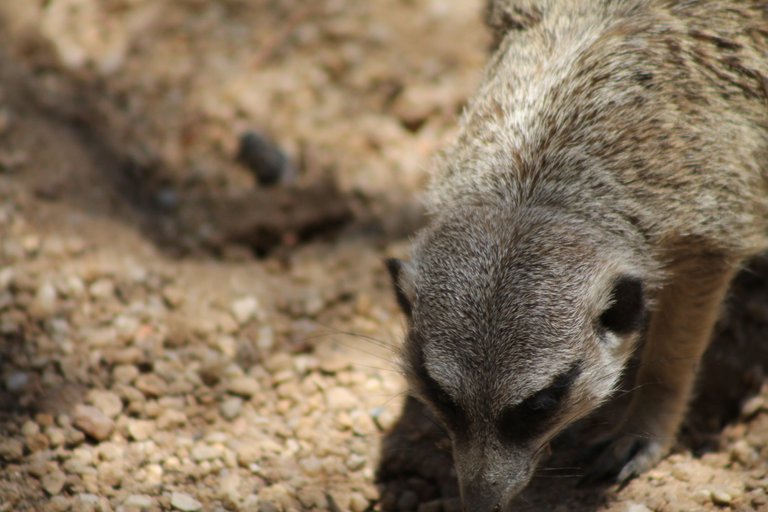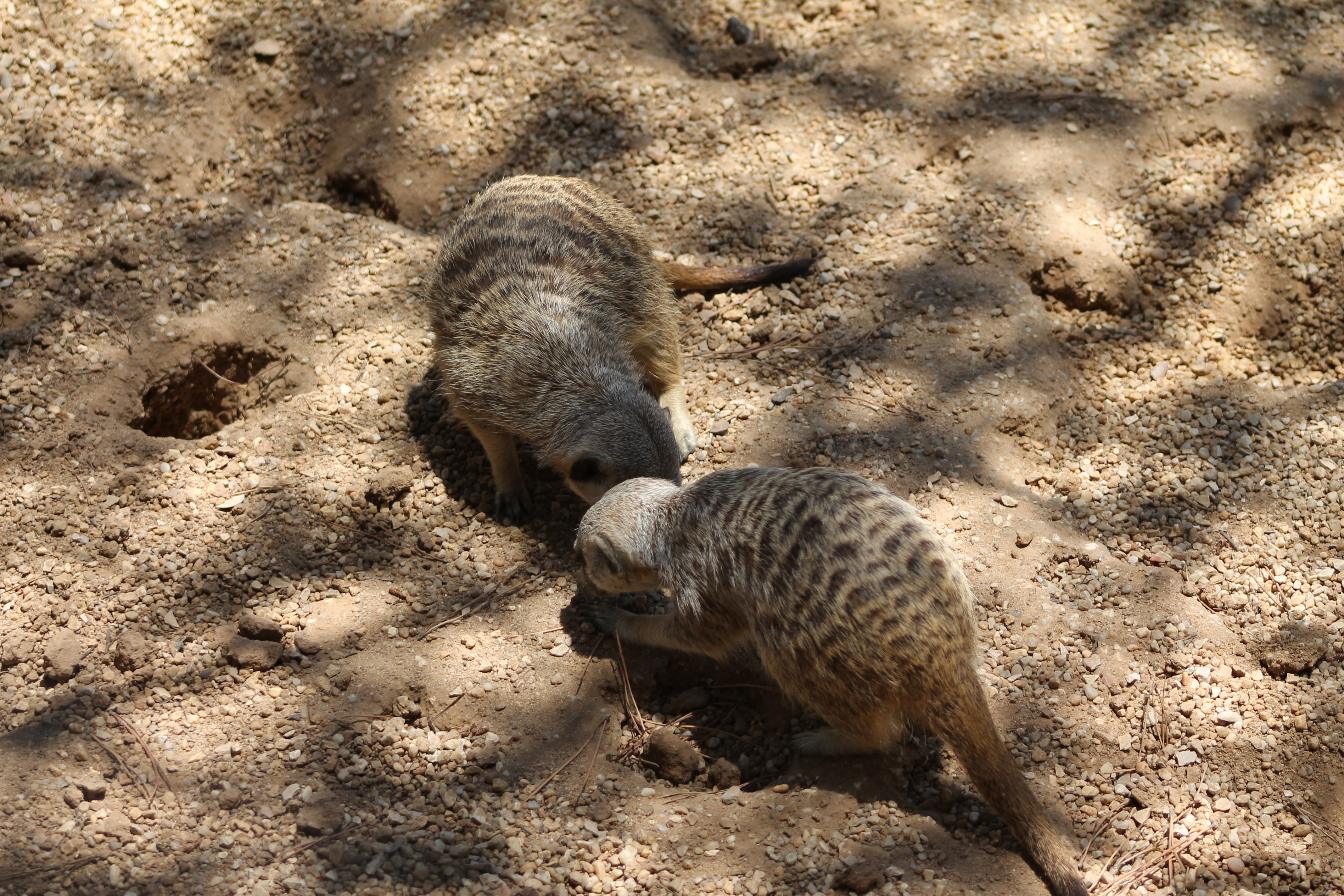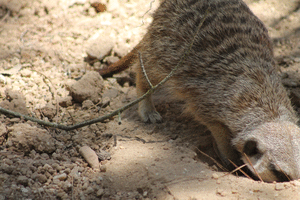 FEEDING??🙂🧠, ALIMENTACION🦦🦖??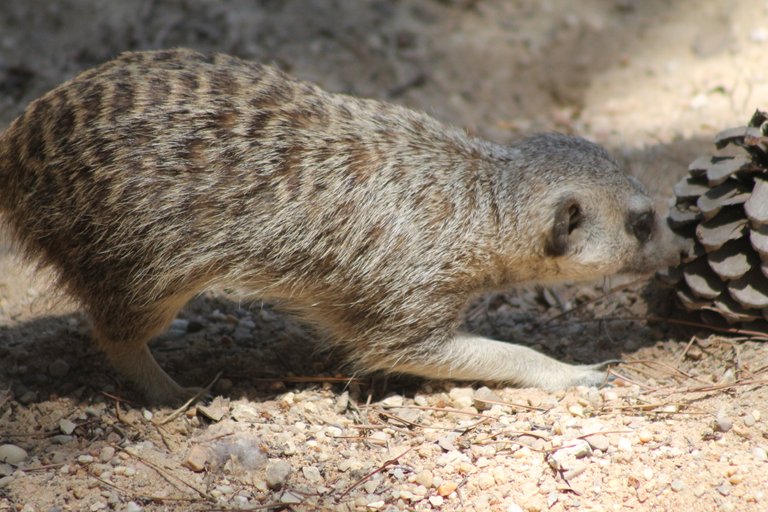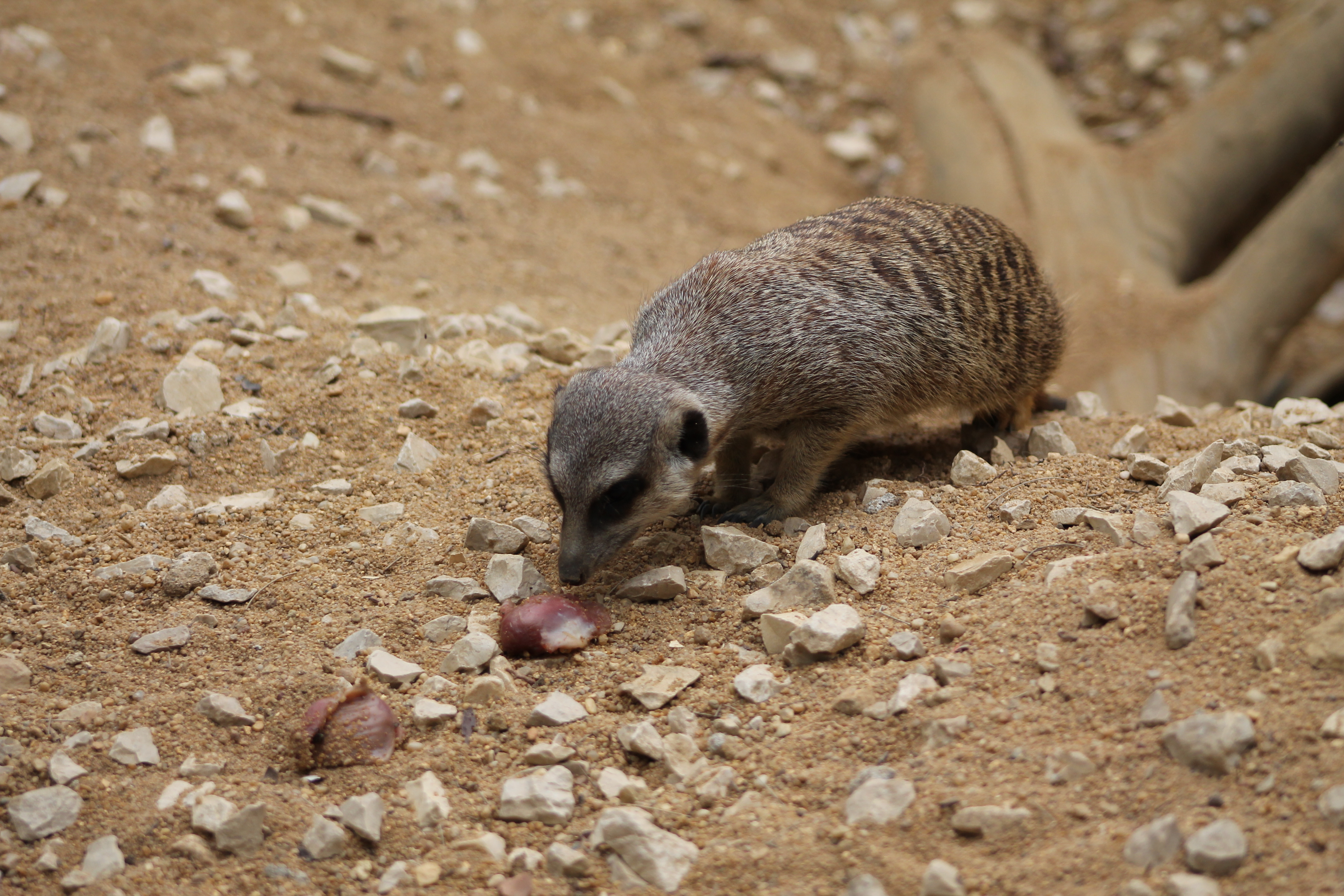 Meerkats feed mainly on insects and arachnids (especially scorpions). They also do not deprive themselves of eating small mammals.😶😶
Los suricatas se alimentan, sobre todo, de insectos y arácnidos (escorpiones, especialmente). Tampoco se privan de comer pequeños mamíferos.🙂🙂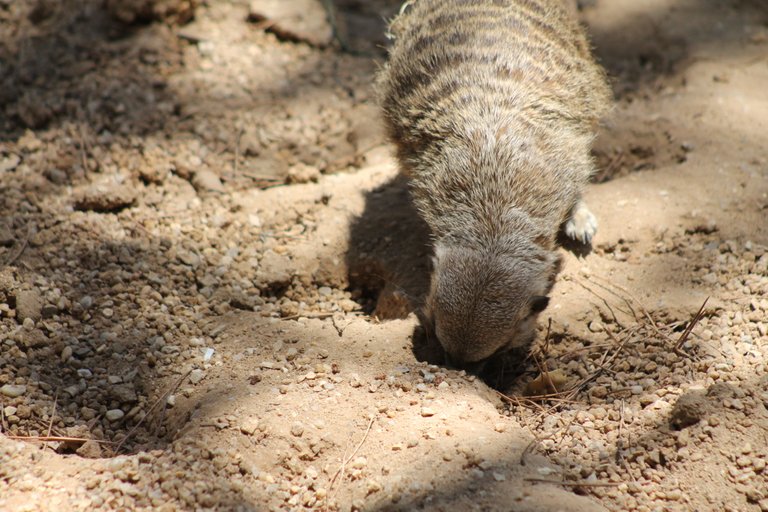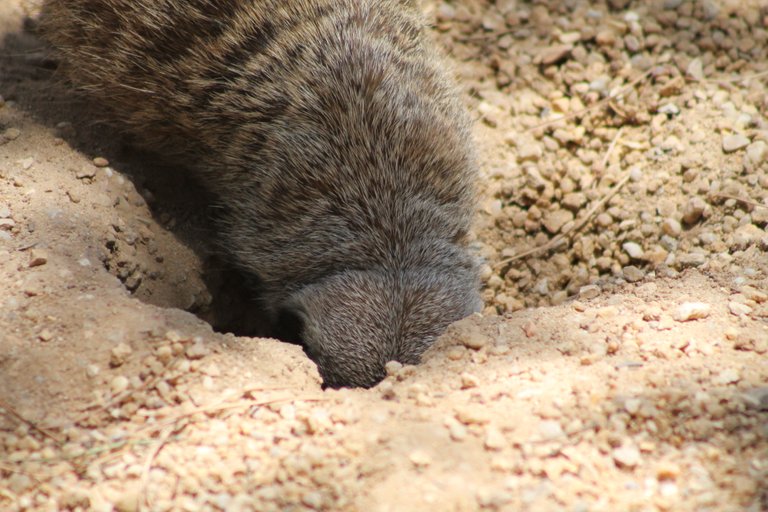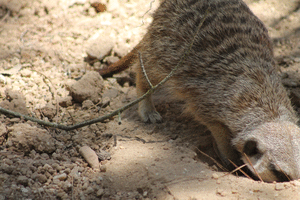 REPRODUCTION??🙂🧠, REPRODUCCION🦦🦖??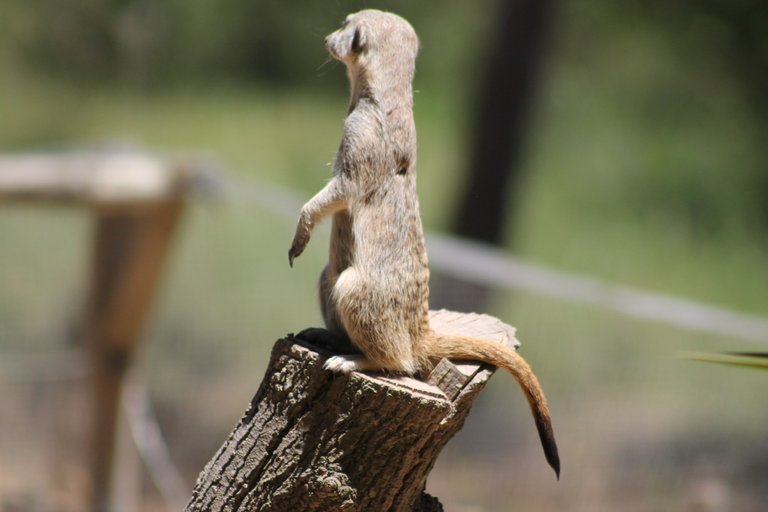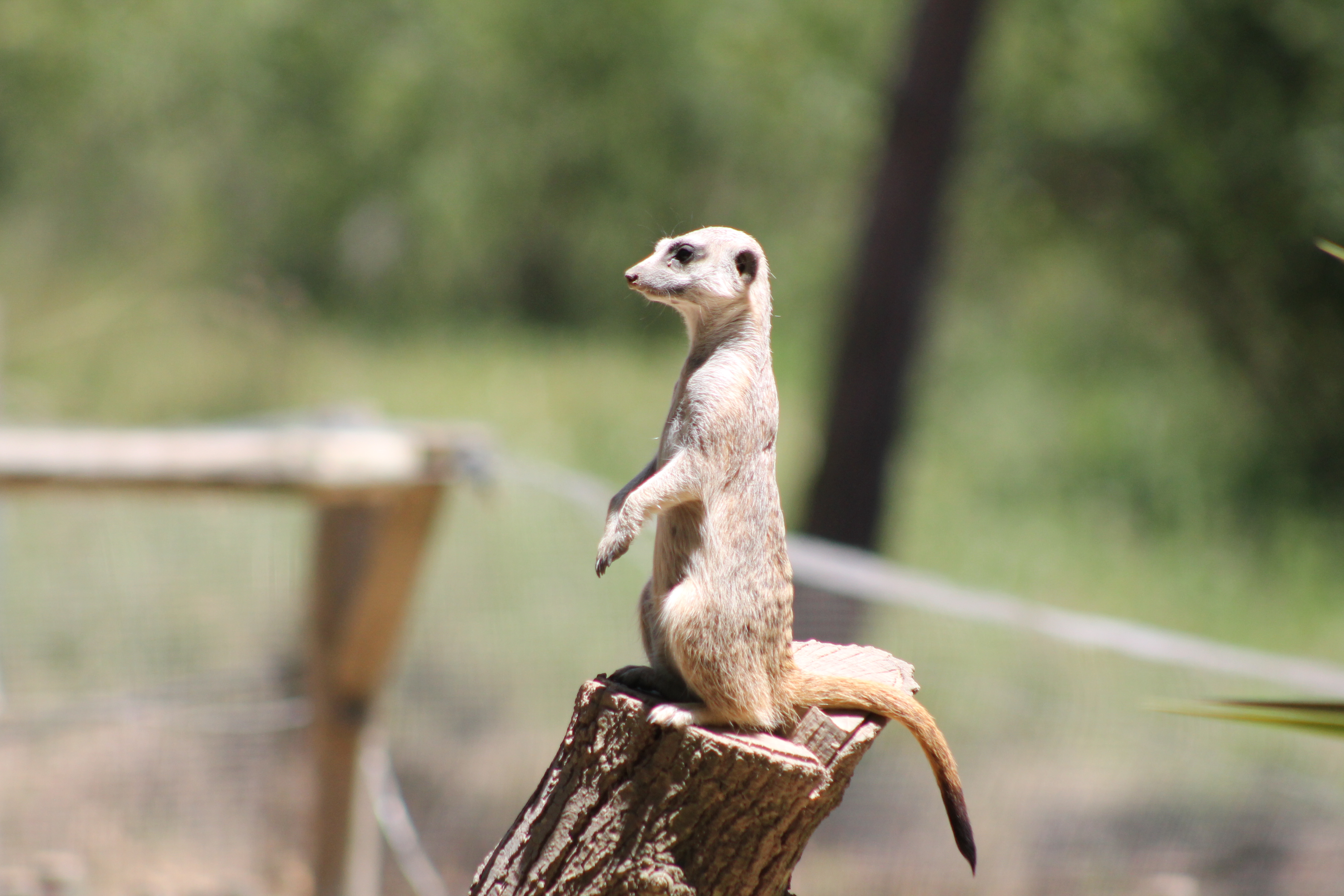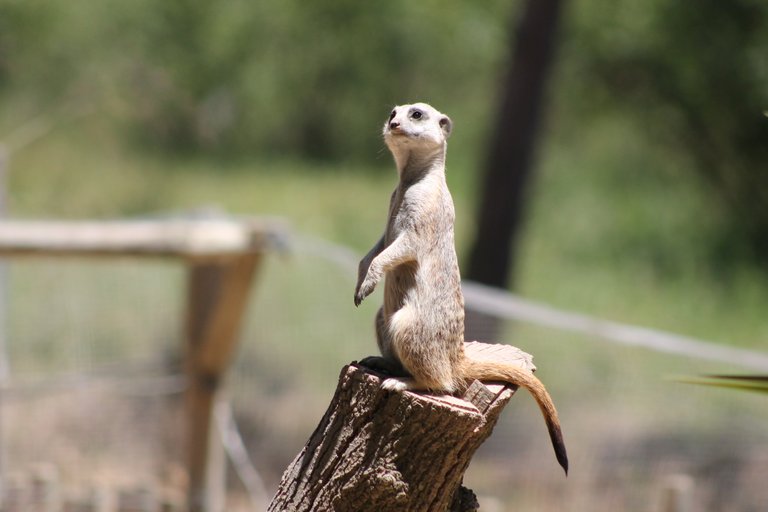 The female meerkat, once it is two years old, is already sexually mature. Breeding is not seasonal: they can breed throughout the year if conditions are favorable. Females give birth to three young on average, after 11 weeks of gestation, and can give birth to three litters in a year. The non-breeding individuals in the group often cooperate in raising the cubs, which increases the chances of survival.😁💖💥
La Suricata hembra, una vez que cumple dos años de vida, ya es madura sexualmente. La crianza no es estacional: pueden reproducirse durante todo el año si las condiciones son favorables. Las hembras paren de media tres crías, después de 11 semanas de gestación, y pueden llegar a alumbrar tres camadas en un año. Los individuos no reproductores del grupo suelen cooperar en la crianza de los cachorros, lo cual aumenta las probabilidades de supervivencia.👩👨👶👶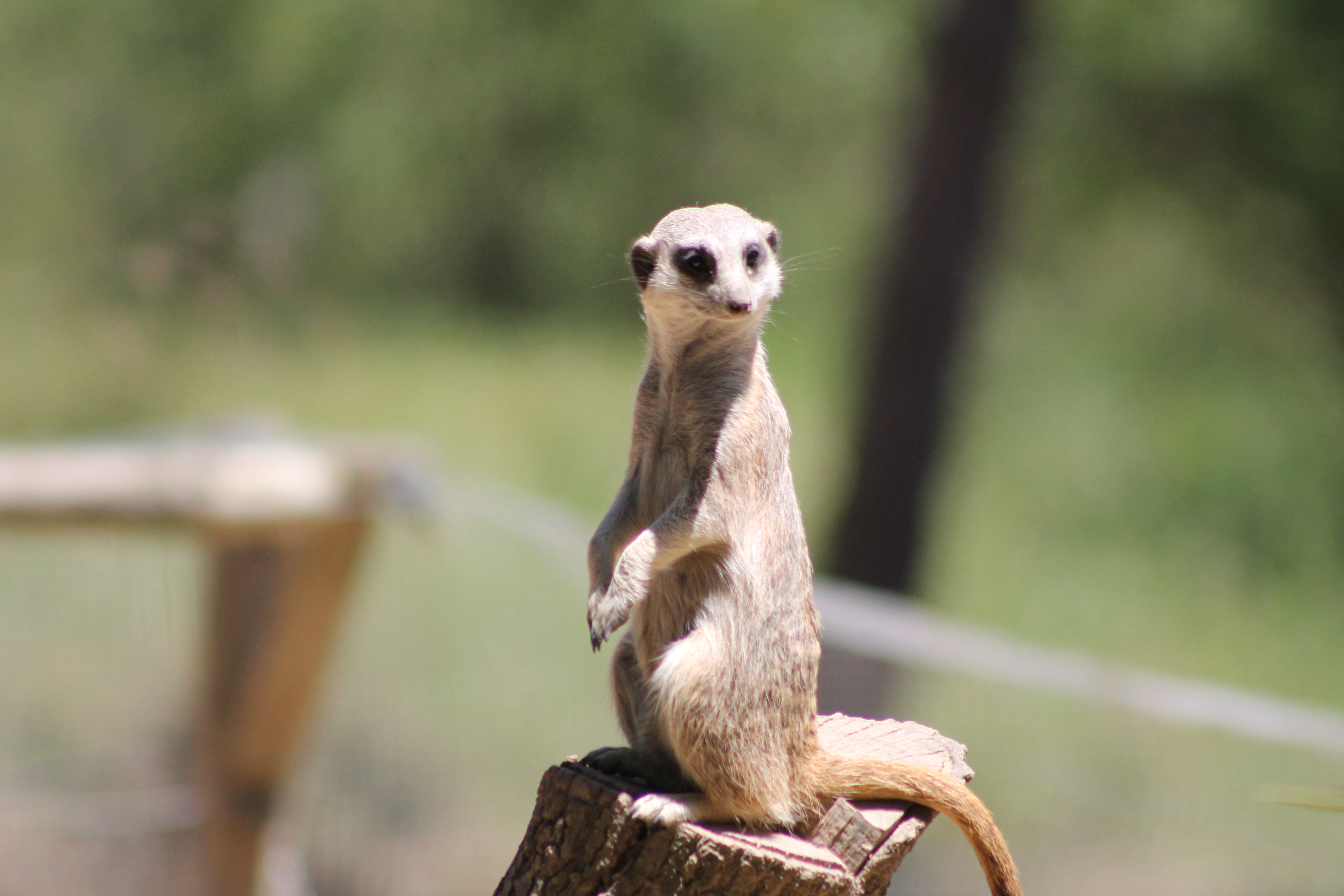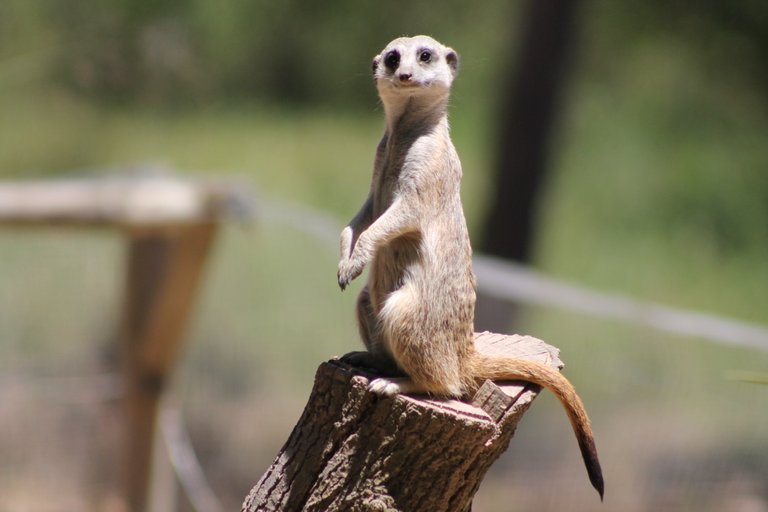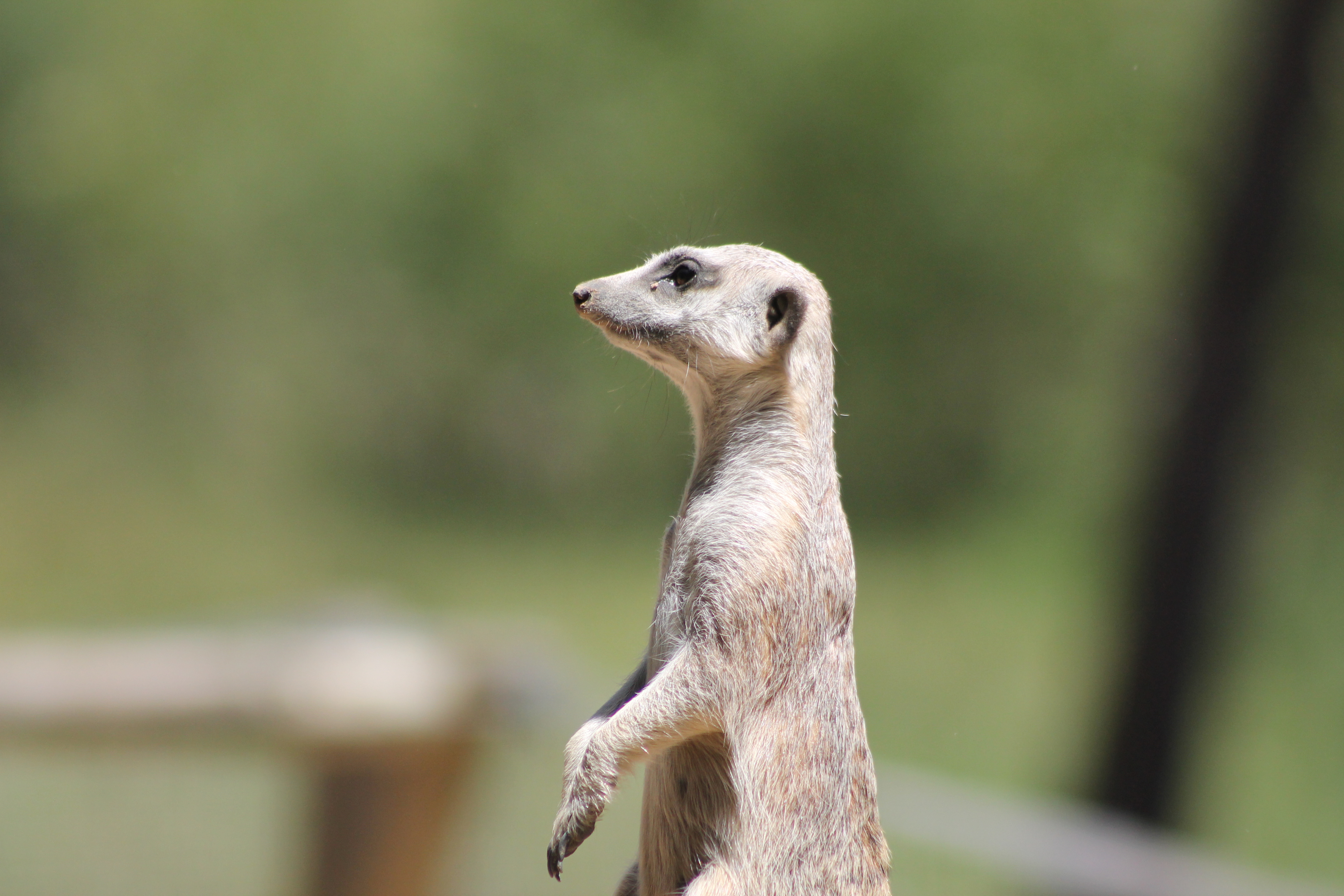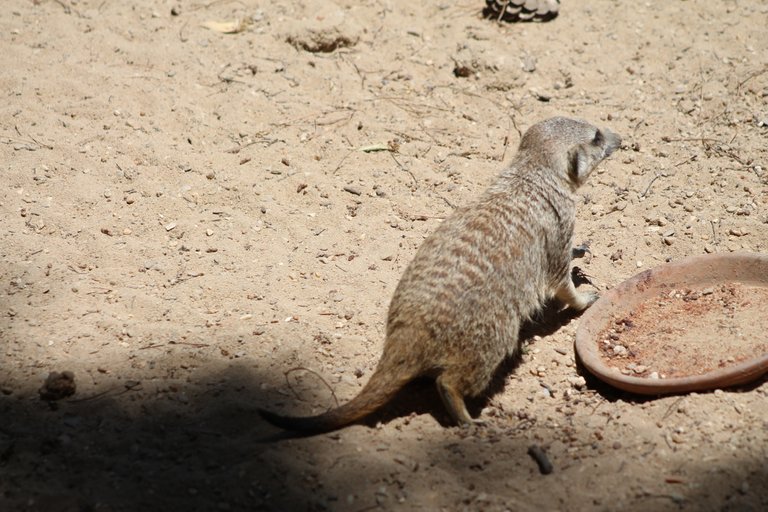 BEHAVIOUR??🙂🧠, COMPORTAMIENTO🦦🦖??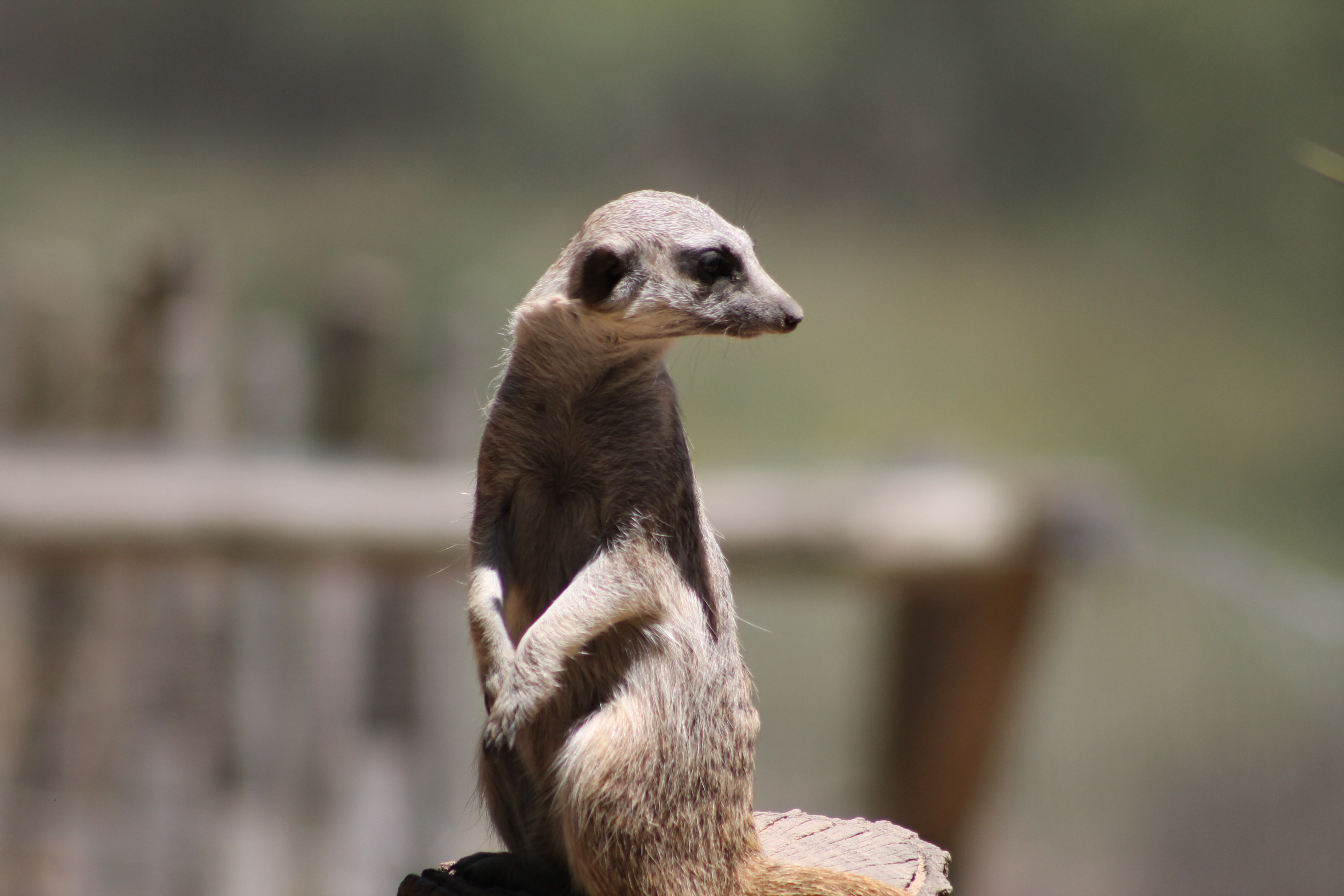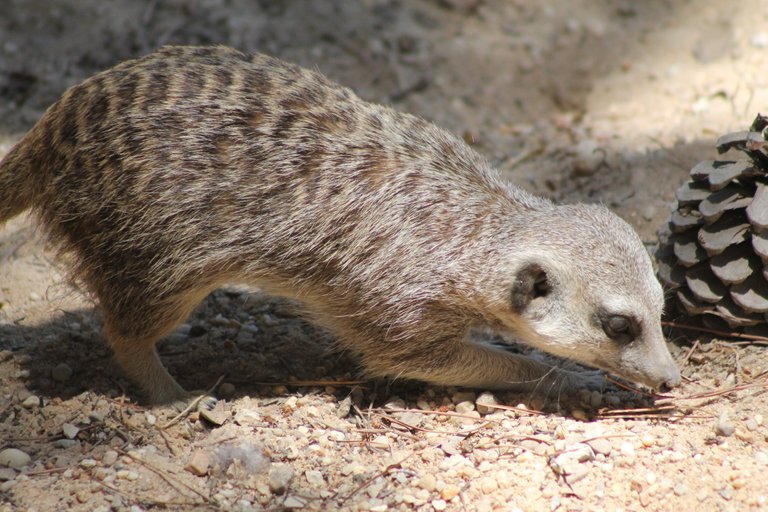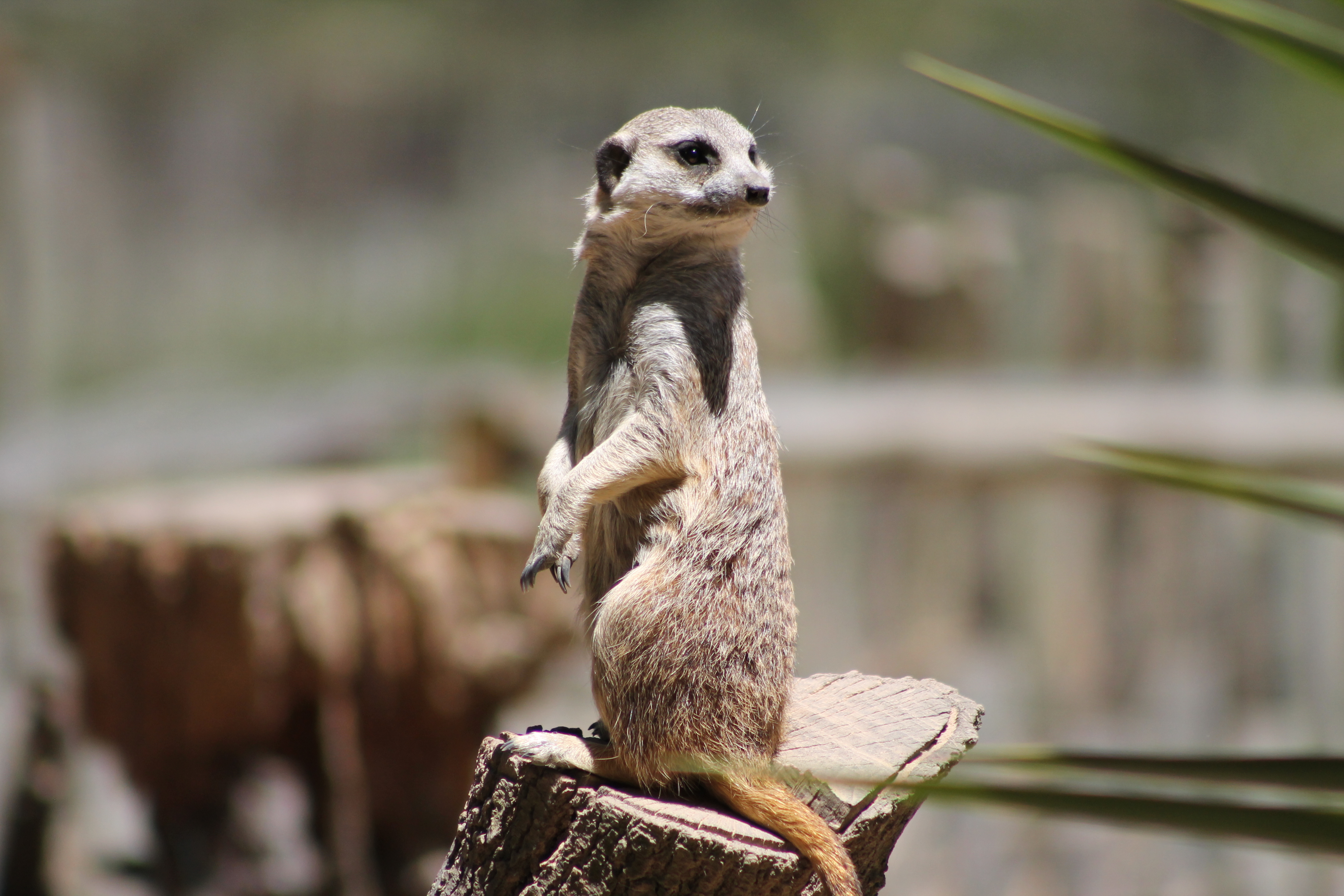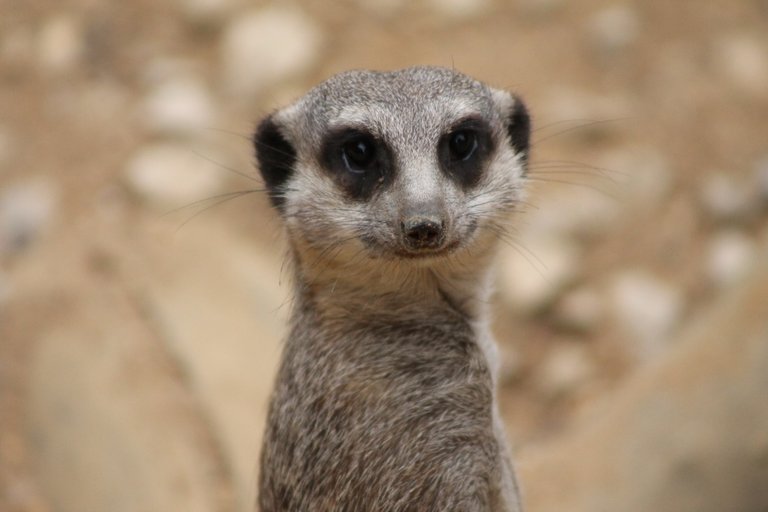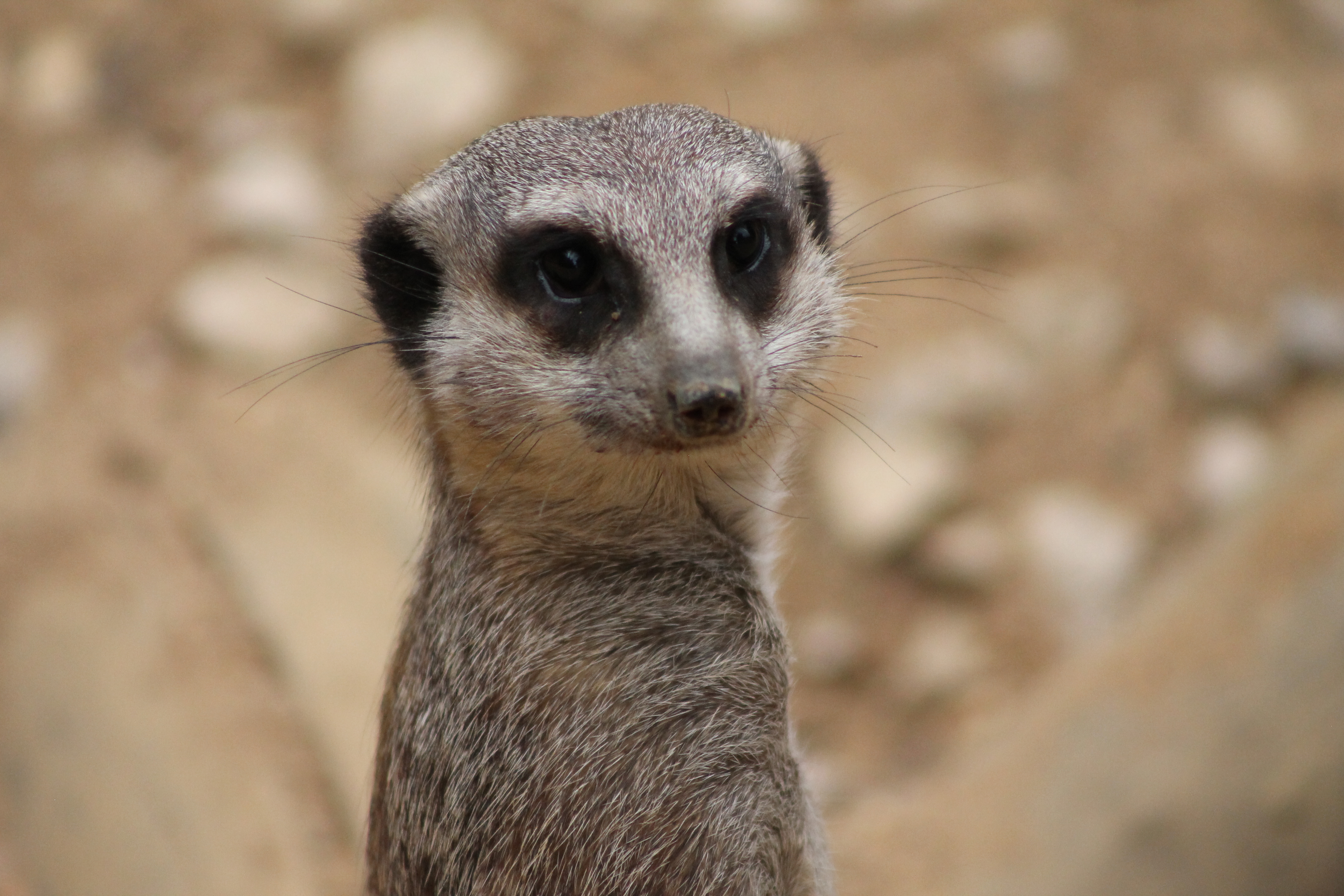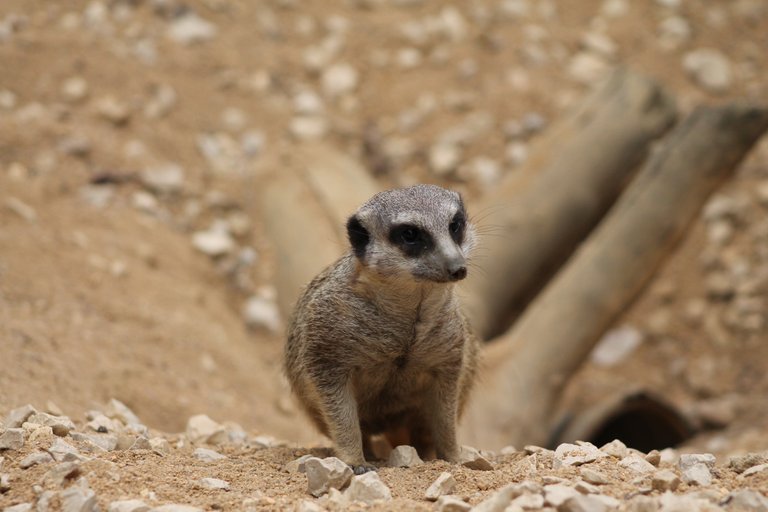 Males mark territory with their anal scent glands. With the help of their non-retractable claws, they dig the ground in search of food. While the group searches for food, several meerkats, called sentinels, are on the lookout for any predators to approach. Predators are detected by their scent, and at that moment the sentinels emit a warning sound to the other meerkats to hide in their burrows. When it takes a while after the warning, the sentries will be the first to go out to see if the predator has left, in which case they notify the others to continue looking for food.🤗🤗
Los machos marcan el territorio con sus glándulas odoríferas anales. Con la ayuda de sus garras no retráctiles, cavan el terreno en busca de alimento. Mientras el grupo busca comida, varios suricatas, llamados centinelas, están atentos por si algún depredador se acerca. Los depredadores son detectados por su olor, y en ese momento los centinelas emiten un sonido de aviso a los demás suricatas para que se escondan en sus madrigueras. Cuando pasa un rato después del aviso, los centinelas serán los primeros en salir para ver si el depredador se ha ido, en tal caso avisan a los demás para que sigan buscando comida.😮😮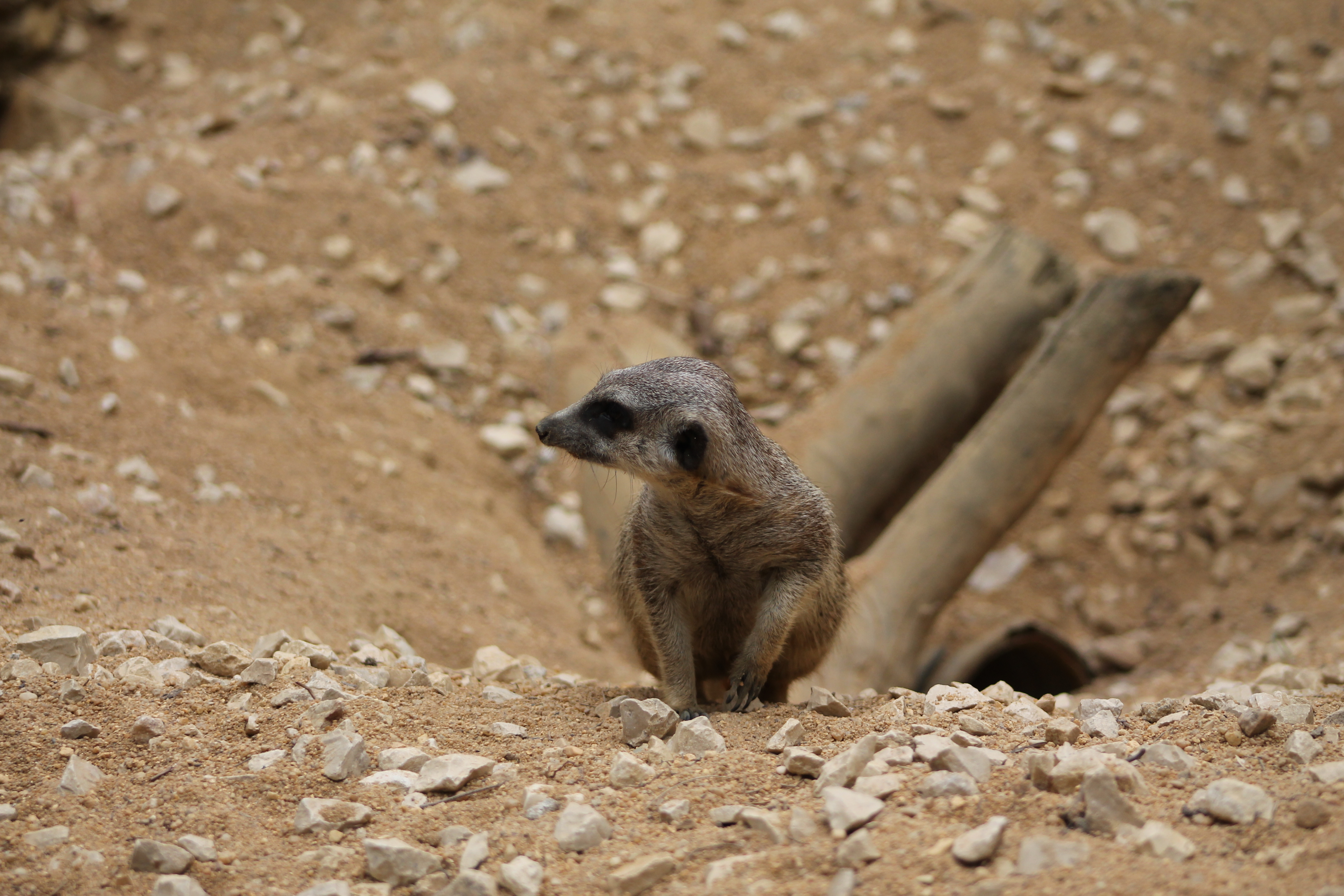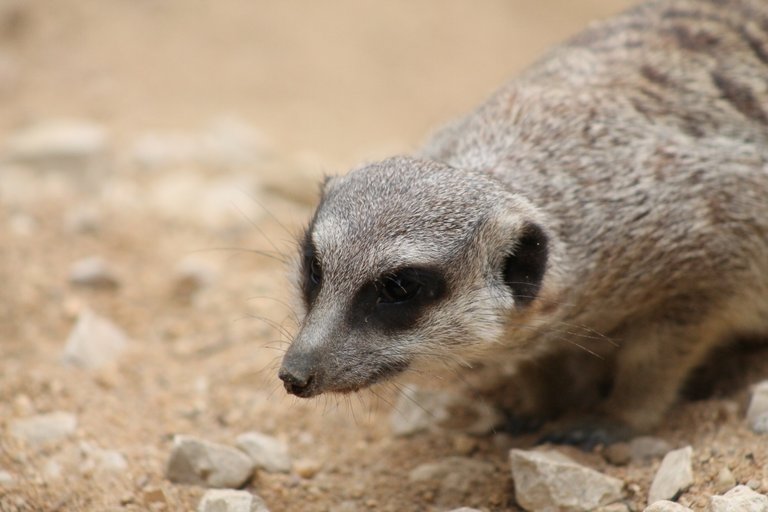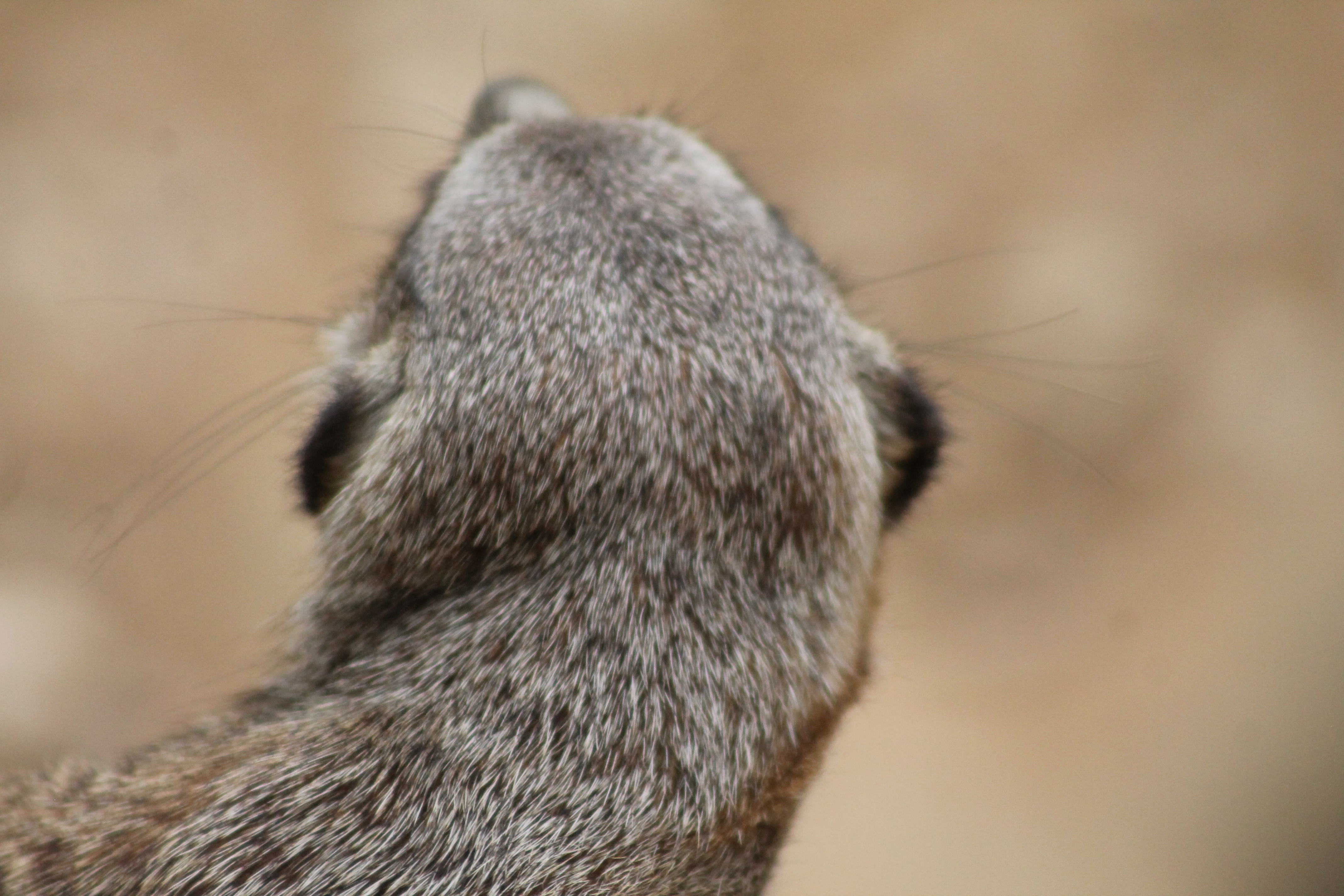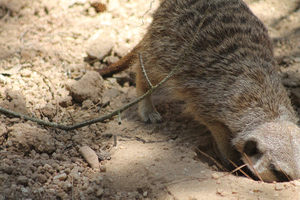 CURIOSITIES??🙂🧠, CURIOSIDADES🦦🦖??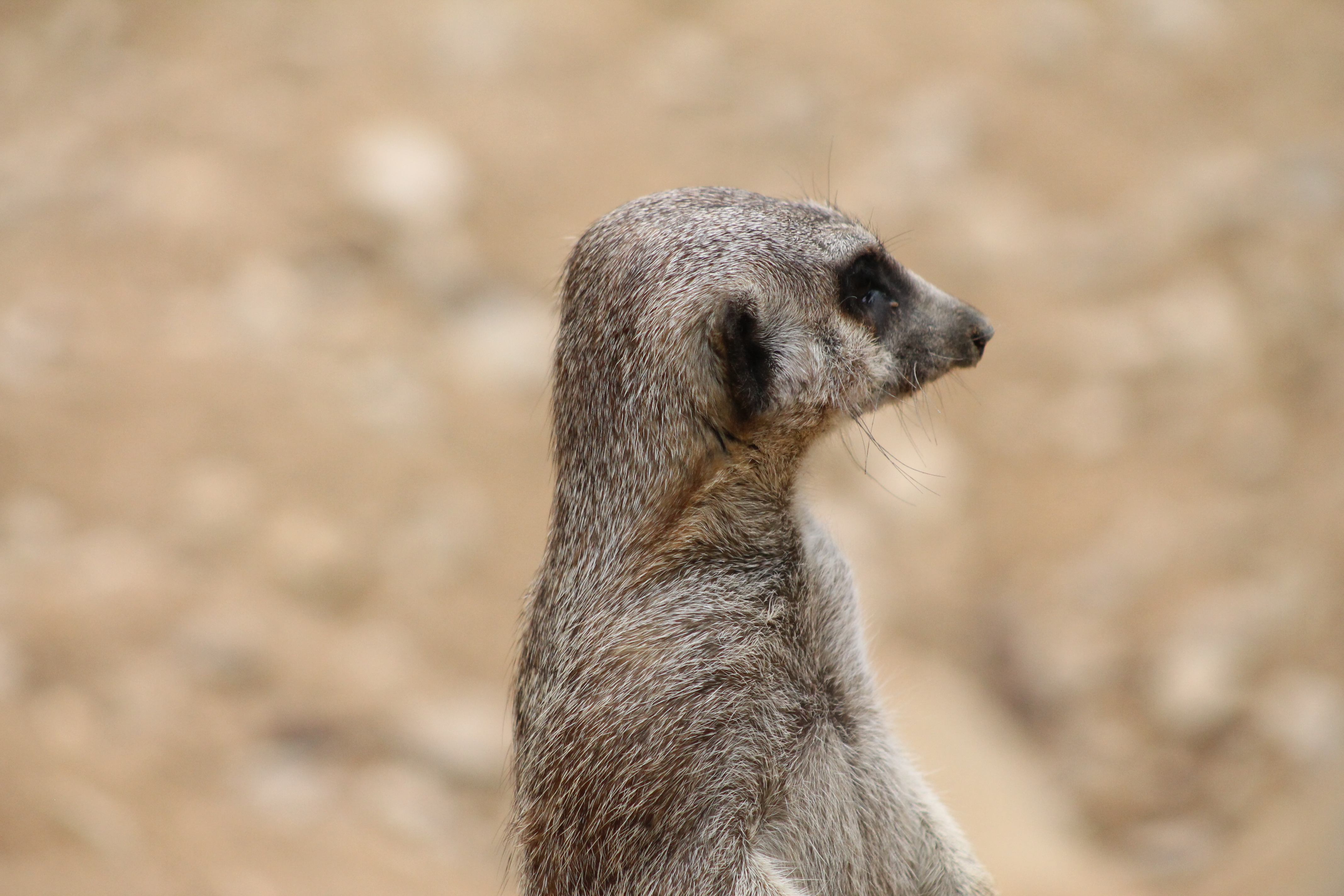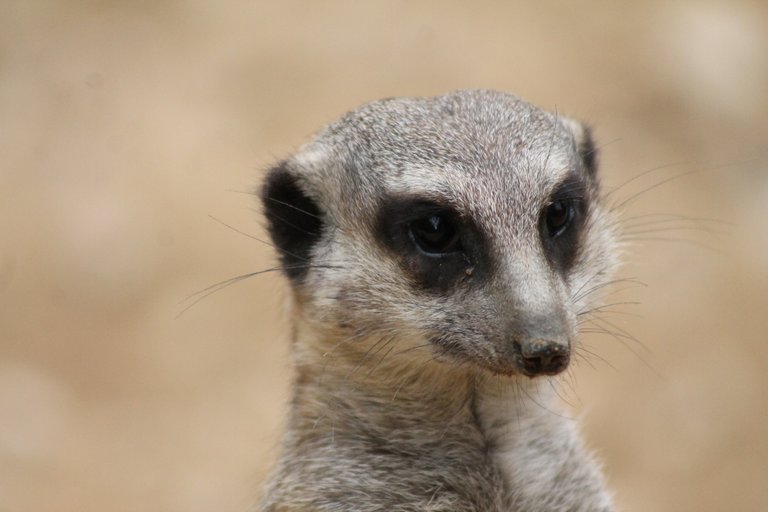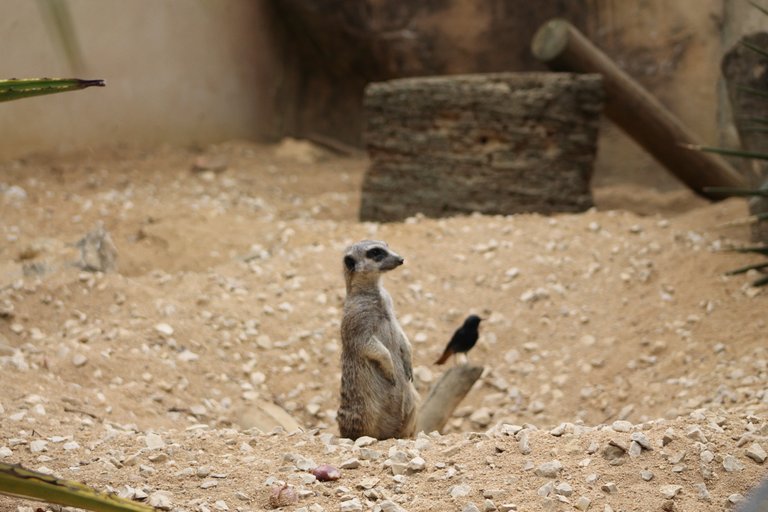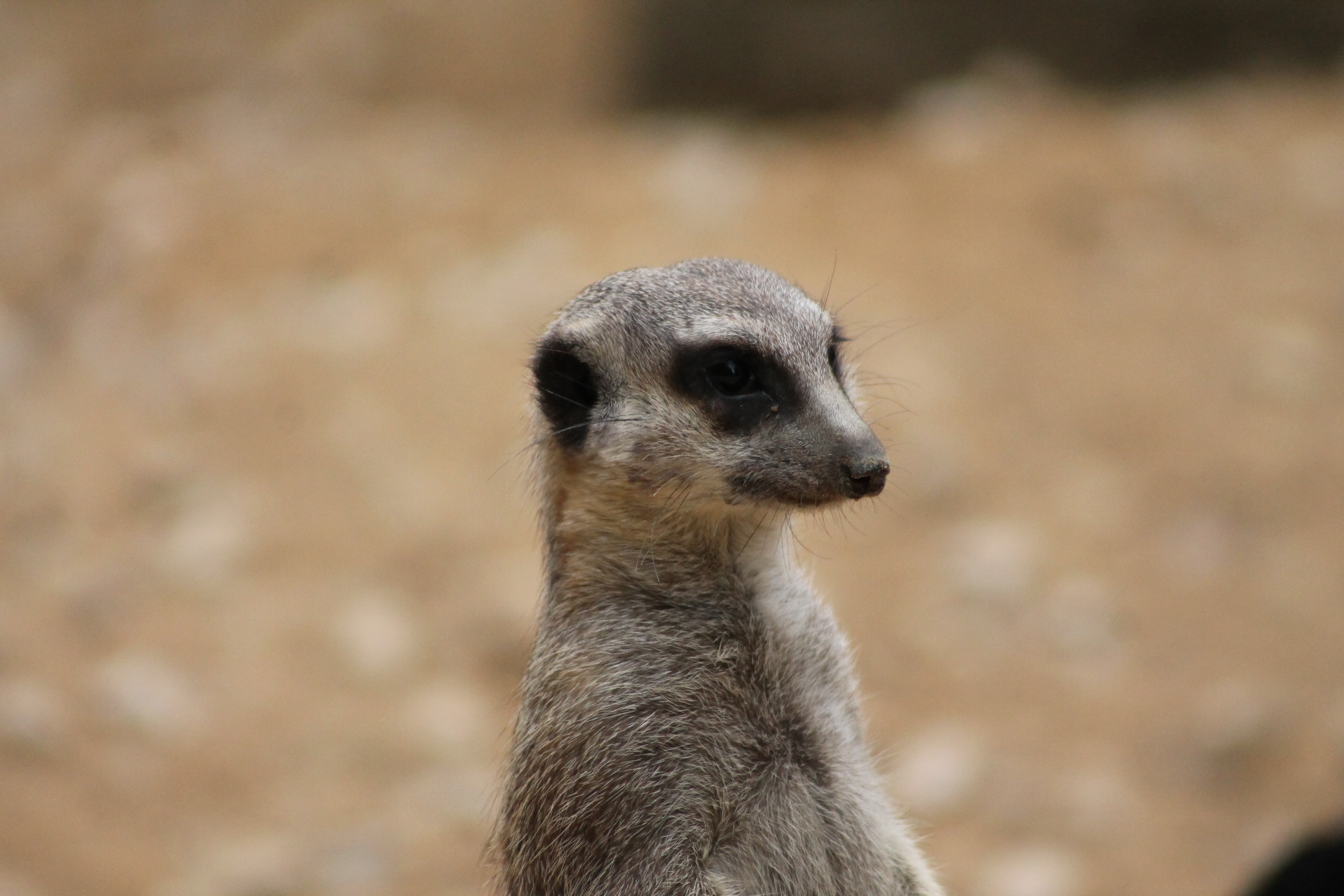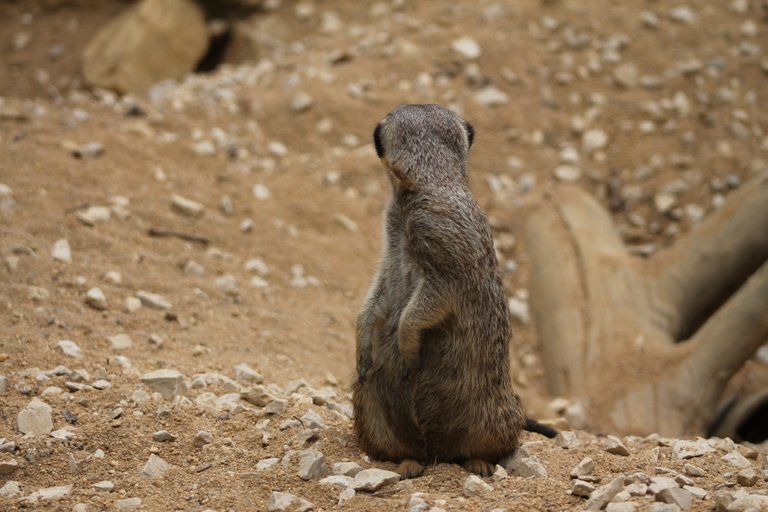 The stripe pattern on the back is unique to each meerkat, just like our fingerprints. If they are cold, they can regulate their body temperature by hitting an area of ​​their belly, which does not have many hairs, on rocks or lounging in the sun. Newborns cannot urinate without encouragement from their mothers. Although they are diurnal animals, they are only active in the presence of sun, if it is raining they remain inside their burrows.🤩🤩
El patrón de rayas que tienen en el lomo es único en cada suricata, igual que nuestras huellas dactilares. Si tienen frío pueden regular su temperatura corporal pegando una zona de su barriga, que no tienen muchos pelos, sobre rocas o repantigándose al sol. Los recién nacidos no pueden orinar sin el estímulo que le dan sus madres. Aunque son animales diurnos, solamente son activos en presencia de sol, si está lloviendo permanecen dentro de sus madrigueras😮😮.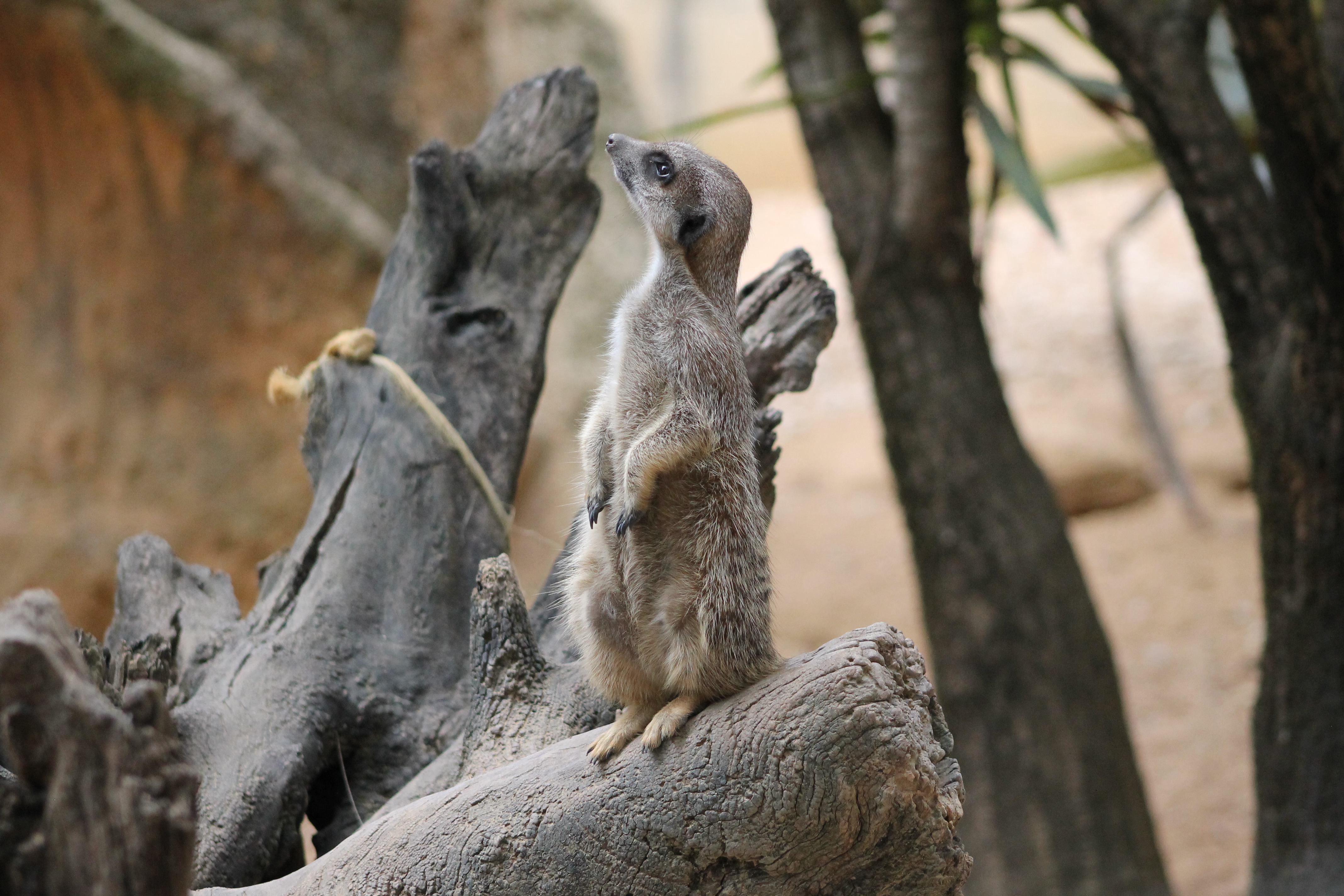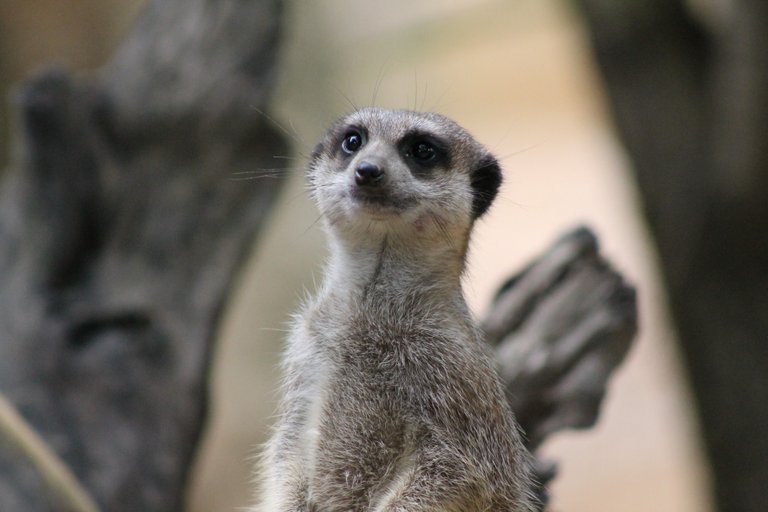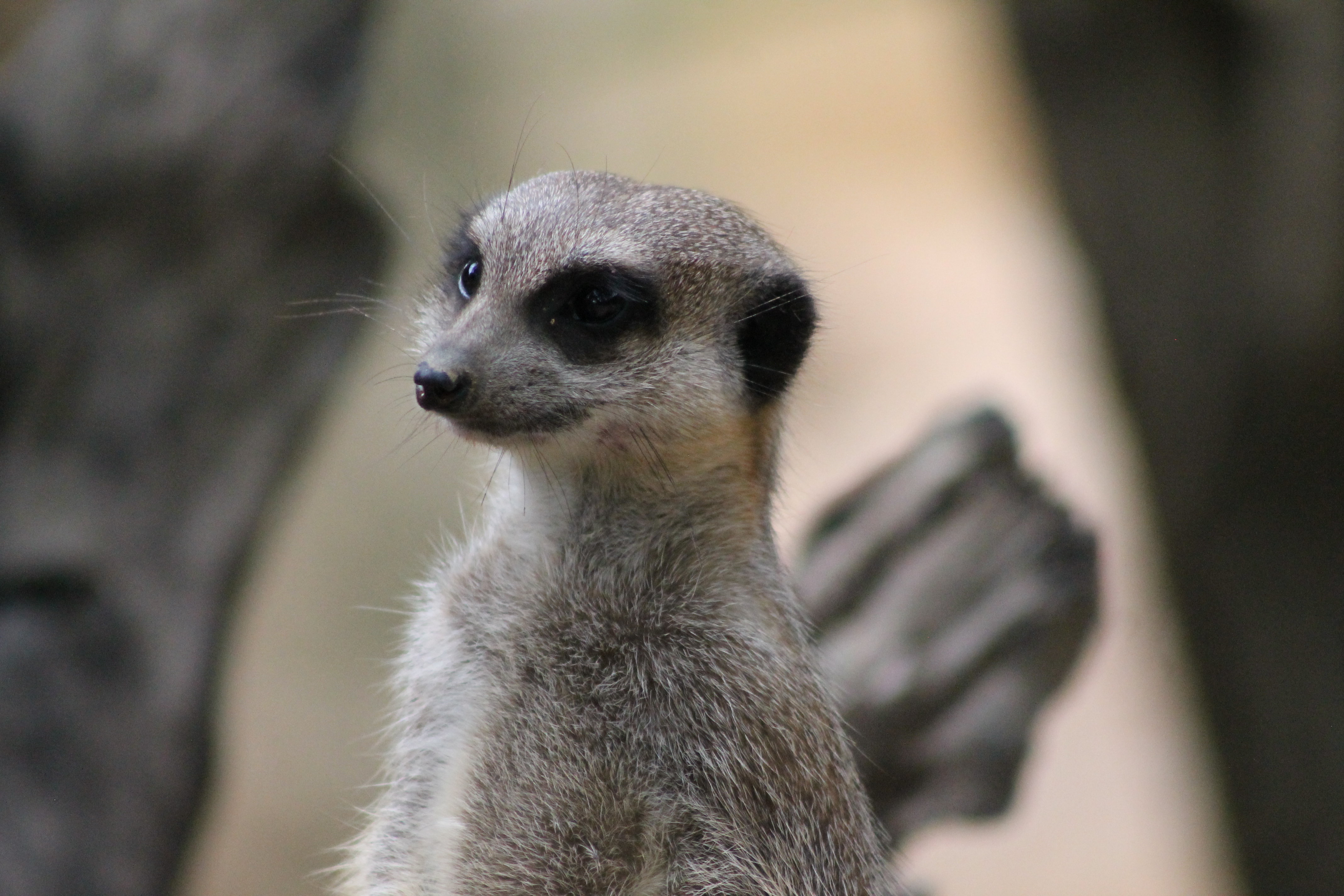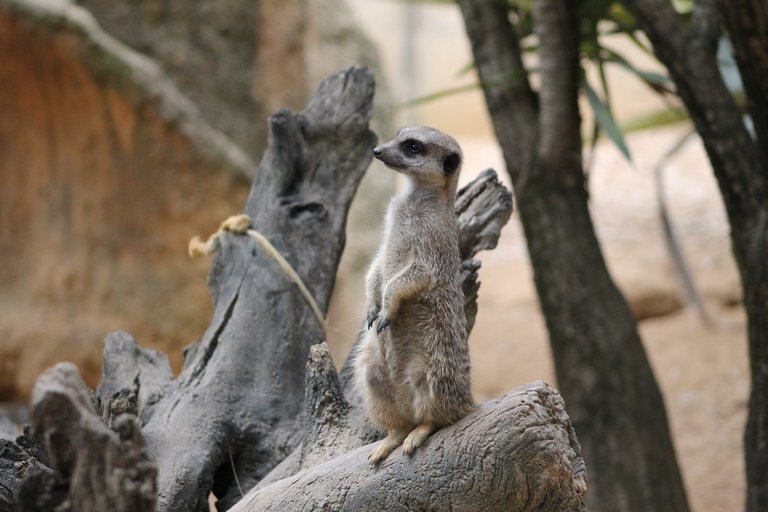 THANKS FOR READING ME🙂, PHOTOS OF MY PROPERTY🧠🦾👍
https://www.zoo.pt/pt/conhecer/animais/mamiferos/suricata/
https://www.faunia.es/animales/suricata
https://www.bioparcvalencia.es/animal/sabana-africana/suricata/
https://www.selwo.es/es/animales/suricata-0

DNA - Densifying Nature-Appreciation : DNA is an organization to foster and DENSIFY NATURE-APPRECIATION which aims to establish REPORTS OF BIODIVERSITY DATA that is contributed by all of us Hiveans and subsequently cataloged.
Therefore DNA searches for HIGH-QUALITY posts that aim to DESCRIBE and determine the BIODIVERSITY AROUND YOU with added EXPLANATIONS and INFORMATION. For these informative posts they offer a CURATION SERVICE using the @dna.org account. It is also a CURATION TRAIL. Just add the #dna TAG if you think that any of your posts is what they are looking for.