Hello friends, in this little post I will show you all the things you did not know about chameleons! These beautiful and mysterious animals are hunting machines in the wild but they are also excellent pets, they are able to hold us in esteem! get comfortable and enjoy the photos!🥰😘🤩
Hola amigos, en este pequeño post les mostrare todas las cosas que no sabias sobre los camaleones! estos hermosos y misteriosos animales son maquinas de cazar en la naturaleza pero tambien son excelentes mascotas, son capaces de agarrarnos estima! ponte comodo y disfruta de las fotos!😮😮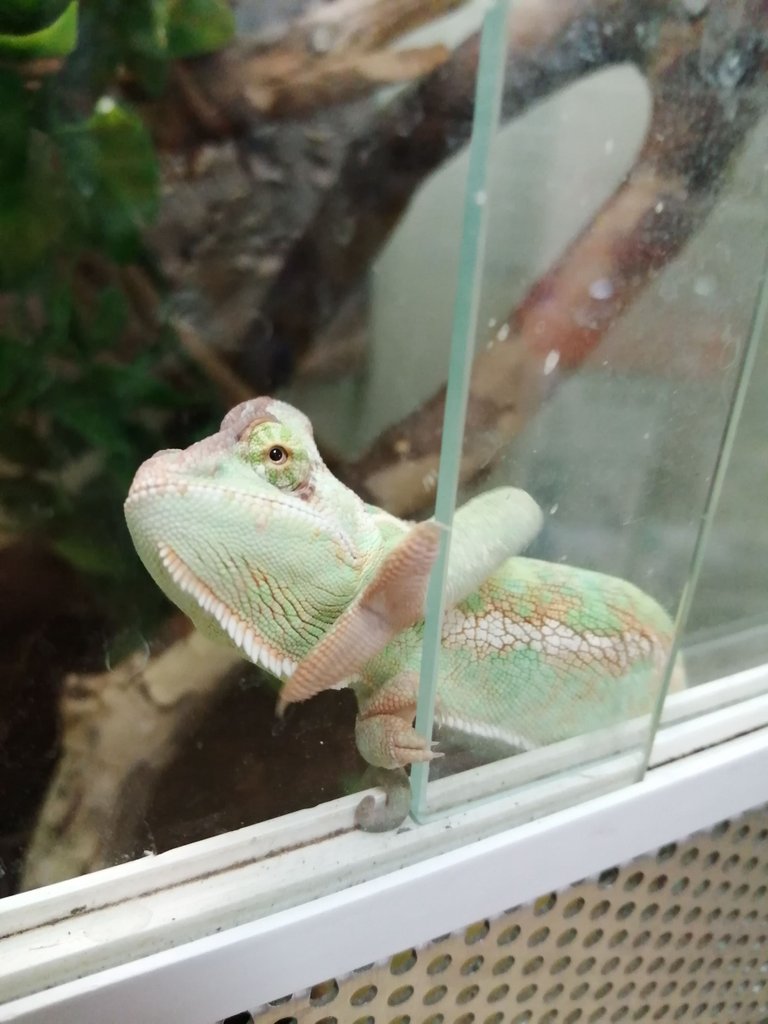 EXCELLENT HUNTERS😮🐸🐲🦎🐊🐢
Chameleons are small reptiles with scales, they are oviparous, they feed on insects, small animals such as vertebrates, they are distributed in the world with 160 species in total! The vast majority of them are distributed in Madagascar with 40%! They are of durum habit since they need the sun to regulate their body temperature! their beech tree measures twice their body size and they are capable of capturing prey in just 1 second!🦟🦗🐜🐛🐌🦋
Los camaleones son reptiles pequeños con escamas, son oviparos, se alimentan de insectos, animales pequeños como vertebrados, estan repartidos en el mundo con 160 especies en total! la gran mayoria de ellas se distribuye en Madagascar con el 40%!, son de habito durno ya que necesitan el sol para regular su temperatura corporal! su lenga mide el doble de su cuerpo son capaces de capturar una presa en tan solo 1 segundo!🤔🤔😮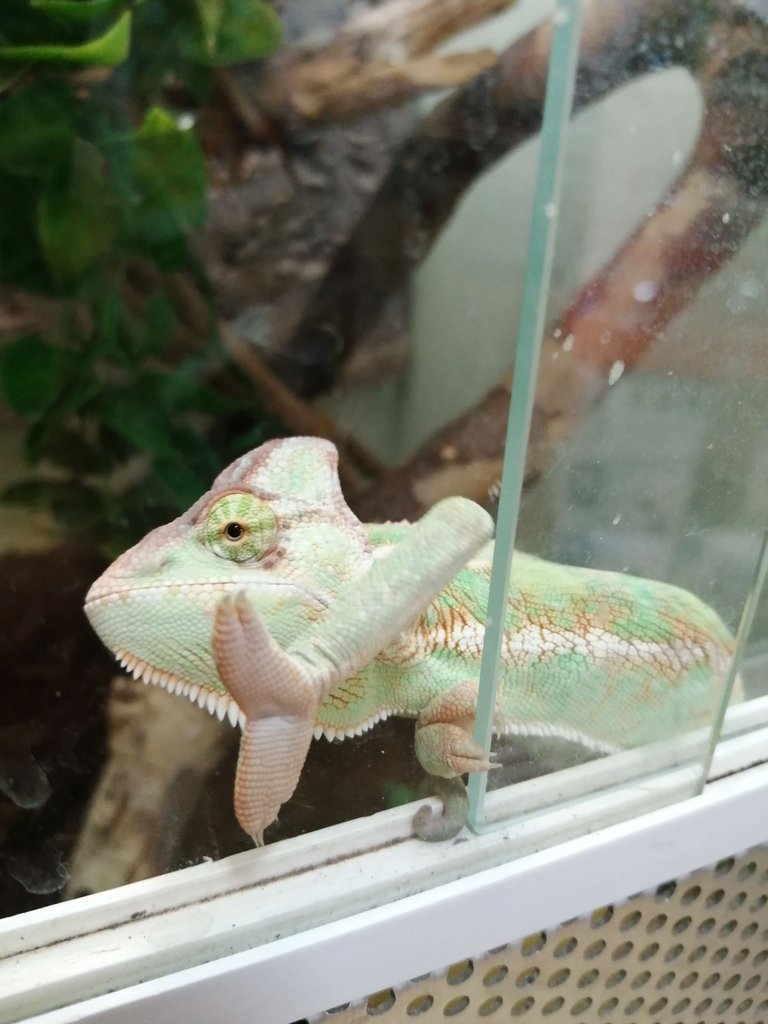 Many believe that the chameleon changes color to camouflage itself. A recent study showed that the chameleon changes color depending on its mood! A chameleon can turn various colors when it is upset, frustrated, in reproductive season, happy! its colors are naturally already designed to blend in with the scrub!😶😶
Muchos creen que el camaleon cambia de color para camuflajearse un estudio reciente demostro que el camaleon cambia de color dependiendo de su estado de animo! un camaleon puede tornarse de varios colores cuando esta molesto, frustrado, en epoca reproductiva, feliz! sus colores naturalemente ya estan diseñados para camuflajearse con el matorral!💚💛💙💜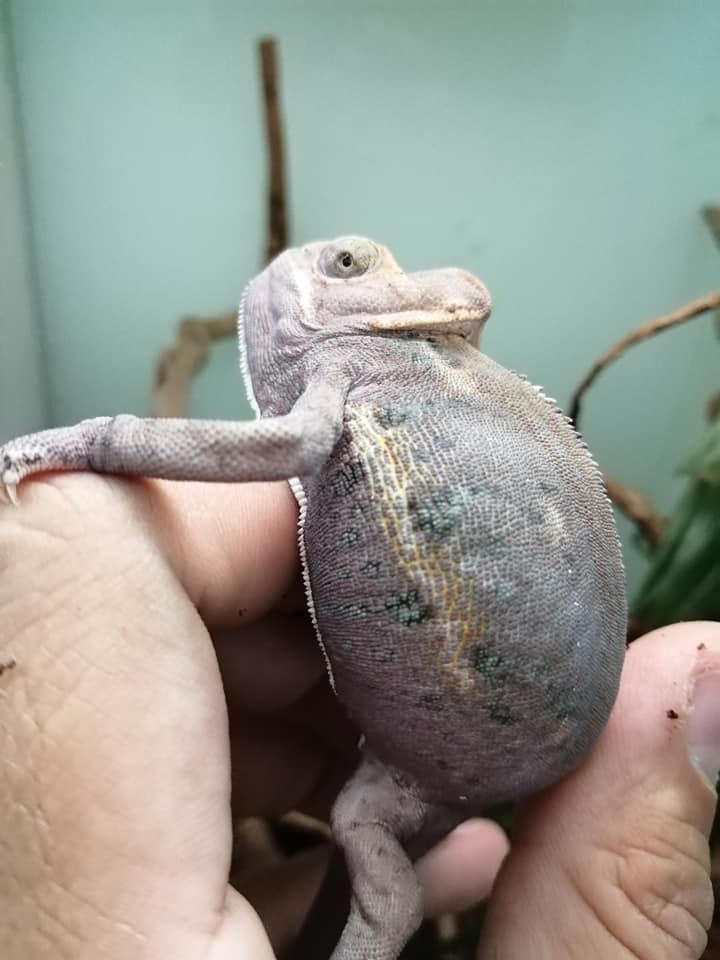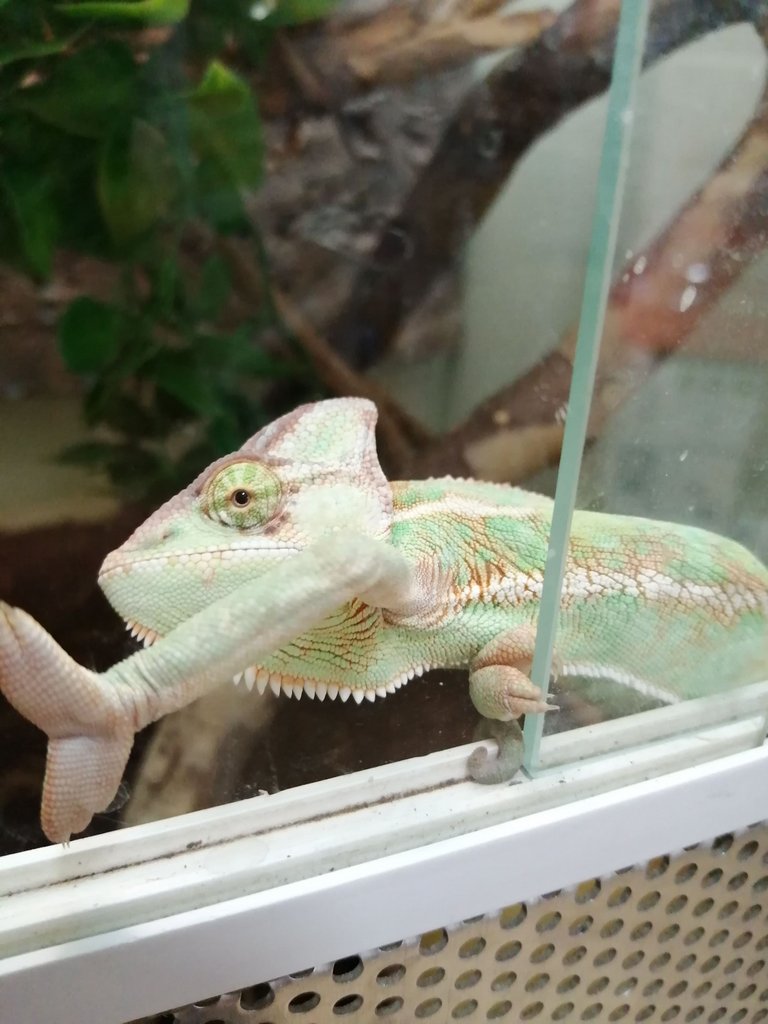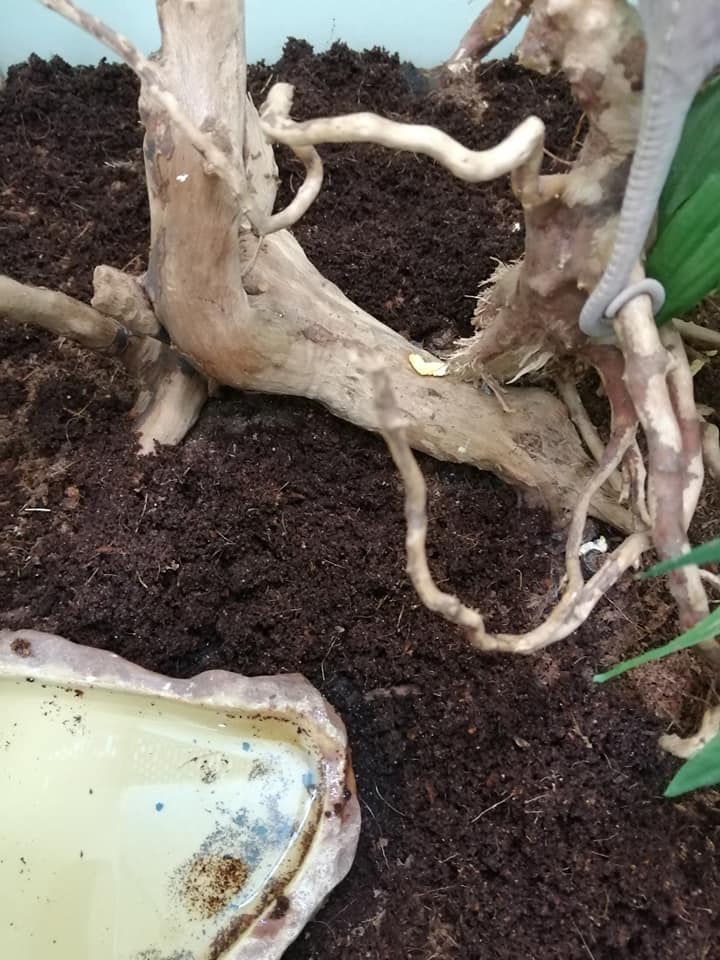 They do not have vocal cords so their sounds are limited, however some species emit a loud sound to warn you to move away that they are threatening! when they are adults they are territorial and aggressive! that is why they are solitary animals, they change color to attract the female! Its tail has two important functions, to provide balance and to detect predators!💥💥😮
No poseen cuerdas vocales por lo que sus sonidos son limitados, sin embargo algunas especies emiten un sonido fuerte para advertir que te alejes que son amenazadores! cuando son adultos son territoriales y agresivos! es por eso que son animales solitarios, cambian de color para atraer a la hembra! su cola tiene dos importantes funciones, la de dar un equilibrio y para detectar depredadores!🕵️‍♂️👨‍🏫👨‍🎓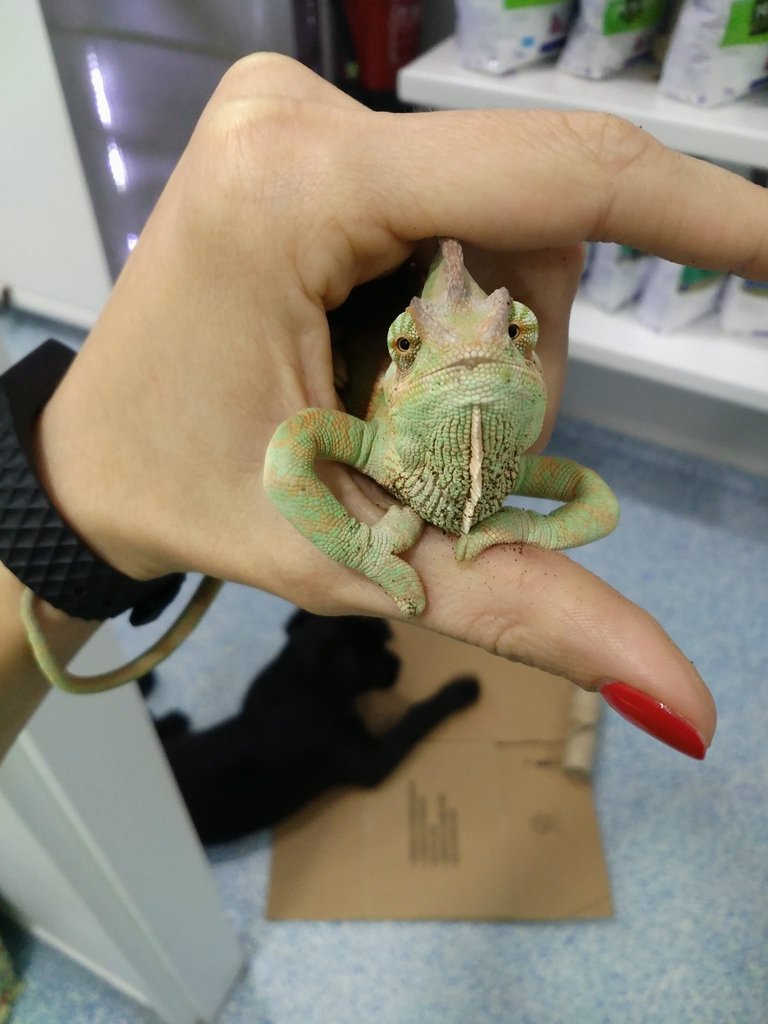 One of the strengths of chameleons is their vision! Unbelievably they have 180 degree vision, but ... Their eyes can see in various directions independently so the chameleon could cover a 360 degree angle! I call them the SNIPER of nature because it is so rare to miss a dam!🙀🙀
Uno de los puntos fuertes de los camaleones es su vision! increiblemente tienen una vision de 180 grados, pero... Sus ojos pueden ver en varias direcciones independientemente por lo que el camaleon podria cubrir un angulo de 360grados! yo los llamo los SNIPER de la naturaleza porque es muy raro fallar una presa!👅👅👀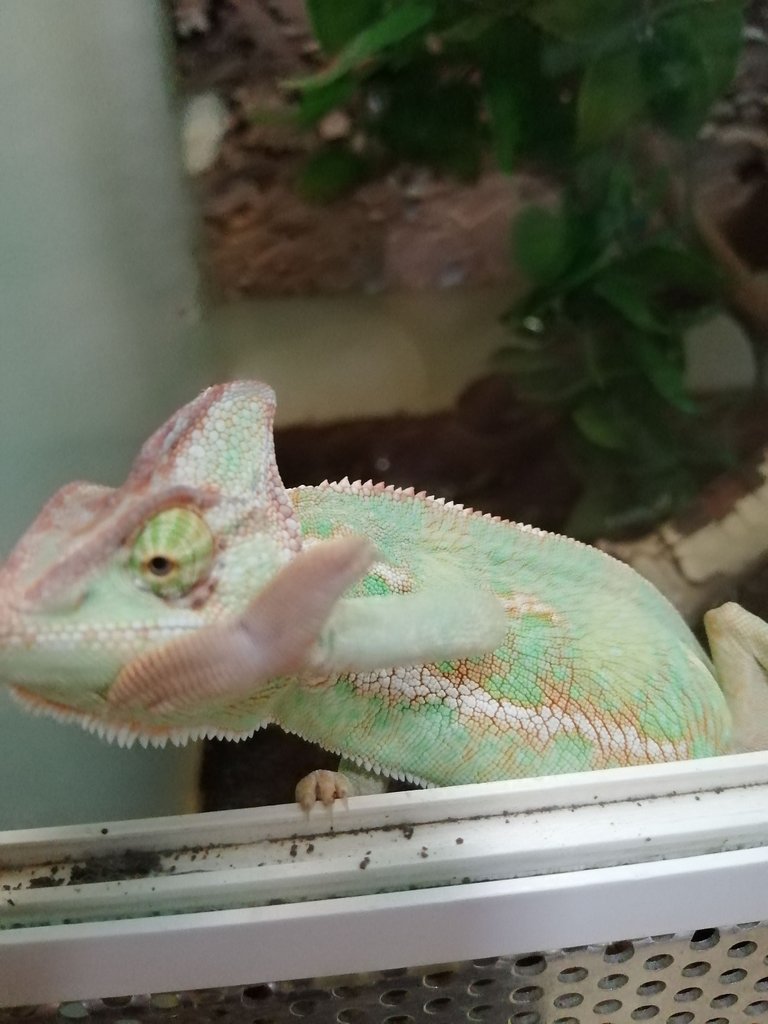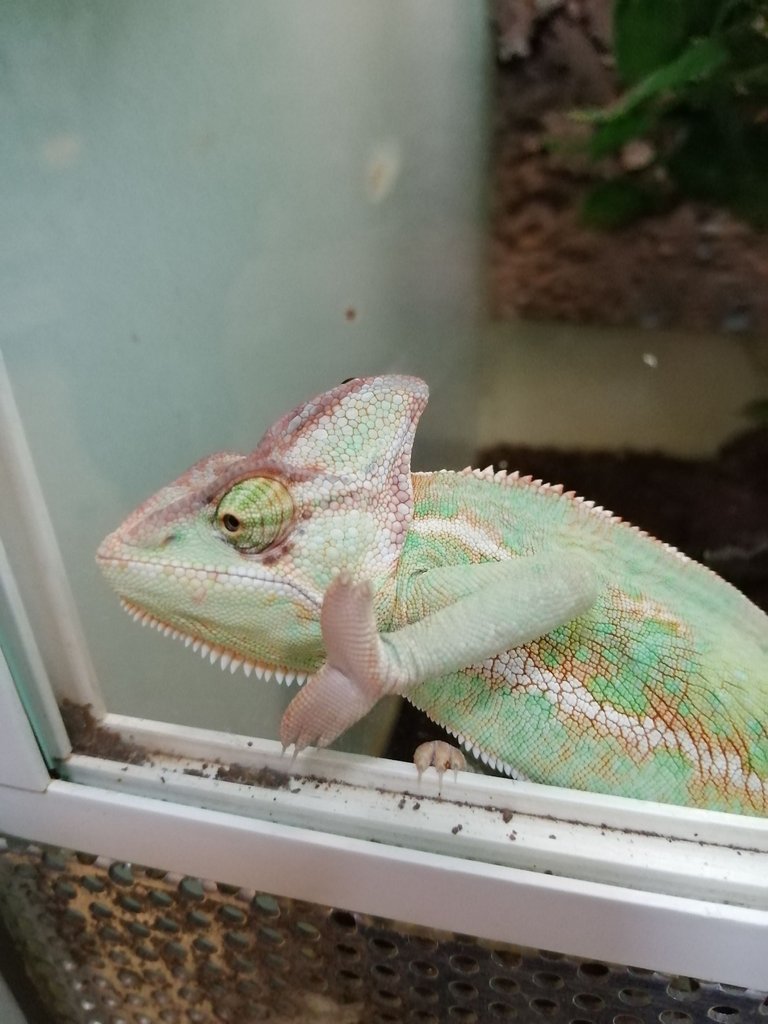 Their legs and hands are unique to the animal kingdom, they evolved to climb trees and branches, rarely does a chameleon fall from a branch! because it is held with all its legs and also its tail! some species have horns that they use to fight other males!
Sus patas y manos son unicas del reino animal, evolucionaron para trepar arboles y ramas, raramente un camaleon cae de una rama! debido que se sujeta con todas sus patas y tambien su cola! algunas especies poseen cuernos que usan para combatir con otros machos!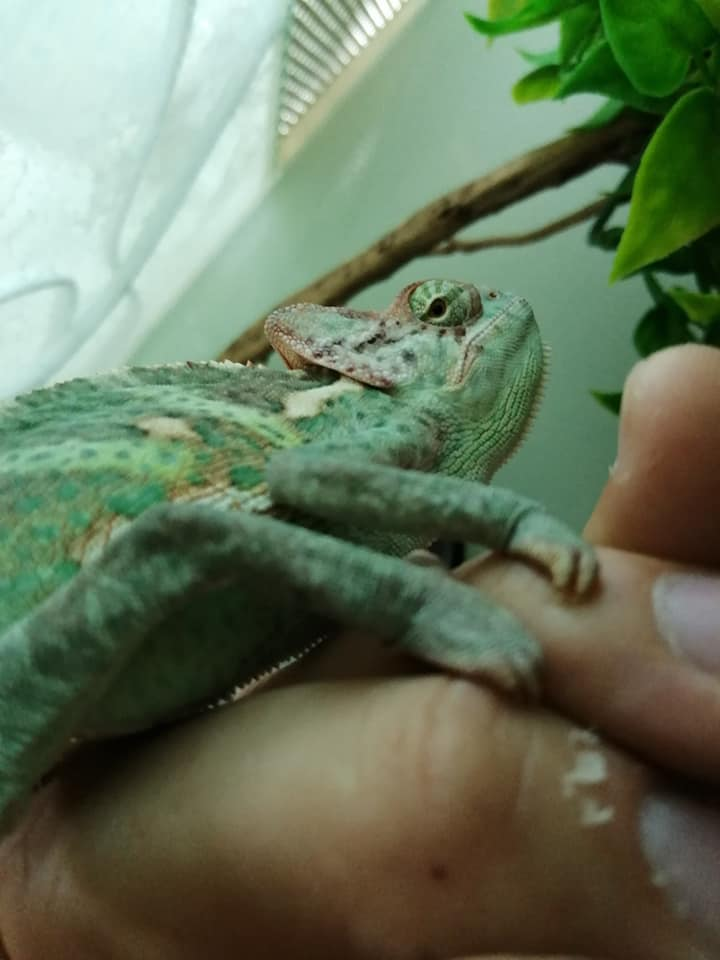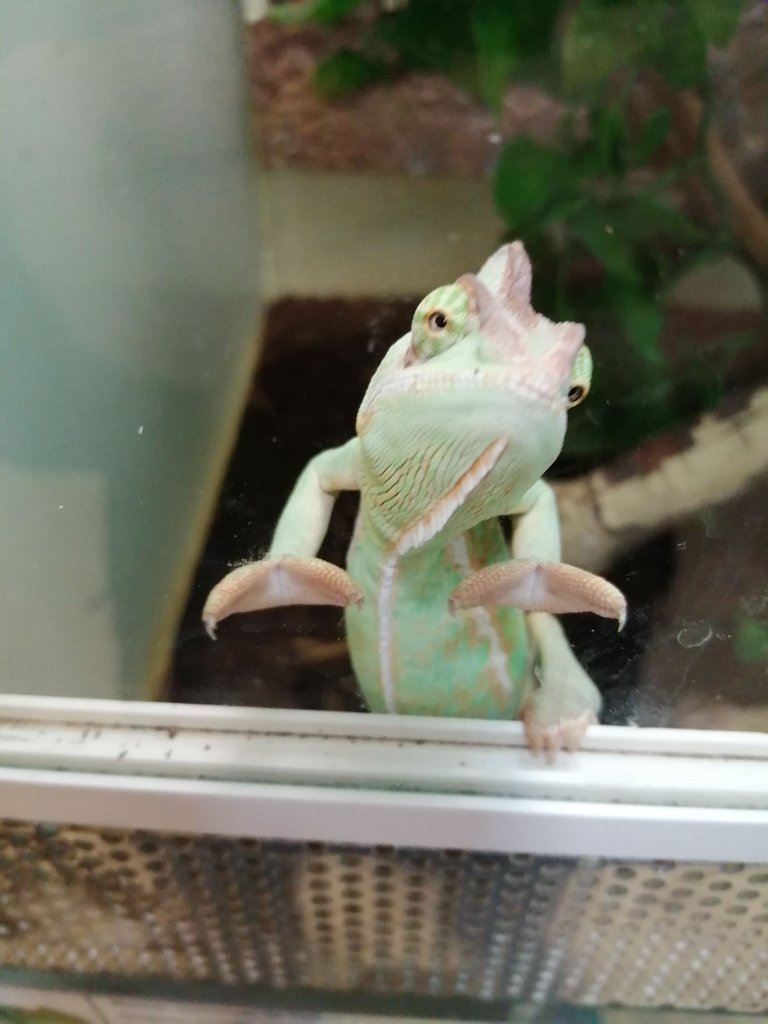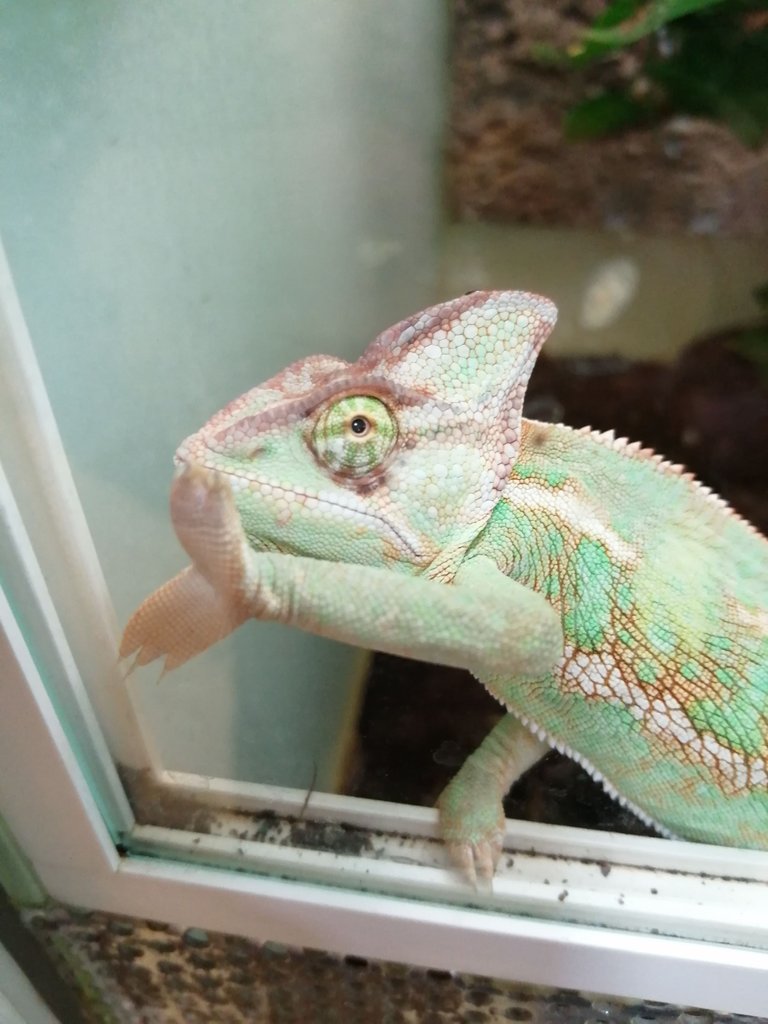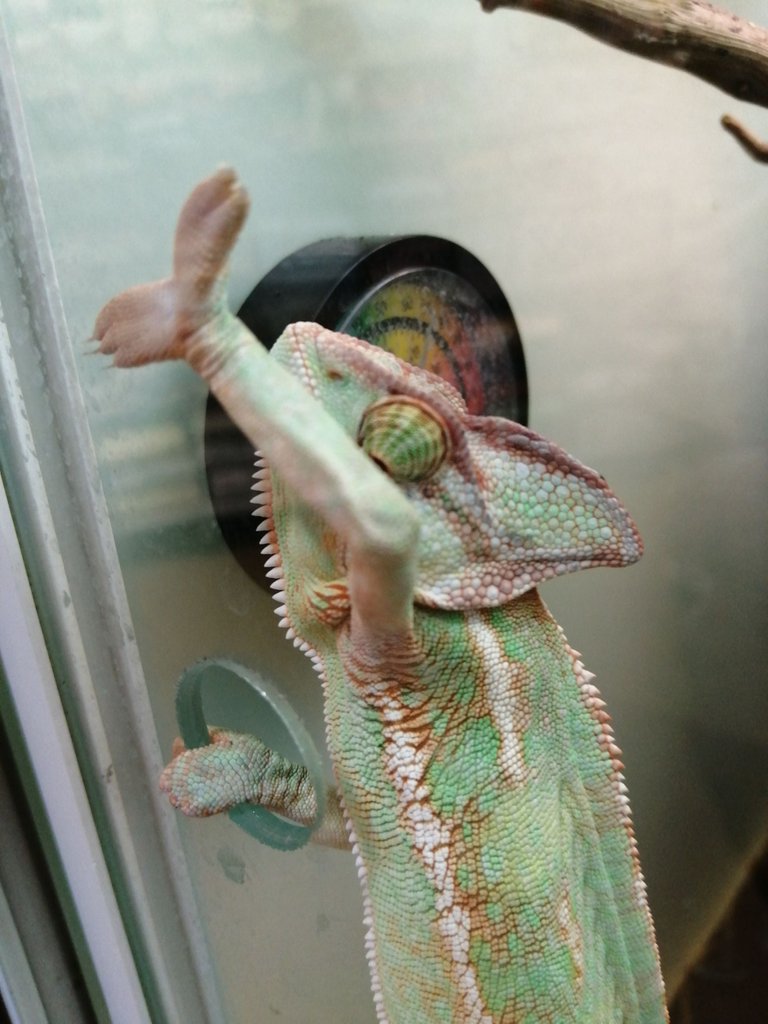 Chameleons usually sleep inverted, their vision is so evolved that they can see in normal light as we commonly see, but they can also see in ultraviolet light! this thanks to its photoreceptors in the eyes!😏😏
Los camaleones acostumbran a dormir de forma invertida, su vision es tan evolucionada que pueden ver en la luz normal como nosotros comunmente vemos, pero tambien pueden ver en luz ultravioleta! esto gracias a sus fotoreceptores en los ojos!😮😮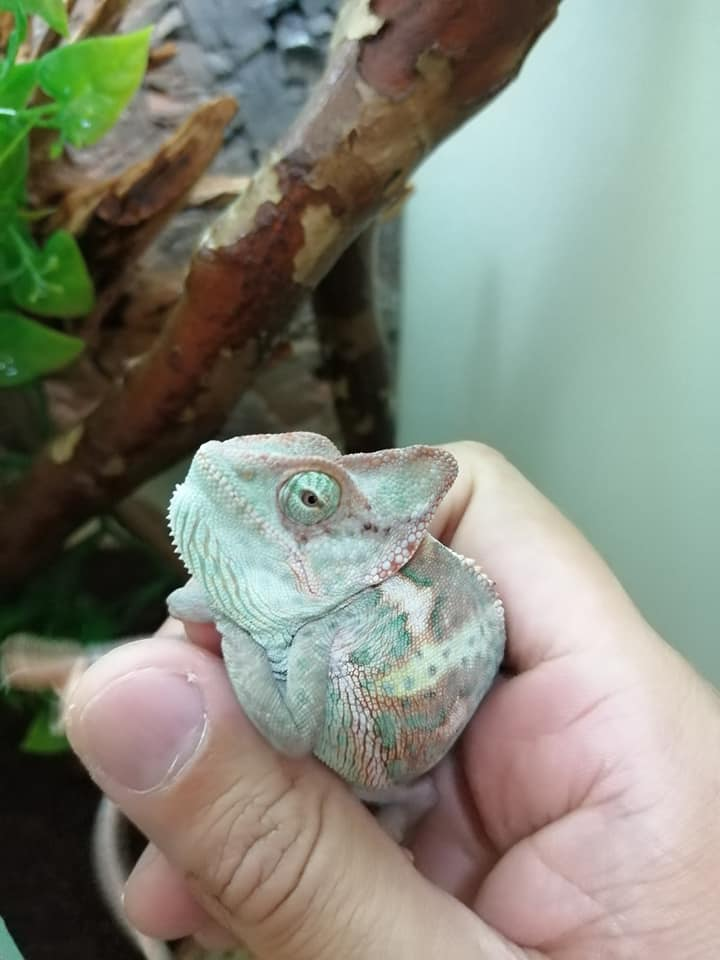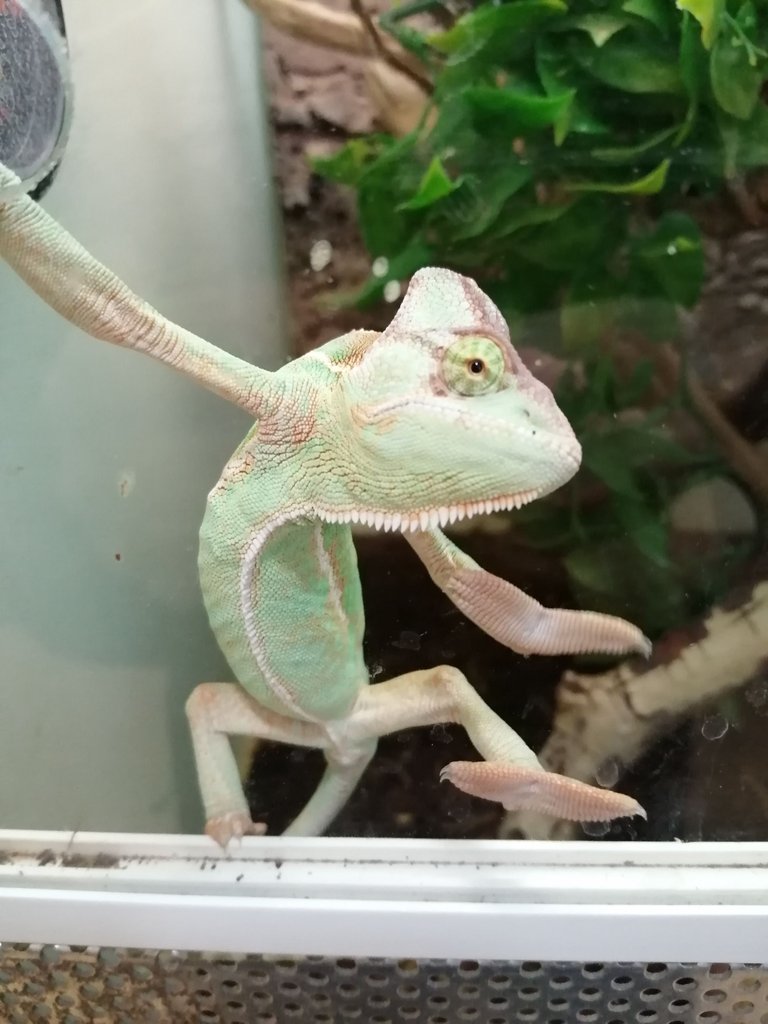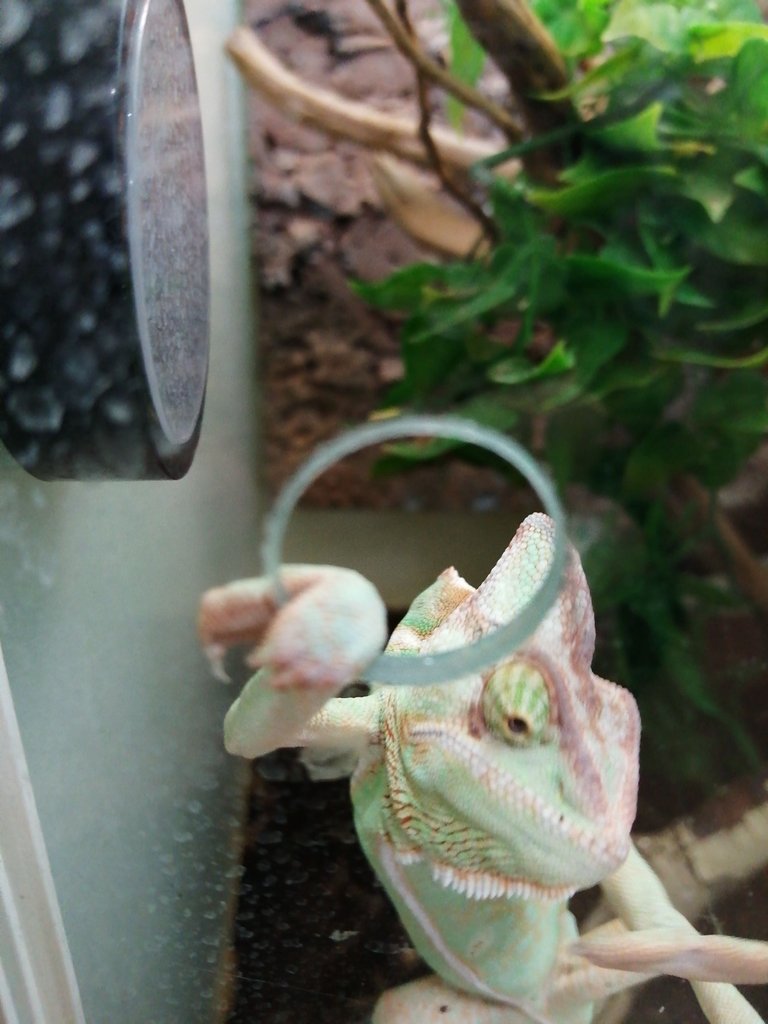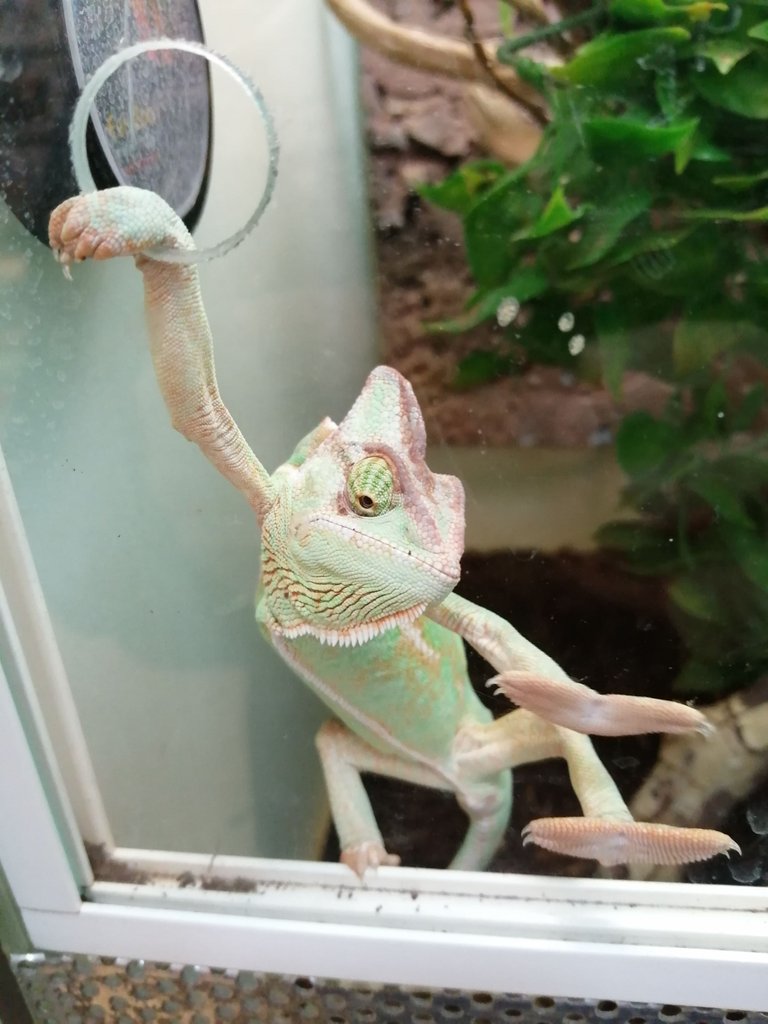 A chameleon can even measure 30 cm or more but there are also tiny chameleons such as the Micra species that only measures 26mm, this is equivalent to the tips of our fingers! amazing, right? chameleons differ from snakes because they have eyelids! it can expose the iris and pupil! It is important to protect one of our main organs, right?😶🤩🤩
Un camaleon puede hasta llegar a medir 30 cm o mas pero tambien existen camaleones diminutos como la especie Micra que solo mide 26mm esto equivale a la yema de nuestros dedos! increible no? los camaleones se diferencian de las serpientes porque tienen parpados! puede dejar en descubierto la iris y pupila! es importante proteger uno de nuestros organos principales cierto?😮😮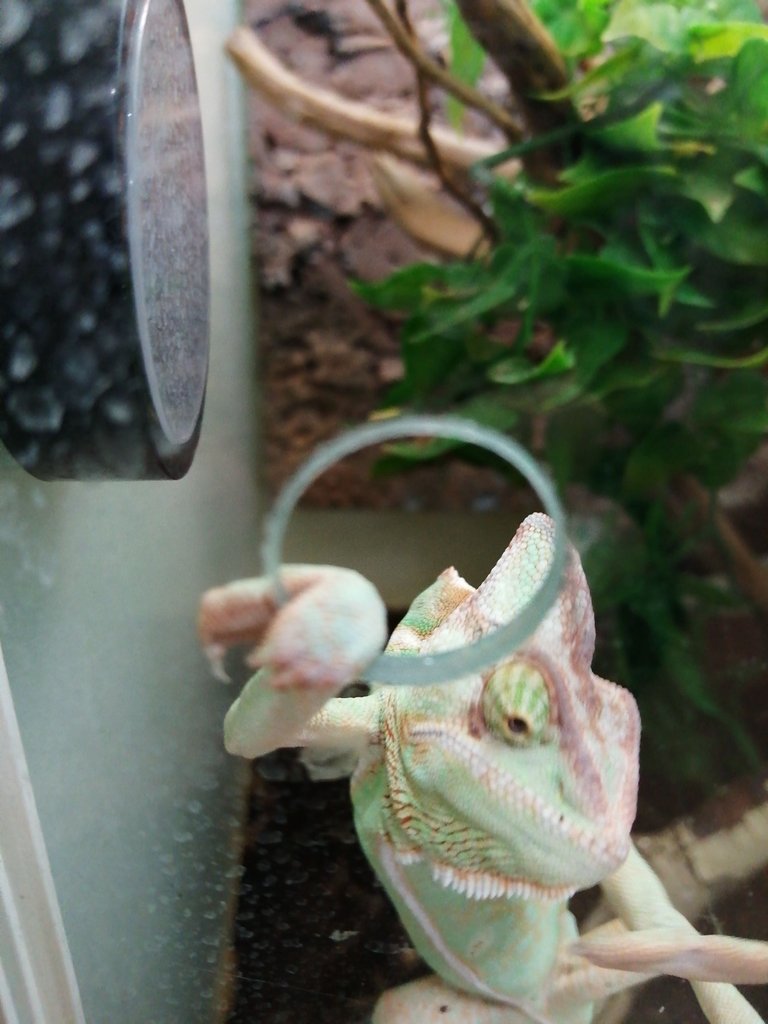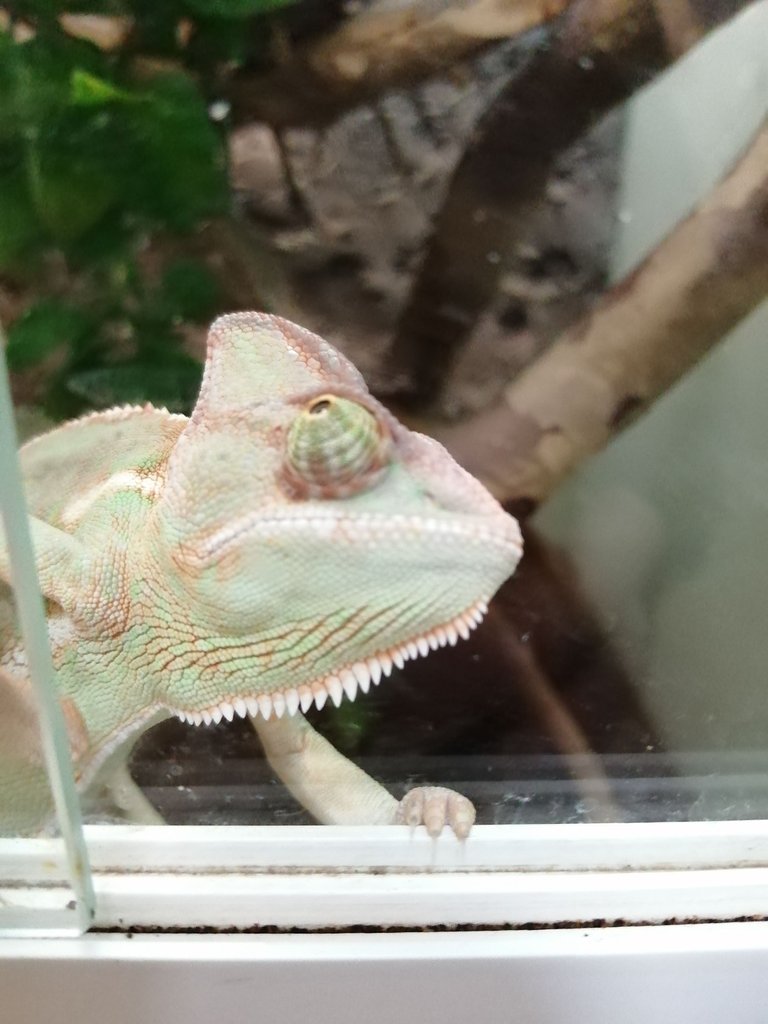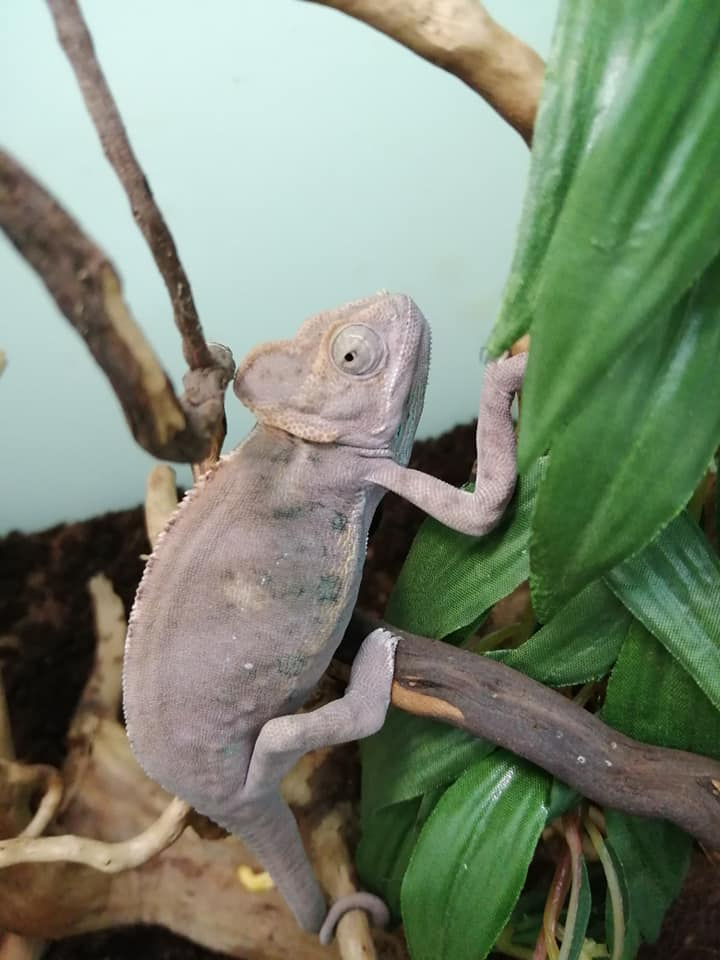 There is a species that is (parso chameleon) this animal lives in Madagascar and can reach almost a meter in length from head to tail! in general they are calm and peaceful animals, with a slow walk!😁😁
Hay una especie que es (camaleon de parso) este animal habita en Madagascar y puede llegar a medir casi un metro de largo desde la cabeza hasta la cola! en general son animales tranquilos y pacificos, de un caminar lento! 🤩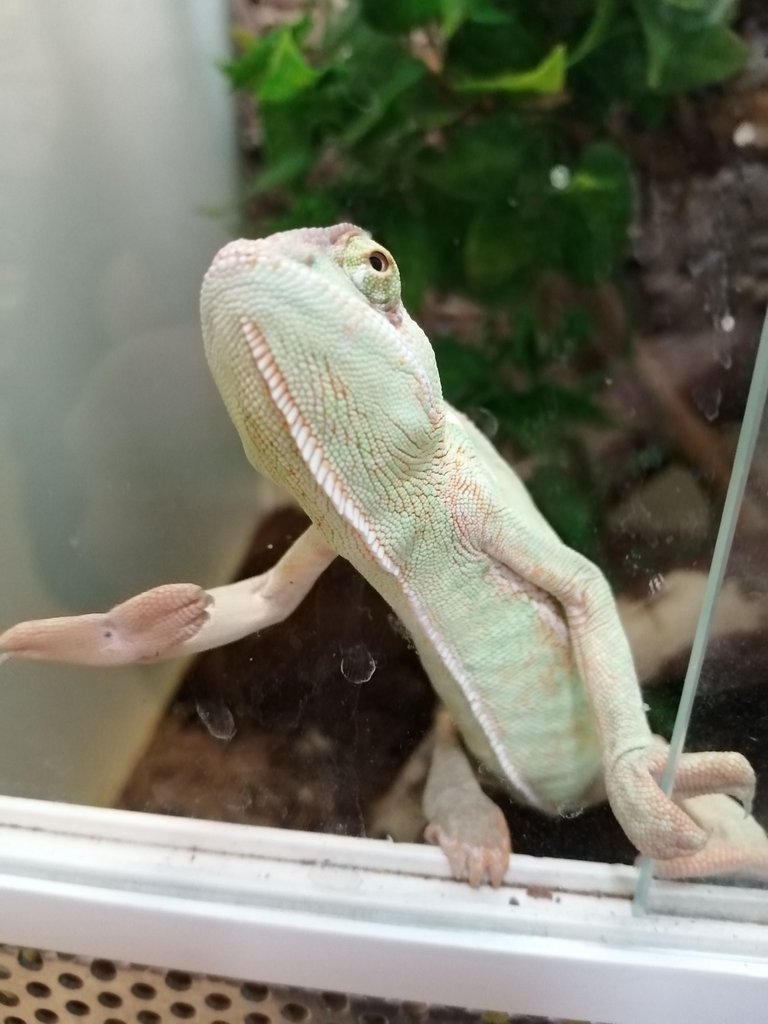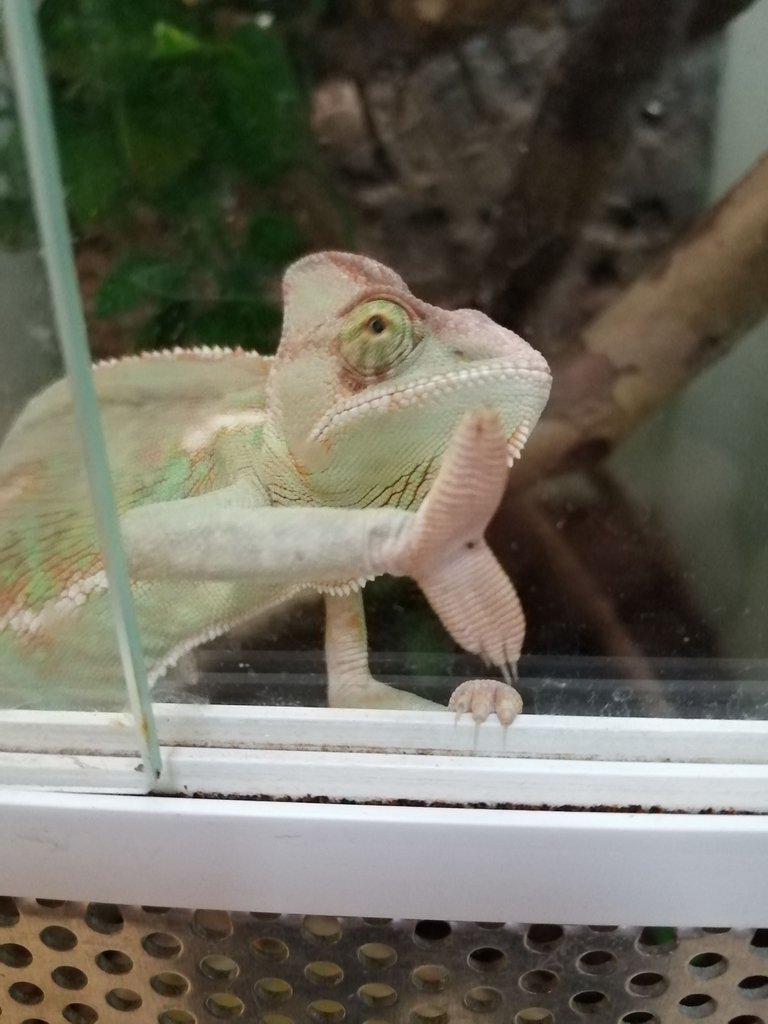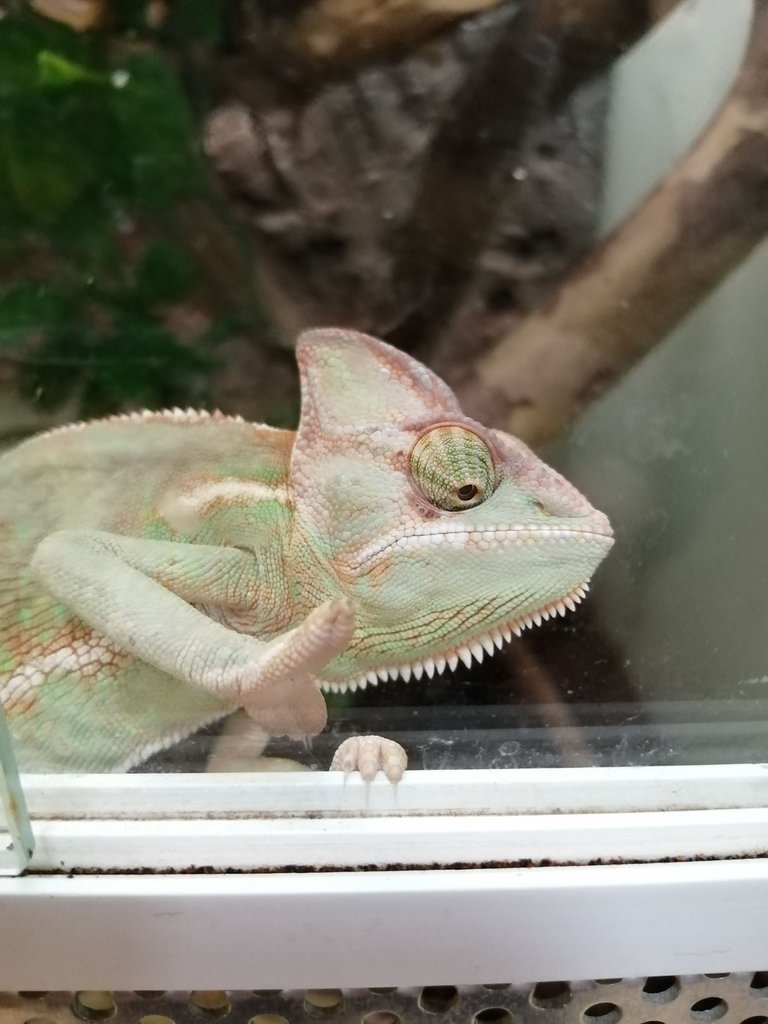 When they are active, that is, after taking sun baths, the chameleon can reach a tremendous speed! Layers of running to escape predators, their behavior changes and they are much more active when they are in the sun!😁😁
Cuando estan activos, osea luego de tomar baños de sol, el camaleon puede alcanzar una velocidad tremenda! capas de correr para escaparse de depredadores, su comportamiento cambia y son muchos mas activos cuando estan en el sol!⭐🔥🌝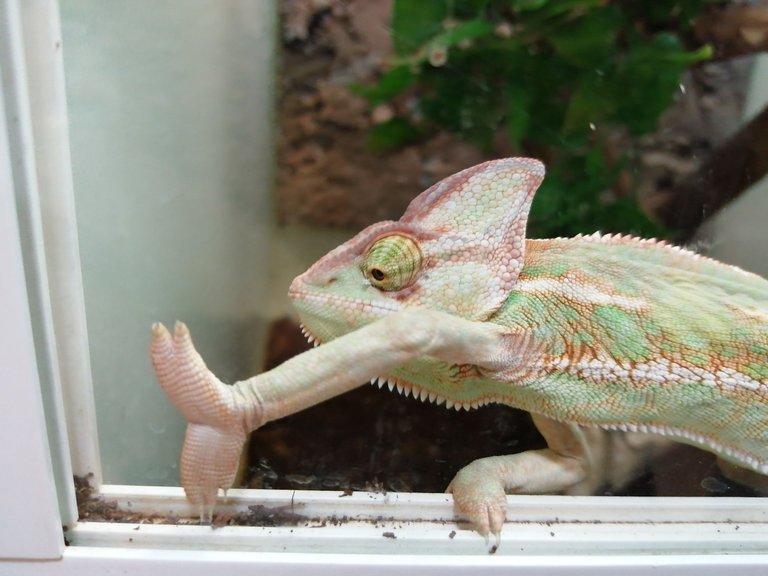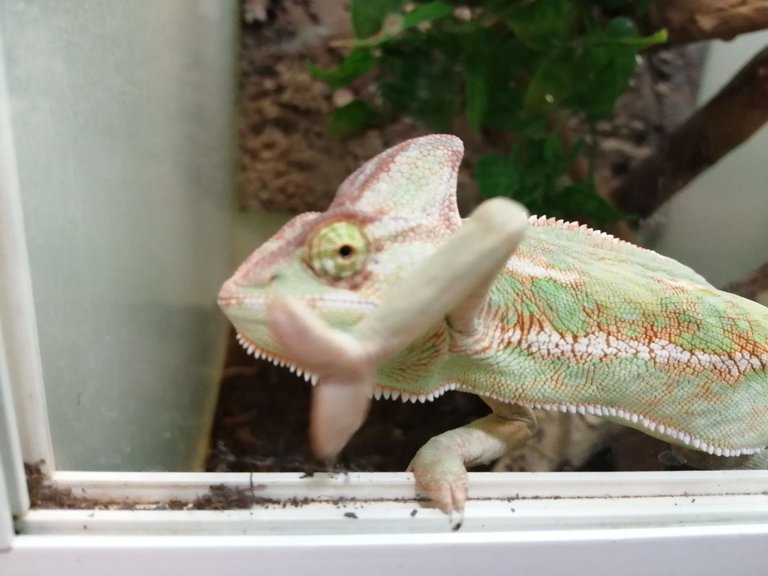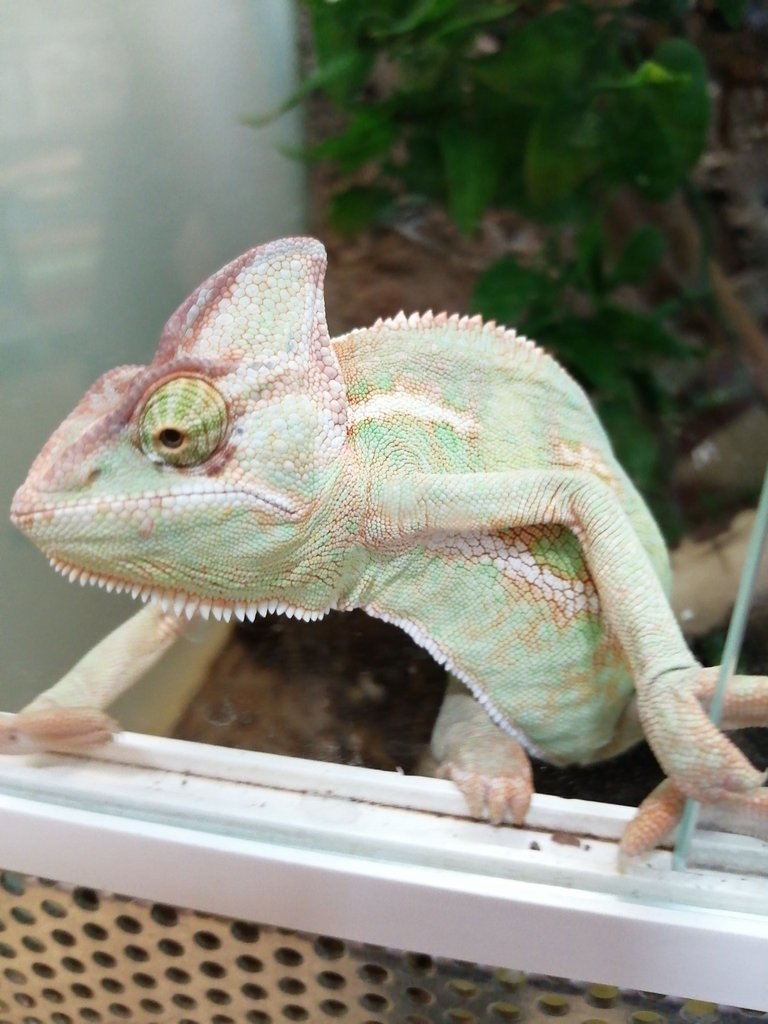 LASTLY😮🐸🐲🦎🐊🐢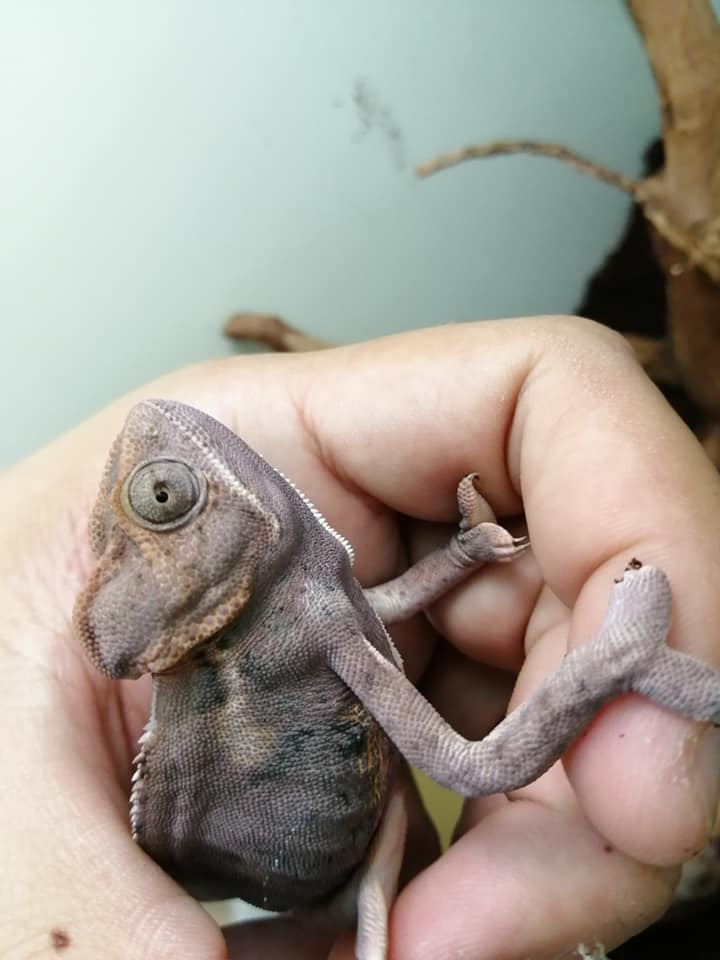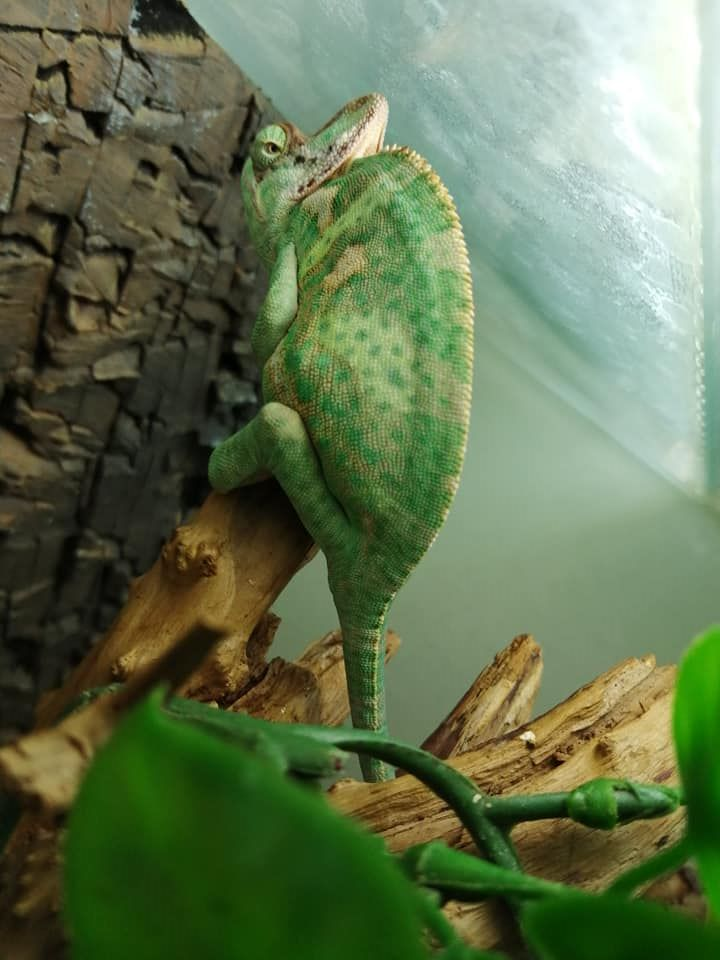 As a specialist in adoption animals if you are looking for a challenge, and an exotic animal that will accompany you for more than 10 years, a chameleon is the ideal for you! they are playful and great pets!🐾🐾
Como especialista en animales de adopcion si buscas un reto, y una animal exotico que te acompañe por mas de 10 años, un camaleon es el ideal para ti! son juguetones y grandes mascotas! 👩👨🧑👦

THANKS🎈🎋🎄🎍
OBRIGADO🧡💥💞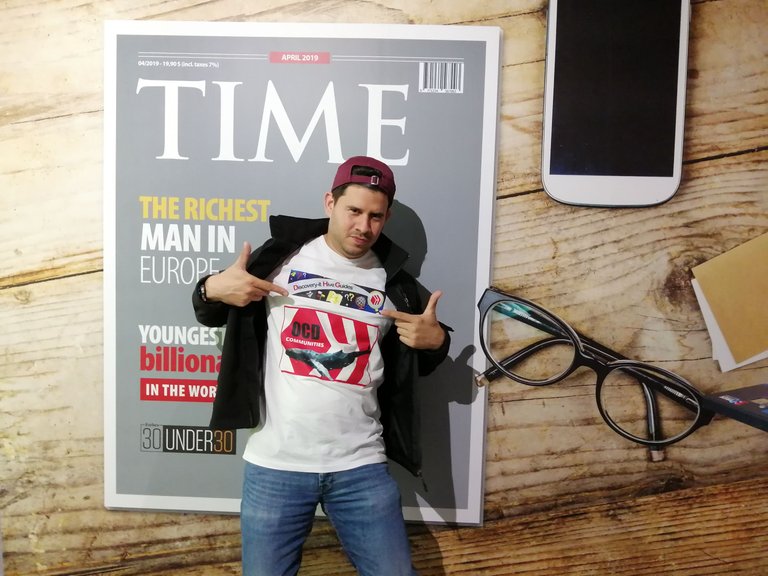 I would like to invite you to follow the @discovery-it community, supporting us together also means growing!