Always wishing everyone a good day. Let's remember that the sun rises for @everyone!😃🌞
Once again, I bring you content that I consider to be of quality, this takes several hours of reading, comprehension and writing.💡📚
But more than that, this is one more publication so that together we can appreciate and contemplate how wonderful our nature is! I prefer the marine and aquatic environment, that is my specialty🐬🐟🦈🦀🐢🐳🐙 I hope you enjoy!🐬🐟🦈🦀🐢🐳🐙🤗
It is incredible to see how sometimes great catastrophes are caused by small beings, this is the case of the "red tide", microscopic organisms can kill millions of marine animals due to lack of oxygen, but it does not end there. Even causing the death of some people ...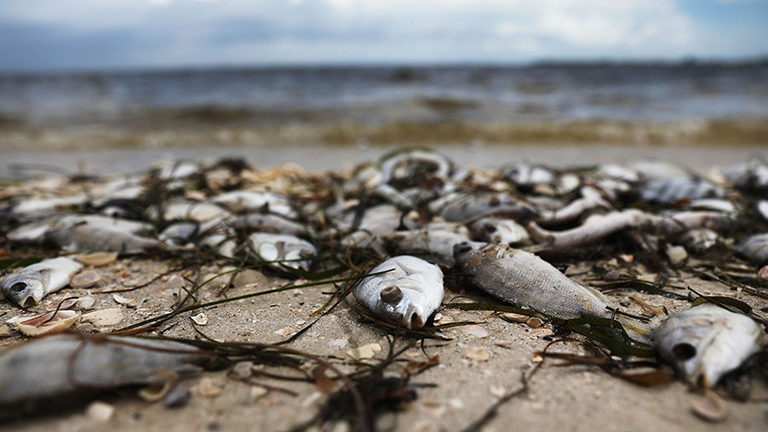 Photo Credit: RT
What's a Red tide?
A red tide is a proliferation of one or different microalgae in any body of water in a given area and that has a harmful effect on another organism (Diersing, 2009).
The misnamed "red tide" (I do not know if it has another name in English) is so named because in some cases, it causes a proliferation of algae that manages to dye the waters a reddish hue, due to the pigments that some of these microorganisms possess. However, these events are also known as Harmful Algal Blooms (HABs), since many times they do not have coloration in view of the waters. The cause of a number of environmental factors that occur in the aquatic environment, make these events happen and are often harmful to other organisms, including humans. This term is sometimes misused for any massive growth of microalgae (Diersing, 2009).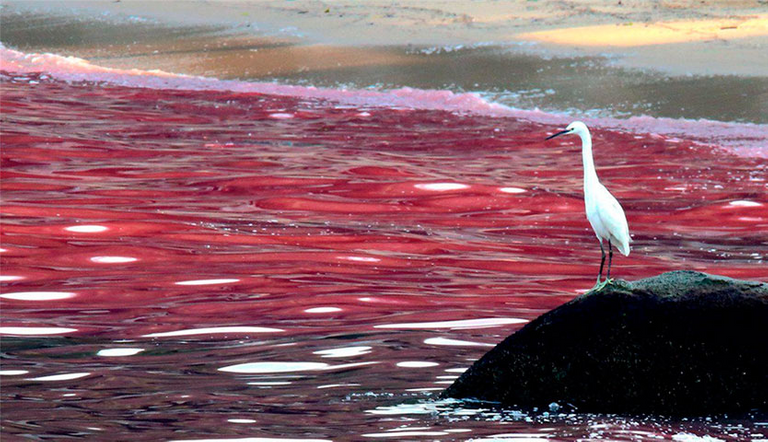 Photo Credit: Sustempo
Problems it causes
The high concentration of these planktonic microorganisms, some of which produce toxins, cause economic losses for aquaculture. This, because the bioaccumulation of these toxins in animal resources, such as filter feeders, can reach levels high enough to be harmful when ingested by humans, thus generating economic, ecological and social problems in the fishing environment ( Diersing, 2009).
In addition to these problems that it causes, it can also lead to strong infections (sometimes even fatal) for humans. How does this happen? Because the red tide displaces different animals such as fish, crustaceans and mollusks towards the coast, the fishermen "take advantage" of the vulnerability of the animals and sell them for consumption, be very careful!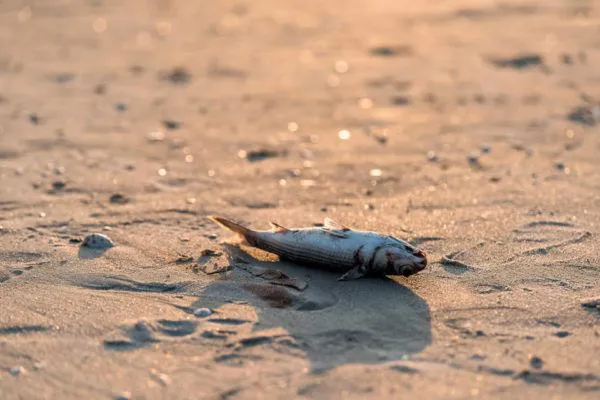 Photo Credit: Cristian (espaciociencia)
Clinical cases in Argentina
A research by Vecchio et al. (1986)
Today we will talk about 18 clinical cases that were the result of a red tide that took place in 1984.
It is a paralyzing poison of mollusks from a red tide, this poisoning can be fatal for humans, in addition, Argentina is used to a high consumption of mollusks in some parts of the country. The contaminated mollusks were identified as mussels (Mytilus platensis), the patients did not even have one hour of having ingested the mollusks.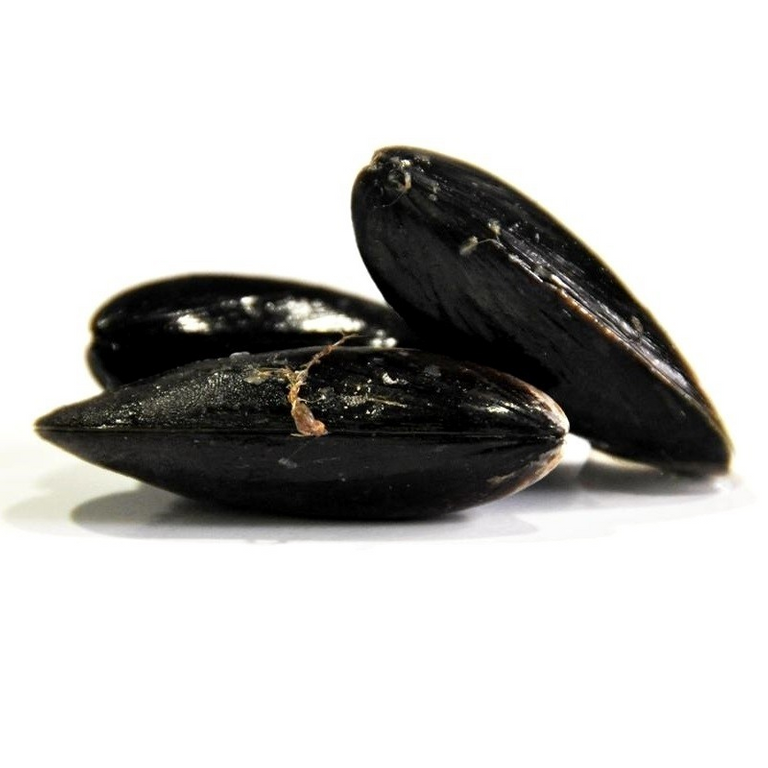 Photo Credit: Mejiroca
7 of them were hospitalized for their serious condition (intensive therapy), the other 11 presented minor symptoms and were observed for 24 hours to observe the evolution of intoxication.
Worldwide, until 1986, 1600 cases of poisoning of this type had been published: 300 people have lost their lives.
This is how the 18 patients were classified according to the degree of intoxication:
☣️ 10 patients with mild intoxication: nausea and vertigo.
☣️ 3 patients with moderate intoxication: general and respiratory weakness.
☣️ 5 patients with severe poisoning: muscle paralysis and death📢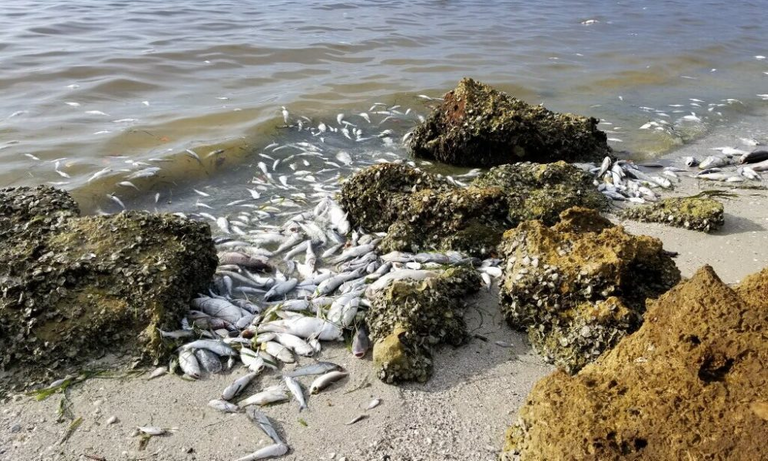 Photo Credit: Jesús Hernandez
The results
Despite the efforts of the medical staff, 3 people lost their lives due to severe poisoning.
IMPORTANT FACT: ALL THE PATIENTS CAPTURED THE MOLLUSCS THEMSELVES AFTER THE RED TIDE!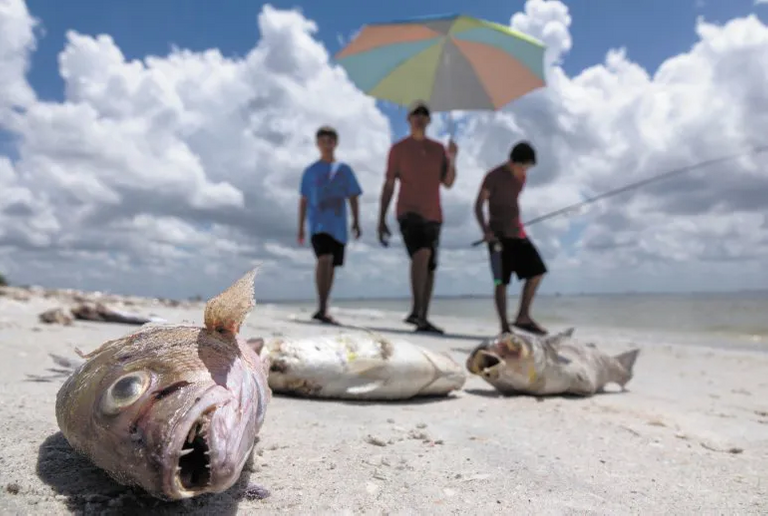 Photo Credit: Jesús Hernandez

Let's use the information to our advantage to take care of ourselves and others!