Two-tone butterfly / Mariposa a dos tonos [ENG/ESP]
Nature is inspiring and amazing. Today on my walk through the forest, I found a purple butterfly, but it is not just any butterfly, so I invite you to continue reading this publication.
La naturaleza es inspiradora y asombrosa, el día de hoy en mi paseo por el bosque encontré una mariposa de color morado, pero no es cualquier mariposa por eso te invito a seguir leyendo esta publicación.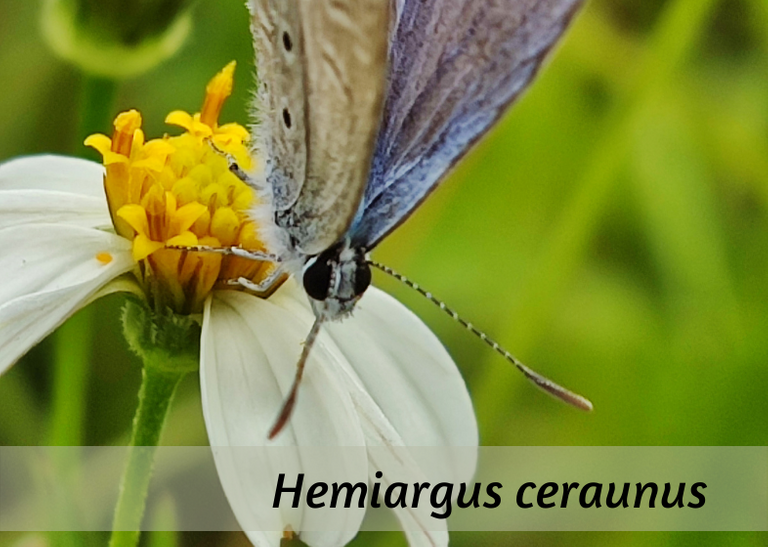 There is an area of the forest that is free of tall trees. The vegetation is more of short bushes but with some flowers, so it is an area where some bees and butterflies are usually observed. While I was walking, I noticed some very small insects flying over the grassland that looked like purple moths, but when one of them landed on a leaf when I approached, I saw that it was a different color, and I thought I had made a mistake.
When I photographed this insect, I could see that it was a butterfly with beautiful wings, they seemed to be made of a delicate tulle fabric on which stood out some engravings as if they were delicate tattoos.
Hay una zona del bosque que es libre de árboles altos. La vegetación es más de arbustos cortos pero con algunas flores por eso es una zona donde suelen observarse algunas abejas y mariposas. Mientras caminaba me llamó la atención que sobre el pastizal volaban unos insectos muy pequeños que parecían unas polillas moradas, pero cuando una de ellas se posó sobre una hoja al acercarme ví que era de otro color y pensé que me había equivocado.


Al fotografiar este insecto pude comprobar que se trataba de una mariposa con unas alas hermosas, parecían hechas de una delicada tela de tul sobre la cual destacaban unos grabados como si se trataran de unos delicados tatuajes.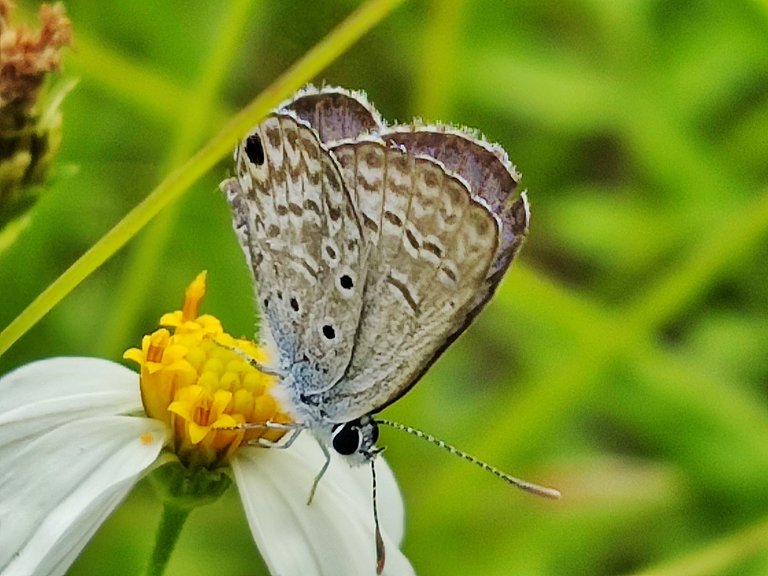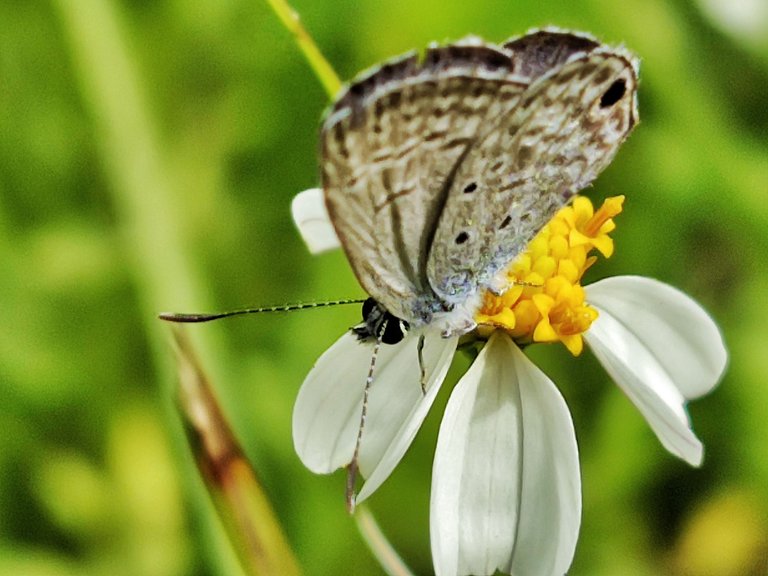 After a while, this butterfly timidly began to spread its wings, and I could appreciate little by little how its dorsal wings were completely different from what I had seen. See this sequence of photos so you can feel the amazement I felt when I witnessed this magical moment.
Al cabo de un tiempo esta mariposa comenzó tímidamente a extender sus alas y pude apreciar poco a poco cómo sus alas dorsales eran completamente distintas a lo que yo había apreciado. Vean esta secuencia de fotos para que puedan sentir el asombro que me causó presenciar este momento mágico.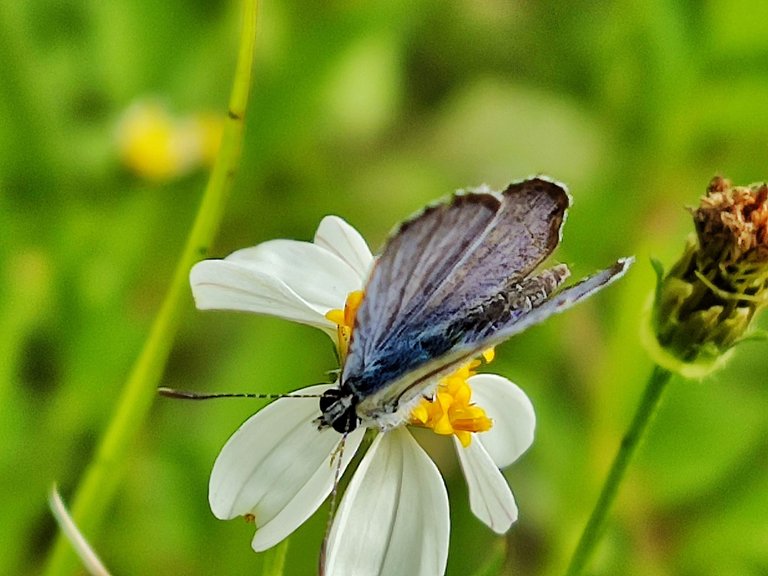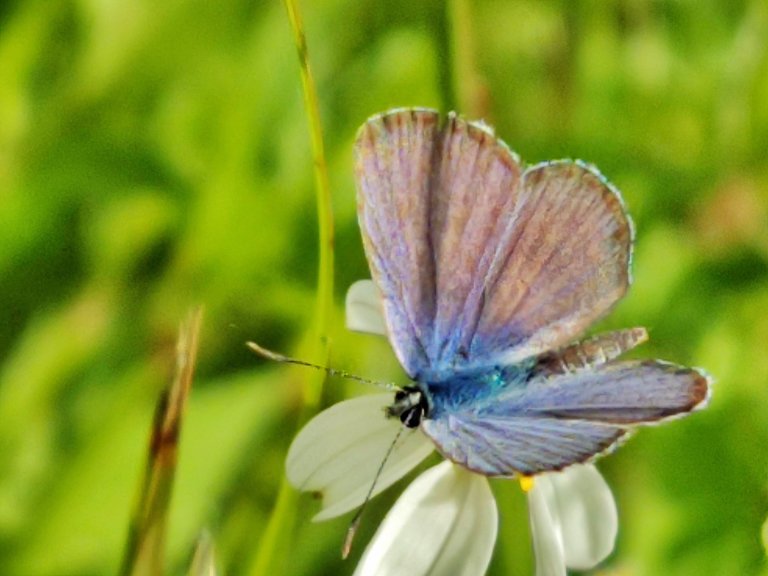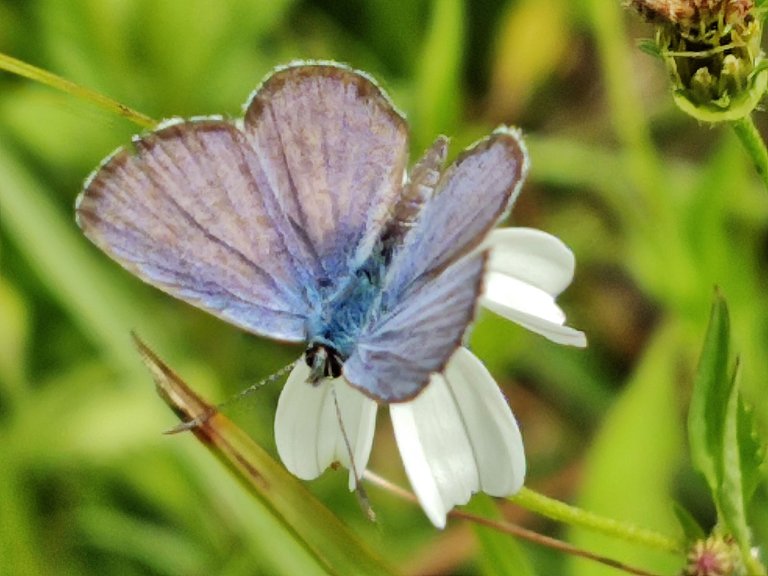 This is a Hemiargus ceraunus butterfly belonging to the Lycaenidae family that can be found in the southern United States, Mexico, Central, and South America. It is very small in size, not reaching 2 centimeters. This specimen that I photographed is a male as it has bluish violet wings, unlike the female which are brown. It is a diurnal butterfly that feeds on flower nectar and can reproduce 3 times a year.
Esta es una mariposa Hemiargus ceraunus perteneciente a la familia de las Lycaenidae que pueden encontrarse en el Sur de Estados Unidos, México, Centroamérica y Suramérica. Es de tamaño muy pequeño, no alcanzan los 2 centímetros. Este ejemplar que fotografíe es un macho ya que tiene sus alas violetas azuladas a diferencia de la hembra que son de color marrón. Es una mariposa de hábitos diurnos que se alimenta del néctar de las flores y se puede reproducir 3 veces por año.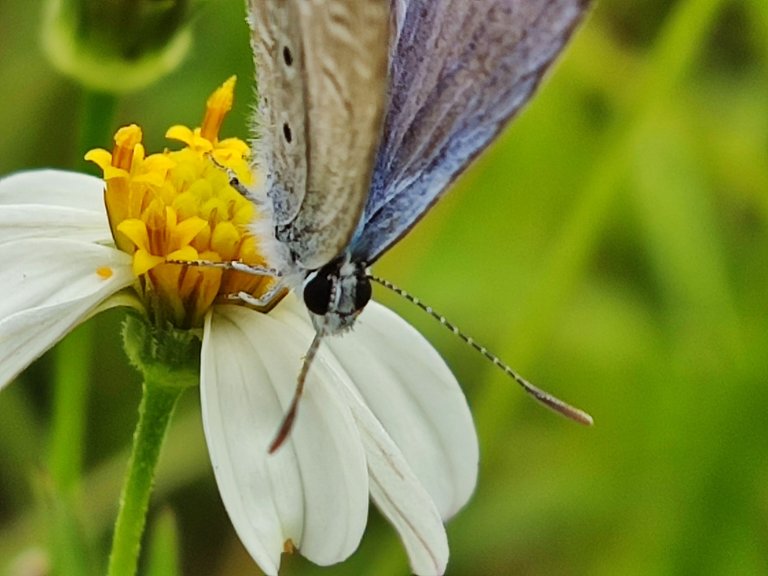 The curious thing about this type of butterfly is that it has many hairs on its back and abdomen, even around its eyes.
Lo curioso de este tipo de mariposa es que tiene muchos pelos en su dorso y abdomen, incluso alrededor de sus ojos.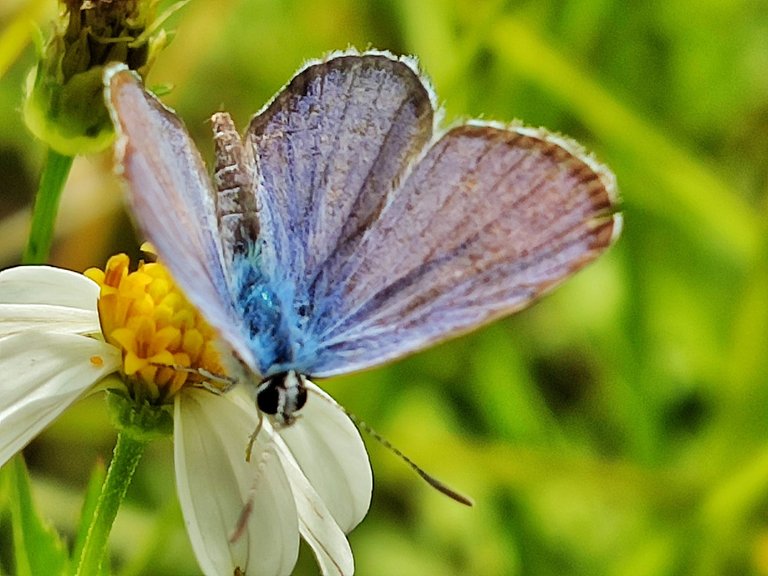 Its wings seem to glow thanks to the iridescence effect caused by the abundant scales that form this delicate structure.
Sus alas parecen brillar gracias al efecto de iridescencia que provocan las abundantes escamas que forman esta estructura tan delicada de estas mariposas.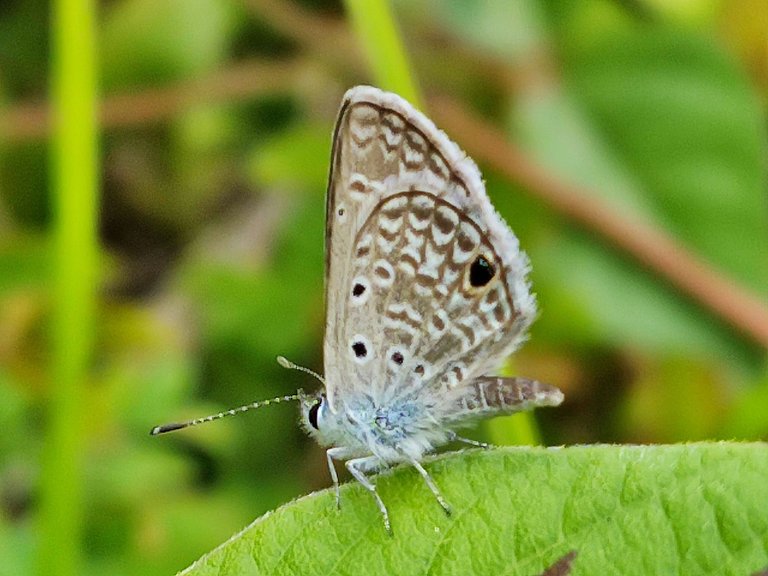 Sometimes the Hemiargus ceraunus butterfly is confused with the Echinargus isola, but a characteristic feature to identify it is the ocellus (black dot resembling an eye) at the lower end of its dorsal wing, this ocellus usually has an orange border. In my photo, you can see a slight orange color perhaps because of the intensity of the light or the angle at which the image was captured.
Once again, I am very grateful to nature for having given me this beautiful encounter with this curious butterfly, undoubtedly an amazing living being that deserves to be shared in this community of nature lovers.
A veces la mariposa Hemiargus ceraunus es confundida con la Echinargus isola pero un rasgo característico para poder identificarla es el ocelo (punto negro parecido a un ojo) en el extremo inferior de su ala dorsal, este ocelo por lo general su borde es de color naranja. En mi foto se puede apreciar un ligero color naranja tal vez por la intensidad de la luz o por el ángulo en que se captó la imagen.


Una vez más estoy muy agradecida con la naturaleza por haberme regalado este encuentro tan hermoso con esta curiosa mariposa, sin duda alguna un ser vivo asombroso que merece ser compartido en esta comunidad de amantes de la naturaleza.

Thanks for reading. See you in a future post!
All images are property of the author.
Gracias por leerme. ¡Nos vemos en una próxima publicación!
Todas las imágenes son propiedad de la autora


---
---