Hello friends nature lovers! / ¡Hola amigos amantes de la naturaleza!
Today I share a plant with a showy fruit similar to a tomato, but do not be fooled by its brightness. I invite you to read on to see what it is all about.
Hoy les comparto una planta de fruto vistoso parecido al tomate, sin embargo no se dejen engañar por su brillo. Les invito a seguir leyendo para que vean de qué se trata.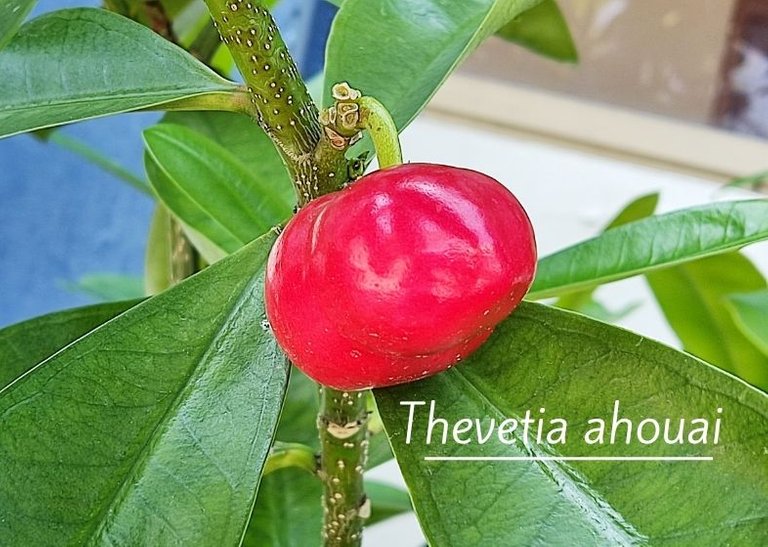 Finding this plant was fortuitous, like most of the ones I have shared with you. However, finding something unknown to me invites me to investigate and be able to identify what it is, and learn from it.
Encontrar esta planta fue de manera fortuita como la mayoría de las que les he compartido con ustedes. Sin embargo encontrar algo desconocido para mí, me invita investigar y poder identíficar de qué se trata y aprender de ello.

I went on a visit to a locality with a warm, humid climate and near the sea coast. While I was walking, the red coloration on this bush caught my attention. I thought they were flowers, but as I got closer I realized they were the fruits of this plant.
Fui de visita a una localidad de clima cálido, húmedo y cerca de la costa marina. Mientras caminaba, una coloración roja en este arbusto llamó mi atención. Pensé que se trataban de unas flores pero al acercarme me percaté que eran los frutos de esta planta.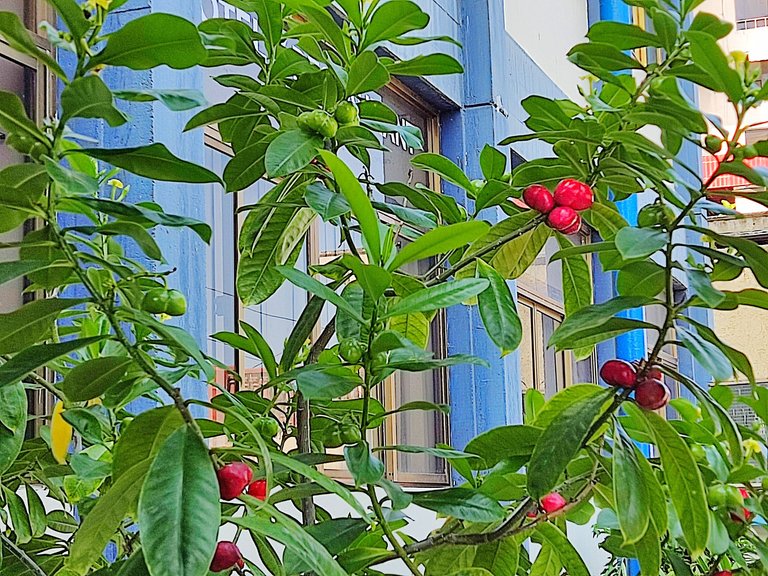 This is its technical data: / Esta es su ficha ténica:
| Taxonomic Category | Rating |
| --- | --- |
| Kingdom | Plantae |
| Phylum | Magnoliophyta |
| Class | Magnoliopsida |
| Order | Gentianales |
| Family | Apocynaceae |
| Subfamily | Rauvolfioideae |
| Genus | Thevetia |
| Species | T. ahouai |
Source
When I took a close look at the whole bush, I found not only green and ripe fruits, but also several flower buds and some flowers already open. Something that made me curious was that some of the fruits still hanging from the plant were so ripe that they were already rotten. Another curiosity was that although the fruits looked appetizing and shiny, they were not bitten by insects or birds. This was a sign!
Al observar detenidamente todo el arbusto, encontré además de frutos verdes y maduros, varios botones florales y algunas flores ya abiertas. Algo que me causó curiosidad es que algunos frutos que aún colgaban de la planta estaban tan maduros que ya estaban podridos. Otra curiosidad fue que apesar que los frutos tienen un aspecto apetitoso y brillante, éstos no estaban picados por insectos o aves. ¡Esto fue una señal!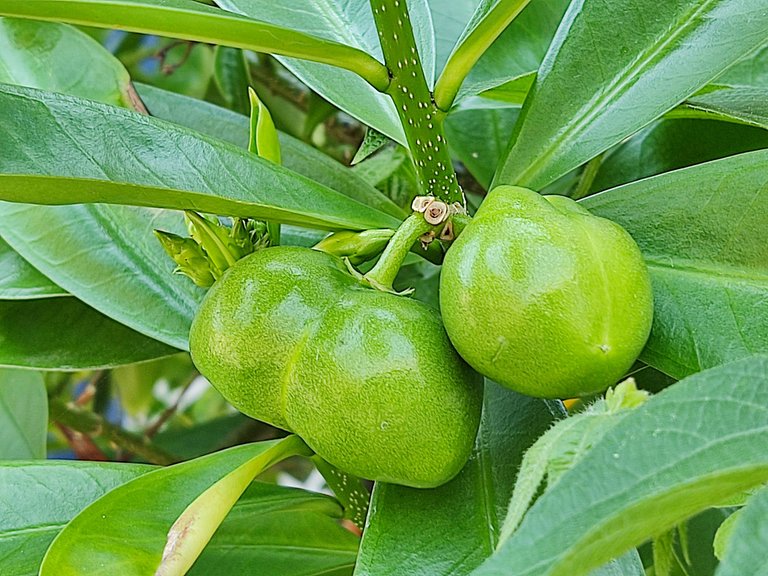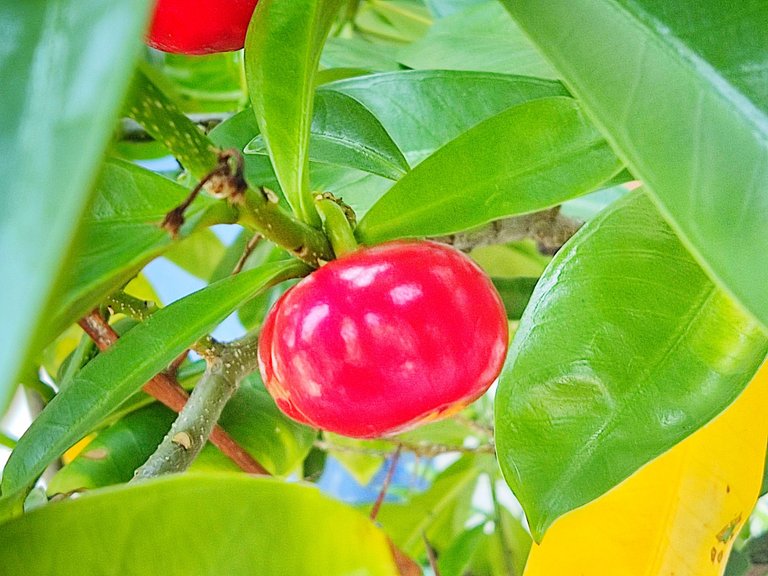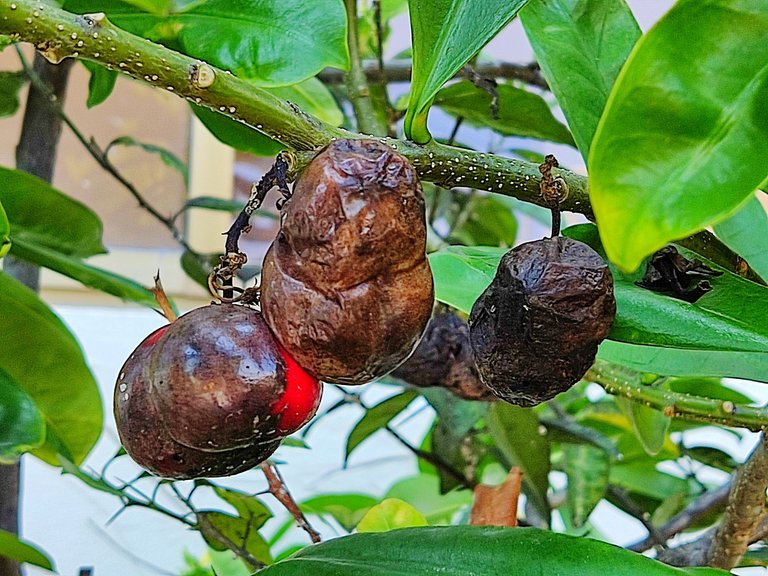 When searching for this shrub through the Google Lens app, I found that it was Thevetia ahouai, a highly toxic plant if any of its parts are consumed orally.
Thevetia ahouai is a shrub that grows up to 3 meters. As it grows it develops multiple branches. It is a species that can last up to 35 years. It is native to Central America. Some authors claim that it is native to Costa Rica, however, it is found in the Mexican coastal areas extending to the coastal areas of Panama, Colombia, and Venezuela.
In Central America, this shrub receives several colloquial names according to the shape of its fruits when ripe. In some countries it can be called "tomaton", "huevos de gato", "huevos de toro". A less colloquial name is "catape rojo" or "acotope".
Al buscar por la app Google Lens este arbusto encontré que se trataba de Thevetia ahouai, una planta altamente tóxica si se consume de forma oral cualquiera de sus partes.


Thevetia ahouai es un arbusto que crece hasta los 3 metros. Al crecer desarrolla múltiples ramas. Es una especie que puede llegar a durar hasta 35 años. Es nativa de América Central. Algunos autores sostienen que es originaria de Costa Rica, sin embargo se encuentra en las zonas costeras mexicanas extendiéndose hasta las zonas costeras de Panamá, Colombia y Venezuela.


En centroamérica este arbusto recibe varios nombres coloquiales en función a la forma de sus frutos cuando están maduros. En algunos países se le puede llamar "tomatón", "huevos de gato", "huevos de toro". Un nombre menos coloquial es "catape rojo" o "acotope"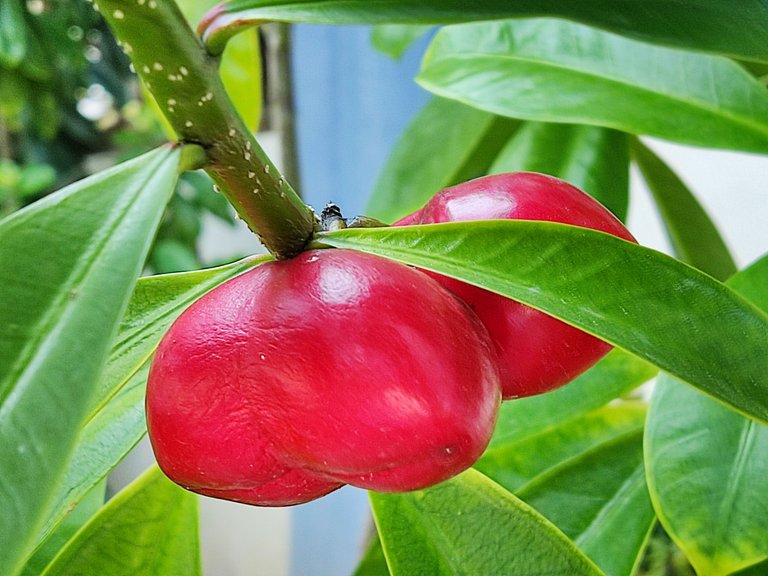 Whenever I find a botanical species on my walks I photograph them but I do not break any of their parts. It is respect for that living being. Although I was curious to know what this fruit looked like inside, I didn't tear any of the plant, thank goodness, because when you break a part of this plant, it emanates a milky, whitish liquid that irritates the mucous membranes and skin. My advice is to always respect nature, it has defense mechanisms that can affect us.
The literature describes this fruit inside as soft, and moist, with little white pulp and large seeds.
Siempre que encuentro una especie botánica en mis paseos las fotografío pero no rompo ninguna de sus partes. Es respeto por eso ser vivo. Aunque la curiosidad me invadía por saber cómo era este fruto por dentro, no arranqué ninguno de la planta. ¡Menos mal! ya que cuando fracturas una parte de esta planta, ésta emana un líquido lechoso blanquecido irritante de las mucosas y piel. Mi consejo es que siempre respetemos a la naturaleza, ella tiene mecanismos de defensa que pueden afectarnos.


La literatura describe a este fruto en su interior de consistencia blanda, húmeda, con poca pulpa de color blanca y semillas grandes.

This bush also had flowers - these are beautiful! They are delicate yellow flowers.
Este arbusto también tenía flores. ¡Estas son hermosas! Son unas flores delicadas de color amarillo.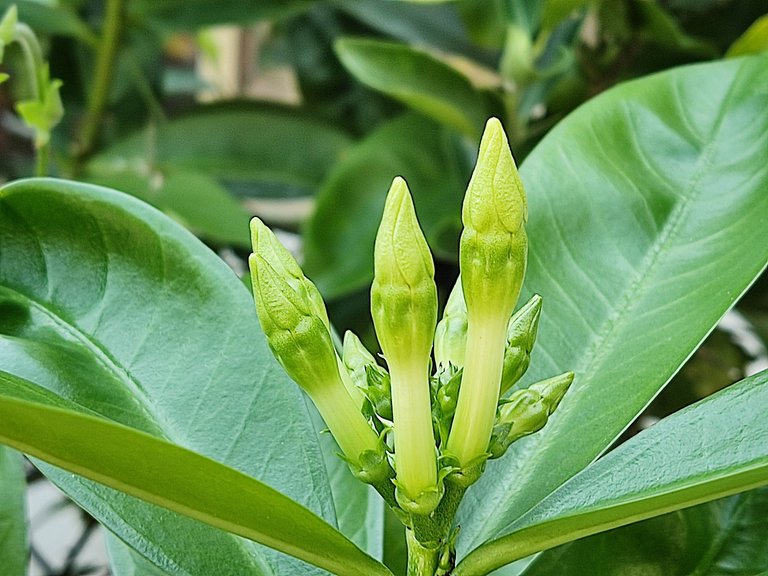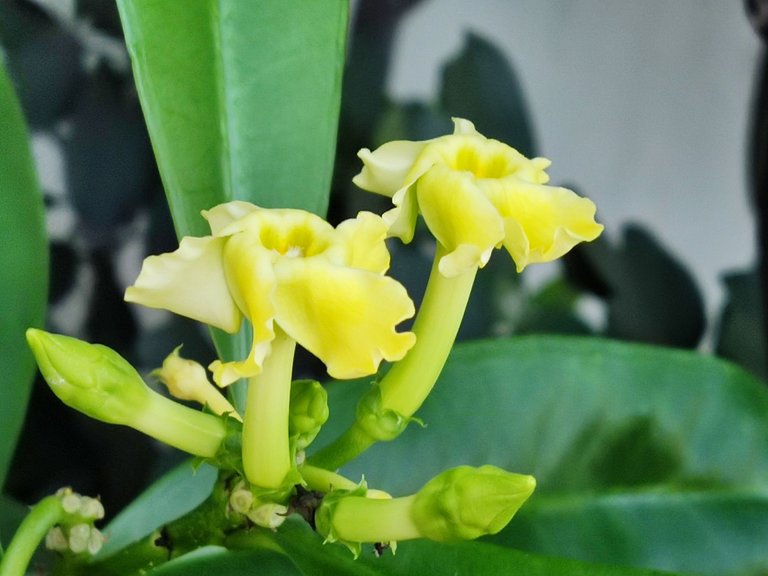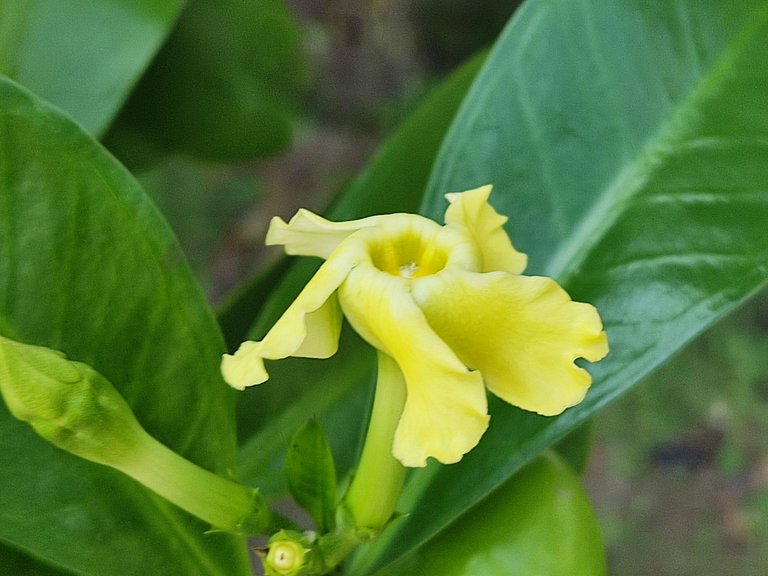 This plant (seeds, leaves, fruits) has several bioactive substances, in all its structures, of medicinal interest such as terpenes, sterols, alkaloids, and flavonoids (leucoanthocyanidins). It is also rich in cardiac glycosides, substances that act on ventricular contraction. These substances are used to produce drugs for patients with cardiac conditions at the ventricular level and heart failure. However, consuming any part of the plant in its wild form (fruits, leaves, seeds) can cause cardiac alterations leading to death.
Another medicinal property of the cardiac glycosides of this shrub is their cytotoxic function, i.e. they destroy some tumor cells. At least these in vitro findings are encouraging for the development of drugs against some types of cancer.
Esta planta (semillas, hojas, frutos) tiene varias sustancias bioactivas, en todas sus estructuras, de interés medicinal como terpenos, esteroles, alcaloides, flavonoides (leucoantocianidinas). También es rica en glucósidos cardíacos sustancias que actúan sobre la contracción ventricular. Estas sustancias son utilizadas para elaborar fármacos para pacientes con afecciones cardiácas a nivel del ventrículo e insuficiencias cardíacas. Sin embargo consumir alguna parte de la planta en su forma silvestre (frutos, hojas, semillas) puede causar alteraciones cardiácas causando la muerte.


Otra propiedad medicinal de los glucósidos cardíacos de este arbusto es su función citotóxica, es decir que destruyen algunas células tumorales. Al menos estos hallazgos in vitro son alentadores para desarrollar medicamentos contra algunos tipos de cáncer.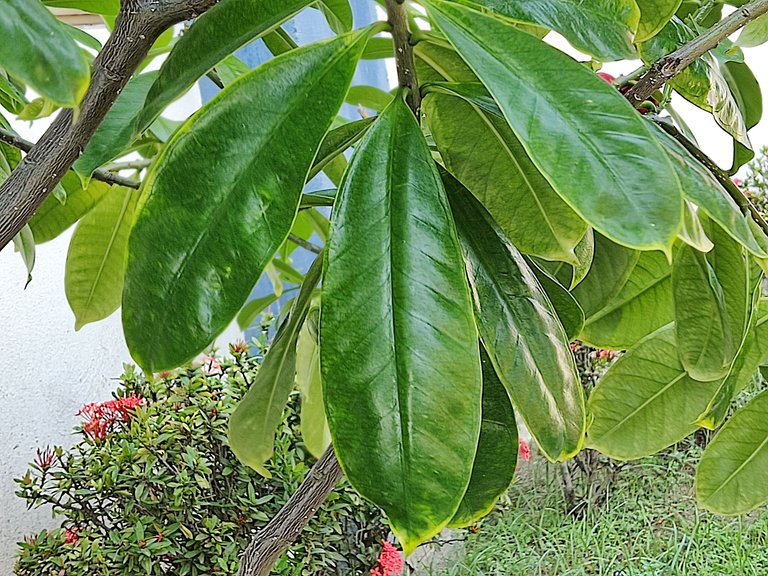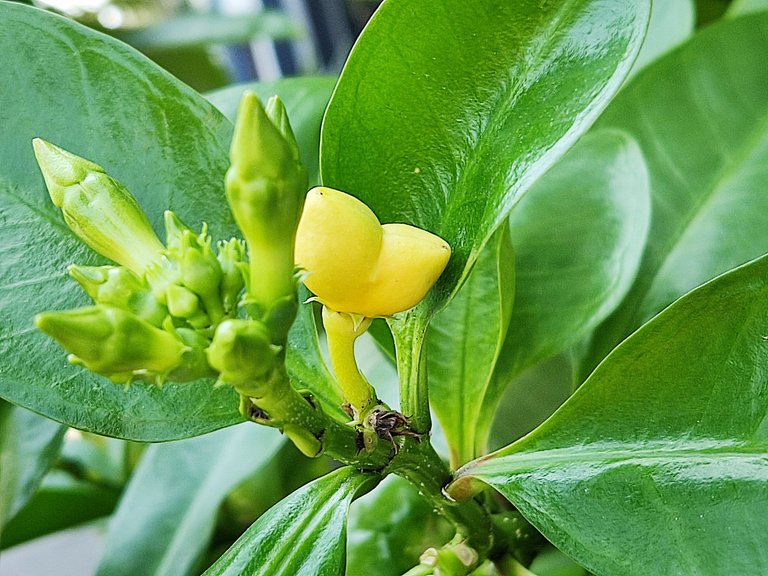 This plant, despite having a whitish caustic substance (latex) in its interior, is a substance that has been demonstrated in several scientific investigations to have antifungal and anti-inflammatory properties. There are reports that its latex is used in rural areas of Colombia and Mexico to cure warts on the skin. Of course, this latex produces a burn in the area where it is placed. Therefore the pharmaceutical industry is developing ointments with the active compounds of this latex and treating skin conditions without the aggressive effect that latex produces in its natural state.
Esta planta a pesar de tener en su interior una sustancia blanquecina caústica (latex), es una sustancia que ha demostrado en varias investigaciones científicas tener propiedades antifúngicas y antinflamatorias. Hay reportes que su látex es usado en zonas rurales de Colombia y México para curar verrugas en la piel. Por supuesto este látex produce una quemadura en la zona que se coloca. Por tanto la industria farmacéutica está desarrollando pomadas con los compuestos activos de este látex y tratar las afecciones de la piel sin el efecto agresivo que produce el látex en su estado natural.

Reflection / Reflexión
I found this species of shrub with its showy fruits on a walk along a public road, but I did not know that it was a poisonous species and that consuming its fruits could be dangerous. However, there was no warning around. I know that some of their uses of these types of shrubs are ornamental, but I think they become a potential hazard if no warning is given to the passerby.
In my case, my intuition upon seeing rotting fruit intact on the plant and many ripe fruits without the characteristic pecking of birds and insects aroused my suspicion. If a curious child approaches and consumes the fruit, what would be the consequences?
Yo encontré esta especie de arbusto con sus llamativos frutos en una caminata por la vía pública pero no sabía que se trataba de una especie venenosa y que consumir sus frutos podían ser peligrosos. Sin embargo no había ningún aviso alrededor. Sé que alguno de sus usos de este tipo de arbustos son ornamentales pero creo que se convierten en un peligro potencial si no se le hace la advertencia al transeúnte.


En mi caso mi intuición al ver los frutos podridos intactos en la planta y muchos frutos maduros sin el picoteo característico de la aves e insectos despertó mi suspicacia. Si un niño curioso se acerca y consume el fruto ¿cuáles sereían las consecuencias?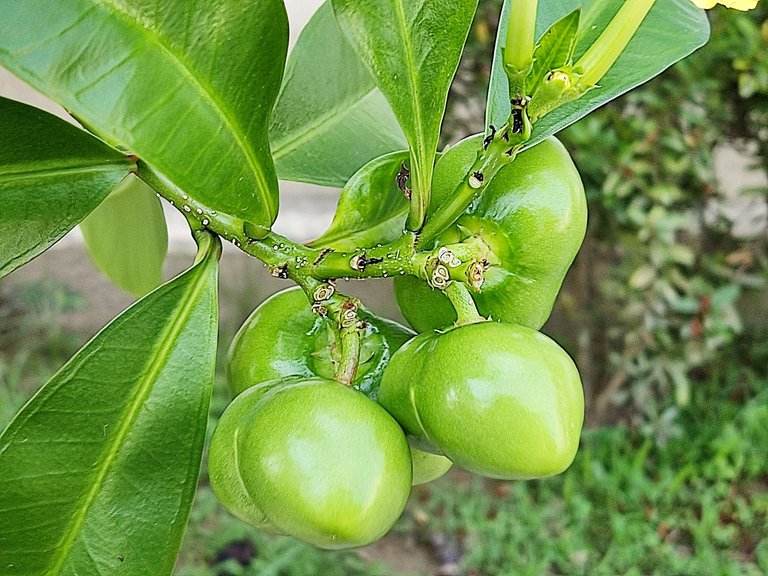 ---
References:
---

Thanks for reading. See you in a future post!
All images are the author´s property.