I went for a walk today, in the early afternoon ... because the weather was so incredibly nice that it couldn't be ignored.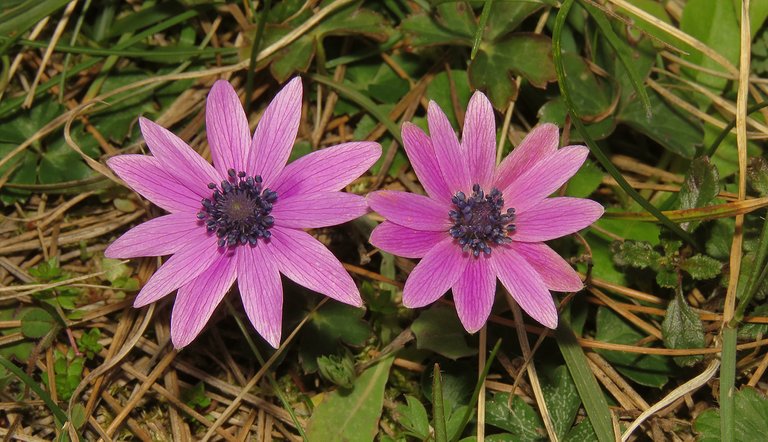 I walked to the small peninsula near the port of my hometown, the nearest place where an abundance of self seeding plants and small arthropods can be found. I expected to find a thing or two to put on photograph in this sudden outburst of springtime before the end of winter ... but ...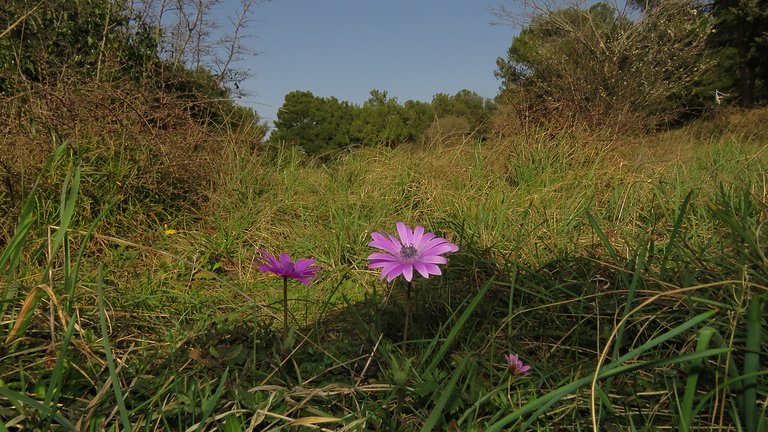 ... I didn't expect to have such a fun and colorful experience. At first, I thought to publish today's material tomorrow, or some other day, because I already published another nature themed post today ... but, I'm too excited to wait ... and I like the idea of this post being some kind of meadow - news report from my area :) On these opening photographs you can see the Anemone hortensis plant in bloom ...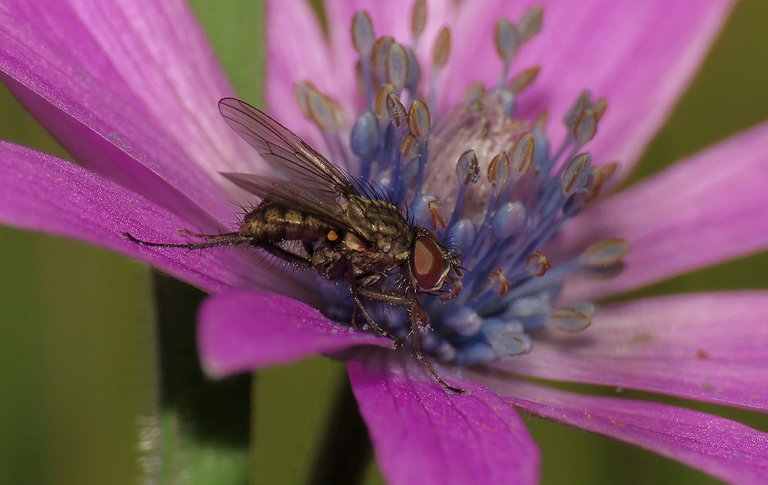 ... these are some of the first flower to appear after the winter ... or in this case - just before the spring. On this photograph you can see an early pollinator, a fly, I don't know the exact species. Some flies here are active practically throughout the winter, they appear in gardens around noon if the day isn't particularly cold.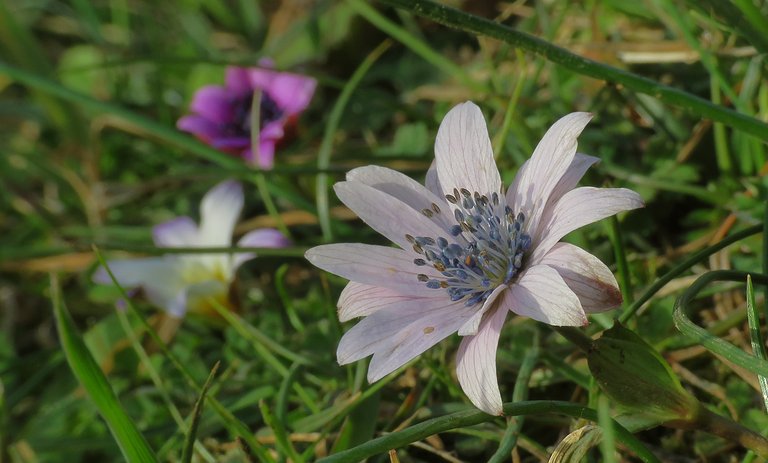 The color of these flowers can vary ... from white to magenta, including some light blue and violet versions. On this photograph you can see a pale one in the foreground ... and one more intensely colored blurred in the background ... along with another blurred flower of a differed kind ...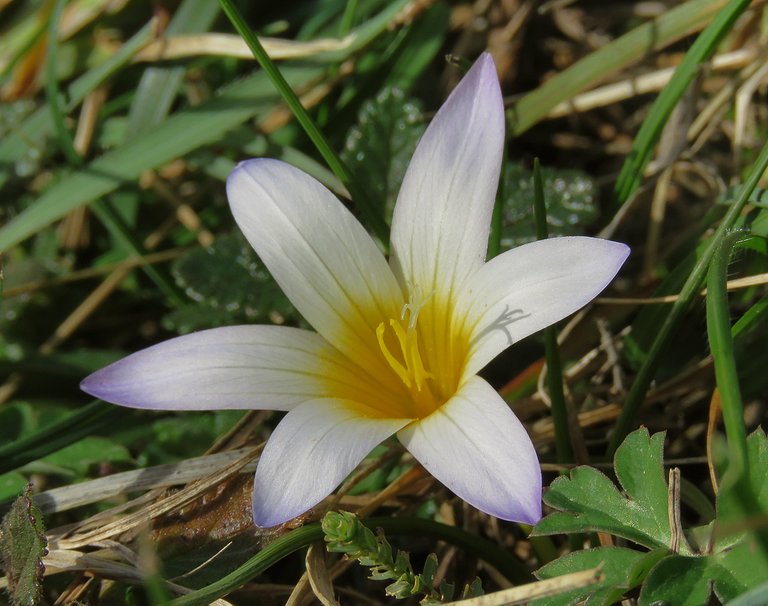 ... you can see it better here. This is the Romulea bulbocodium, a Mediterranean plant that also produces flowers very early in spring. This flower was growing alone ...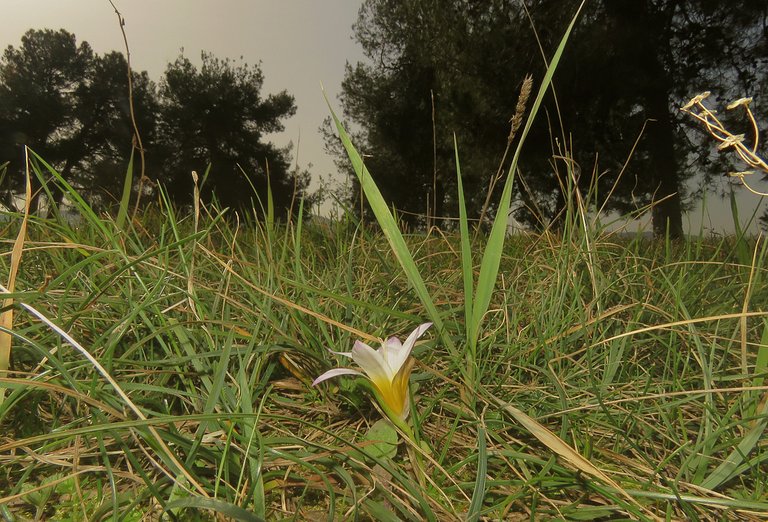 ... here you can see it from some distance ... with a bit of landscape in the shot ...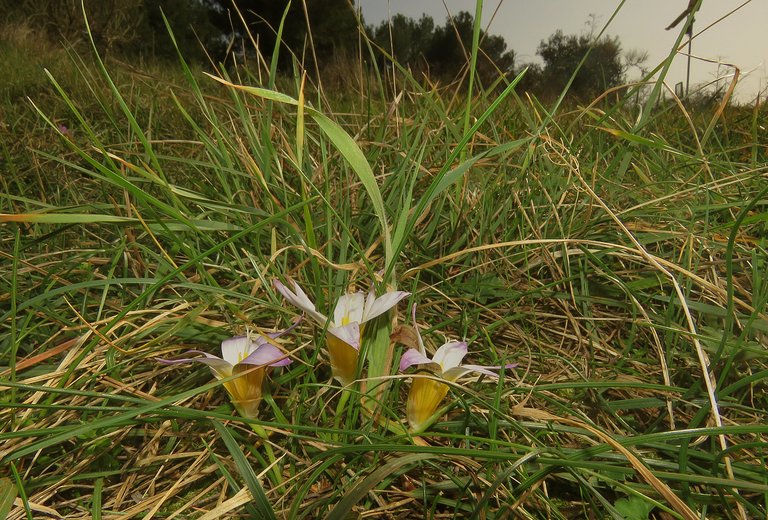 ... but more often, they appear in small groups ...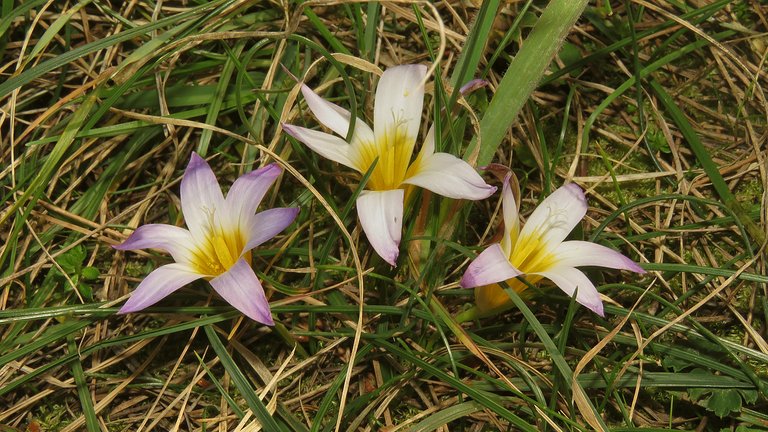 ... like this lovely trio. This plant usually grows on stony terrains with very short grass and surrounding vegetation ...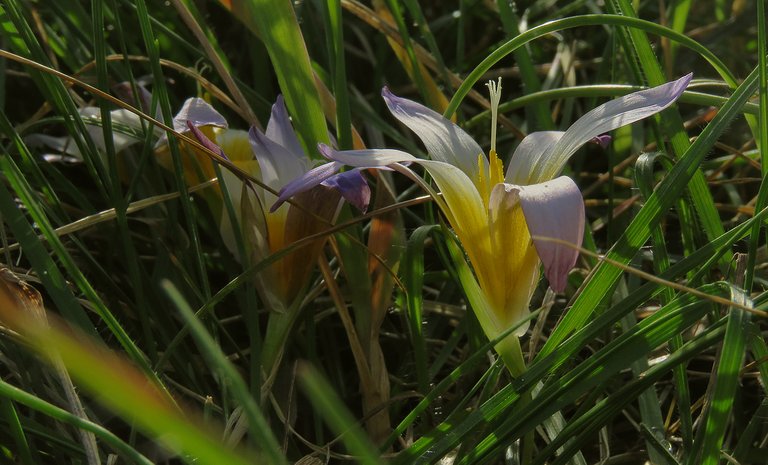 ... so it was a bit of surprise to find some of them hiding in the relatively tall grass ... I mean it wasn't tall by any normal standard, but when compared with the places where Romulea bulbocodium usually grows, it was a jungle.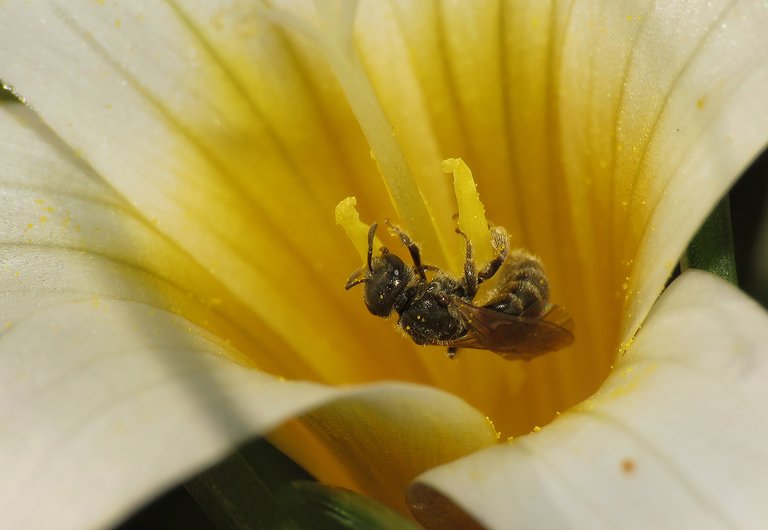 I found another early pollinator on one of these flowers ...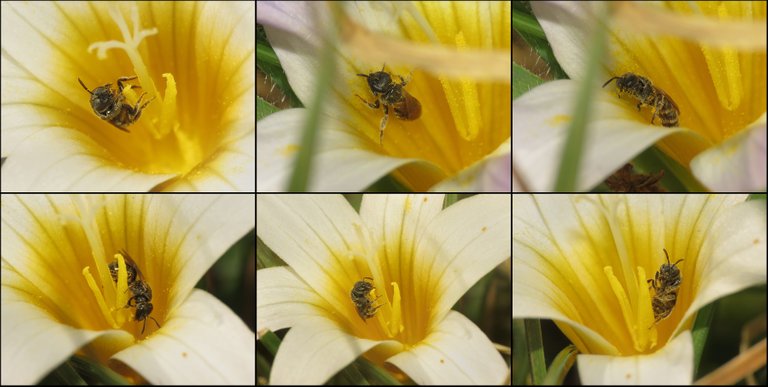 (Enlargeable)
... some very small wild bee, I don't know the exact species ... and I followed her with the camera while she was enjoying the nectar ...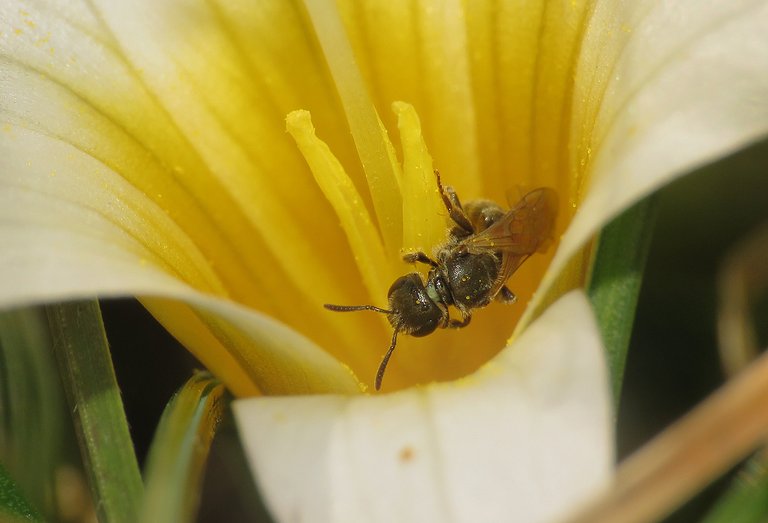 ... it was a nice encounter that resulted in quite a few photographs.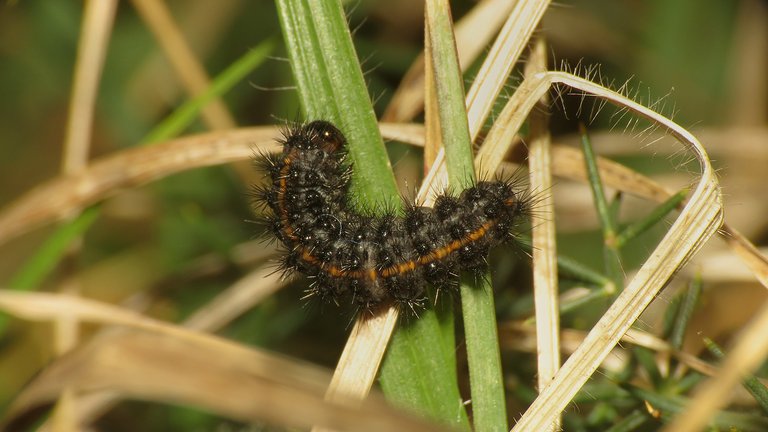 I found this small caterpillar a bit later, not far from there, in the grass.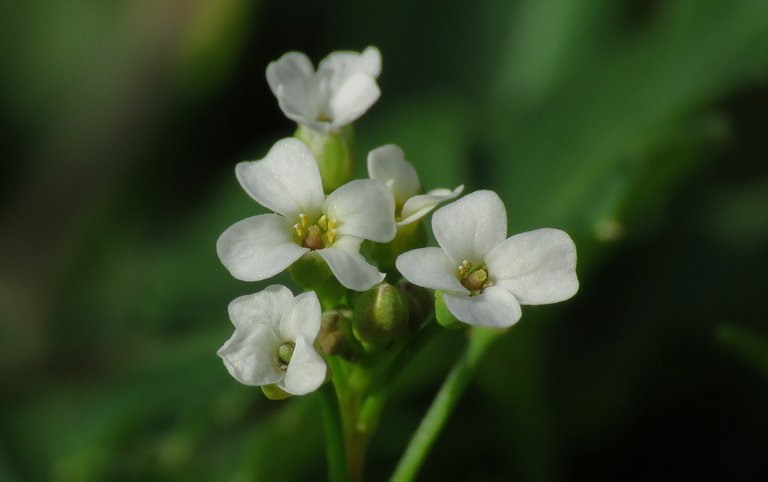 These are the tiny flowers of the Calepina irregularis ...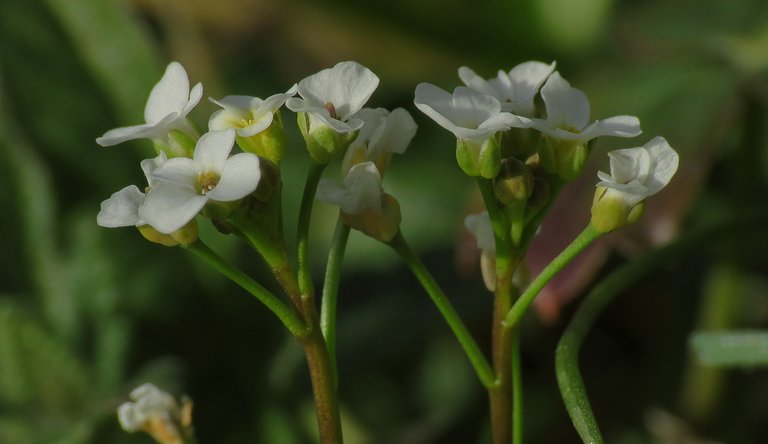 ... they really require a good macro lens to get a good portrait.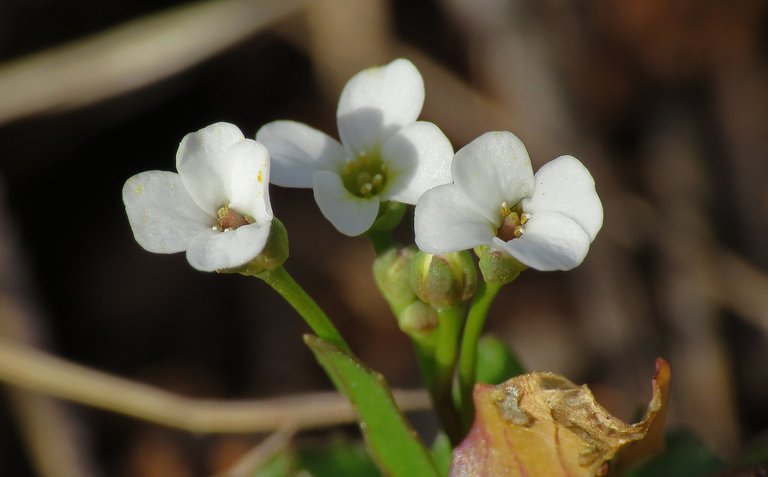 Not far from these ... on a blade of grass ...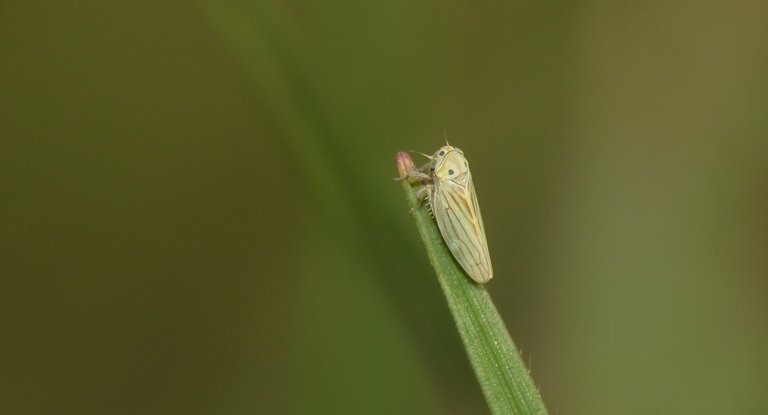 ... I found another minuscule attraction ... from the Animal kingdom this time ...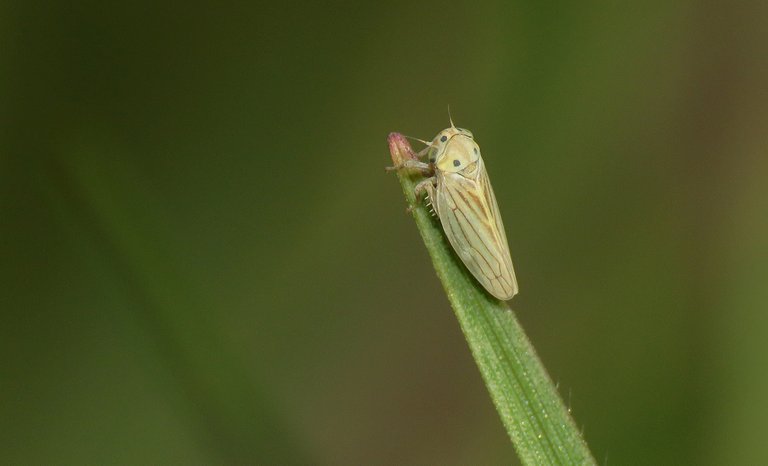 ... some elegant leafhopper.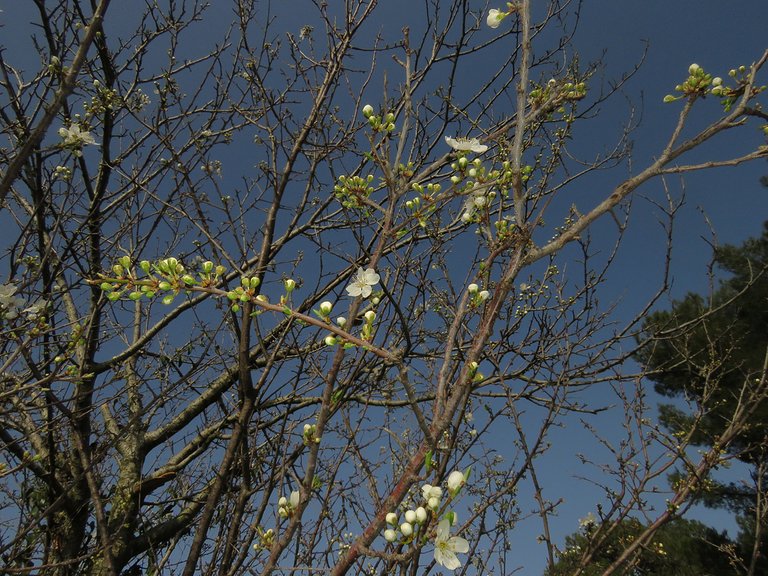 There was a tree behind me while I was trying to get this small insect in focus ...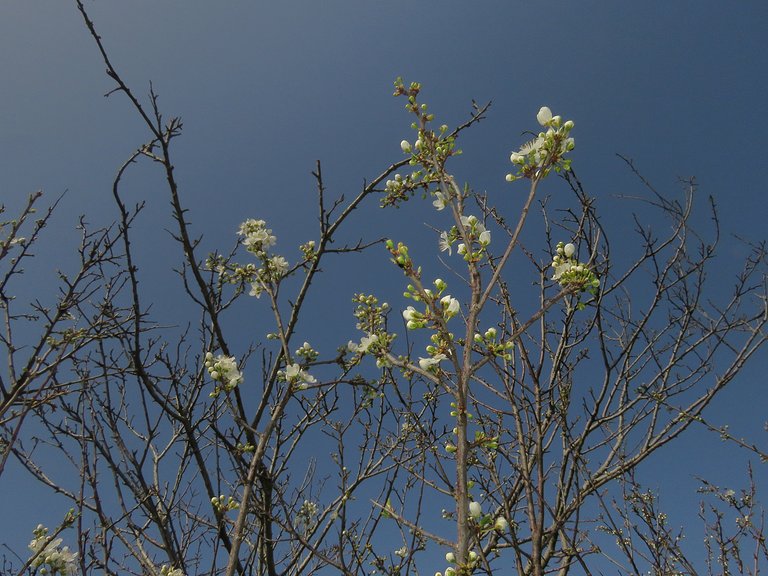 ... a Cherry plum tree (Prunus cerasifera) ...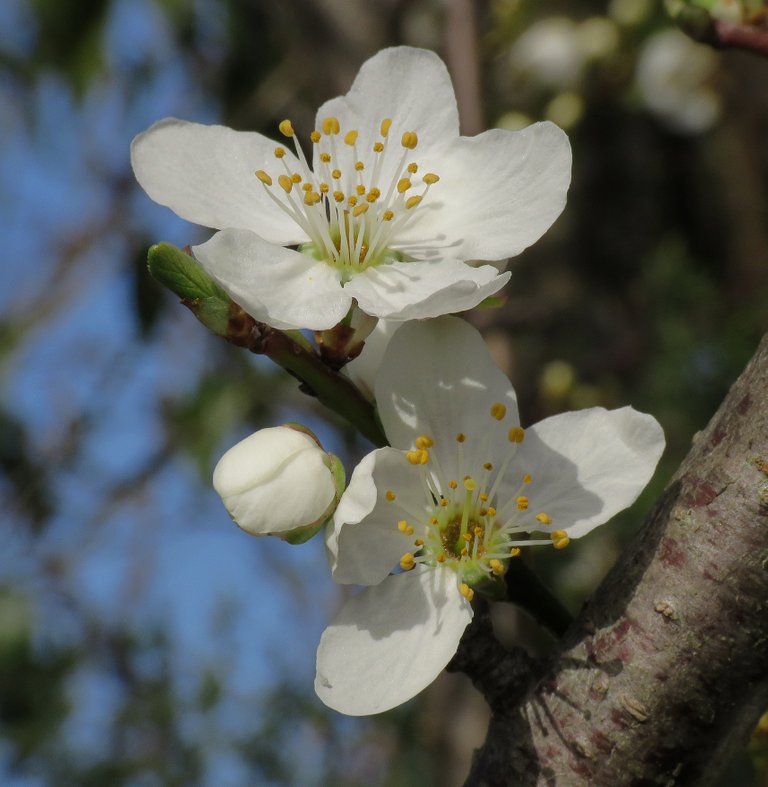 (Enlargeable)
... with lovely white flowers ...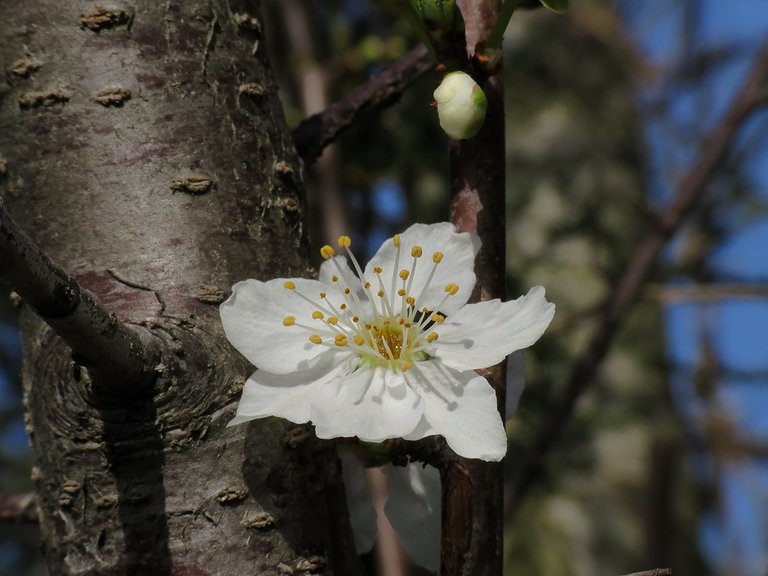 ... so I approached the lower branches, and took a few up close shots.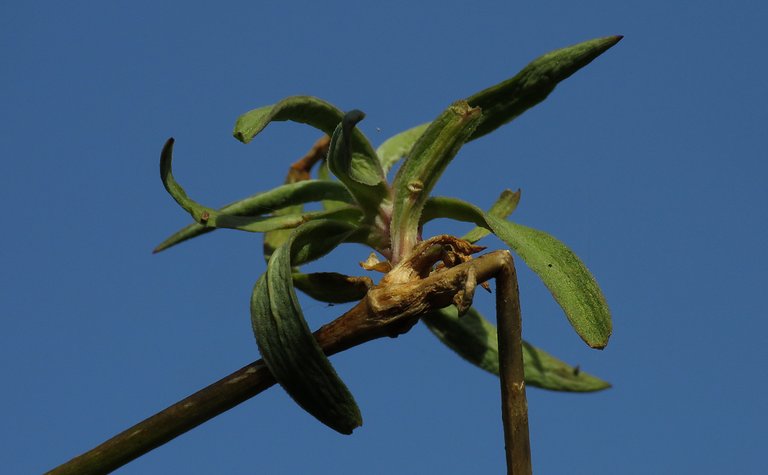 Then I continued sniffing through the grass ...
... and I took a couple of slightly repetitive shots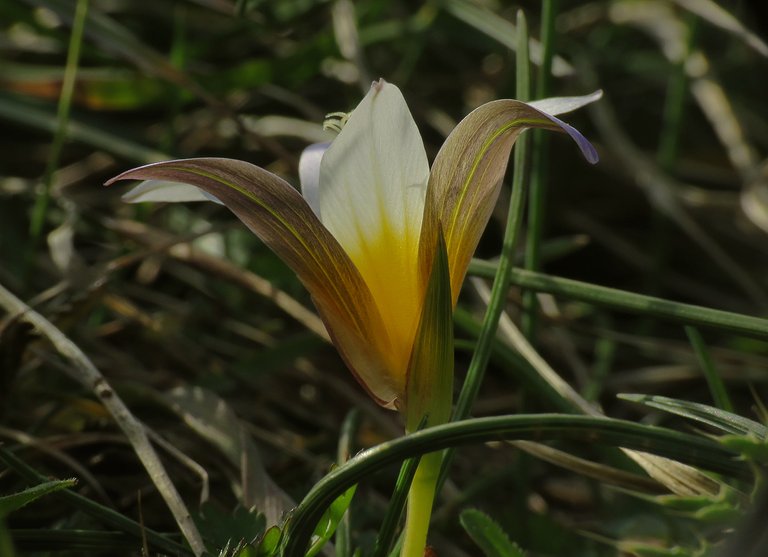 ... with flowers you already saw in the post ... and then ... finally ...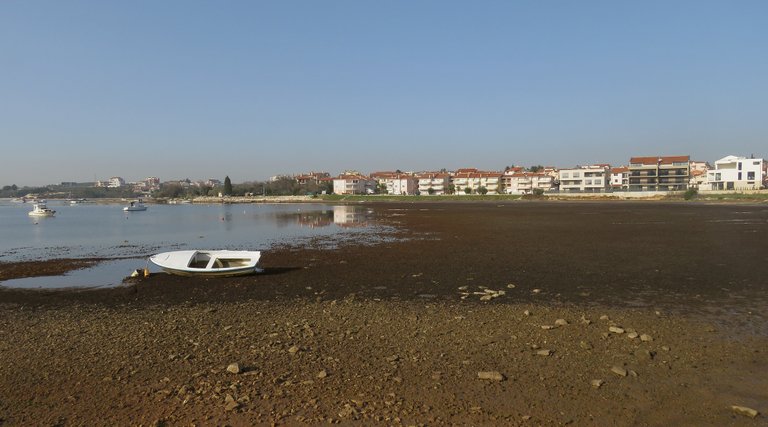 (Enlargeable)
... I got hungry, and so I decided to go back home ...
... but the tide was extremely low ... and looked kind of impressive ... so I stopped to take more photographs.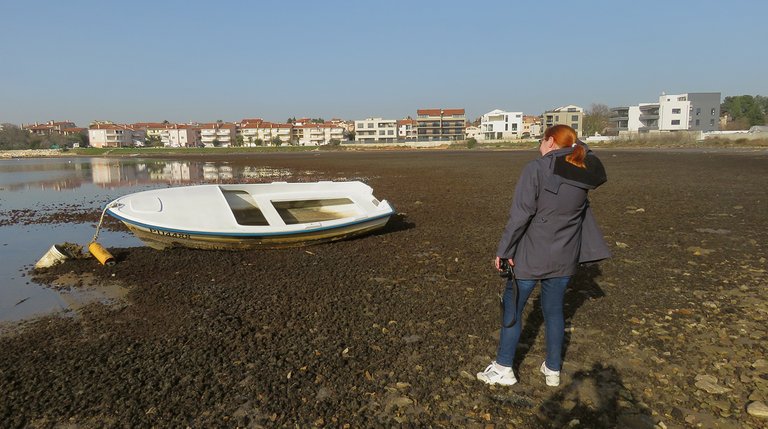 Here you can see a friend standing at the edge of the safe area ... after that the mud behaves a bit like quicksand ... I mean, you won't sink entirely in it, but it's easy to get muddy to the knees.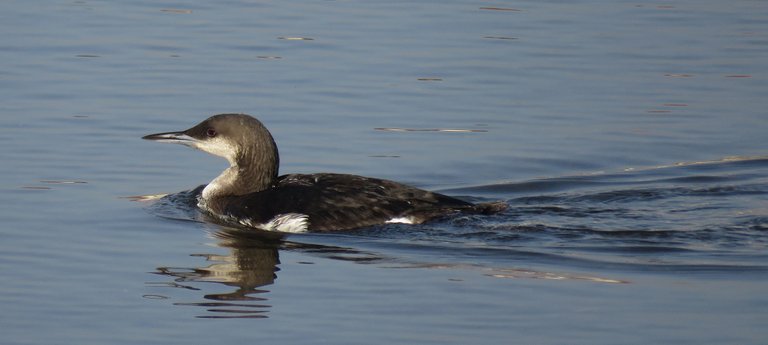 (Enlargeable)
In the slightly deeper part of the bay, I saw this bird ... it looked like some kind of grebe ...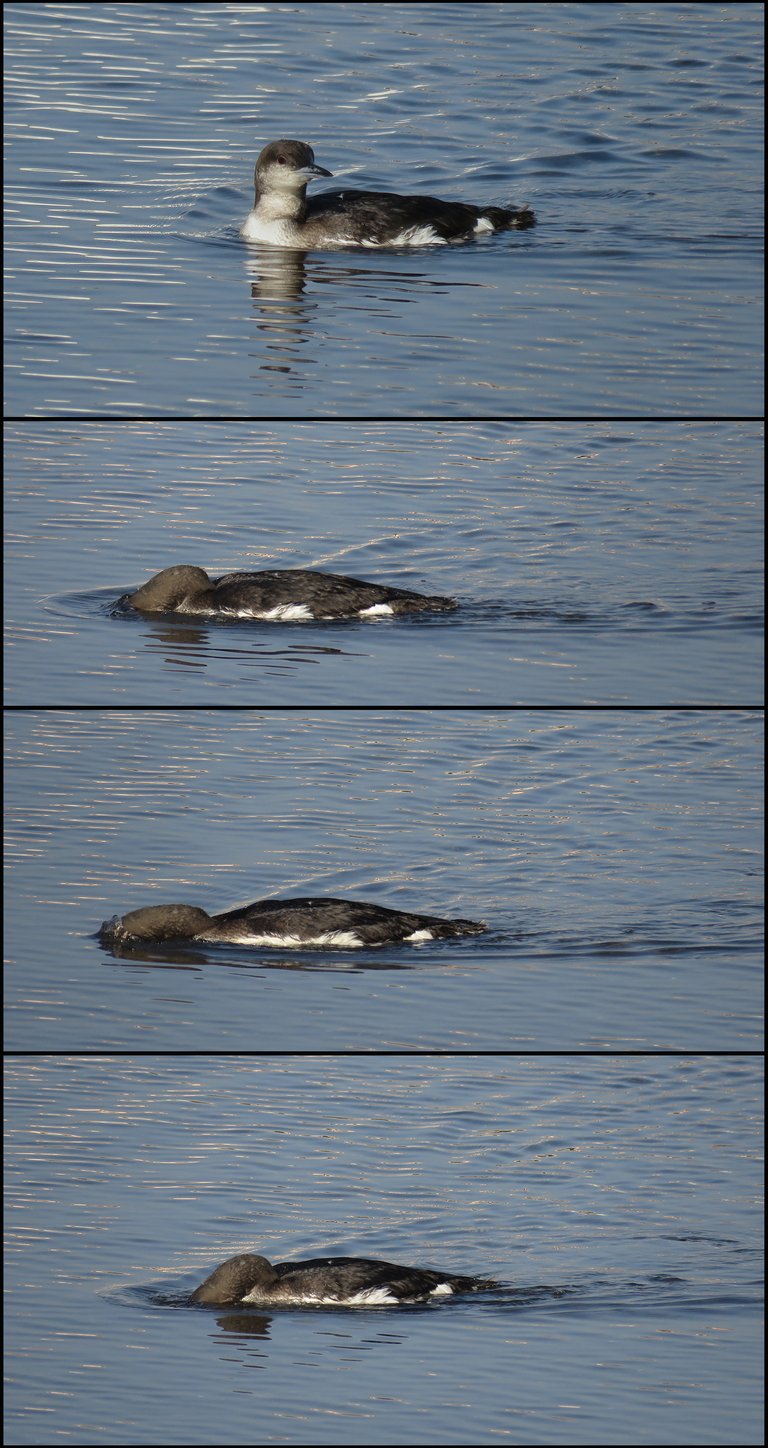 (Enlargeable)
... so, it was shooting time again.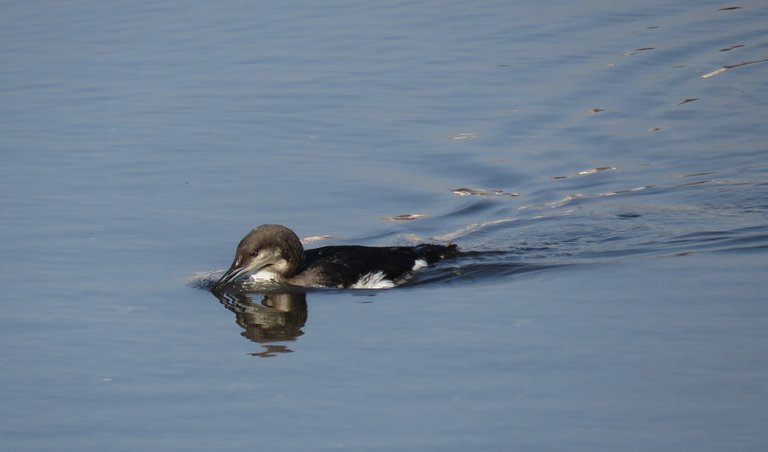 (Enlargeable)
When I took this shot ... I was absolutely convinced that this will be the last thing I've shot today ... but ...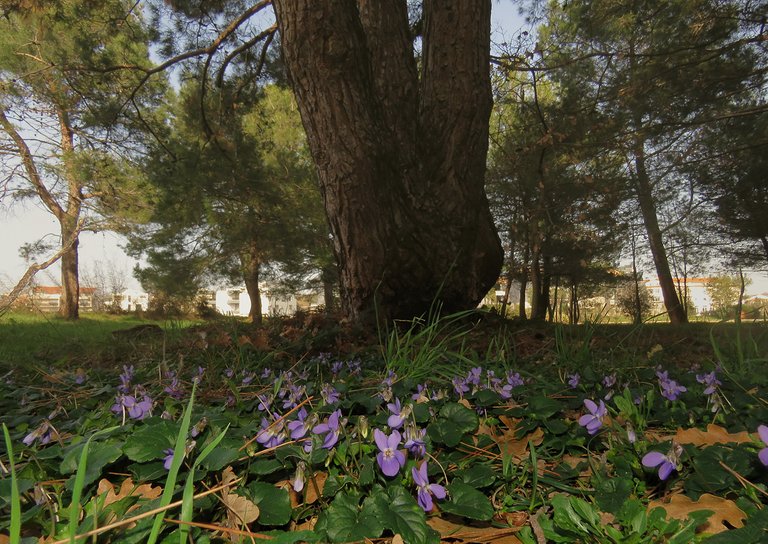 ... some minutes later ... while passing under some big old pines ...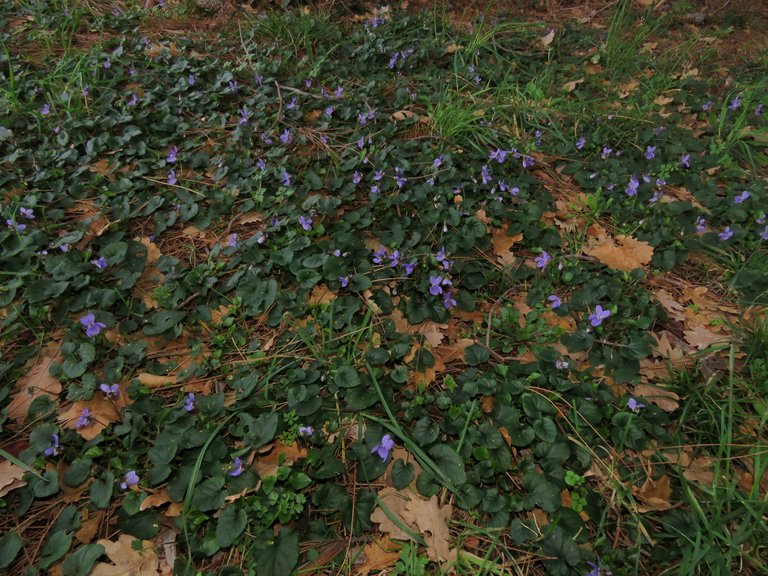 (Enlargeable)
... I noticed that the ground is carpeted with flowers ...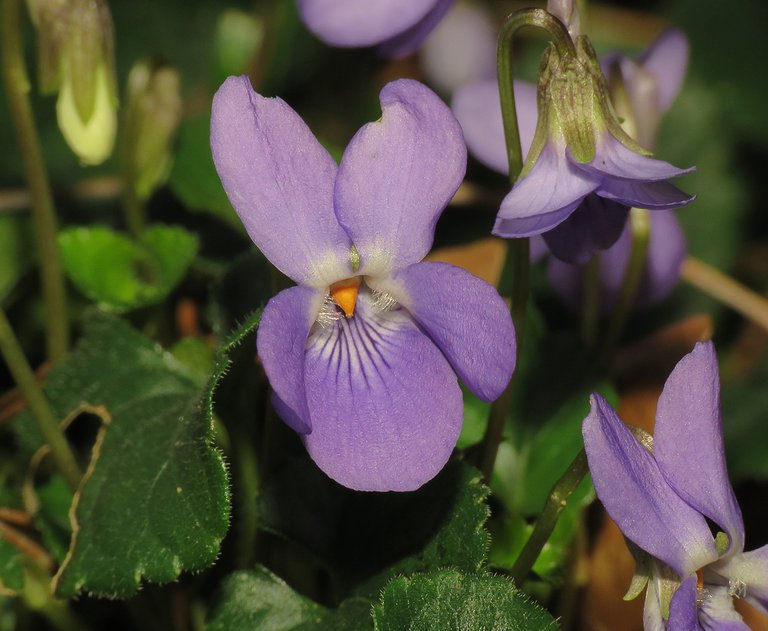 ... and the air smelled like violets ... and algae ... like salty sea violets ... or violet fish ... something like that ...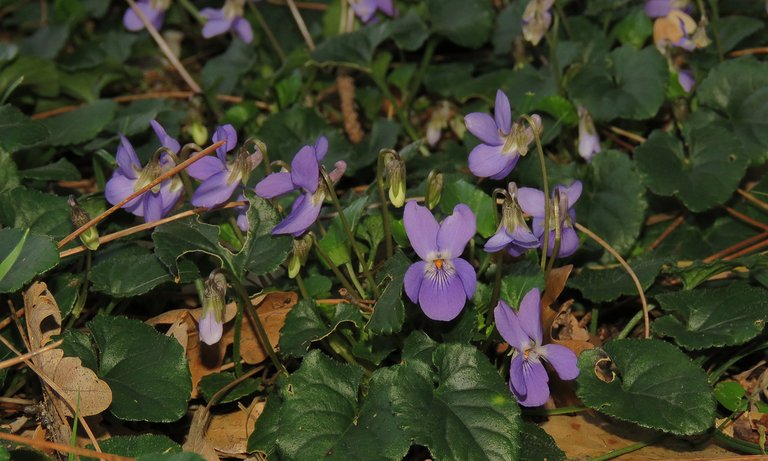 ... so these shots were inevitable ... and with them ...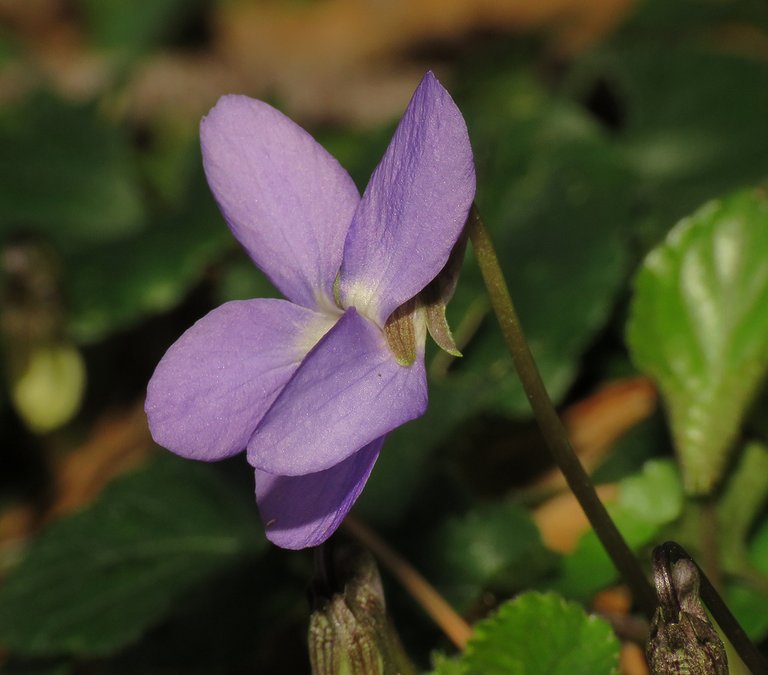 ... is time to end this premature spring report from the bay ...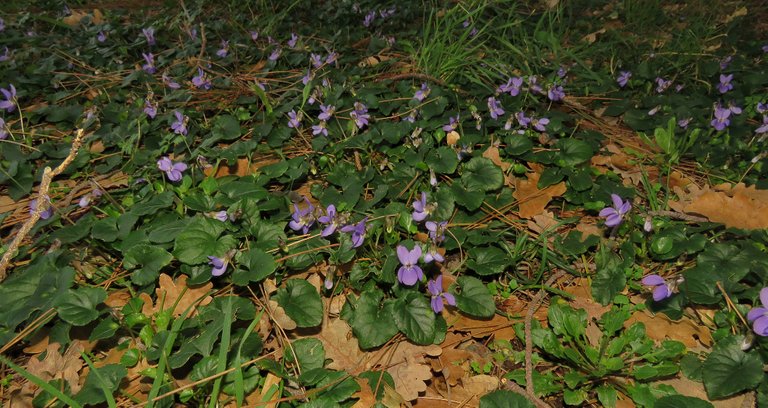 (Enlargeable)
... as always in these posts on HIVE, the photographs are my work.