Some beetles are feeding on flowers. Each one in its own way.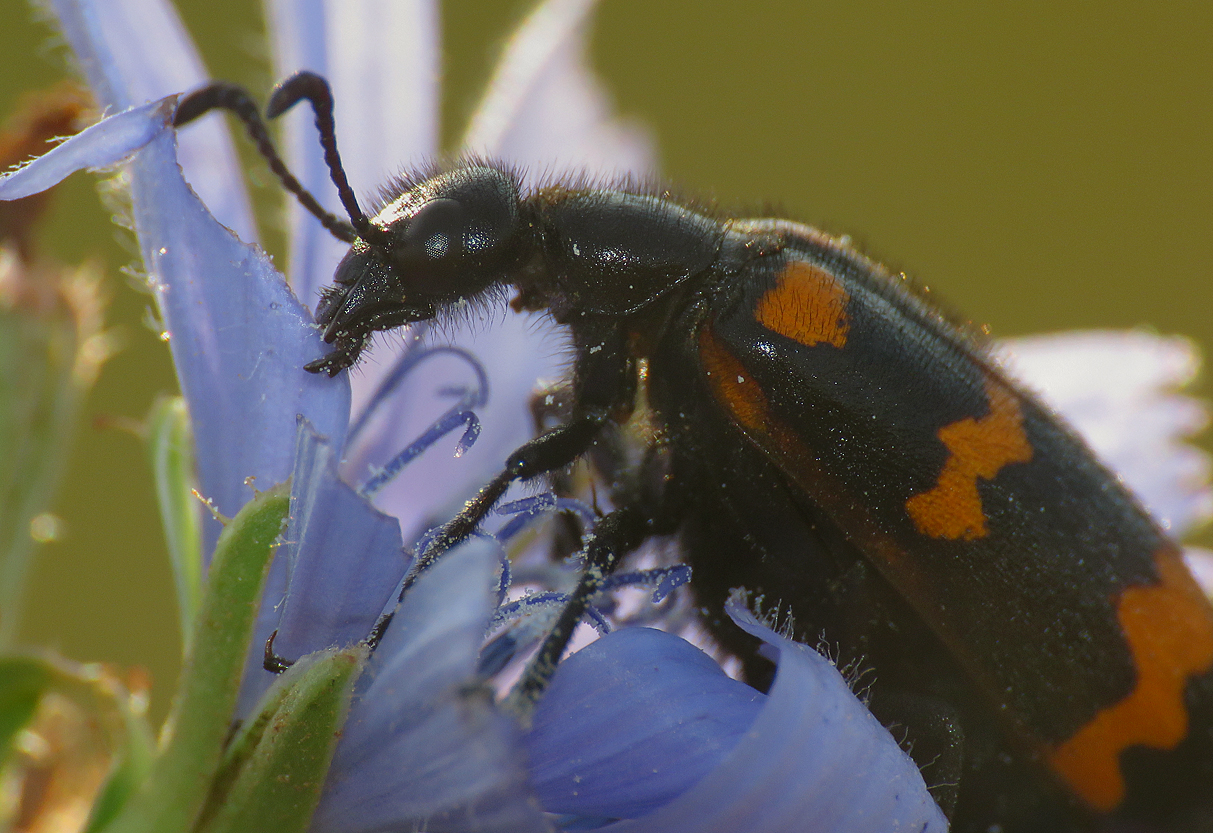 The Blister beetle Mylabris variabilis is chewing the petals of the blue Chicory flower ... while the small, iridescent Oedemera nobilis on the following photograph ...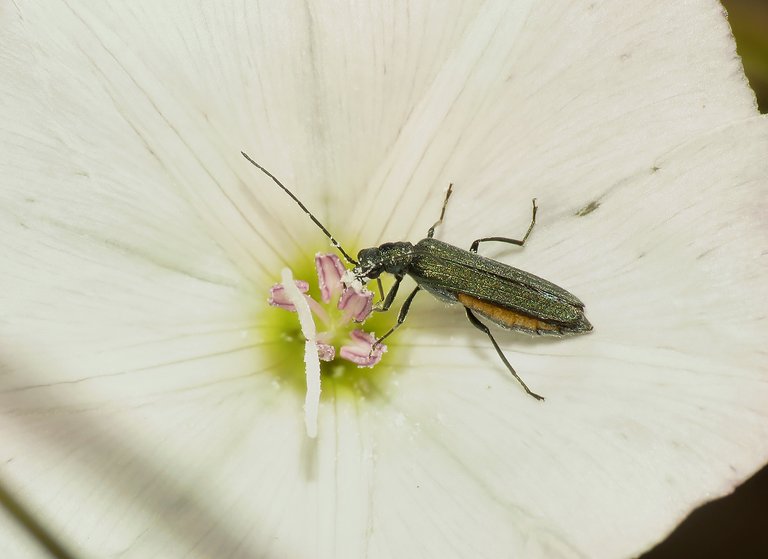 ... is enjoying the pollen ...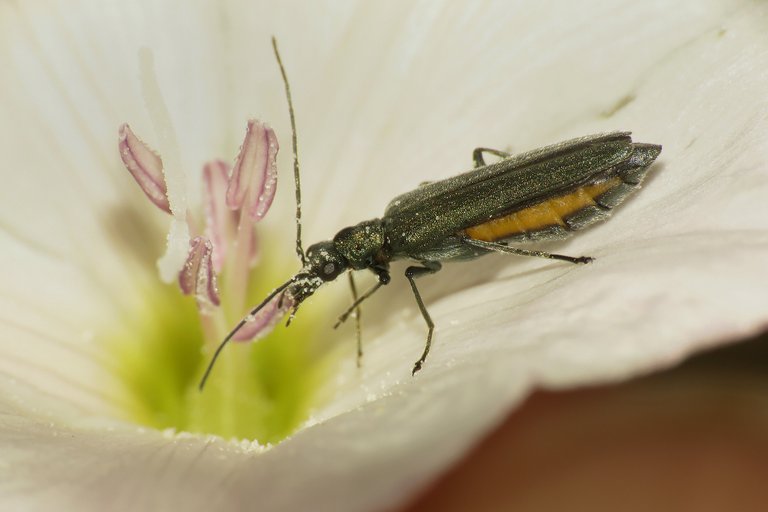 (Enlargeable)
... in the center of the Bindweed Convolvulus arvensis flower. On these two photographs the small pollen eater looks dark green ... but ...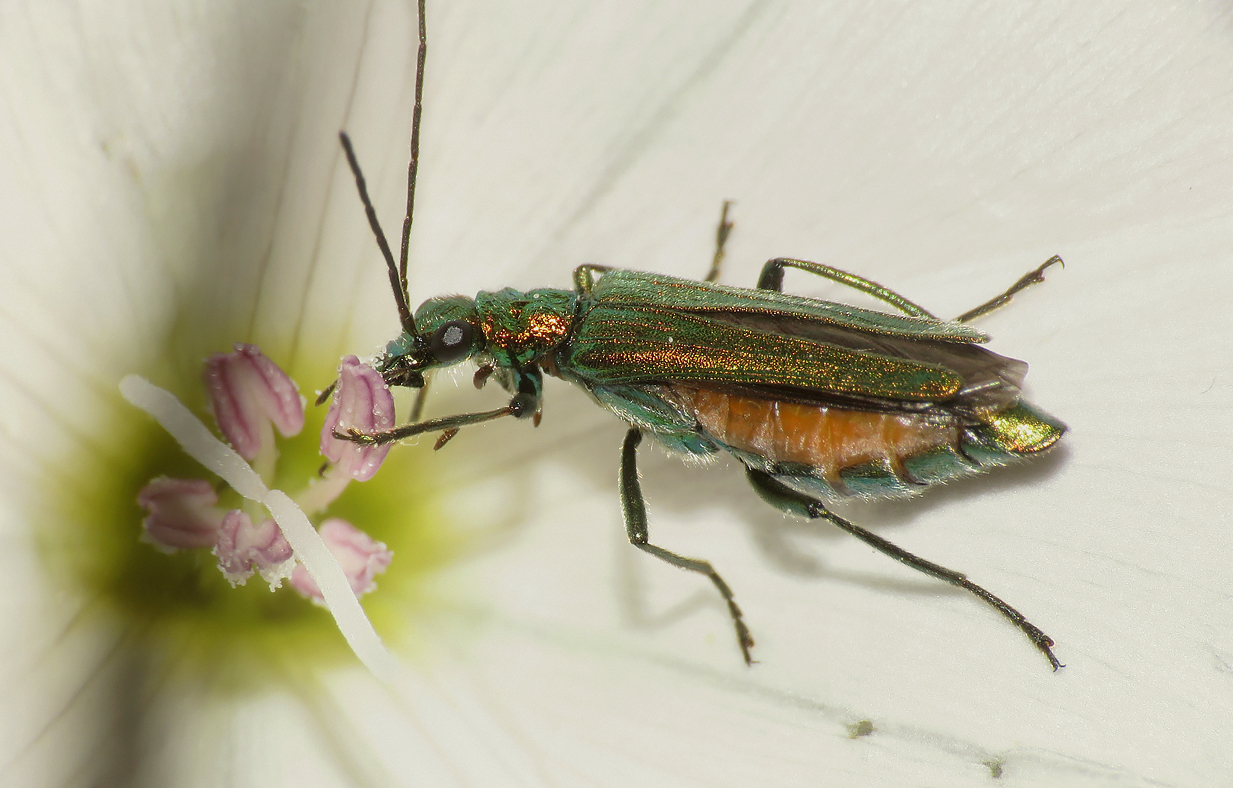 ... with the slight change of angle and light ... a bit of copper shine appears on beetle's elytra ... and if we take a look at the insect straight from above, like on some drone - view shot ...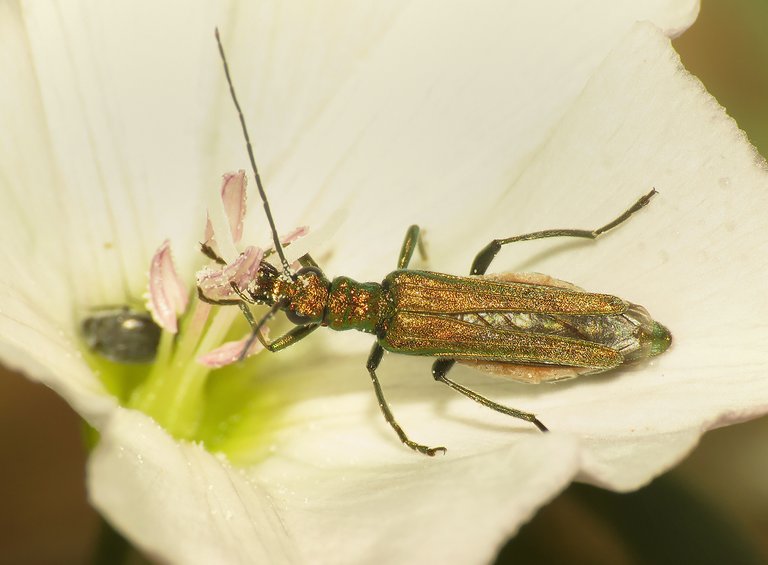 ... the copper tone prevails ... iridescence is magic :) at least, that's how I experience the thing.


A small Flower fly is nectaring on the neighboring Bindweed flower.


Back to the Chicory (Cichorium intybus) flowers ... another interesting fly of a very different type is ready too collect some nectar with its long proboscis.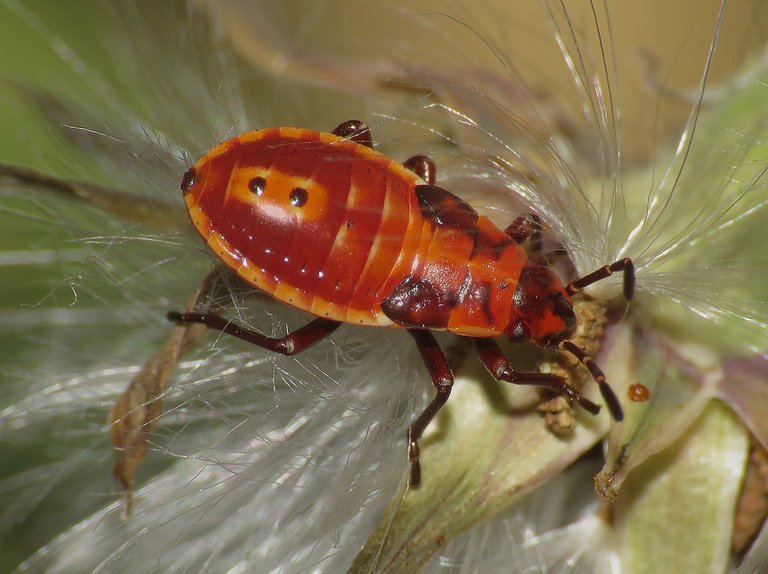 A yrrhocoris apterus nymph is wandering among some Dandelion - like seeds ...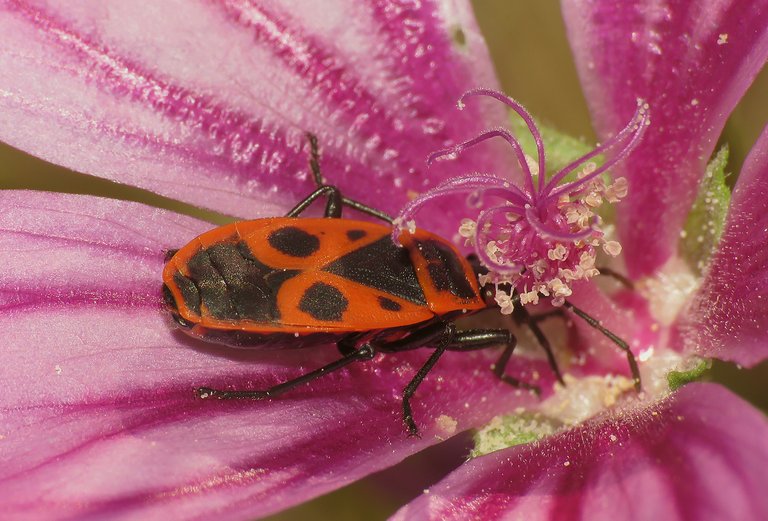 ... while an adult bug of the same species is enjoying the Malva sylvestris flower.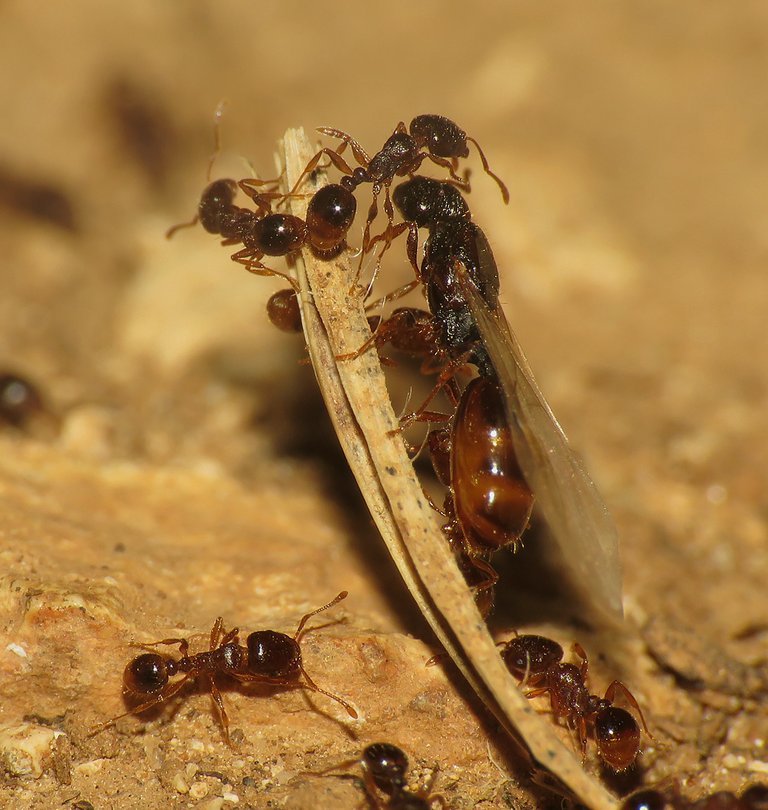 Small ants from a large nearby colony ...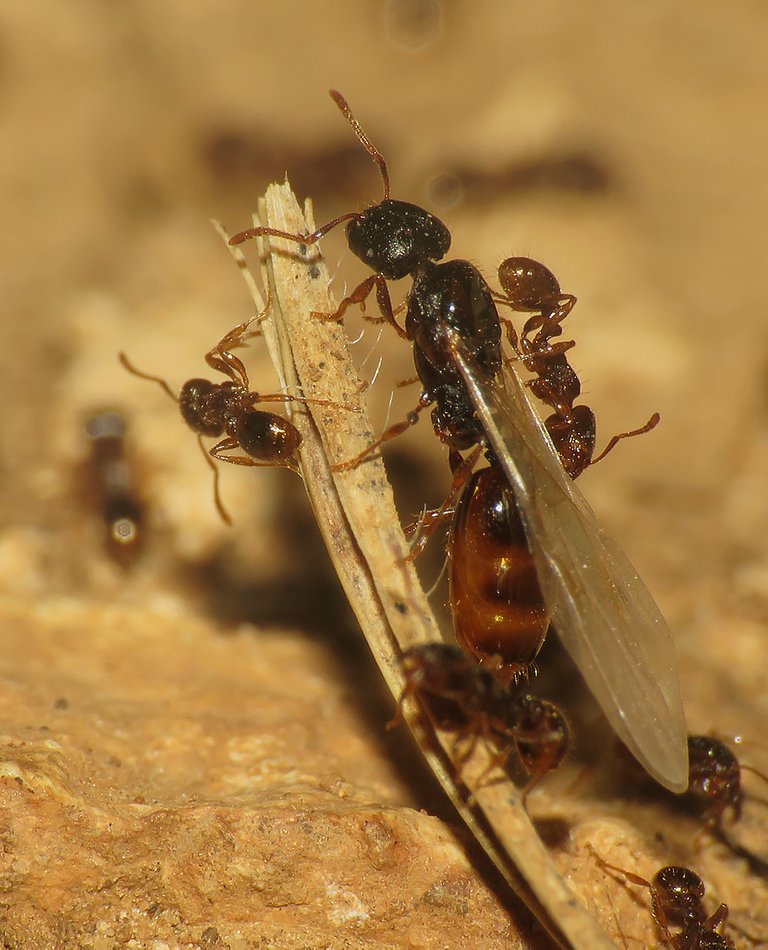 ... are releasing the winged, reproductive kings & future queens.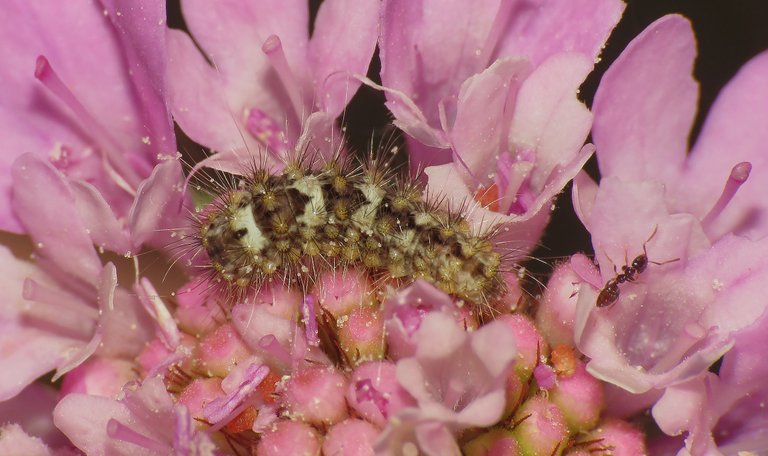 (Enlargeable)
There is always something on the composite Knautia arvensis flowers ... a caterpillar ...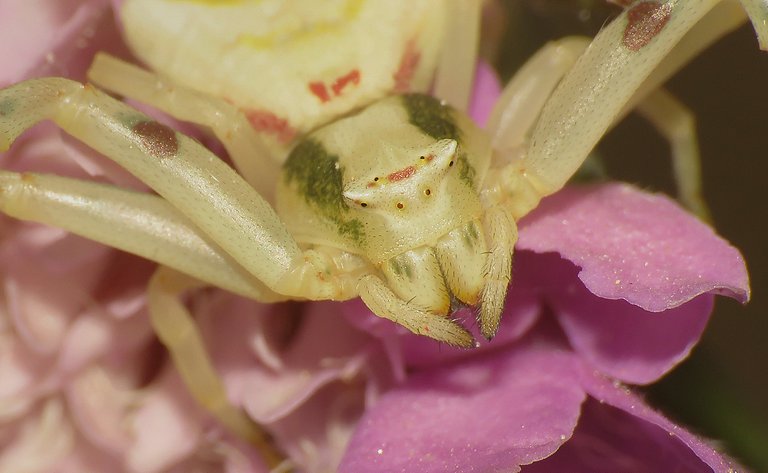 ... the crab spider ...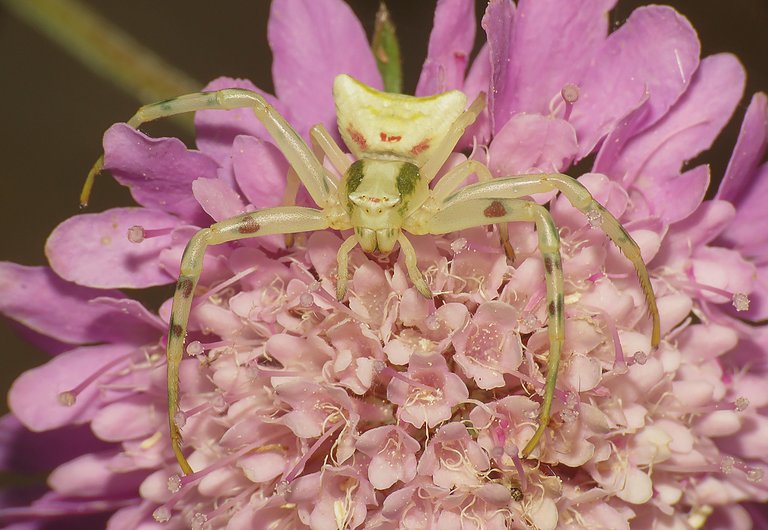 ... waiting in ambush ...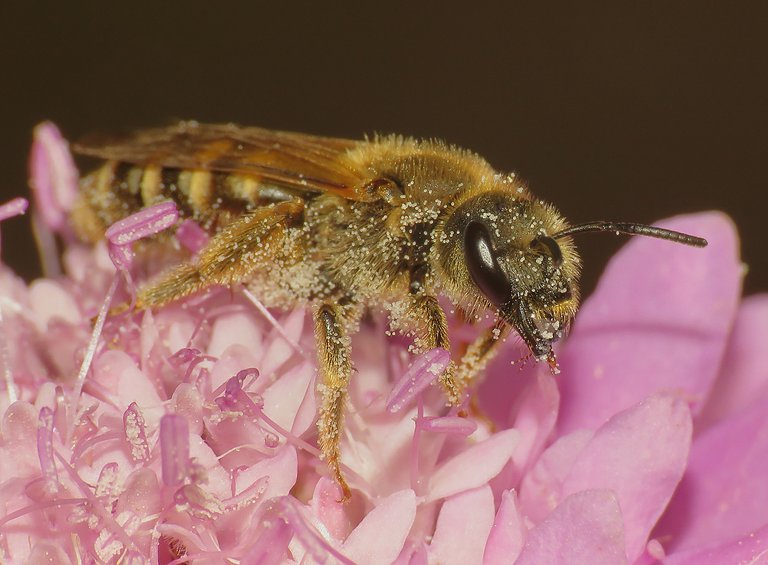 ... some robust wild bee ... one of the many species that are buzzing around this area.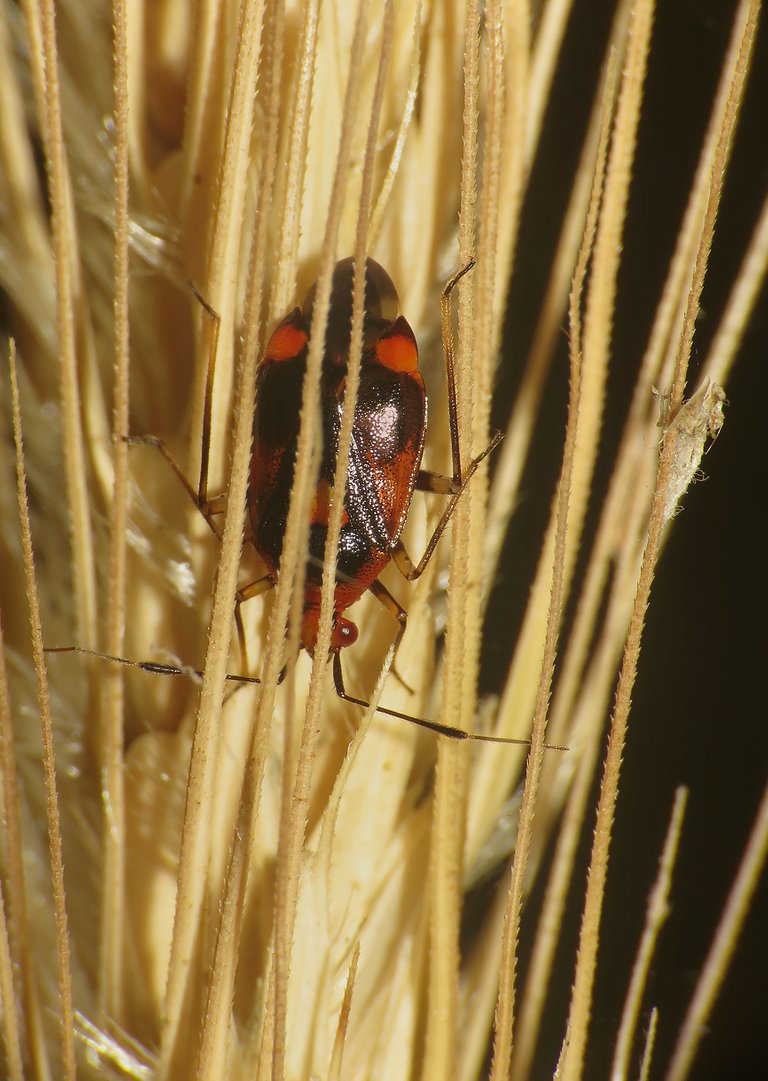 A lovely bug from the Miridae family ... is barely visible, hidden on the ear of Hordeum murinum grass ...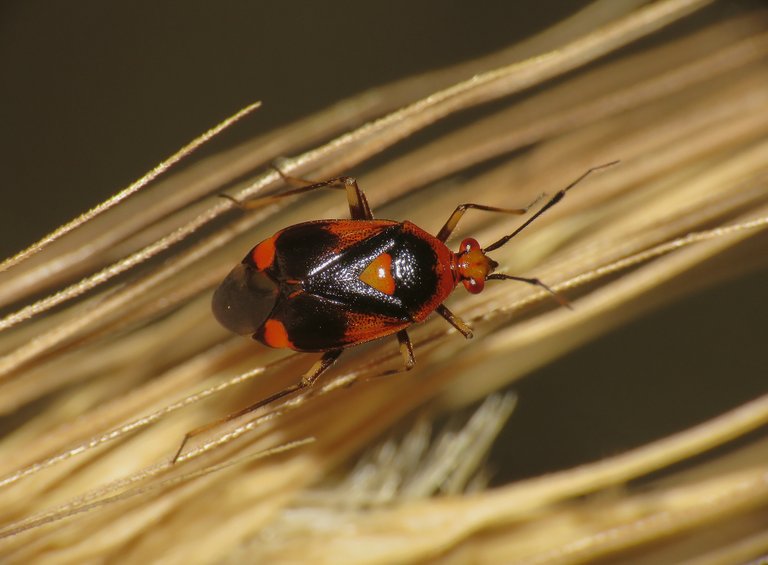 (Enlargeable)
Then the bug comes out on the open ... and we can take a good look at the lovely heart shaped part of her exoskeleton. There are quite a few bug species here with this heart decorations ... I never before noticed this red one.


The wasp mimicking Long horned beetle is resting on the Wild carrot (Daucus carota) flower ... after the intense feeding on pollen and nectar.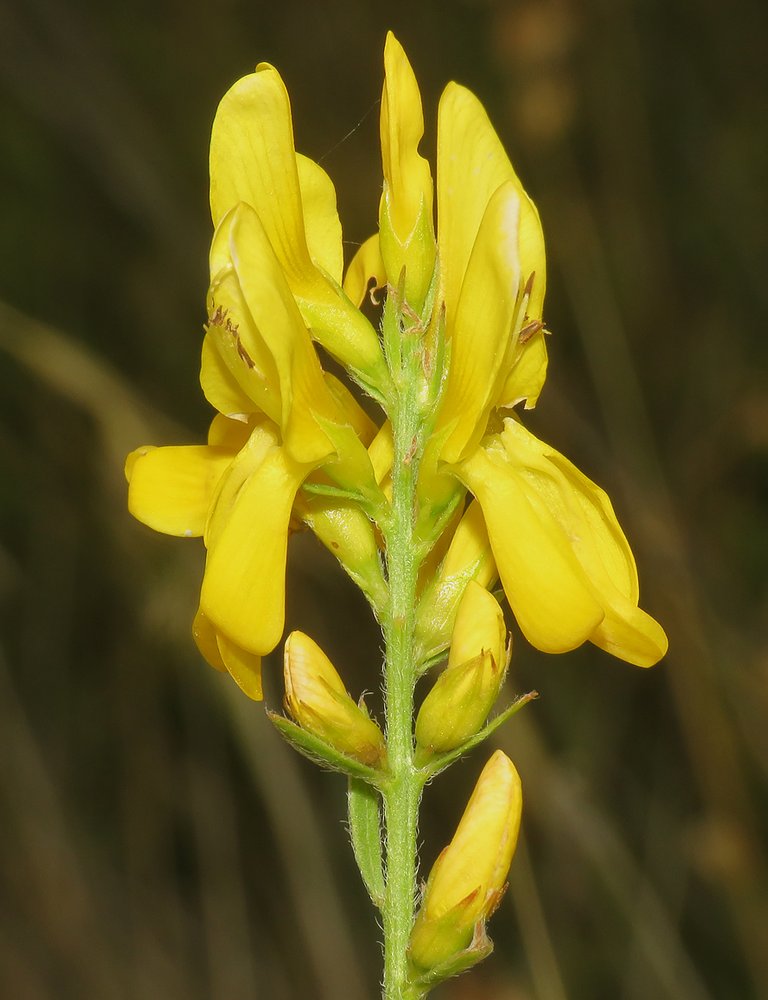 Some beautiful yellow flowers ... that look like a lot like smaller, more elongated versions of Spartium junceum flowers ... are scattered all around in large, vivid bouquets.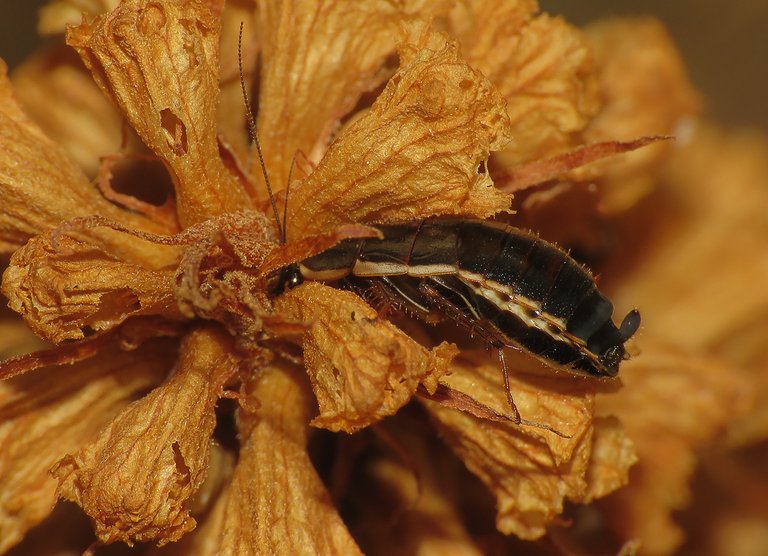 The small black Cockroach ...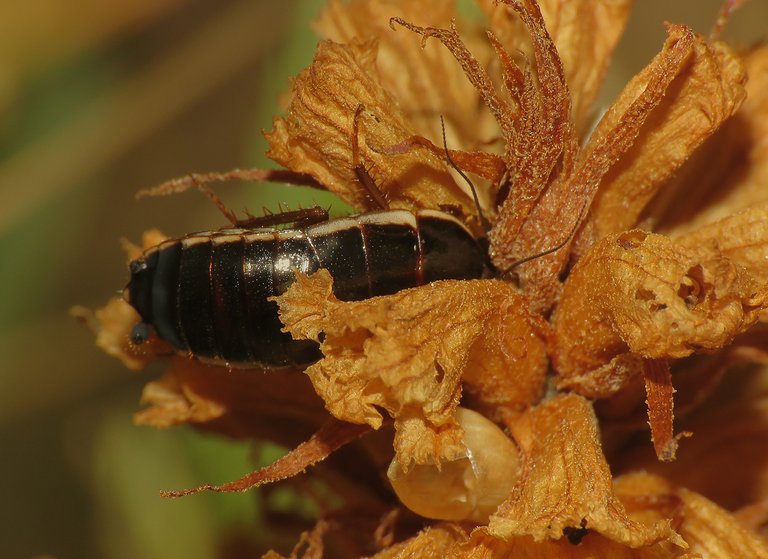 ... is hiding on the dried out Broomrape plant ...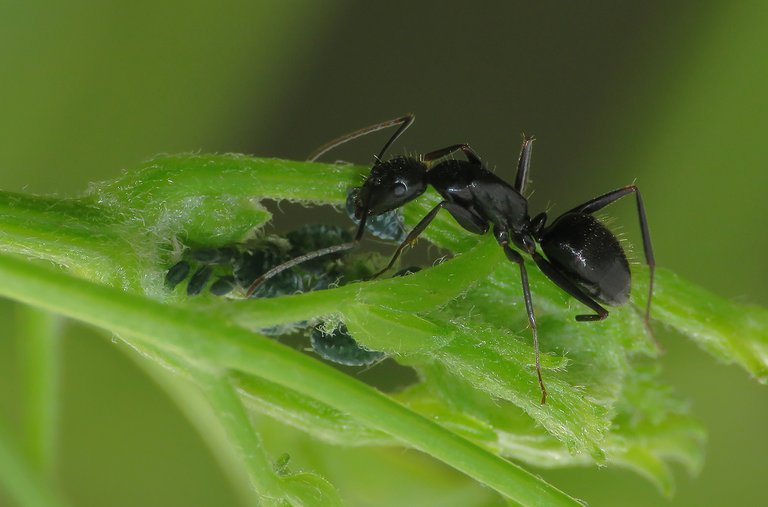 ... and the black ant is shepherding the Elder aphids.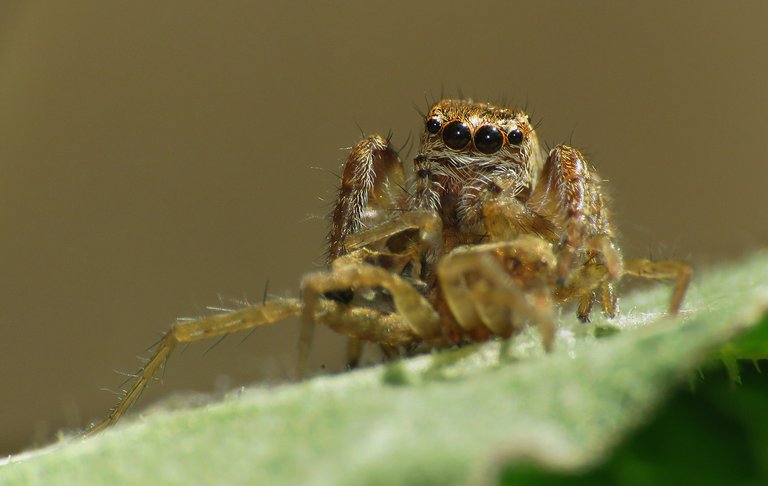 The small jumping spider with cute face and alien eyes ...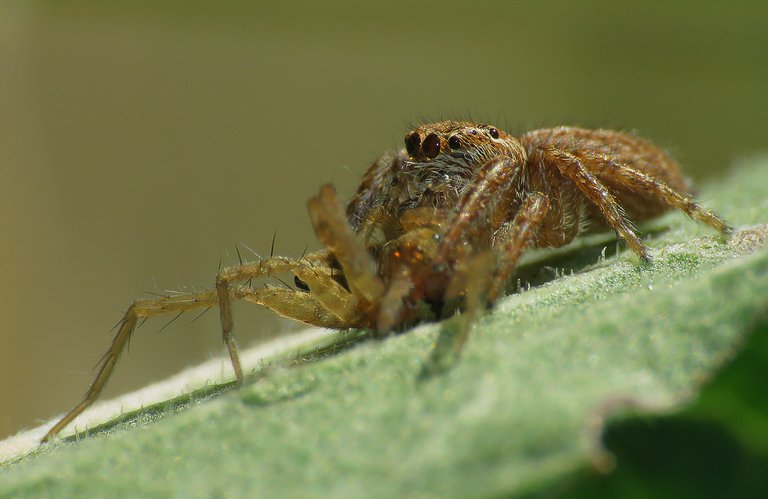 ... has caught another spider ...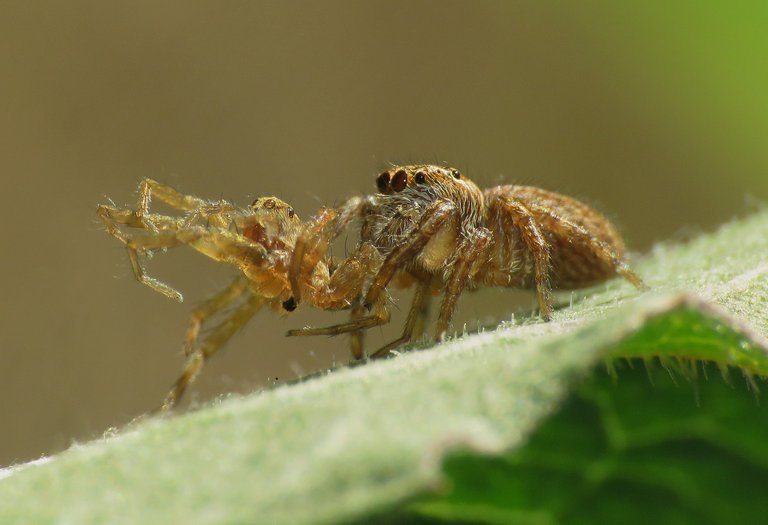 (Enlargeable)
... a very different kind of spider.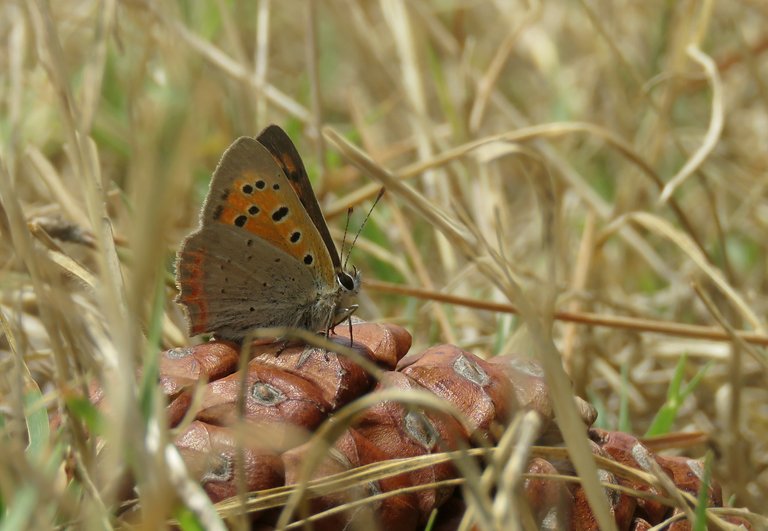 (Enlargeable)
A few pine trees are growing on the edge of the meadow ... and this small Lycaena phlaeas butterfly is resting on one of the fallen cones.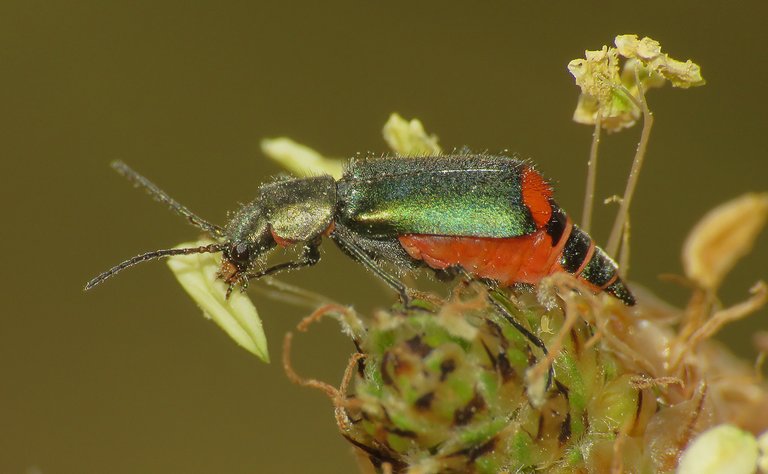 The shiny and colorful Malachius bipustulatus beetle is feeding on the tiny flowers of the Plantago lanceolata plant.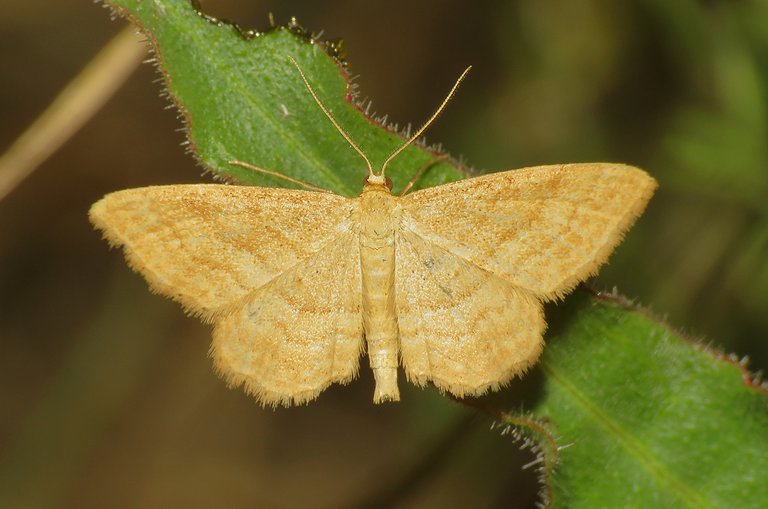 A small moth is resting on the upper surface of some thick, hairy leaf ...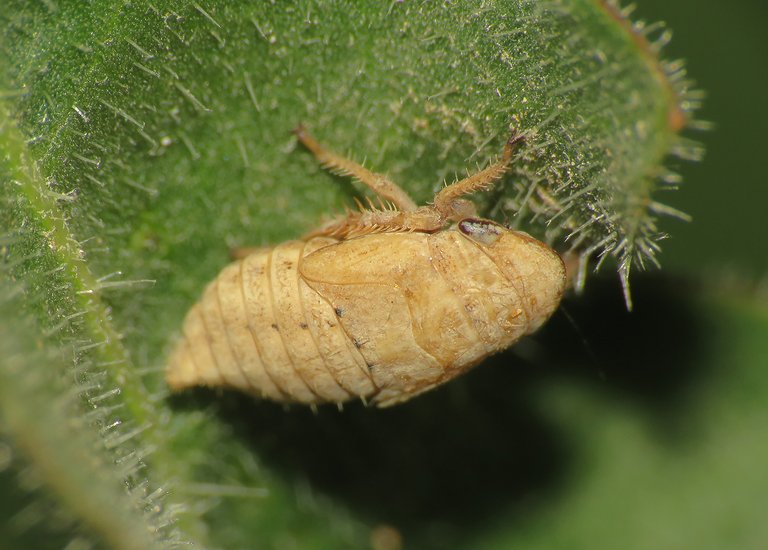 ... and a similarly colored Froghopper nymph is hiding on the lower surface of one of those leaves - THE END.
As always in these MEADOW REPORTS on HIVE, all the photographs are my work.