Bienvenid@
Hola querido o querida historiadora , espero que te encuentres excelente , el día de hoy les traigo una figura muy famosa a la cual apodan "Zorro del desierto" ¿quieren saber porque le dicen así?, bueno entonces lee y lo sabrás ajajaja comencemos:
Erwin Rommel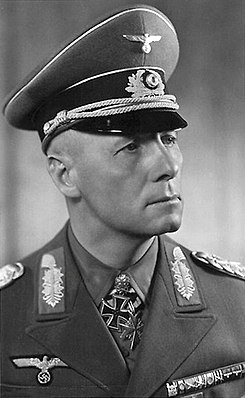 Fuente
El nombre completo de este famoso personaje es Johannes Erwin Eugen Rommel , nació el 15 de noviembre de 1891 en la antes denominada Imperio Alemán.
Erwin Rommel nacio en una familia de mucho dinero (burguesa) , a lo largo de su vida ha sido condecorado de muchas formas y realizado muchas cosas por su país tanto así que para el pueblo alemán sería la mayor figura heroica, a parte que llegó a ser Mariscal de campo en la Alemania Nazi.
Fue un hombre que le gustaba la aviación y los avances tecnológicos que se daban cada año le encantaba de tal manera que quería ser un ingeniero, pero como su padre no estaba de acuerdo, entonces a Rommel no le quedó de otra que alistarse para entrar en el ejército alemán, que para esa época era un rol muy importante y de mucho respeto.
Durante sus estudios en la academia militar de Danzig sobre salió en los exámenes físicos más que en los exámenes teóricos.
En esa época donde habían muchos vicios , Rommel fue de esas pocas personas que no fumaban , no bebían y no tenía vida nocturna , una persona seria y le gustaba escuchar a los demás.
Rommel participó en la primera guerra mundial donde destacó en el frente Italiano y recibiría muchas condecoraciones.
También estuvo en la segunda guerra mundial con el cargo de Mariscal de campo en la que participaría tanto en el frente Europeo como en la campaña del norte de África.
Erwin Rommel en la primera guerra mundial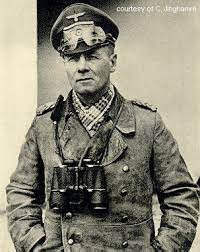 Fuente
Cuando comenzó la primera guerra mundial Erwin formaba parte del ejército del Imperio Alemán y fue enviado con su regimiento a la zona de Argonne,en ese lugar destacó por su valentía y liderazgo y se ganó el respeto de los demás soldados , posterior a esa batalla fue ascendido a teniente.
En 1915 Rommel lo condecoraron con la medalla de la "Cruz de Hierro de Primera Clase"
En el mismo año fue enviado al frente Rumano, posteriormente sería condecorado con la más alta distinción militar de esa época la medalla "Pour le Merite", medalla que estaba reservada para los generales.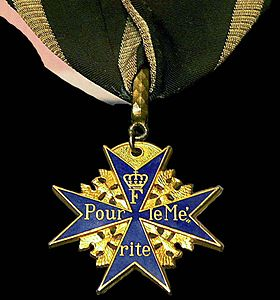 Medalla Pour le Merite
Erwin Rommel en la segunda guerra mundial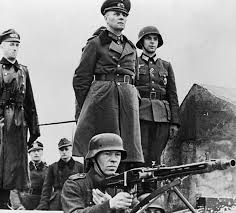 Fuente
En la segunda guerra mundial Erwin Rommel como ya mencioné fue Mariscal de campo y fue el encargado del 7mo regimiento panzer , regimiento que dirigiría durante la invasión a Francia y el posterior desembarco de Normandía para enfrentarse a las fuerzas Aliadas.
Erwin Rommel también participaría en el frente de África al mando de los Africa Korps , en este frente en el que fue enviado para ayudar a los aliados Italianos que estaban siendo derrotados por los Británicos, tendría un desempeño muy notable y gracias a eso los enemigos Británicos lo apodarían como el"Zorro del desierto" , a parte como Rommel era un hombre muy caballeroso dicho enfrentamiento fue catalogado como la "guerra sin odio".
En la segunda guerra mundial Erwin Rommel sería conocido como el mejor comandante de tanques del mundo y junto con su 7mo regimiento panzer que sería posteriormente llamada la división fantasma , apodo otorgado por la rápida forma de doblegar a sus enemigos.
Muerte de Rommel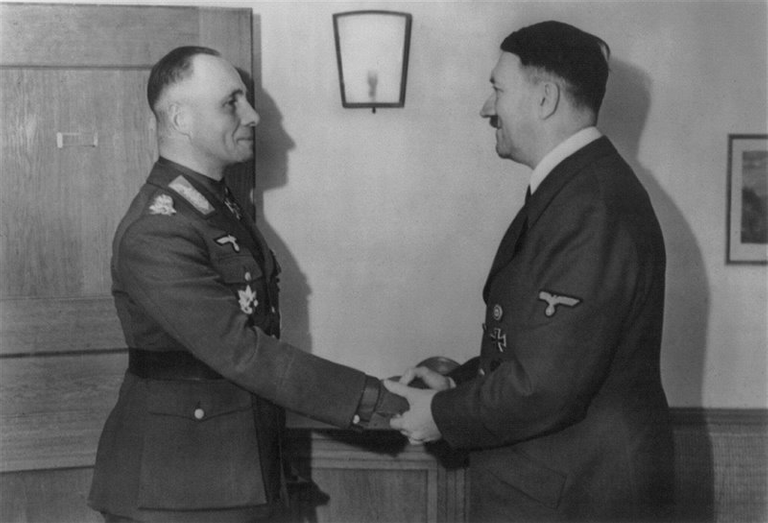 Rommel y Hitler
En los primeros años Erwin estaba de acuerdo con la toma del poder del partido nazi , Adolf Hitler y Erwin Rommel se encontraron en un desfile militar en el que Adolf quería que un grupo de las SS desfilara al frente de el para evitar una atentado.
Al pasar de los años Erwin fue descubriendo lo que quería el gobierno de Adolf Hittler , pues no estaba de acuerdo con todo lo que querían hacer, Hittler ya empezaba a desconfiar de Rommel también
El 20 de julio de 1944 se realizó un atentado en el cual Hitler pensó que uno de los implicados era Rommel ya que tenía en ese entonces un poder como héroe de Alemania, tras todo eso fue cuando decidió enviarlo al frente de África para buscar su muerte.
Como Erwin Rommel no había muerto en esa batalla , Hitler ordenó que se suicidará y fue así Erwin Rommel moriría en la ciudad de Ulm , el 14 de octubre de 1944.
Más información:
Gracias por leer <3 , si te gustó comparte :D.


Welcome
Hello dear historian, I hope you are feeling great, today I bring you a very famous figure which is nicknamed "Desert Fox", do you want to know why they call him so, well then read and you will know hahaha let's start:
Erwin Rommel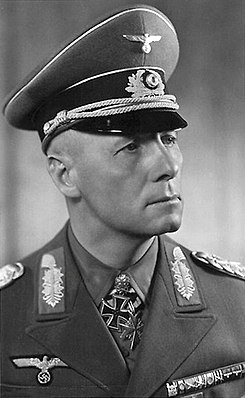 Fuente
The full name of this famous character is Johannes Erwin Eugen Rommel, born on November 15, 1891 in the former German Empire.
Erwin Rommel was born in a family of much money (bourgeois), throughout his life he has been decorated in many ways and did many things for his country so much so that for the German people would be the greatest heroic figure, besides that he became Field Marshal in Nazi Germany.
He was a man who liked aviation and the technological advances that were made every year, he loved it so much that he wanted to be an engineer, but as his father did not agree, then Rommel had no choice but to enlist to join the German army, which at that time was a very important and respected role.
During his studies at the military academy in Danzig he excelled in the physical exams more than in the theoretical exams.
At that time where there were many vices, Rommel was one of those few people who did not smoke, did not drink and had no nightlife, a serious person and liked to listen to others.
Rommel participated in the First World War where he excelled in the Italian front and received many decorations.
He was also in the Second World War with the position of Field Marshal in which he participated in both the European front and the North Africa Campaign.
Erwin Rommel in World War I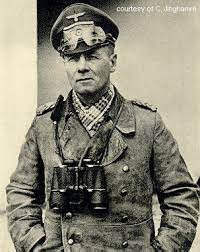 Source
When the First World War began, Erwin was part of the German Empire Army and was sent with his regiment to the Argonne area, where he stood out for his bravery and leadership and earned the respect of the other soldiers, after that battle he was promoted to lieutenant.
In 1915 Rommel decorated him with the medal of the "Iron Cross First Class".
In the same year he was sent to the Romanian front, later he would be decorated with the highest military distinction of that time, the medal "Pour le Merite", a medal that was reserved for generals.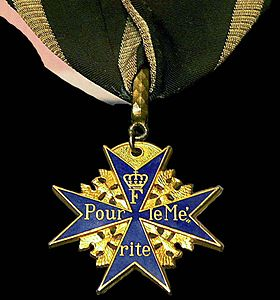 Medal Pour le Merite
Erwin Rommel in World War II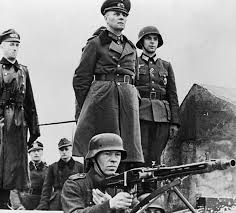 Source
In the Second World War Erwin Rommel as I already mentioned was Field Marshal and was in charge of the 7th Panzer Regiment, regiment that would lead during the invasion of France and the subsequent landing of Normandy to face the Allied forces.
Erwin Rommel also participated in the African front in command of the Africa Korps, in this front in which he was sent to help the Italian allies who were being defeated by the British, he would have a very remarkable performance and thanks to that the British enemies would nickname him as the "Desert Fox", besides as Rommel was a great commander of the Africa Korps, in this front he was sent to help the Italian allies who were being defeated by the British. As Rommel was a very chivalrous man, this confrontation was catalogued as the "war without hatred".
In the Second World War Erwin Rommel would be known as the best tank commander in the world and together with his 7th Panzer Regiment that would later be called the Phantom Division, nickname given by the fast way of defeating his enemies.
Death of rommel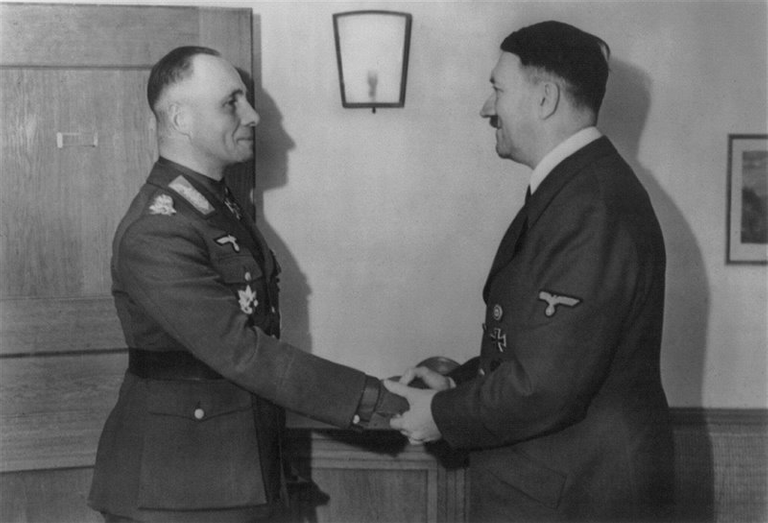 Rommel and Hitler
In the early years Erwin agreed with the Nazi party's seizure of power, Adolf Hitler and Erwin Rommel met in a military parade in which Adolf wanted a group of the SS to parade in front of him to avoid an attack.
As the years went by, Erwin discovered what Adolf Hittler's government wanted, because he did not agree with everything they wanted to do, Hittler was already beginning to distrust Rommel as well.
On July 20, 1944 there was an attack in which Hitler thought that one of those involved was Rommel since he had at that time a power as a hero of Germany, after all that was when he decided to send him to the front of Africa to seek his death.
As Erwin Rommel had not died in that battle, Hitler ordered him to commit suicide and so Erwin Rommel died in the city of Ulm, on October 14, 1944.
More information:
Thanks for reading <3 , if you liked it share :D.