<div class:"text-justify">

Hola ¿cómo estas? , espero que muy bien y excelente , por que el día de hoy te hablaré de el primer movimiento bélico que dio el inicio a la segunda guerra mundial la Operación "Fall Weiss" en español "Caso Blanco", espero que te guste , empecemos:
Operación "Fall Weiss" frente alemán: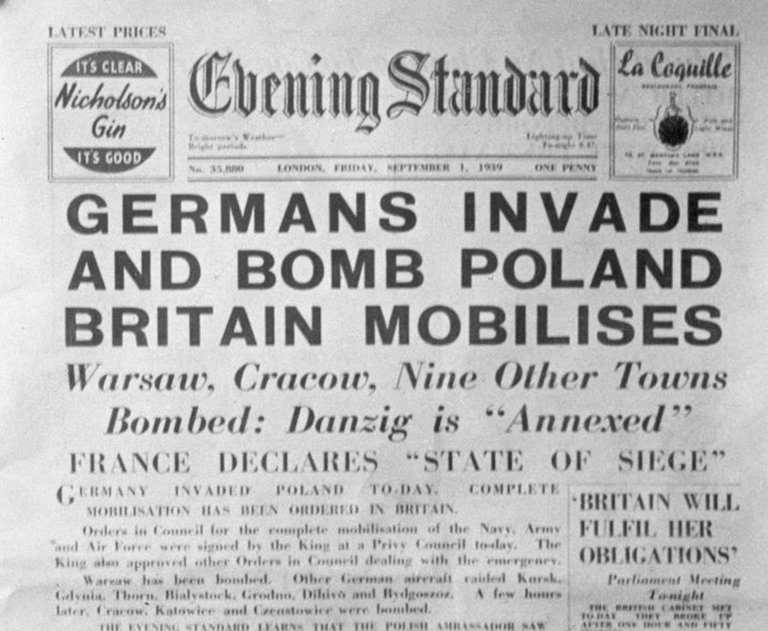 Fuente
La operación "Fall Weiss" , es la denominación táctica que se le da a la movilización de tropas Alemanas para la conquista de Polonia.
Dicha operación fue organizada por la OKW (Oberkommando der Wehrmacht),que en español sería "Alto Mando de la Wehrmacht", que para ese entonces era el Ministerio de Guerra de Alemania lo cuál tenía como función coordinar todos los movimientos de el resto de la ramas del ejército.
Las otra ramas eran la "Heer" (ejército de tierra o infantería), "Kriegsmarine" (Fuerza naval o Armada) y la "Luftwaffe" (Fuerza Aérea).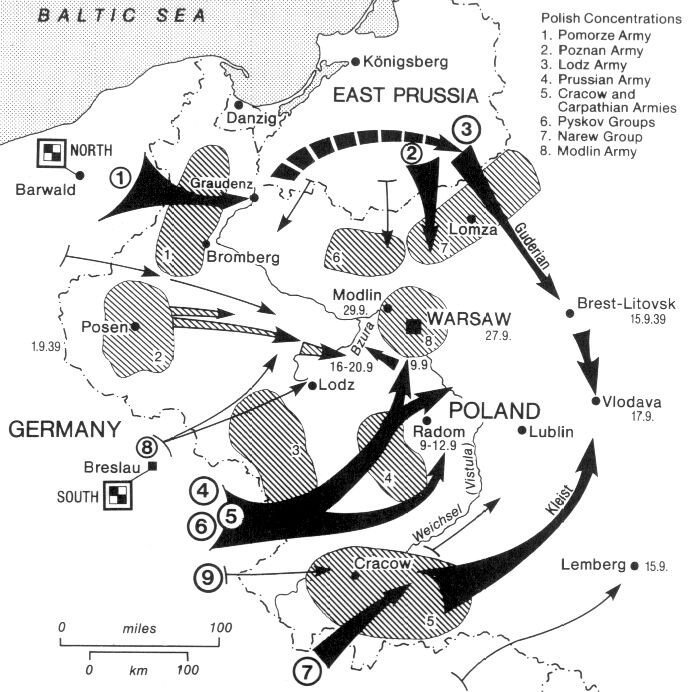 Fuente
La operación fue puesta en marcha el 1 de septiembre del año 1939 , en que se aplicaría el nuevo modelo táctico llamado "Blitzkrieg" en español "guerra relámpago" , en el que consistía en penetrar el terreno enemigo usando unidades blindadas (tanques y unidades mecanizadas) rodeando a las tropas enemigas para que la infantería que venía más atrás , se encargaran de destruirlas.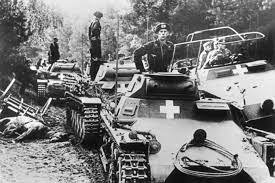 Blindados Alemanes Fuente
Esta operación tenía como objetivo la anexión de Varias ciudades polacas entre ellas Varsovia , la capital de Polonia , a parte los alemanes tomarían solo la mitad de territorio , ya que como se había acordado en Moscú , la Unión Soviética atacaría desde el otro lado del país para dividir sus fuerzas y así conquistar Polonia de forma más rápida y efectiva.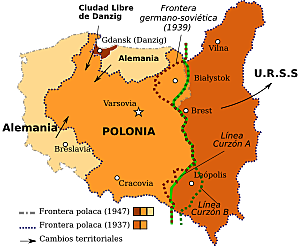 Fuente
El ataque a Polonia se organizó con 3 frentes o ejes que son :
1.Eje primario que se llevaría a cabo por el Grupo de ejércitos sur , liderado por Gerd von Rundstedt.
2.Eje secundario que se efectuaría desde Prusia Oriental con la participación del Grupo de ejércitos norte dirigidos por Fedor von Bock.
3.Eje terciario , este último sería una mezcla de soldados eslovacos y soldados alemanes , bajo las ordenes de Ferdinand Čatloš.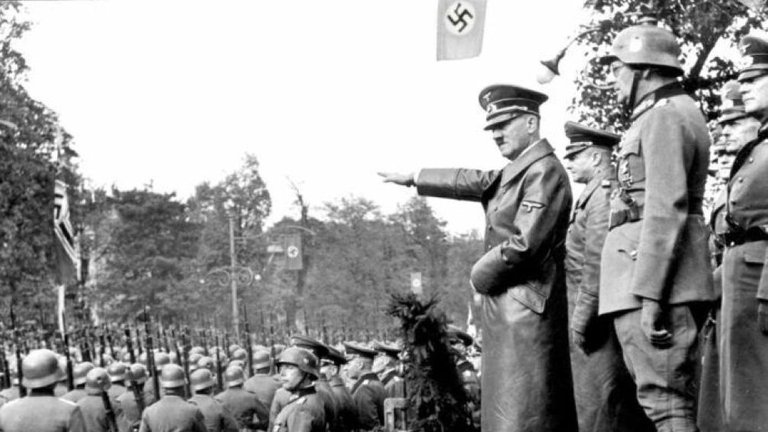 Hittler Saludando al Ejército Fuente
Todos los ejércitos tenían un punto de encuentro el cual era Varsovia , una vez llegaran las unidades a la capital se comenzaría un proceso de anexión del territorio polaco conquistado , se reclutarían hombres Polacos de todas la edades para luchar por la causa alemana y se explotarían sus recursos naturales.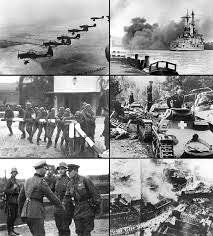 Movilizaciones Fuente
Planes del ejército Polaco:
El ejército polaco fue tomado por sorpresa con la invasión , debido a esto tuvieron que pensar rápido en planes para tratar de contrarrestar el avance alemán,para ello fueron pensadas 2 estrategias :
1. La primera estrategia era defender toda una frontera de 1800 Km , con el fin de proteger las industrias , vías de comunicación y ciudades más pobladas.Pero esto implicaba ser rodeados de forma fácil por la unidades alemanas que avanzaban ferozmente.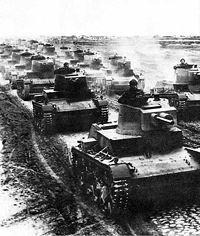 Tanques Polacos 7TP Fuente
2. El segundo plan era replegarse y resistir los ataques alemanes en zonas protegidas por ríos como el Vístula , San y el Bug , pero esto llevaría a perder las industrias , comunicaciones y ciudades más grandes.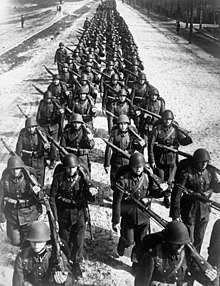 Soldados Polacos Marchando Fuente
Fin del conflicto:
Polonia tras varios bombardeos y hostigamiento por varios días finalmente se rindió el 6 de octubre , tras la llegada de las tropas alemanas a la capital Varsovia.
Una vez tomado el control los oficiales alemanes recibieron ordenes de terminar con todo tipo de rebelión y tomar prisioneros de guerra a los soldados polacos que quedaban, algunos fueron ejecutados , otros obligados a trabajar muy duro y muchos otros incorporados a las filas alemanas.
Cantidad de efectivos y maquinarías usadas:
Alemania Nazi: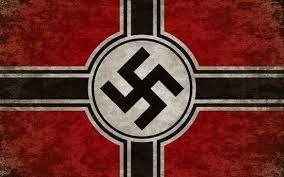 Bandera de Alemania Nazi Fuente
* De 1.000.000 a 1.500.000 soldados.
* Entre 2000 a 2750 tanques y otros tipos de vehículos blindados.
* Unos 9000 cañones de artillería aproximadamente.
* La Luftwaffe para la operación "Fall Weiss" utilizó 2300 aviones.
* 51.300 soldados eslovacos.
Polonia: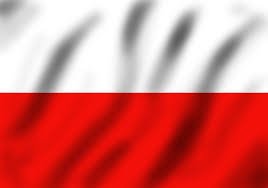 Bandera de la República de Polonia Fuente
* 900.000 a 950.000 soldados polacos.
* 800 a 900 tanques modelo 7TP.
* 4000 cañones de artillería.
* La fuerza aérea polaca contaba con 400 aviones que a comparación con la cantidad de Alemania, era hasta 5 veces inferior la fuerza aérea polaca.
Bajas:
Alemania Nazi: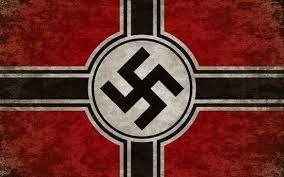 * 16.300 muertos.
* 30.300 heridos.
* 3400 desaparecidos.
Polonia: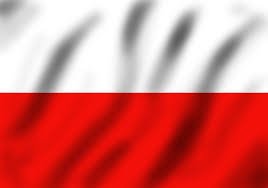 * 66.000 muertos.
* 133.000 heridos.
* 700.000 prisioneros.
Gracias por leer y apoyar esta serie de publicaciones relacionada a las batallas de la segunda guerra mundial, saludos <3.

Servidor de Discord
Más información:
* Invasión alemana de Polonia 1939

Hello, how are you? I hope you are very well and excellent, because today I will talk about the first war movement that started the Second World War, Operation "Fall Weiss" in Spanish "Caso Blanco", I hope you like it, let's start:
Operation "Fall Weiss" German front: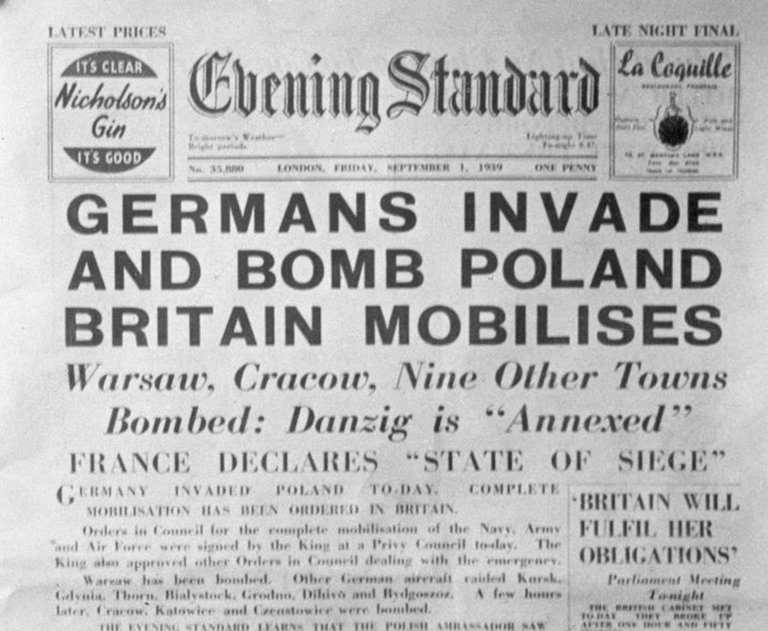 Source
The operation "Fall Weiss" is the tactical name given to the mobilization of German troops to conquer Poland. is the tactical denomination given to the mobilization of German troops for the conquest of Poland.
This operation was organized by the OKW (Oberkommando der Wehrmacht), which in English would be "High Command of the Wehrmacht", which at that time was the Ministry of War of Germany whose function was to coordinate all the movements of the rest of the branches of the army.
The other branches were the "Heer" (land army or infantry), "Kriegsmarine" (Naval Force or Navy) and the "Luftwaffe" (Air Force).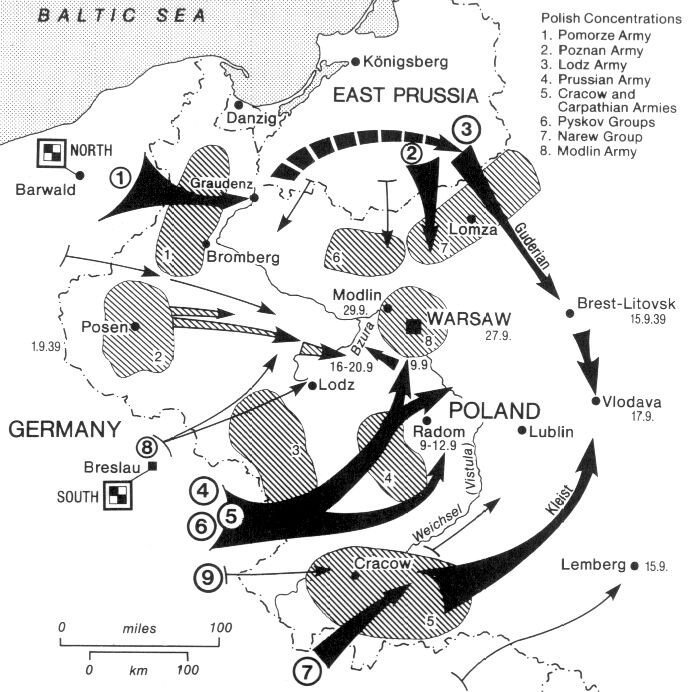 Source
The operation was launched on September 1, 1939, which would apply the new tactical model called "Blitzkrieg" in English "blitzkrieg", which consisted of penetrating the enemy terrain using armored units (tanks and mechanized units) surrounding the enemy troops for the infantry coming further back, were responsible for destroying them.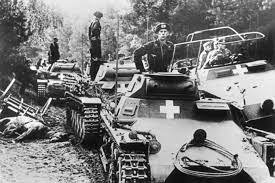 German Armor source
This operation was aimed at the annexation of several Polish cities including Warsaw, the capital of Poland, apart from the Germans would take only half of the territory, since as agreed in Moscow, the Soviet Union would attack from the other side of the country to divide its forces and thus conquer Poland more quickly and effectively.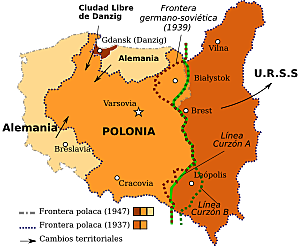 Source
The attack to Poland was organized with 3 fronts or axes that are :
1.Primary axis that would be carried out by the Group of southern armies, led by Gerd von Rundstedt.
2.Secondary axis that would be carried out from East Prussia with the participation of the Group of northern armies led by Fedor von Bock.
3.Tertiary axis, this last one would be a mixture of Slovak soldiers and German soldiers, under the orders of Ferdinand Čatloš.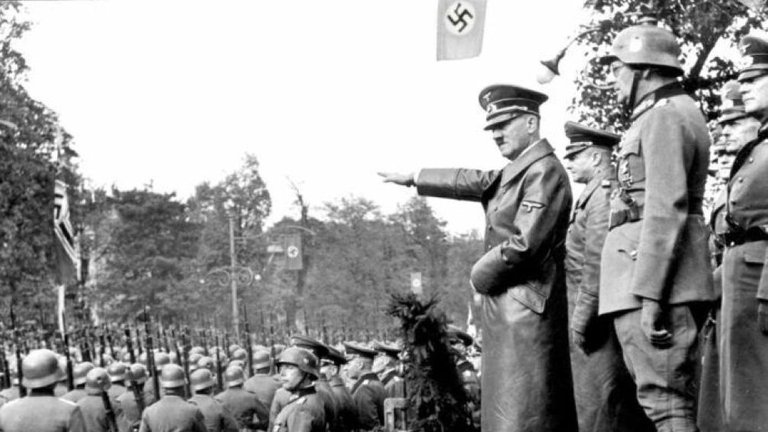 Hittler saluting the army source
All the armies had a meeting point which was Warsaw, once the units arrived in the capital, a process of annexation of the conquered Polish territory would begin, Polish men of all ages would be recruited to fight for the German cause and their natural resources would be exploited.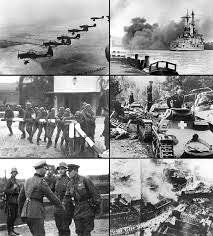 mobilizations source
Plans of the Polish army:
The Polish army was taken by surprise with the invasion, because of this they had to think quickly of plans to try to counteract the German advance, for this 2 strategies were thought of :
1. The first strategy was to defend a whole border of 1800 km, in order to protect the industries, communication routes and most populated cities, but this meant being easily surrounded by the German units that advanced fiercely.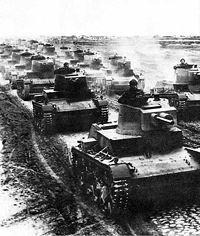 Polish 7TP tanks Source
2. The second plan was to withdraw and resist German attacks in areas protected by rivers such as the Vistula, San and Bug, but this would lead to the loss of industries, communications and larger cities.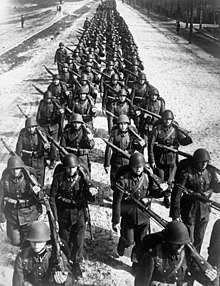 Polish soldiers marching source
End of conflict:
Poland after several bombardments and harassment for several days finally surrendered on October 6, after the arrival of the German troops in the capital Warsaw.
Once the German officers took control, they received orders to put an end to any kind of rebellion and to take the remaining Polish soldiers as prisoners of war, some of them were executed, others were forced to work very hard and many others were incorporated to the German ranks.
Number of personnel and machinery used:
Germany Nazi: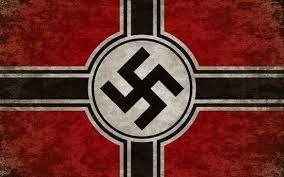 Nazi Germany flag source
* From 1,000,000 to 1,500,000 soldiers.
* Between 2000 to 2750 tanks and other types of armored vehicles.
* Approximately 9000 artillery guns.
* The Luftwaffe for operation "Fall Weiss" used 2300 aircraft.
* 51,300 Slovakian soldiers.
Poland: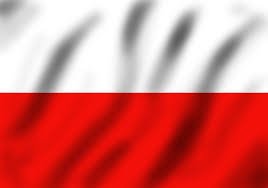 Flag of the Republic of Poland Source
* 900,000 to 950,000 Polish soldiers.
* 800 to 900 tanks model 7TP.
* 4000 artillery guns.
* The Polish air force had 400 airplanes, which in comparison with the number of Germany, was up to 5 times less than the Polish air force.
War casualties:
Germany Nazi: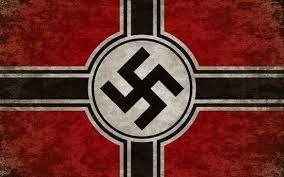 * 16,300 killed.
* 30,300 wounded.
* 3400 missing.
Poland: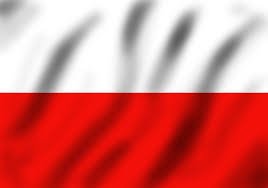 * 66,000 dead.
* 133,000 wounded.
* 700,000 prisoners.
Thank you for reading and supporting this series of posts related to WWII battles, regards <3.

Discord Server
More information:
* German invasion of Poland 1939