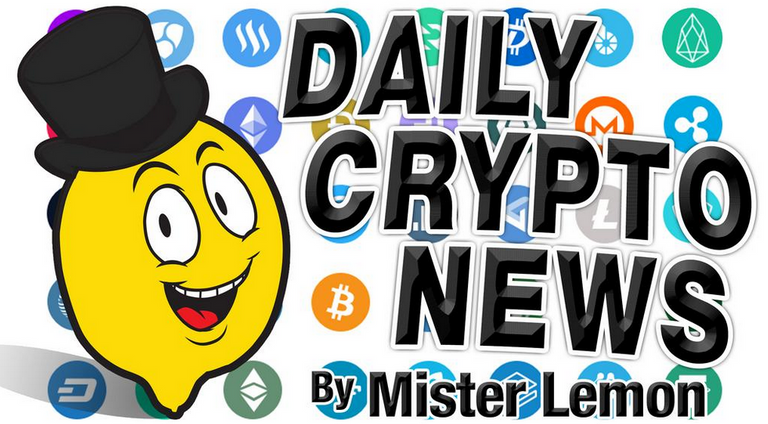 Bitcoin Dip-Buyers Are Now Watching This Level After Another 5% Drop ;
Brace For Impact! How Would Another Stock Market Crash Affect Bitcoin? ;
Visa Files Patent Application for Digital Currency ;
Bitcoin Network Sees a Massive Mining Pool Shift Following the Halving ;
Pantera Capital's Crypto Hedge Funds Are Losing Double Digits, But Its Bitcoin Fund Is Up 10,000% to Date ;
🗞 Daily Crypto Calendar, May, 15th 💰
Bitcoin Trading Update
Welcome to the Daily Crypto News: A complete Press Review, Coin Calendar and Trading Analysis. Enjoy!
At 2 A.M. (UTC) time Bitcoin (BTC) price abruptly dropped 5.11% to $9,256 before recovering to trade in the $9,500 range. This followed a previous sudden drop on Thursday after BTC briefly touched $10K to fill the CME futures gap.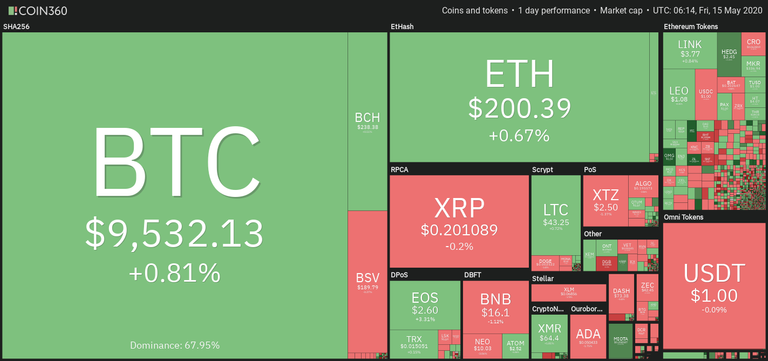 Data from CoinMarketCap shows that earlier in the day the price surged to $9,939 and the following consolidation of higher lows and lower highs convinced some traders that further continuation to $10K and above was in the works.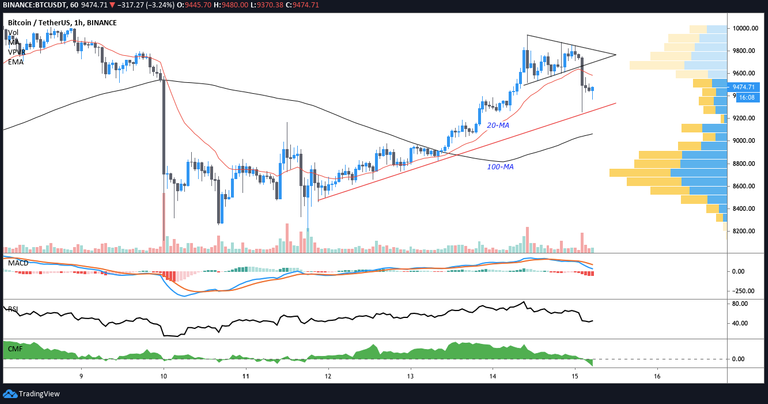 After the surge to $9,939, traders were watching to see if $9,650 would function as support and the break below the pennant trendline and 20-MA dropped the price below a high volume node on the volume profile visible range.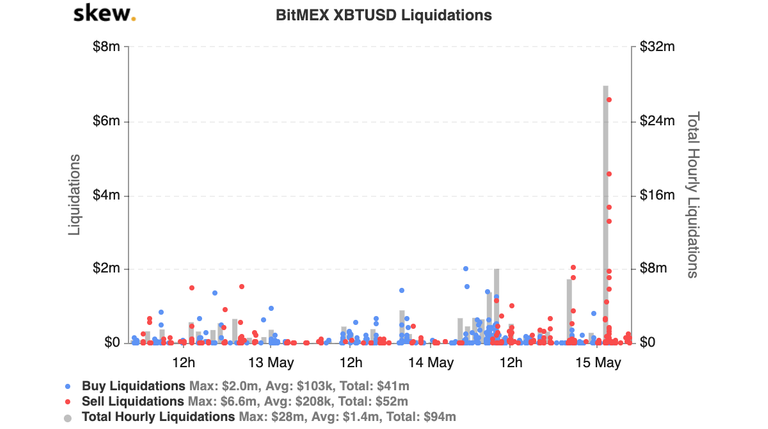 Major names in finance are raising the alarm that stocks are vastly overvalued – more so than ever. Should the traditional market crash again, how would this affect bitcoin (BTC)? Analysts believe that BTC would feel the impact, but, this time, there is a chance it might be different.
Legendary investors Stan Druckenmiller and David Tepper were the latest to weigh in after a historic market rebound, saying the risk-reward of holding shares is the worst they've encountered in years, Bloomberg reported today, adding that there is no way for a quick economic recovery once the ongoing pandemic eases, nor will the USD 3 trillion stimulus by the Federal Reserve (Fed) be enough to compensate for the massive blow to the economy and markets. The newest BTC star, another prominent hedge fund manager Paul Tudor Jones also voiced doubts about markets. He also recently confirmed that his fund has already invested hundreds of millions of USD in bitcoin.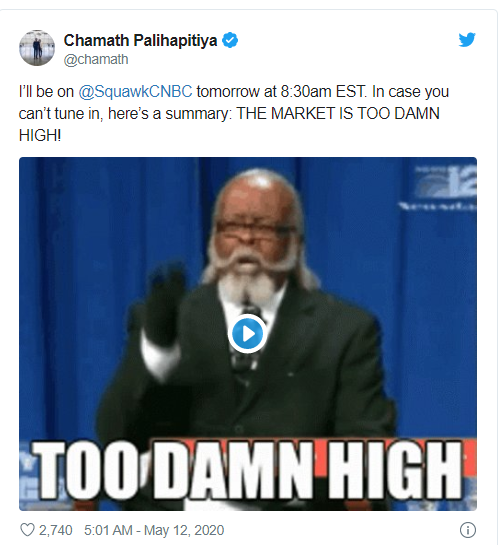 Visa has filed an application to create digital currency on a blockchain with the U.S. Patent and Trademark Office.
According to the application published May 14 — but filed way back in November 2018 — inventors Simon J. Hurry and Alexander Pierre with the Visa International Service Association in San Francisco have sought a patent for a digital currency recorded on a blockchain and controlled by a central entity computer.
The application describes a centralized process to maintain the value of the stablecoin:
"...every time a dollar worth of digital fiat currency is generated, the central entity ensures that a corresponding physical dollar bill is removed from circulation, in order to regulate the value of the digital fiat currency."
Following the third bitcoin halving on May 11, 2020, there's been a big shift in mining pool distribution, as far as hashrate is concerned. At the time of publication, there's around 100-115 exahash per second (EH/s) in search of bitcoin blocks and spectators have seen two relatively unknown mining pools join the top mining pool contenders. Both of these new mining pools capture around 14 EH/s today, and the top operations F2pool and BTC.com have around 34 EH/s between both pools.
The last BTC halving saw a small amount of different network activity and every single mining operation lost 50% of revenue after the halving. A minuscule fraction of hashrate has left since the revenue cut, and BTC transaction (txn) fees have been on the rise. In the last 48 hours, a single BTC txn can cost a user between $2-4 depending on network congestion.
Another noticeable sight is the occurrence of extremely less stealth hash (unknown miners) than weeks ago and two relatively new mining operations. The two mining pools called 1Thash and Lubian.com have gained a lot of hashrate since the halving and both operations have captured around 14 EH/s since then.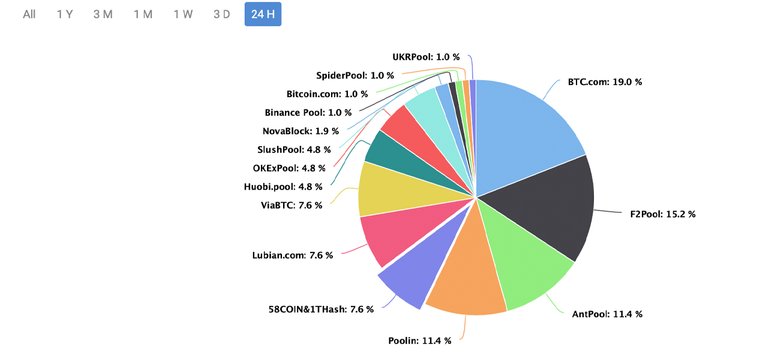 According to the regional reporter Lylian Teng from 8btc, Lubian's name means "roadside" and the website claims to be the "safest high yielding mining pool." Teng also said that the local Chinese news outlet Blockbeats were the first to spot Lubian hashing away at the BTC chain, and they gave information to Btc.com for distribution statistics.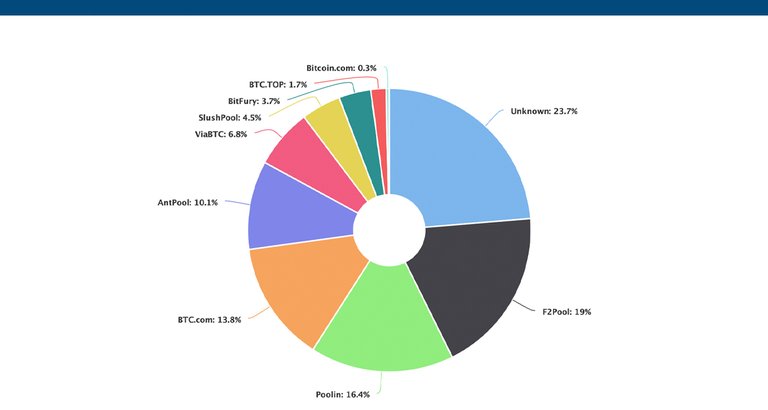 Heavy losses are rocking alternative crypto-asset funds at Pantera Capital, one of the oldest cryptocurrency investment managers, and providing stark contrast to its bitcoin fund's gains.
Pantera Capital's flagship bitcoin fund – a fund holding bitcoin (BTC) since 2013 and bitcoin cash (BCH) since 2017 – lost 75.6% in 2018 and gained 87.7% in 2019, according to internal materials seen by CoinDesk. The last two years dragged the bitcoin fund's historical returns to 10,162%, down 54% from 2017's peak of 22,321% but still exceeding all-time returns at elite funds hundreds of times over.
On the newer end, three hybrid Pantera Capital hedge funds created in 2017 were solidly negative, suggesting access to deals was not indicative of investment performance and that novel coin vehicles were highly risky or hard for the firm to actively manage.
🗞 Daily Crypto News, May, 15th💰

The most awaited MATIC mainnet is expected to be released on or before May 15th, 2020.
"Lino Login Removal by May 15th 2020"
"Move cutoff date to May 15th, 2020 12:00:00PM UTC+0"
"Trading Pair: TFD/USDT, Deposit Enable: 14:00 on May 14, 2020 (UTC+8),Trading Open: 16:00 on May 15, 2020 (UTC+8)."
"Trading for HBAR/USD and HBAR/BUSD trading pairs will open tomorrow at 9am EST / 6am PST."
"We would like to inform, that with the date of 15th May, the @Proeliocoin (#PEO) will be delisted from our platform."

Here is the chart of my last analysis :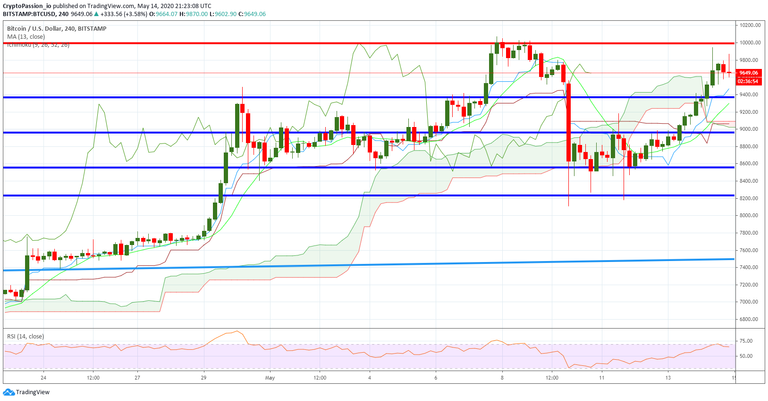 Here is the current chart :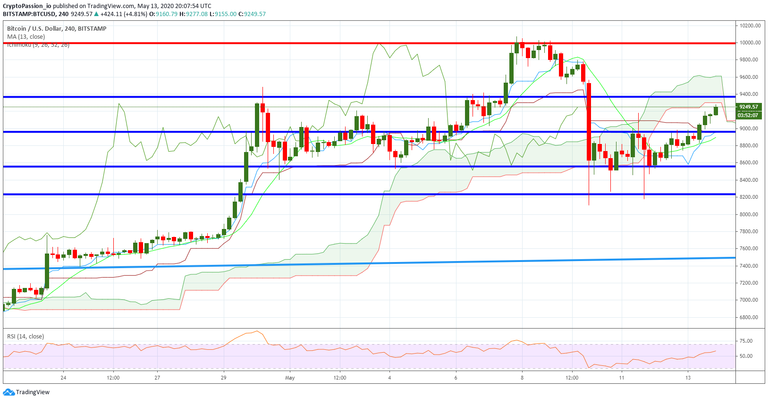 We really need to break quickly the 10k$ resistance line because the market start to prepare a double top and it would create an important correction if it is the case. Let's see if the market is just preparing a sudden UP or if the correction is taking place but we are for sure at an important momentum !
Last Updates

You don't want to miss a Crypto news?
Proud member of: