With advancement in technology day by day, it has now become possible to construct anything that was once considered impossible. In the similar way we thought that is it almost impossible for a person to conduct agricultural activities in the middle of a desert. But this has become possible because of various scientific inventions under agriculture sector.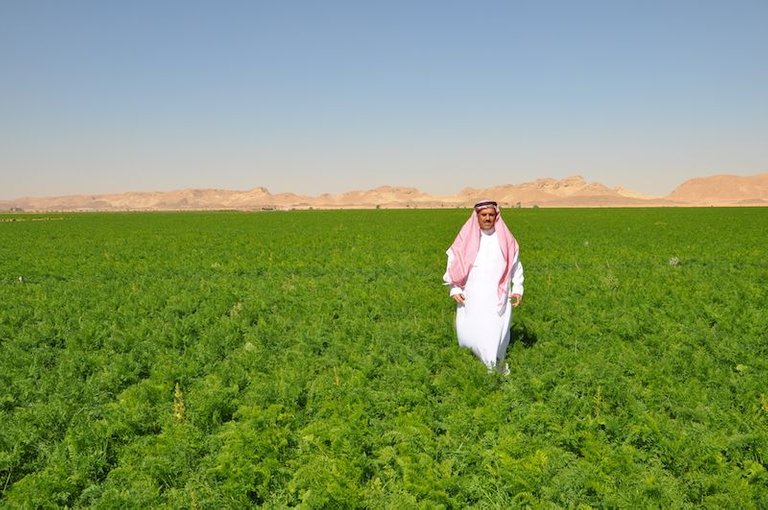 image source
One such example can be found in Saudi Arabia. The country is almost covered in desert and only 5 % of total land is habitable where the majority of the population resides. This country doesn't have any rivers and the rain fall in this area is very less. But still this country manages to export vegetables, fruits , dairy products around the globe and it was once the largest exporter of wheat. Have you ever wondered why????
The answer lies in Desert Farming. Have you heard the term before?????
Desert farming is basically a practice to grow vegetables in Desert. When you zoom to Saudi Arabia in google map , you will see a lot of circular structures in the middle of the Desert. These are the farmlands.


image source
The above chart shows the increase in the agricultural land in Saudi Arabia from 1961 - 2018. This increase is due to the farmlands in the middle of the desert.
But how the country with a ocean of sand dunes have enough water for an agricultural practices ?????
To find out the answer we have to go back to the history. About thousands of years ago Saudi Arabia was also a region of greenery with lot so f rivers. These rivers are present in the aquifers under the mountain of sand. Scientists targets these aquifers to obtain the required water and for the conservation of water , these circular structures are made which in scientific term called as center pivot irrigation.
But water in the aquifers are limited so it can't be a permanent soluition to conduct desert farming.
Today, Saudi Arabia is the major buyer of agricultural land in around the world.
Another solution can be desalination of Ocean water. Water in the ocean are more than abundance but salt concentration is what makes impossible to use. By desalination process , water from the ocean can be used in desert farming. But this is also not a permanent solution for the desert farming.
what are your thoughts on this topic?? Your comments are highly appreciated. thank you