La historia y su afán de oprimir a las mujeres ¡Ya no más!
History and its desire to oppress women. Not anymore!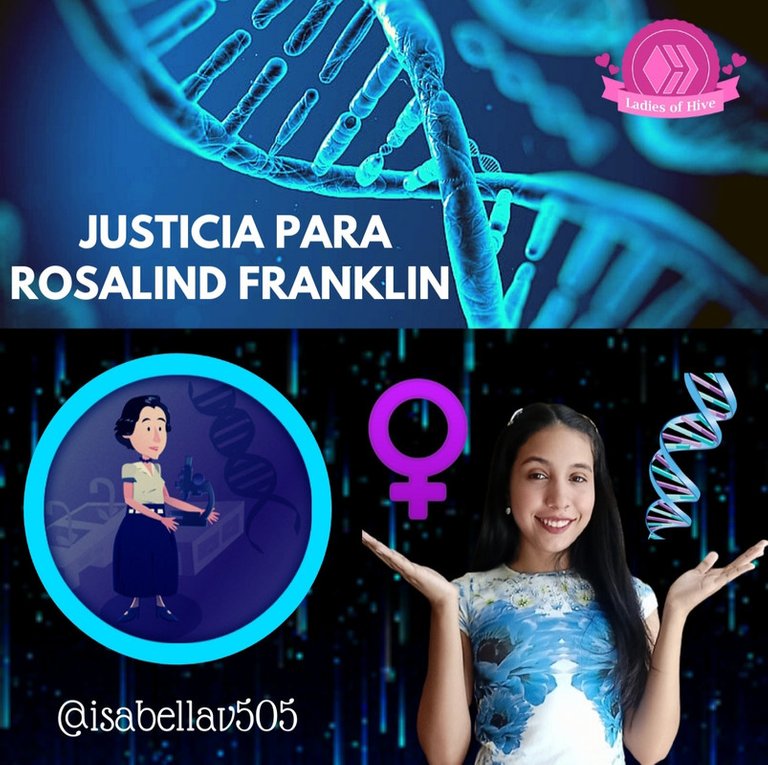 Imagen diseñada por @isabellav505 en Canva
Image designed by @isabellav505 on Canva

Fuentes / Sources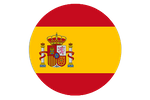 A lo largo de la historia de la humanidad, el abuso hacia las mujeres ha alcanzado niveles impresionantes.
En esta ocasión, me gustaría tocar el tema referente a la autoría de trabajos científicos por parte de mujeres, que la comunidad científica les ha negado, pues es un hecho que recientemente hemos comenzado a reconocer.
¿Tan acostumbrados estamos a la misoginia? Pues sí. Así que destacar y compartir este hecho me parece algo imperativo y necesario, no me cabe duda de que muchos no estaban al tanto del mismo.
Todos conocemos lo que es el ADN, la proteína responsable de almacenar nuestro material genético, que posee una estructura de doble hélice, cuyo estudio ha representado una serie de avances en relación a la ciencia y el campo de la genética. Sin embargo, no siempre hemos contado con esta información. Hace más de un siglo, la estructura del ADN aún era un enigma para la ciencia. Un descubrimiento que marcó un antes y después en lo que respecta a la genética.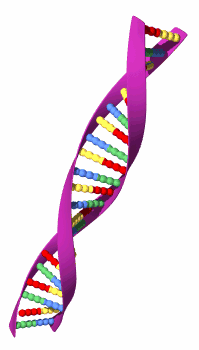 Fuente / Source
Todo perfecto hasta este punto. El detalle sucede cuando nos preguntamos
¿Quién descubrió la estructura de doble hélice del ADN?
Una pregunta muy simple,
¿no?
Bueno, si queremos saber la respuesta lo primero que haríamos sería buscar en Google, nuestro mayor aliado para investigar cosas puntuales.
Los invito a buscar, porque lo primero que les aparecerá es lo siguiente: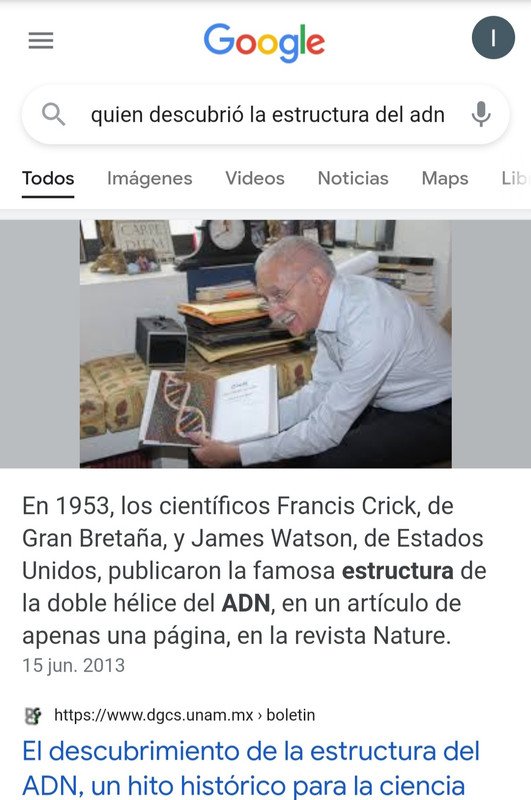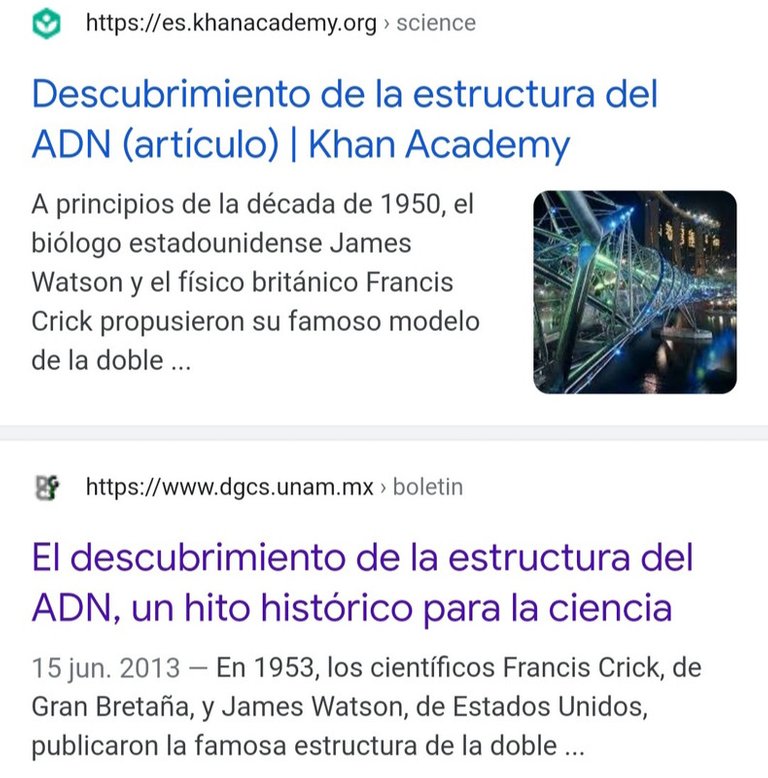 Capturas de pantalla / Screenshots
Se preguntarán entonces
¿Cuál es el problema con esto?
Lo interesante es que en muy pocos artículos se menciona el nombre
Rosalind Franklin
o simplemente se hace una vaga mención. Algo completamente absurdo, ya que esta mujer fue la responsable de la Fotografía 51, con la técnica de difracción de Rayos X. Esta imagen, capturó nada más y nada menos que uno de los hallazgos más importantes de la ciencia.
Para resumirles la historia, Rosalind era compañera de trabajo de Maurice Wilkins en el King's College. Este hombre utilizó sus estudios, datos e imágenes SIN SU CONSENTIMIENTO y se las compartió a sus colegas James Watson y Francis Crick. De modo que, el trabajo que realizó Rosalind Franklin los llevó a realizar el gran descubrimiento, que les valió el Premio Nobel de Medicina en el año 1962, 4 años luego del fallecimiento de Rosalind, quién murió en 1958 de un cáncer de ovarios, asociado a las largas horas de exposición a los rayos X, pues sólo la citada fotografía 51 exigió 100 horas, y por ello no pudo compartir el Nobel. De igual modo fue ignorada en la ceremonia y su contribución jamás fue reconocida oficialmente.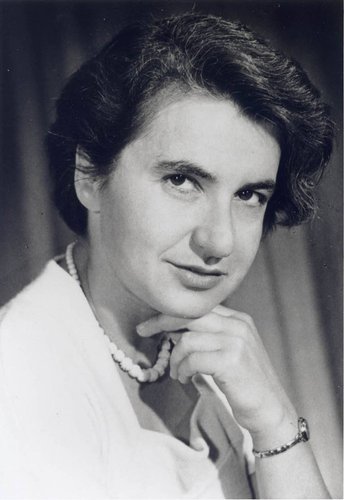 Rosalind Franklin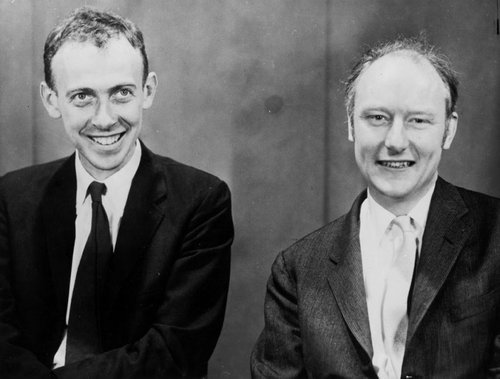 James Watson y Francis Crick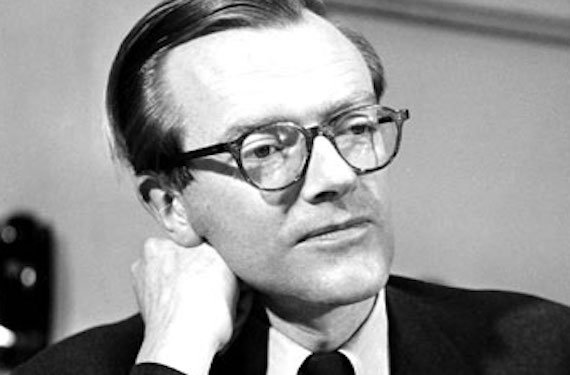 Maurice Wilkins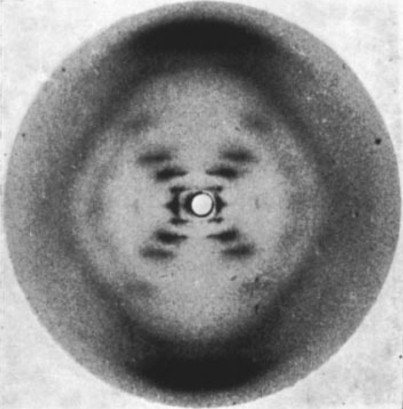 Fotografía 51 / Photo 51
Ahora bien, esta historia ha sido conocida desde hace mucho tiempo. Si buscas el nombre de Rosalind Franklin, obtienes como resultado el verdadero suceso. Entonces
¿Por qué esto no ha sido modificado en las páginas, artículos, libros de texto donde ni siguiera se alude su aporte?
Esto me lleva a pensar ¿Cómo queremos que estos actos no sigan ocurriendo? Este abuso tan descarado dirigido hacia las mujeres, si incluso las que se suponen que deberían ser nuestras fuentes de información confiable, cometen dicha injusticia.


Throughout human history, abuse of women has reached impressive levels.
Today I would like to talk about the authorship of scientific works by women, which the scientific community has denied them, as it is a fact that we have recently begun to recognize.
Are we so used to misogyny? The answer is yes. So highlighting and sharing this fact seems imperative and necessary, I have no doubt that many were not aware of it.
We all know what DNA is, the protein responsible for storing our genetic material, which has a double helix structure, the study of which has represented a series of advances in relation to science and the field of genetics. However, we have not always had this information. More than a century ago, the structure of DNA was still an enigma for science. A discovery that marked a before and after when it comes to genetics.
Everything perfect up to this point. The detail happens when we ask ourselves: Who discovered the double helix structure of DNA? A very simple question, right? Well, if we want to know the answer, the first thing we would do would be to search Google, our greatest ally to investigate.
I invite you to look for it, because this is what you are going yo find: (Imagen are shared in the spanish text)
You may wonder, what is the problem with this? The interesting thing is that in very few articles the name Rosalind Franklin is mentioned and if it is, it's just vaguely named. Something completely absurd, since this woman was responsible for Photo 51, with the X-ray diffraction technique. This image captured nothing more and nothing less than one of the most important findings in science.
To summarize the story for you, Rosalind was Maurice Wilkins' co-worker at King's College. This man used his studies, data and images of him WITHOUT HER CONSENT from him and shared them with his colleagues Watson and Crick. So, the work that Rosalind Franklin did led them to make the great discovery, which earned them the Nobel Prize in Medicine in 1962, 4 years after Rosalind's death. She died in 1958 from ovarian cancer, associated with long hours of exposure to X-rays, since only the aforementioned photograph 51 required 100 hours, and therefore she could not share the Nobel. She likewise was ignored at the ceremony and her contribution was never officially recognized.
Now, the truth has been known for a long time. If you search for the name of Rosalind Franklin, you get the real success as a result. So why has this not been modified in the pages, articles, textbooks where her contribution is not even alluded to?. This leads me to wonder, how do we want these acts to stop happening, this blatant abuse directed at women? If even those who are supposed to be our sources of reliable information, they commit such injustice.





Esta fue mi publicación queridos amigos, en la cual traté de contener en unos pocos párrafos este tema que merece toda nuestra atención porque es simplemente es una pequeña muestra de lo que el género femenino ha soportado. No puedo imaginar lo que se debe sentir que te arrebaten el trabajo de tu vida, y que aún más de 50 años después, la sociedad ni siquiera conozca lo que realmente sucedió. Siento que es nuestra responsabilidad darle a esta mujer el reconocimiento que siempre mereció. Rosalind Franklin, una brillante científica francesa. Para mí, la total responsable del descubrimiento de la estructura de doble hélice del ADN.💜🔬👩‍🔬🧬✨
This was my post dear friends, in which I tried to contain in a few paragraphs this topic that deserves all our attention because it is simply a small sample of what the female gender has endured. I can't imagine what it must feel like to have your life's work taken away from you, and that even more than 50 years later, society doesn't even know what really happened. I feel like it is our responsibility to give this woman the recognition that she always deserved. Rosalind Franklin, a brilliant French scientist. For me, discoverer of the double helix structure of DNA. 💜🔬👩‍🔬🧬✨

Todas las imágenes utilizadas fueron citadas con su respectiva fuente.
All the images used were cited with their respective source.
The text is original from @isabellav505.