Photos belong to me. & Fotoğraflar şahsıma aittir.
Udemy is my preferred site when studying English. I love the features such as the transition of the videos, the content, the easy tracking of the watched material, and the ability to continue from where I left off while working on mobile.
Udemy, ingilizce çalışırken tercih ettiğim bir site. Videoların geçişi, içeriği, izlen materyalin takibinin kolay sağlanması ve de mobilden çalışırken kaldığım yerden devam etmesi gibi özllikleri benim bayıldığım özellikleri.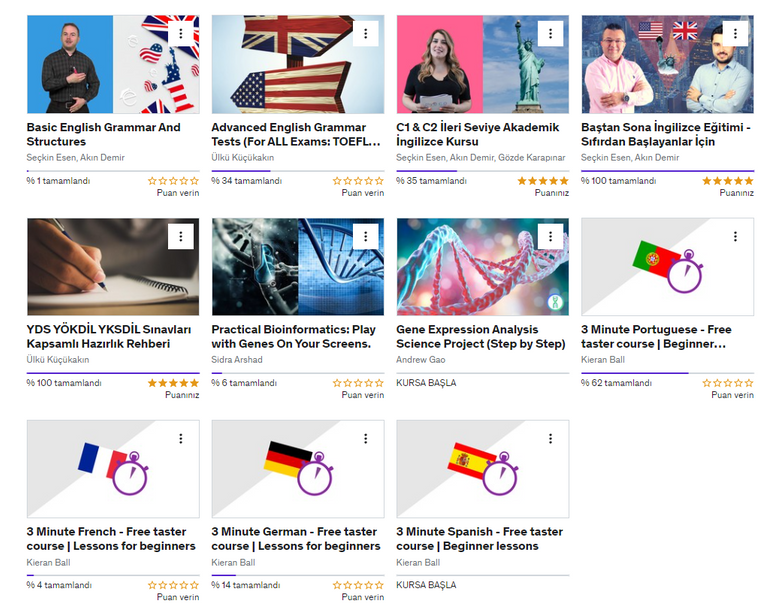 Listed above are the courses I have from the education and academia category. As you can see, I watched most of them and even completed some 😏
Yukarıda listelenenler eğitim ve akademi kategorisinden sahip olduğum kurslar. Gördüğünüz gibi bir çoğunu izlemiş hatta bazılarını tamamlamışım😏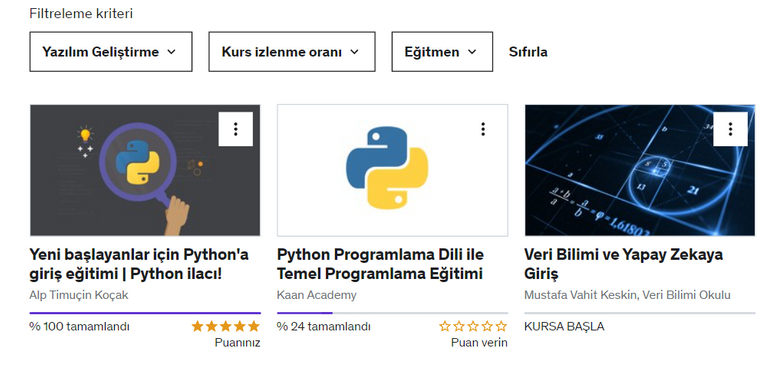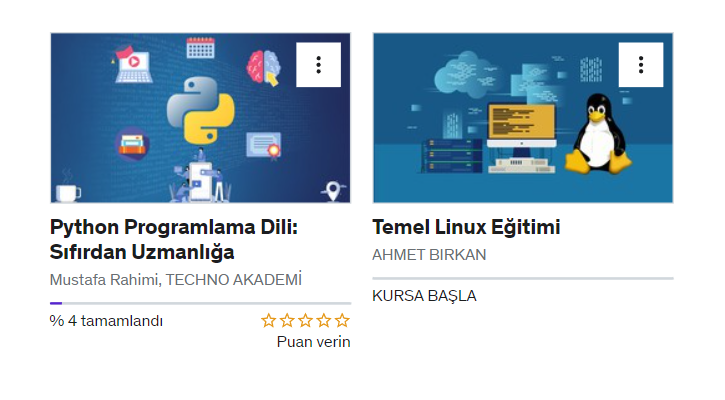 I took these courses because I wanted to learn some middleware. It would help me if I learned Python well, but it is difficult and confusing to learn :((
Bir ara yazılım öğrenmek istediğim için bu kursları aldım. Python'u iyi bir şekilde öğrensem bana katkısı olurdu aslında ama öğrenmek zor ve karışık geliyor :((


I don't know why I took these courses 😄 They're actually pretty good. I didn't start the courses because I didn't have the opportunity, time or desire 😞 Maybe one day I'll finish them too...
Neden bu kursları aldım bilmiyorum 😄 Aslında oldukça iyi kurslar ama bir türlü fırsatım, vaktim ve isteğim olmadığı için başlamadığım kurslar 😞 Belki bir gün bunlarıda bitiririm...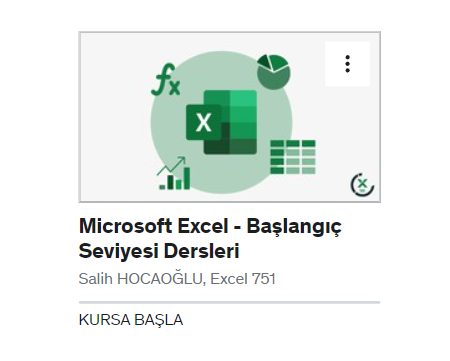 Anddd Microsoft Excel course... It is possible to do a lot of things in Microsoft Excel, I was using it very practically when I started working and I learned new things, but I think I can improve myself a little more in this program. It would be nice if I started following this course right now 🤗
Veeee Microsoft Excel kursu... Microsoft Excel'de bir sürü şeyi yapmak mümkün, işe başladığım zamanda oldukça pratik kullanıyordum ve yeni şeyler öğrenmiştim ama bence kendimi biraz daha geliştirebilirim bu programda. Şu sıralar bu kursu takip etmeye başlasam fena olmaz 🤗

I hope I was able to introduce you to Udemy a little bit, now you know that it has a lot of content and video lectures. Let's watch good courses, make good use of our time, knowledge grows when shared, and at the same time, people should always update and upgrade themselves. I love you all so much, thanks for reading, have a nice day 🤗🤩 I hope you like my post😊
Umarım Udemy'i az da olsa tanıtabilmişimdir size, bir çok içeriğe sahip olduğunu, videolu anlatım derslerine sahip olduğunu artık biliyorsunuz. Güzel kurslar izleyelim, vaktimizi iyi değerlendirelim, bilgi paylaşıldıkça çoğalır aynı zamanda insan her zaman kendini güncellemeli ve yükseltmelidir. Hepinizi çok seviyorum, okuduğunuz için teşekkürler, güzel günler dilerim 🤗🤩 Umarım postumu beğenmişsinizdir😊