EDITED
PLEASE CONSIDER REMOVING VOTES CURRENTY IN PLACE ON THIS POST.
THE CURATION TEAM HAS DEEMED MY CONTENT NOT WORTHY OF CURATION ON THE PREMISE OF LACK OF ENGAGEMENT AND NOT ON THE PREMISE OF QUALITY.
I DO NOT AGREE WITH SUCH DETERMINATION AND HAVE BEEN A LONG TIME SUPPORTER OF 3SPEAK, SINCE THE VERY BEGINNING AND EVEN WAS ONE OF THE FIRST PEOPLE ON THE BLOCKCHAIN TO BUY THE 3SPEAK TOKENS BACK ON STEEM.
CURRENTLY THE PLATFORM DOES NOT VOTE ME AND THE SCREENSHOTS BELOW IS FROM 3SPEAK IN THE PUBLIC DISCORD TO VERIFY THE DETERMINATION OF THEIR LACK OF SUPPORT (WHILE TAKING A BENE CUT ON THEIR CONTENT CREATORS WORK)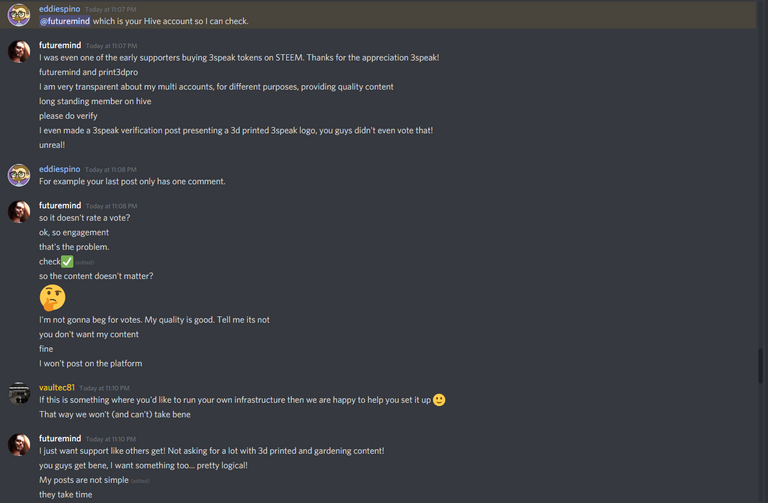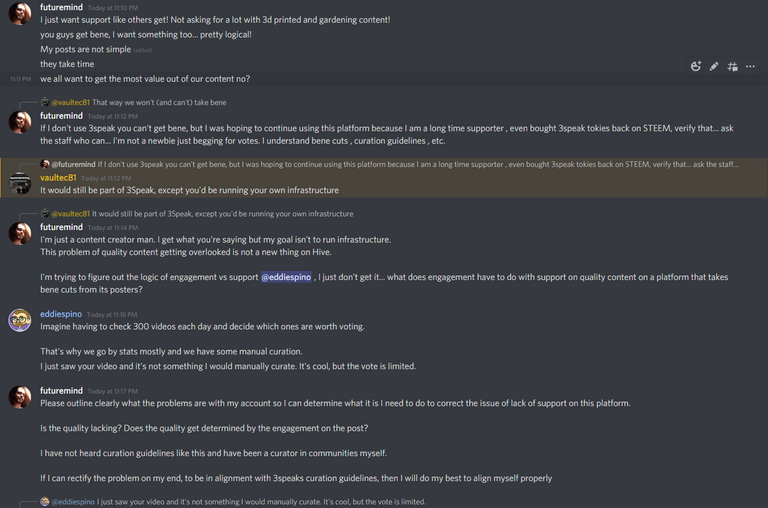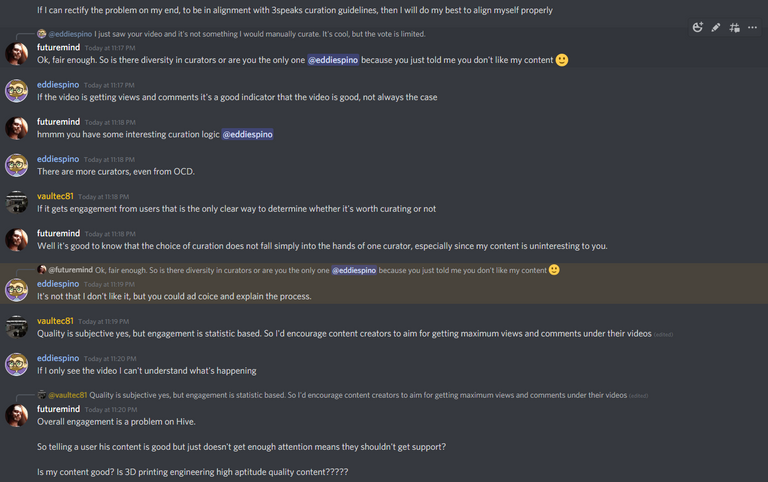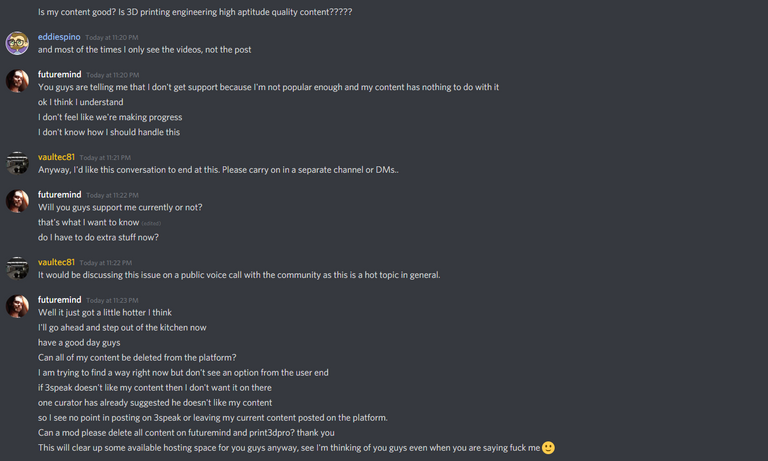 IT'S A POPULARITY CONTEST.
THIS IS NOT ABOUT CONTENT.
CLEARLY IT'S ABOUT HOW MANY FRIENDS YOU HAVE.
AND THE CURATORS DON'T LIKE MY BORING TECHNOLOGY WORK ANYWAY.
THIS IS THE END OF MY POSTING ON 3SPEAK.
IT'S A GREAT PLATFORM, JUST MAKE SURE YOU HAVE ENOUGH FRIENDS OR THEY WON'T SUPPORT YOU. NOT SURE HOW MANY YOU NEED BUT YOU BETTER BE POPULAR OR THEY WILL NOT SUPPORT YOU, THE PROOF IS IN THEIR WORDS.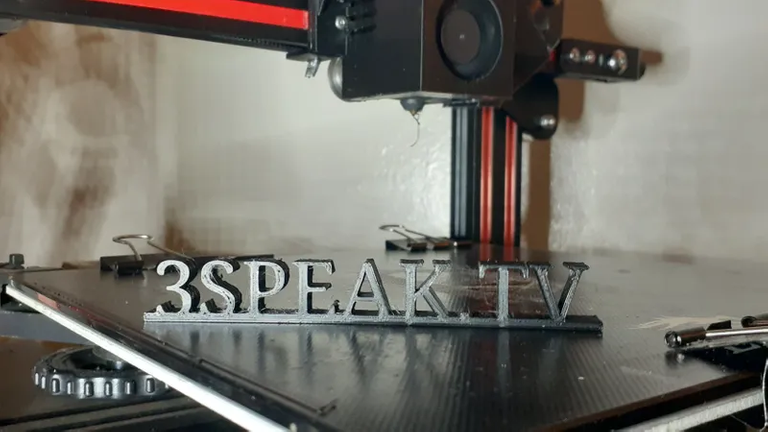 3speak intro post that they didn't vote
Does the hive community think a 3d printed 3speak logo doesn't rate even a small vote from 3speak? Is my 3d printed logo really that shitty looking? Is this a low quality piece of work? Does it take critical thinking/creative ability to come up with such an idea that has never been done before for an introduction post? What did you not like about it 3speak? That's what I would like to know. If you didn't vote my intro post for my 3d printing account on your platform, then surely there was something wrong with my intro post.
This was all just a matter of engagement and followers?