Greetings to all the members of the community. How are you doing in your projects? This time I come to show you some 3D earring designs that I made for my girlfriend's
@youyowi
future venture.
Saludos para todos los miembros de la comunidad ¿Qué tal les está yendo en sus proyectos? Esta vez vengo a mostrarles algunos diseños de aritos en 3D que fabrique para el futuro emprendimiento de mi novia @youyowi.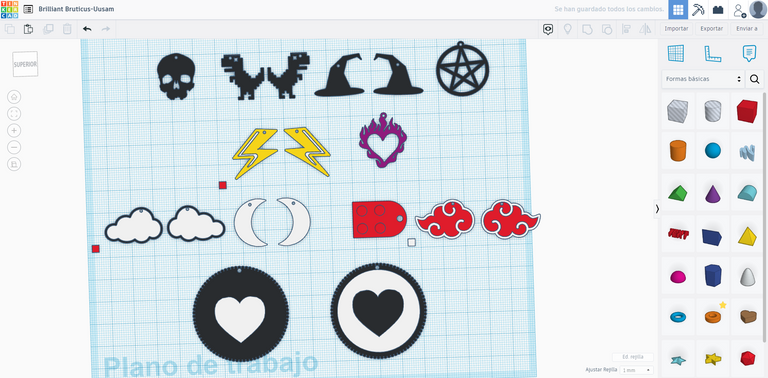 Some time ago my girlfriend had told me that she wanted to start a business, she wanted to have her own project and she had been thinking about options for a while. I always liked this kind of earrings, small things with lots of details so I proposed it to her, she liked the idea and we started to talk about how we were going to carry it out. First we looked for references for the earrings, she decided to make a small run with some models to have in stock at the beginning and these are the ones we chose.
Desde hace un tiempo mi novia me había dicho que quería emprender, quería tener un proyecto propio y estuvo un tiempo pensando opciones. A mi siempre me gustaron este tipo de aros, las cosas pequeñas con muchos detalles así que se lo propuse, le gusto la idea y comenzamos a hablar como lo íbamos a llevar a cabo. Primero buscamos referentes para los aros, ella deicidio hacer una pequeña tirada con algunos modelos para tener en stock al principio y estos son los que elegimos.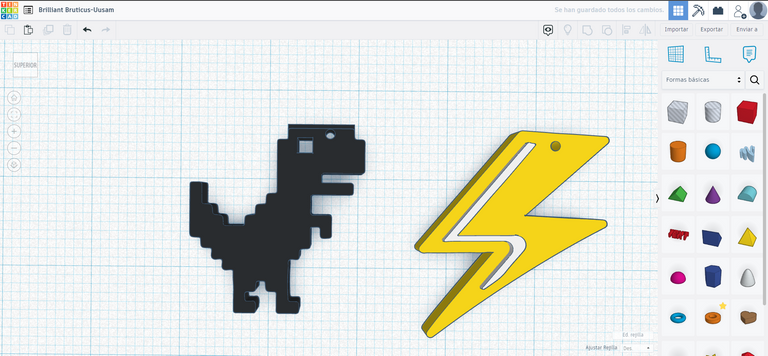 The Google dinosaur, a lightning bolt, an organic skull (we didn't want the skull symbol but something more similar to reality), a witch's hat, a flaming heart, a cloud, a pentagram, a moon and the akatsuki cloud (from the Naruto series). Then we thought of some keychains for couples like the oreos cookie keychain and the lego piece keychain.
El dinosaurio de Google, un rayo, un cráneo orgánico (No queríamos el símbolo del cráneo sino algo más similar a la realidad), un gorro de bruja, un corazón en llamas, una nube, un pentagrama, una luna y la nube de akatsuki (De la serie Naruto). Después pensamos en algunos llaveros para parejas como el de las galletitas oreos y el de pieza de lego.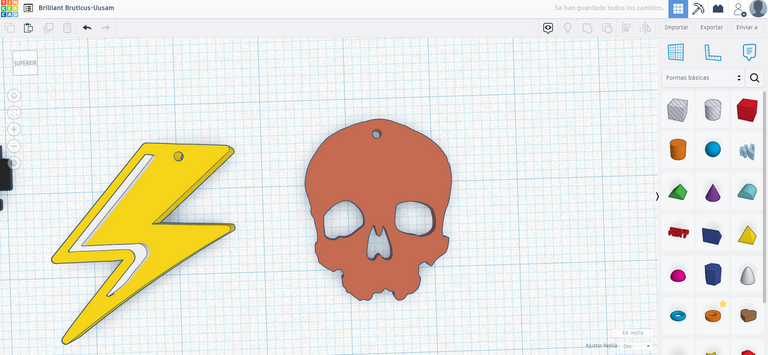 Although they look like simple pieces to make, they took time, it was a bit of trial and error as you had to think about several aspects. What size would they be? How would the ring for the hoop be placed? Are they going to be one or two colors? Where would the hole for the ring have to be located? Among a lot of other aspects that you realize as you design, print and test them.
Aunque parecen piezas sencillas de hacer llevaron tiempo, fue un poco prueba y error ya que había que pensar en varios aspectos ¿Qué tamaño tendrían? ¿Cómo se colocaría la argolla para el aro? ¿Van a ser de uno o dos colores? ¿Dónde tendría que estar ubicado el agujero para la argolla? Entre un montón de otros aspectos que te vas dando cuenta mientras los diseñas, imprimís y probas.
I took base images for the designs, removed the backgrounds in Photoshop and retouched the parts that were too thin to print, created a black mask on the images and saved them as PNG to later open them with illustrator and vectorize them. Once I had the vectorized images I exported them in SVG format to extrude them in tinkercad. I use these programs because it is very easy to work with and I can test colors with the default tones that the program has, this helps me to get an idea of how the final result will look like.
Tome imágenes base para los diseños, retire los fondos en Photoshop y retoque las partes que eran muy finas para imprimir, cree una mascara negra en las imágenes y las guarde como PNG para posteriormente abrirlas con illustrator y vectorizarlas. Una vez tuve las imágenes vectorizadas las exporté en formato SVG para extruirlos en tinkercad. Uso estos programas porque es muy sencillo de trabajar además que puedo hacer pruebas de colores con los tonos por defecto que tiene el programa, esto me ayuda a darme una idea de cómo se vería el resultado final.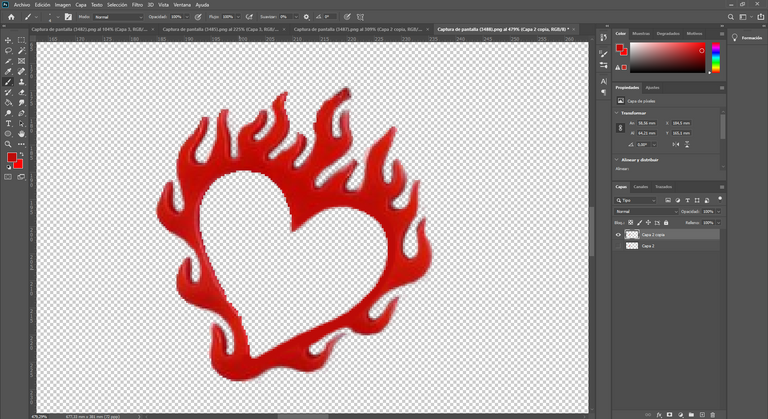 My girlfriend wanted to have different designs to those that can be found in traditional earrings, the possibility of designing and printing them allows this type of customization because, if she were to set up a business with conventional earrings why would they choose one over the other, in this way she is looking to differentiate herself from the competition by generating something characteristic of her business which seems to me a very good idea to start with.
Mi novia quería tener diseños diferentes a los que se pueden encontrar en los aros tradicionales, la posibilidad de diseñarlos e imprimirlos permite este tipo de personalización ya que, si armara un emprendimiento con aros convencionales porque elegirían uno antes que el otro, de esta forma esta buscando diferenciarse de la competencia generando algo característico de su emprendimiento lo cual me parece una muy buena idea para comenzar.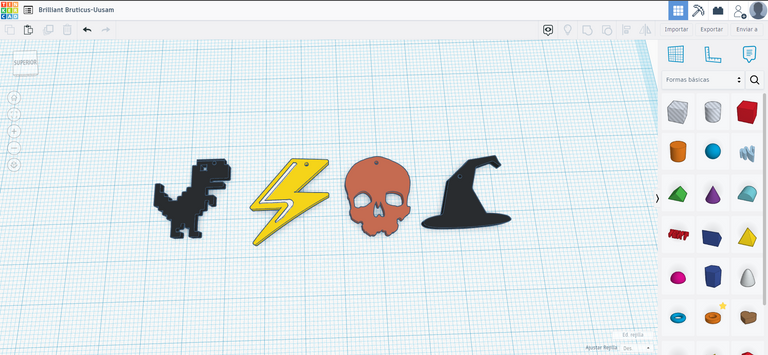 In addition to making earrings, she wants to try other types of work that complement each other to later have a wider catalog and reach different audiences, but that is a future plan.
Ella además de hacer aritos quiere probar hacer otro tipo de trabajos que se complementen para más adelante tener un catalogo más amplio y llegar a diferentes públicos, pero eso en un plan a futuro.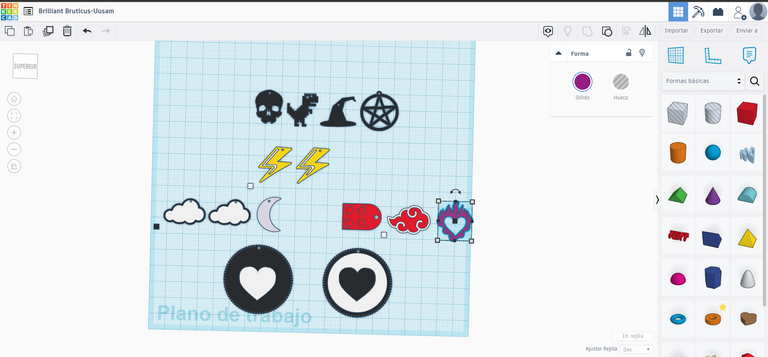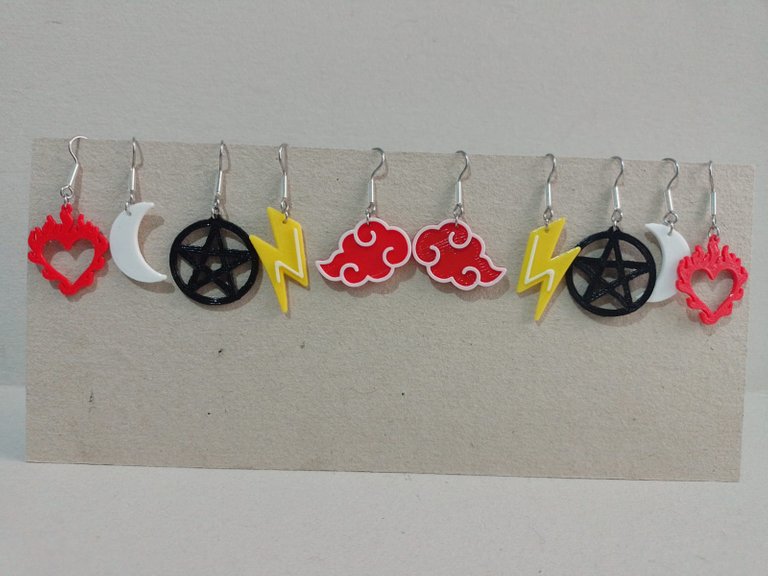 What did you think of the earrings, do you think they are original? I'd love to read your opinion in the comments and if you leave any ideas for future earrings. I'm Nitsu and I wish you a great week.
¿Qué les parecieron los aritos? ¿Les parece que son originales? Me gustaría leer tu opinión en los comentarios y que dejes alguna idea para próximos aritos. Soy Nitsu y te deseo una gran semana.

My 3D printing works @nit_3dprinting
Mis trabajos de impresión 3D @nit_3dprinting
Translated by DeepL
Traducido con DeepL
All images are my own
Todas las imágenes son de mi autoría
My last post Super upgrade (Thanks HiveGeek) [ENG-ESP]
Mi último post Super upgrade (Thanks HiveGeek) [ENG-ESP]