Greetings to the makers of the community, welcome to my post once again, I'm Nitsu and one of the problems I always had since I started 3D printing was the calibration so today I want to tell you some tips that many may know, but it never hurts to take them into account.
Saludos a los makers de la comunidad, bienvenidos a mi post una vez más, soy Nitsu y uno de los problemas que siempre tuve desde que comencé a imprimir en 3D fue la calibración por eso hoy quiero contarles algunos tips que tal vez muchos conozcan, pero nunca está de más tenerlos en cuenta.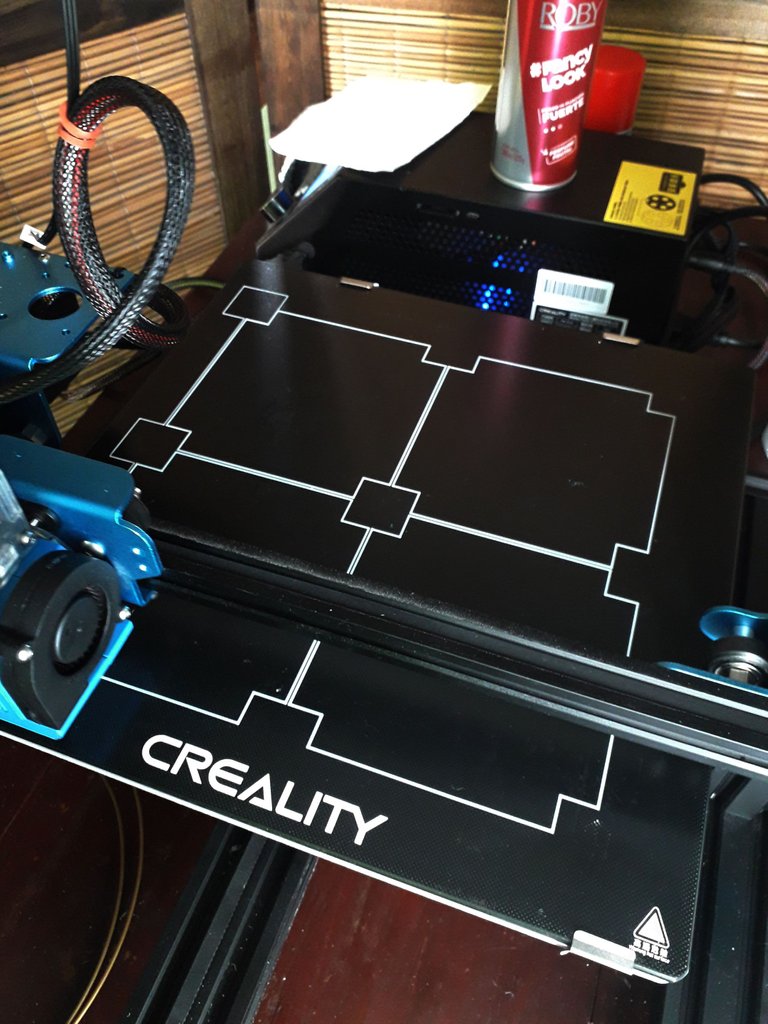 What is calibration for? A good calibration is the basis to have quality prints, it can also avoid future jams because if the nozzle is very close to the calibration bed the pressure generated inside the hotend can cause jams because the material has nowhere to go out. It can also cause the well known crackling that makes the extruder trigger, not being able to release that pressure you can hear the TAC TAC TAC TAC while printing our machine.
¿Para qué sirve la calibración? Una buena calibración es la base para tener impresiones de calidad, también puede evitar futuros atascos ya que si la boquilla queda muy pegada a la cama de calibración la presión que se genera dentro del hotend puede provocar atascos debido a que el material no tiene por donde salir. También puede provocar el conocido craqueteo que hace el gatillo del extrusor, al no poder liberar esa presión se escucha el TAC TAC TAC mientras imprime nuestra máquina.
There are newer machines that have automatic leveling and I am not talking about the ones that have a calibration sensor but the ones that by means of a static charge in the nozzle when it makes contact with the printing base they know the position in which they are and calibrate themselves without the need of the BLTouch device, then there is the aforementioned device that in some cases is included with the machine and in others you have to place it, depending on the model is more or less easy to place but in general buying this accessory apart always has a considerable price, it is a useful tool but will not prevent us from having to manually calibrate every so often our printing base. I recently bought one, but I have not yet had the opportunity to place it, I hope soon to bring some review or recommendation about it.
Hay maquinas mas nuevas que traen nivelación automática y no estoy hablando de las que tienen sensor de calibración si no las que por medio de una carga estática en la boquilla al hacer contacto con la base de impresión logran saber la posición en la que se encuentran y calibrarse sin la necesidad del dispositivo BLTouch, después está el dispositivo anteriormente mencionado que en algunos casos viene incluido con la maquina y en otros hay que colocarlo, dependiendo el modelo es más o menos fácil de colocar pero en general comprar este accesorio aparte siempre tiene un precio considerable, es una herramienta útil pero no nos evitara tener que calibrar manualmente cada tanto nuestra base de impresión. Yo recientemente he comprado uno, pero todavía no tuve la oportunidad de colocarlo, espero próximamente poder traer alguna reseña o recomendación al respecto.
Then there is the traditional way, which the vast majority of makers are accustomed to use the typical paper between the nozzle and the bed to leave the necessary space when printing. We have to remember that the sensation that should be felt when calibrating with a paper is that the nozzle should make the same pressure as a pen on a paper, this personally helped me a lot to understand it. We will do this process in each of the corners of our printing base and then in the middle points but the question that concerns us is how can we be sure that all the points were well calibrated? This is not possible to know until we print something, if you are lucky enough that it was perfect, good for you, but if not, we have to do this process again until we get the desired result.
Luego está la forma tradicional, la que la gran mayoría de los makers estamos acostumbrados a usar el típico papel entre la boquilla y la cama para dejar el espacio necesario a la hora de imprimir. Tenemos que recordar que la sensación que se debe sentir a la hora de calibrar con un papel es que la boquilla debe hacer la misma presión que una lapicera sobre un papel, esto en lo personal me sirvió mucho para entenderlo. Haremos este proceso en cada una de las esquinas de nuestra base de impresión y luego en los puntos medios pero la pregunta que nos compete es ¿Cómo podemos estar seguros que todos los puntos quedaron bien calibrados? Esto no es posible saberlo hasta que imprimamos algo, si tenés la suerte de que haya quedado perfecto muy bien por ti, pero si no toca volver a hacer este proceso hasta llegar al resultado deseado.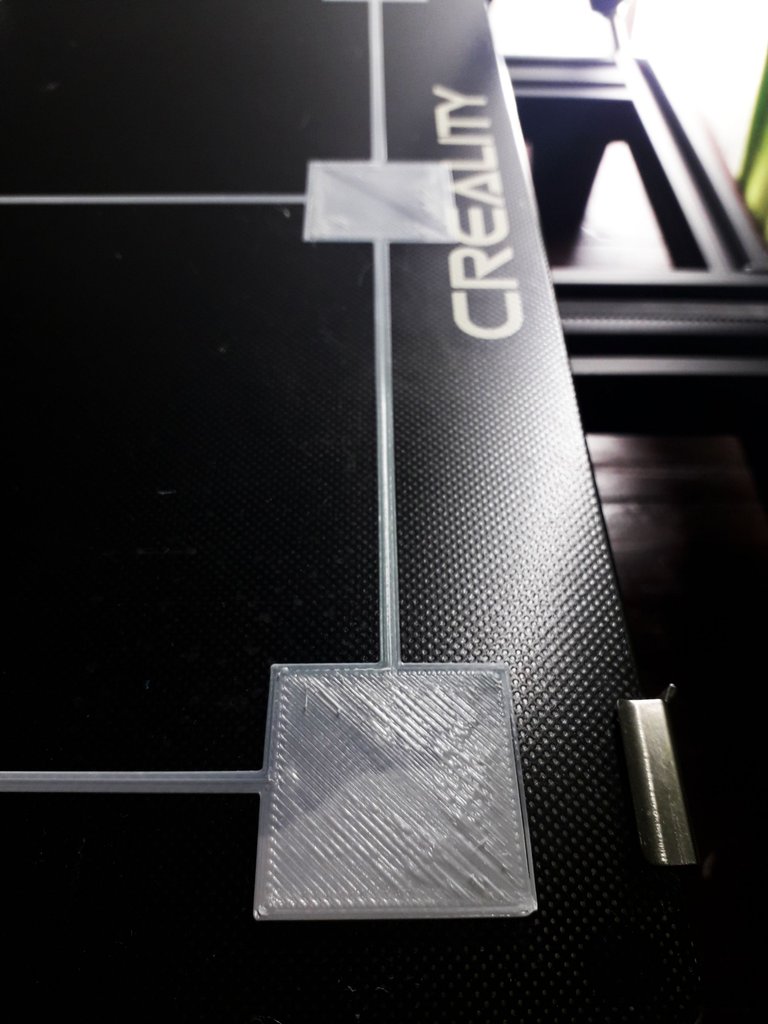 Many times the bases that come by default with our printers with the use or the fact of bending them to remove our pieces have to buckle increasing the difficulty when printing this can be avoided with a glass base that does not vary significantly its dimensions against the heat of the printing base.
Muchas veces las bases que vienen por defecto con nuestras impresoras con el uso o el hecho de doblarlas para sacar nuestras piezas tienen a pandear aumentando la dificultad a la hora de imprimir esto puede evitarse con una base de vidrio que no varia significativamente sus dimensiones frente al calor de la base de impresión.
Something that has been useful for me is to print a calibration STL. It is a file that is generally less than 1mm thick and occupies the entire print bed that by means of some figures located at the ends and midpoints we can see which is the area that is not well calibrated. There are a variety of these files of all sizes so it's just a matter of finding the one that suits your needs. There is a great variety of these files of all sizes so it is only a matter of finding the one that suits your needs. How do we realize which points are well and which are not? If we observe we will notice that the poorly calibrated dots are very fine and scratchy that means that the nozzle is very stuck, if directly the piece does not stick to the printing base means that they are very far away. But when we get a good calibration we will see that the printed dot is smooth and uniform, this is what we have to achieve along all points.
Algo que a mi me ha servido es imprimir un STL de calibración ¿En qué consiste? Es un archivo que generalmente tiene menos de 1mm de espesor y ocupa toda la cama de impresión que por medio de unas figuras ubicadas en los extremos y los puntos medios podremos darnos cuenta cual es la zona que no está bien calibrada. Existen una gran variedad de estos archivos de todos los tamaños así que solo es cuestión de que encuentres el que se adapte a tus necesidades. ¿Cómo nos damos cuenta que puntos están bien y cuáles no? Si observamos nos daremos cuenta que los puntos mal calibrados están muy finos y rasposos eso quiere decir que la boquilla esta muy pegada, si directamente la pieza no se pego a la base de impresión significa que están muy alejados. Pero cuando consigamos una buena calibración veremos que el punto impreso es liso y uniforme, esto es lo que tenemos que lograr a lo largo de todos los puntos.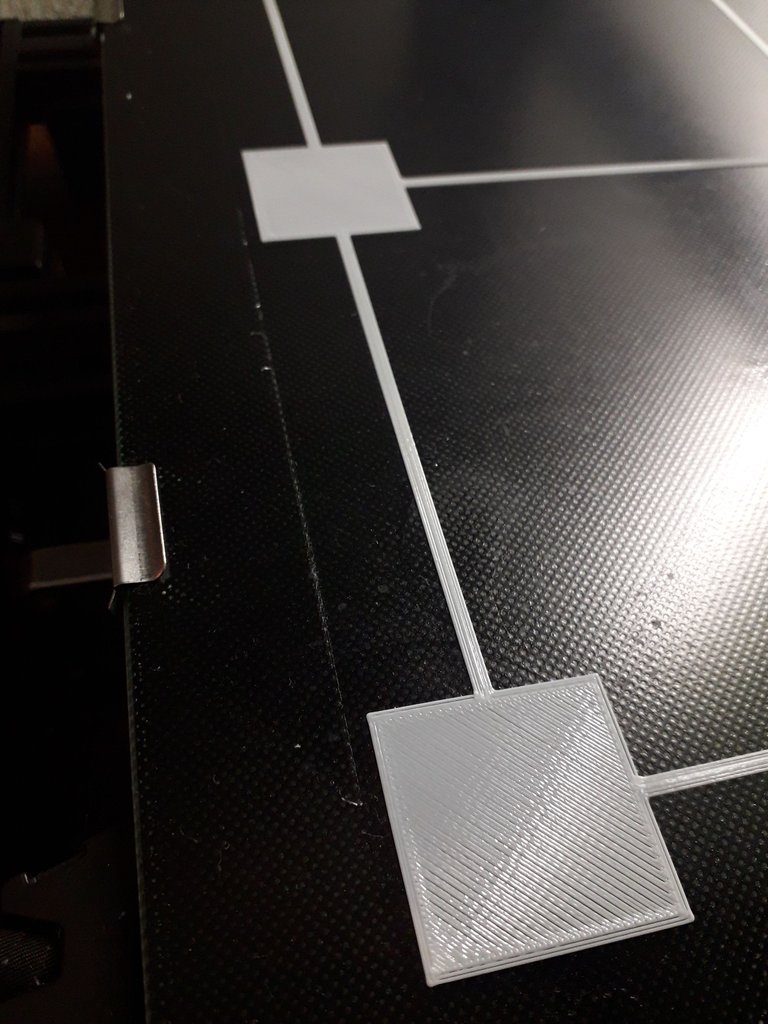 These are the tips I can give you, I always like to make life easier for a maker and to let you know the things I learned through trial and error. I'm Nitsu and I wish you a good week.
Estos son los consejos que puedo darles, siempre me gusta poder facilitarle la vida a algún maker y dar a conocer las cosas que aprendí por medio de prueba y error. Soy Nitsu y te deseo una buena semana.

My 3D printing works @nit_3dprinting
Mis trabajos de impresión 3D @nit_3dprinting
Translated by DeepL
Traducido con DeepL
All images are my own
Todas las imágenes son de mi autoría
My last post The magnificent Gameboy Color [ENG-ESP]
Mi último post The magnificent Gameboy Color [ENG-ESP]