Hola querida comunidad de makers soy Nitsu y esta vez estuve haciéndole unas reparaciones a mi primera impresora ya que hace un tiempo esta fuera de servicio debido a falta de mantenimiento. En otro posteo conté como adquirí esta impresora, que la traje de Paraguay y lo que me costo aprender a usarla bien. Este año en febrero la maquina esta cumpliendo dos años desde que empezó a fundir plástico y debido a que gran parte de su manufactura esta hecha con piezas impresas en PLA era hora de reemplazarlas porque con el tiempo, el calor y las vibraciones de la maquina estas se van desgastando, además que pienso vender la impresora y necesito que quede en optimas condiciones.
Hello dear community of makers I am Nitsu and this time I was doing some repairs to my first printer since it has been out of service for some time due to lack of maintenance. In another post I told how I acquired this printer, that I brought it from Paraguay and what it cost me to learn to use it well. This year in February the machine is turning two years since it began to melt plastic and because much of its manufacture is made with parts printed in PLA it was time to replace them because over time, heat and vibration of the machine these are wearing out, plus I plan to sell the printer and I need it to be in good condition.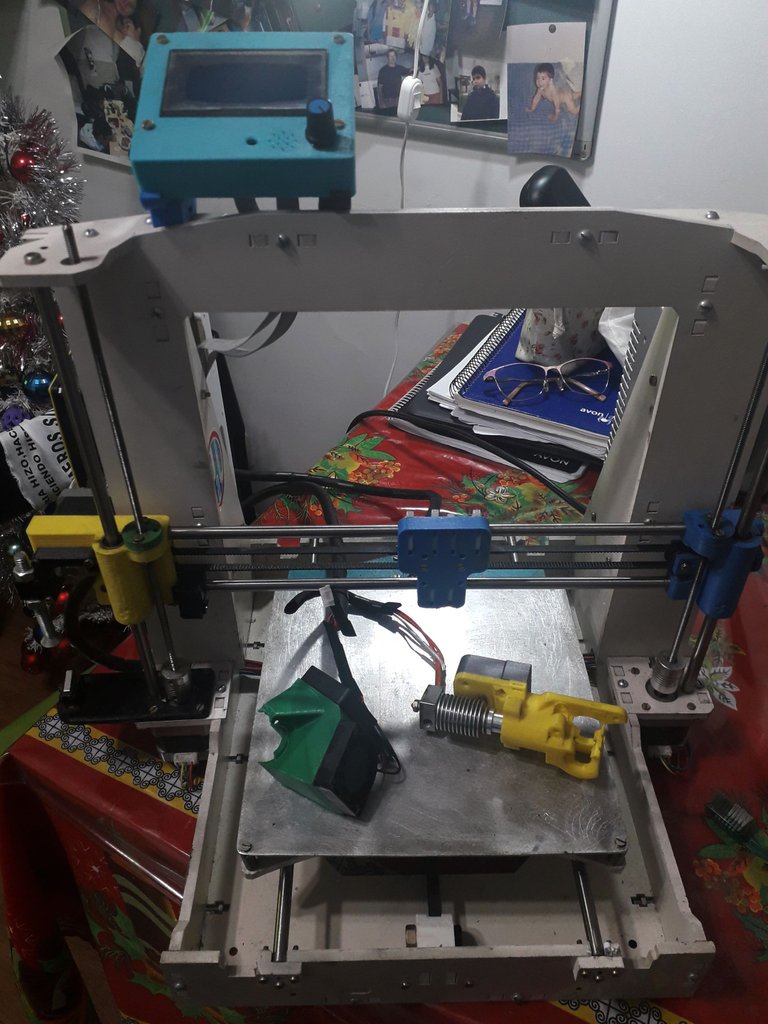 Empecé desarmando el extrusor y viendo cuales piezas era necesario reemplazar, luego revisé el resto de la estructura para notar que la pieza de PLA de la cama caliente estaba muy desgastada. Conseguí los STLs de las piezas que necesitaba y los que no conseguí (Que por suerte eran sencillos) los modelé en Solidworks y los imprimir.
I started by disassembling the extruder and seeing which parts needed to be replaced, then I checked the rest of the structure to notice that the PLA part of the hot bed was very worn. I got the STLs of the parts I needed and the ones I didn't get (which luckily were simple) I modeled them in Solidworks and printed them.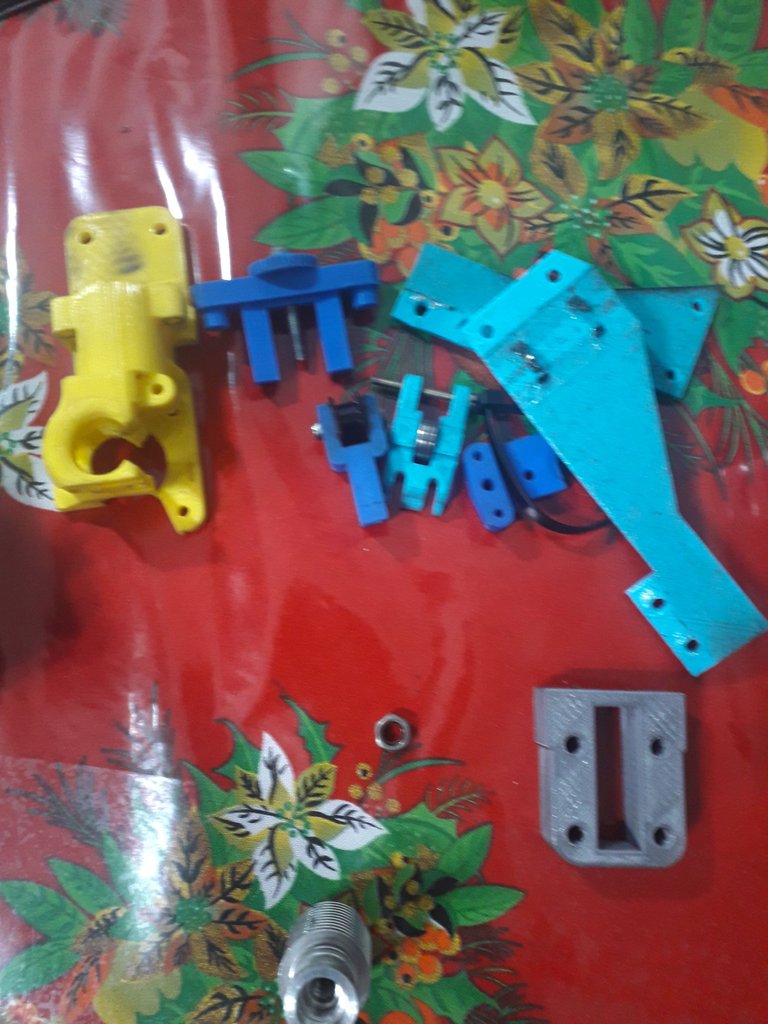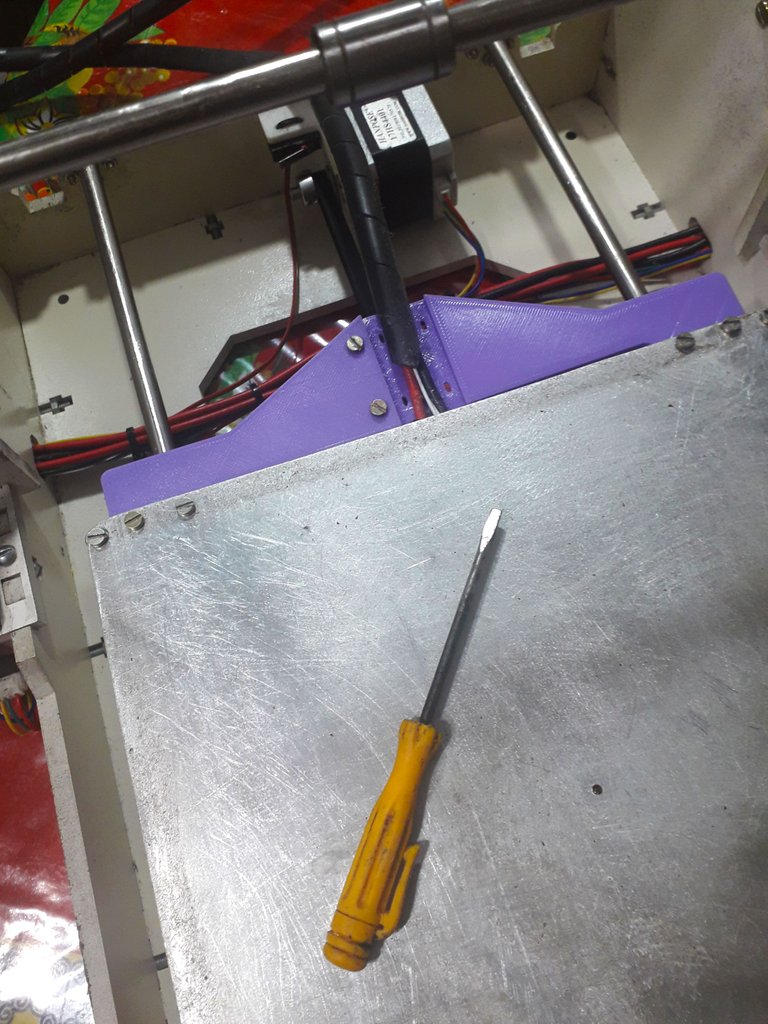 Utilice mi Ender 3 para hacer las piezas mientras yo me encargaba de lubricar las guías, revisar los motores y ajustar las correas. También aproveche para ajustar muchos tornillos flojos, consecuencia del uso y las vibraciones de la propia máquina. Uso grasa de litio para lubricar las guías, me lo recomendaron así que empecé a usarlo, por suerte se vende en potes pequeños que para el uso que le doy duran muchísimo.
I used my Ender 3 to make the parts while I lubricated the guides, checked the motors and adjusted the belts. I also took the opportunity to tighten many loose screws, a consequence of the use and vibrations of the machine itself. I use lithium grease to lubricate the guides, it was recommended to me so I started using it, luckily it is sold in small pots that last a lot for the use I give it.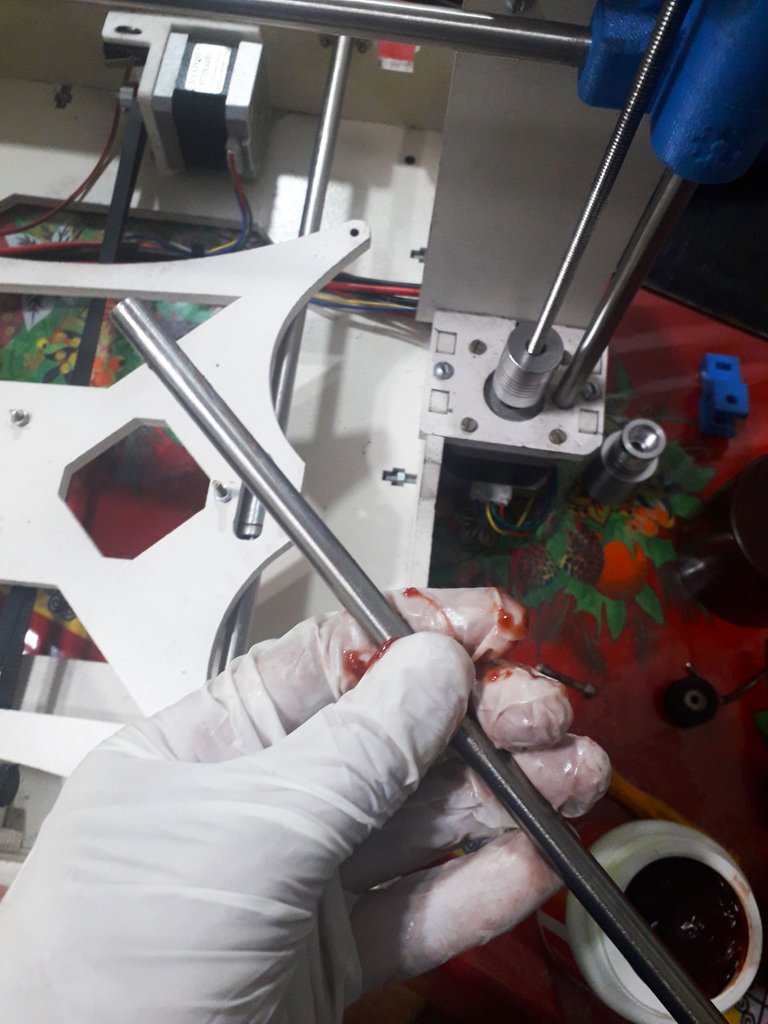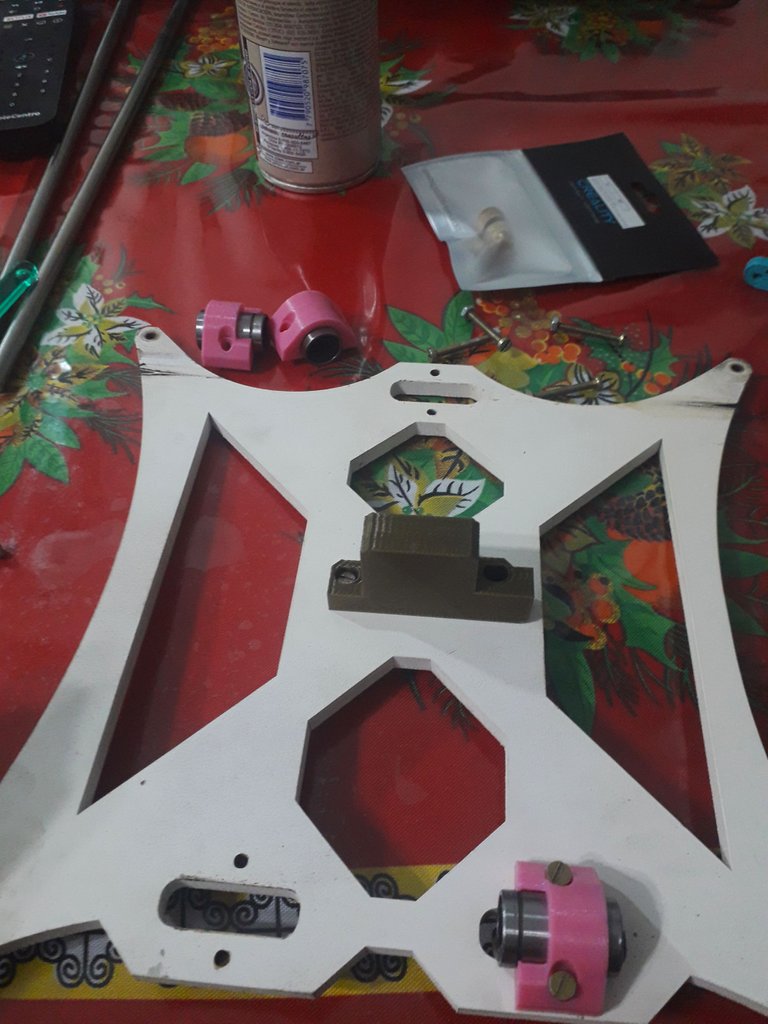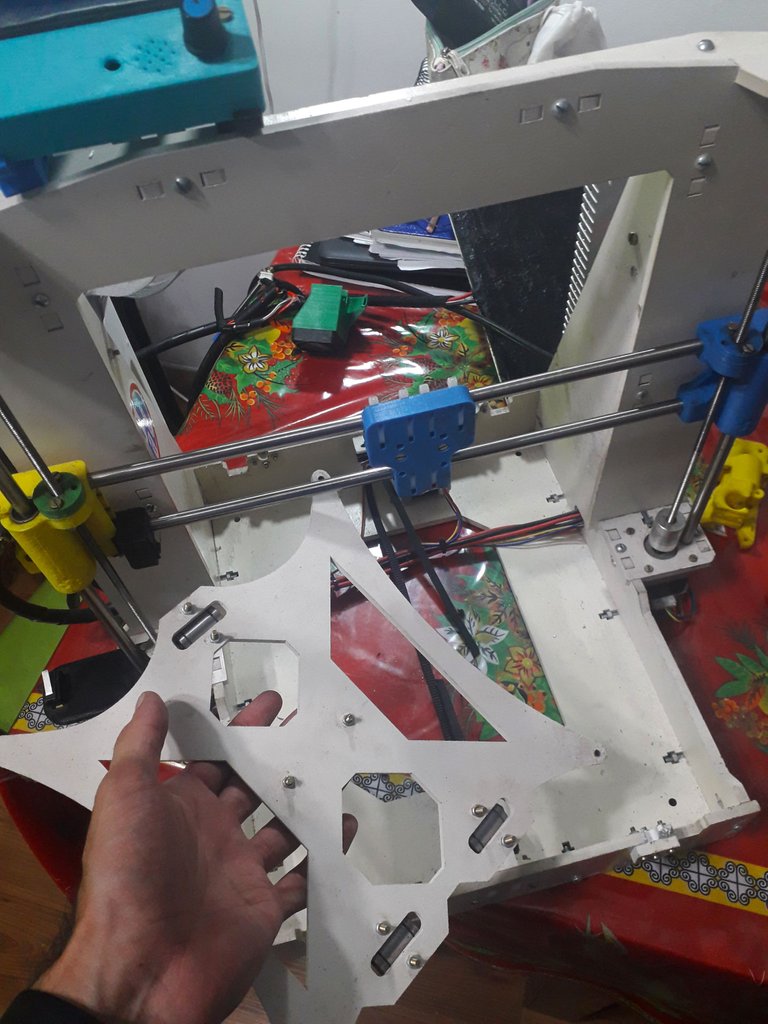 Revise los cables de la placa madre, note que se había salido un conector del ventilador de capa, con los movimientos y limpieza pueden suceder estos accidentes, así que cualquier problema que tengas después de darle un mantenimiento profundo a tu impresora o de moverla mucho es debido a esto y hay que estar muy atento para no asustarse o llevarse sorpresas.
I checked the motherboard cables, I noticed that a connector had come out of the fan layer, with the movements and cleaning these accidents can happen, so any problem you have after giving a deep maintenance to your printer or moving it a lot is due to this and you have to be very careful not to panic or get surprises.
Monte las correas y fui ajustando con precintos los rodamientos, arme todo el extrusor y aproveche para cambiar el teflón Capricorn que estaba desgastado por las altas temperaturas, si no cambiamos el teflón cada vez que se estropea nos puede traer muchísimos problemas de atascos.
I assembled the belts and adjusted the bearings with seals, assembled the whole extruder and took the opportunity to change the Teflon Capricorn that was worn by the high temperatures, if we do not change the Teflon every time it breaks down it can bring us many problems of clogging.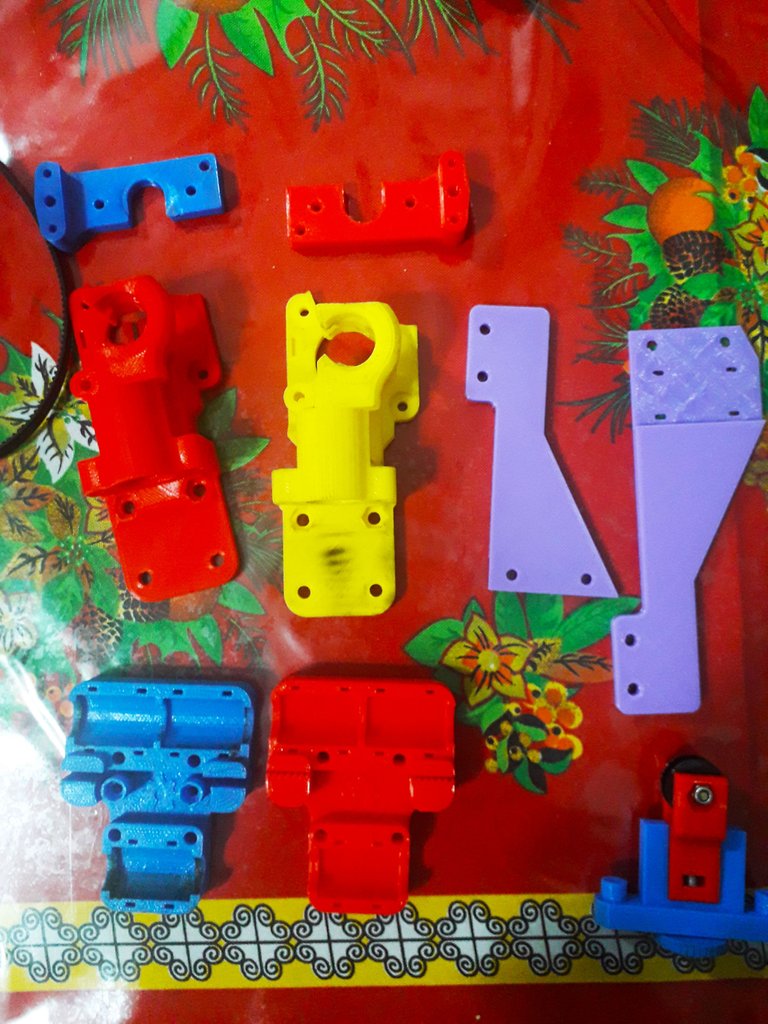 Hice un repaso general, saque el polvo que venia en las correas y otras zonas e hice algunas pruebas de impresión para asegurarme que todo fuera bien. Imprimí durante varias horas y fui cambiando los archivos para probar las retracciones, todo parecía estar correcto así que volvió a su funcionamiento normal. Lo único que resta es venderla. Personalmente disfruto estas reparaciones y hacer los mantenimientos, cuando salen bien y no traen otros problemas, por eso es importante hacer estos trabajos con tiempo y paciencia ya que muchas veces me paso que por la frustración o por estar apurado en un principio tenia un problema que se me convirtieron en mas al romper otras piezas por forzarlas.
I did a general overhaul, removed the dust from the belts and other areas and did some test printing to make sure everything was OK. I printed for several hours and kept changing the files to test the retractions, everything seemed to be correct so it went back to normal operation. The only thing left to do is to sell it. Personally I enjoy these repairs and maintenance, when they go well and do not bring other problems, that's why it is important to do these jobs with time and patience because many times it happened to me that out of frustration or being in a hurry at first I had a problem that became more when I broke other parts by forcing them.