¡Hola Makers de Hive! Soy Agustín y hoy vengo a mostrarles esta replica de arma del juego Warframe que estuve fabricando a la largo de unos meses, voy a contarles el proceso de impresión, cantidad de piezas, tiempo y post procesado, hasta la finalización del proyecto.
Hello Hive Makers! I am Agustín and today I come to show you this replica of the weapon from the Warframe game that I was manufacturing for a few months, I am going to tell you about the printing process, number of pieces, time and post-processing, until the end of the project.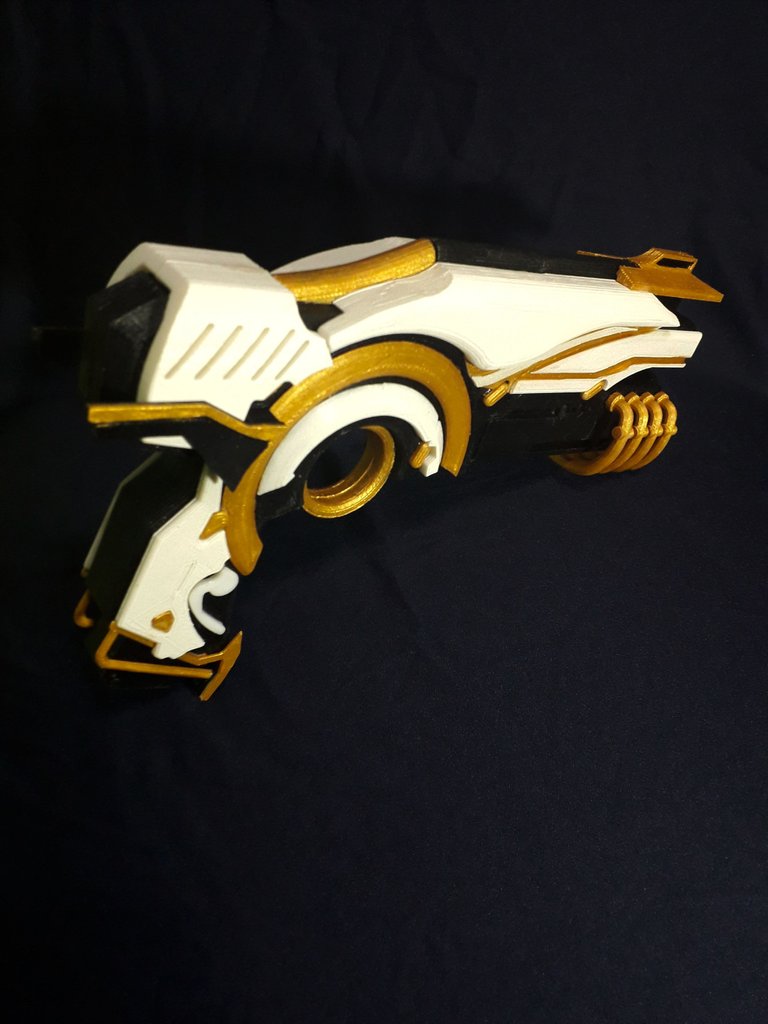 Voy a hacer una breve introducción, el juego Warframe es un juego gratis de disparos en tercera persona, con un entorno futurista. Si tuviera que resumir el concepto del juego con palabras diría: - Espacio, ninjas y farmeo.
I will make a brief introduction, the game Warframe is a free third-person shooter game, with a futuristic environment. If I had to summarize the concept of the game with words I would say: - Space, ninjas and farming.
Siempre me gusto el arte conceptual de las armas y los personajes de este universo, en especial del arma conocida como "Lex prime". Todo ese ornamento, lo compacto del arma, la mezcla entre los colores negro, blanco y dorado, logrando trasmitir en alguna forma elegancia y opulencia.
I've always liked the concept art of the weapons and characters in this universe, especially the weapon known as "Lex prime." All that ornament, the compactness of the weapon, the mixture between the colors black, white and gold, managing to transmit in some way elegance and opulence.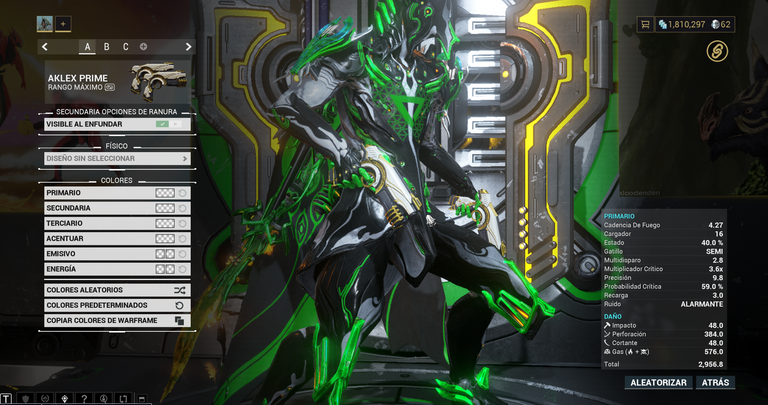 Con la adquisición de mi impresora en 2020 decidí meterme en este proyecto, mi primer gran proyecto con la impresora 3D. Los archivos de impresión los conseguí en el sitio web de "Myminifactory" fue modelado por el usuario Bart van der Westerlaken (Shrubsy) y lo brindo gratuitamente a la comunidad.
With the acquisition of my printer in 2020 I decided to get into this project, my first big project with the 3D printer. The print files I got from the "Myminifactory" website were modeled by user Bart van der Westerlaken (Shrubsy) and provided free to the community.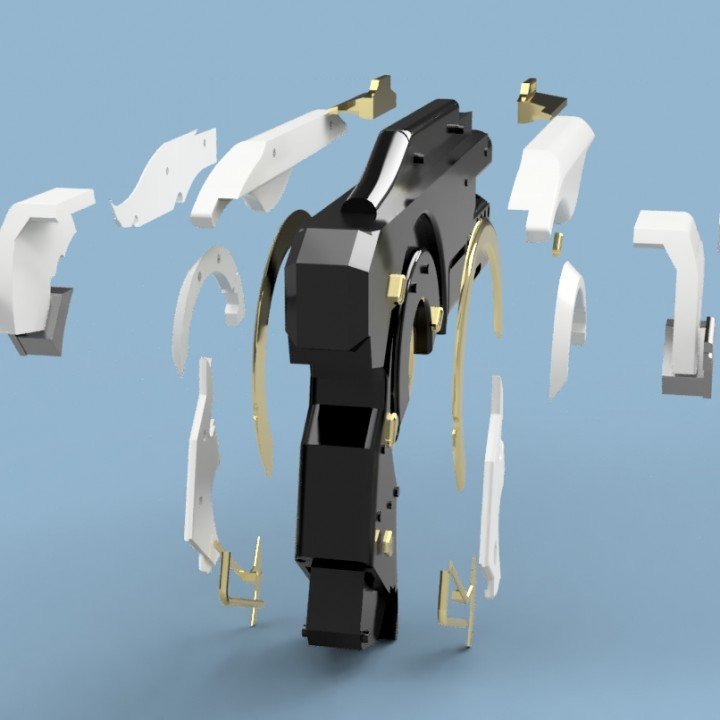 https://www.myminifactory.com/object/3d-print-lex-prime-warframe-64738
La replica de esta arma cuenta con unas 31 piezas, el total de horas de impresión fueron unas 50 horas aproximadamente, sin contar el post procesado que consiste en lijar y pintar. En cuestión de material utilizado fueron unos 246 gramos de PLA (Un tipo de plástico a base de maíz).
The replica of this weapon has about 31 pieces, the total printing hours were approximately 50 hours, not counting the post-processing that consists of sanding and painting. In a matter of material used, it was about 246 grams of PLA (A type of plastic based on corn).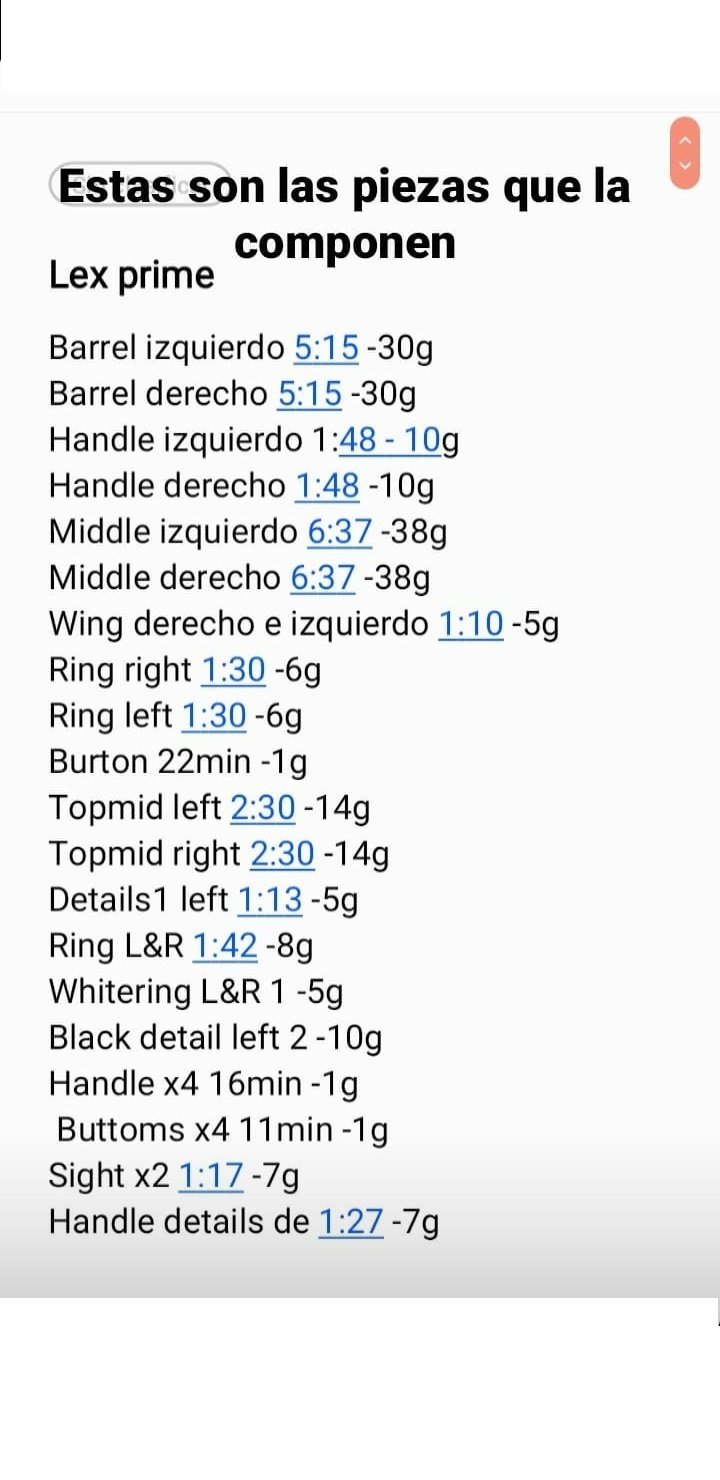 Cuando tuve todas las piezas, comenzó el momento donde tenia que empezar a lijar para lograr una superficie homogénea, esto sirve para evitar que se noten las líneas de impresión generadas por el método de deposición capa tras capa. Un consejo que puedo dar para lijar PLA es utilizar lijas al agua, comenzar con un grano de lija grueso e ir bajando hasta uno más fino para obtener una superficie fina y liza, es muy importante lijar al agua debido a que la fricción puede ablandar el material y dañar la pieza; el agua evita esto y además no quedan rayaduras. Otra cosa que recomiendo es utilizar un taco para lijar y protección para los ojos ya que en mi caso el polvo generado me los irrita.
When I had all the pieces, the moment began where I had to start sanding to achieve a homogeneous surface, this serves to avoid noticing the print lines generated by the layer after layer deposition method. A tip I can give to sand PLA is to use water-based sandpaper, start with a coarse sandpaper and work your way down to a finer one to obtain a fine and smooth surface, it is very important to sand with water because friction can soften the material and damage the part; the water avoids this and in addition there are no scratches. Another thing that I recommend is to use a sanding block and protection for the eyes since in my case the dust generated irritates them.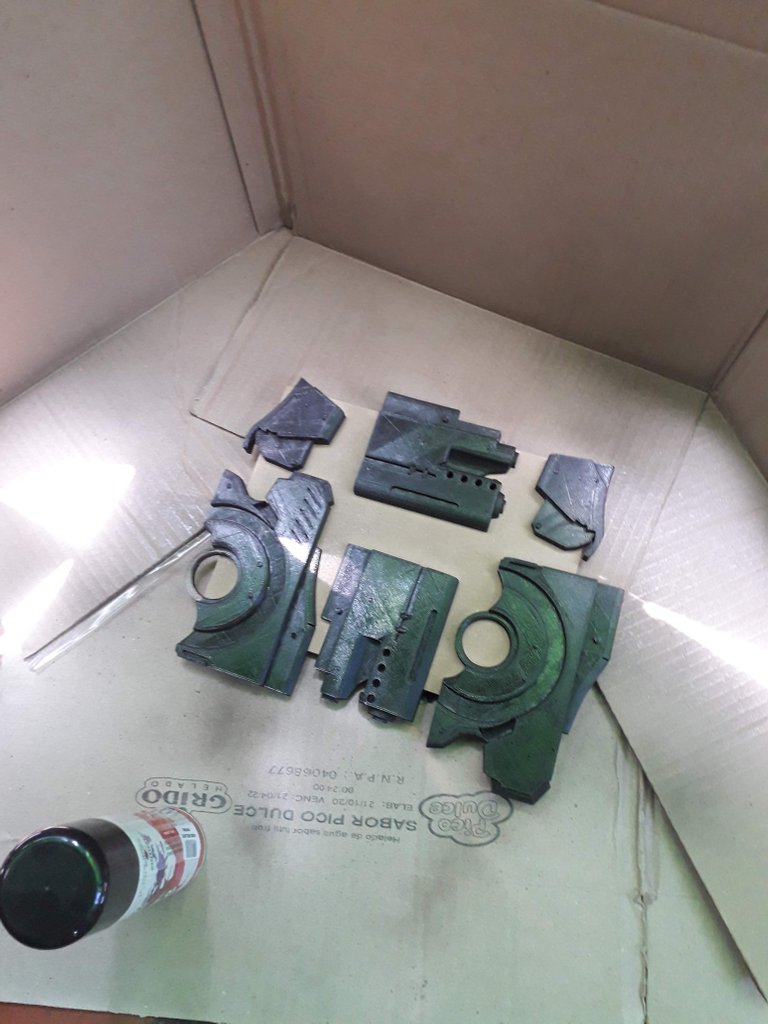 Las piezas blancas y negras tienen el color del propio material, aunque decidí utilizar un poco de aerosol negro para cubrir las piezas negras, les di unas tres capas con un tiempo de 15 minutos entre capa y capa. Recomiendo pintar en una zona abierta donde no puedan manchar nada. Si van a pintar por un tiempo prolongado usen protección adecuada para no respirar las microgotas de pintura.
The black and white pieces have the color of the material itself, although I decided to use a little black spray to cover the black pieces, I gave them about three coats with a 15 minute time between coats. I recommend painting in an open area where they cannot stain anything. If you are going to paint for a long time, use adequate protection so as not to breathe the microdrops of paint.
En las piezas doradas utilice acrílico. Tuve que enmascarar con cinta de papel para pintar algunos detalles en dorado. Posteriormente fui uniendo las piezas en su lugar correspondiente (Como muestra la gráfica) pegándolos con un pegamento de resina Epoxy, lo que garantiza una unión firme luego de secar.
In the golden pieces use acrylic. I had to mask with paper tape to paint some details in gold. Later I was joining the pieces in their corresponding place (As the graph shows) gluing them with an Epoxy resin glue, which guarantees a firm union after drying.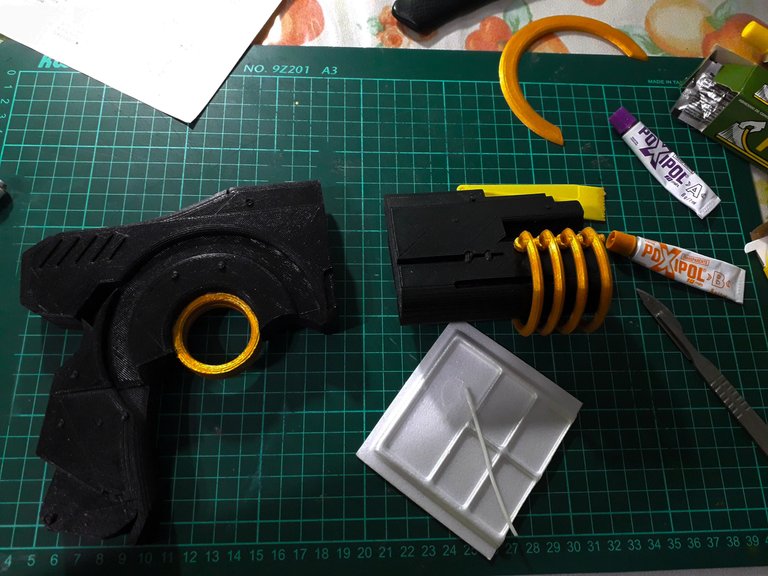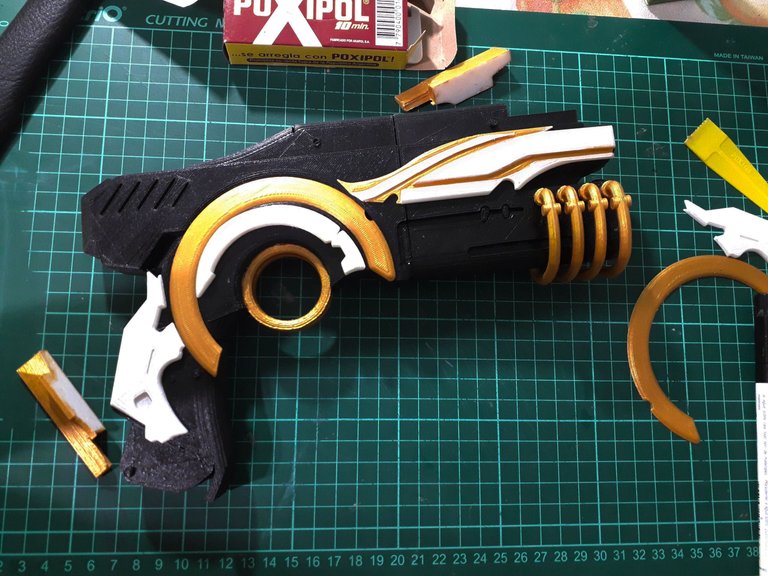 Resumiendo un poco, la pintura en aerosol y a mano, el lijado y la unión de piezas habrán sido unas 12hs totales de trabajo.
In short, the spray and hand painting, the sanding and the joining of pieces will have been a total of 12 hours of work.
Conclusiones
Considero que si invertía un poco más de tiempo en lijar algunas piezas hubiera obtenido un mejor acabado final, no es un mal trabajo en mi opinión. Estoy conforme con el producto final y además me sirvió para practicar la impresión de piezas muy variadas (Ya que cada pieza de impresión tiene una configuración diferente al tener morfologías tan complejas).
Conclusions I think that if I spent a little more time sanding some pieces I would have obtained a better final finish, it is not a bad job in my opinion. I am satisfied with the final product and it also helped me to practice printing very varied pieces (since each printing piece has a different configuration due to having such complex morphologies).