Greetings again to the universe of hive lover of science and biology, continuing with the work of photography of the small natural world and other spaces, for this day I called much attention to the flower of the auyama, which highlighted its beauty under the soft drizzle, which made it look very delicate.

But really we all know about the auyama, only that it is very good in food, but it really is the flower that has great contributes to science, you see it is of the family of cucurbitaceae such as Lagenaria and Cucurbita, in which they are associated with the habit of climbing plants, where there are great variety but the most common we have: Cucurbita pepo, C. maxima, C. moschata, C. argyrosperma, are species that do not hybridize with each other.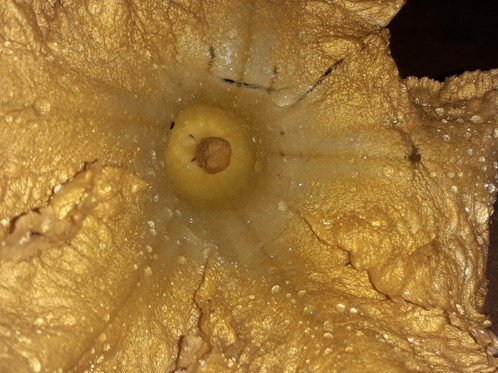 The most particular of this flower for those as my person where I include myself did not know the following, it is already part and recognized as a food, which is recommended by the beneficial contributions it provides to our body, which has the property that can be prepared raw and also cooked. Intrinsically this flower considering a portion of 100grs gives us the following: 94-95 grams of water, 0.24 grams of fat, calcium between 39 and 47 grams, apart from iron, potassium, magnesium, in smaller proportions, it seems untrue but it is true, apart also contain vitamins A, C, B1, B2, B3 and B9.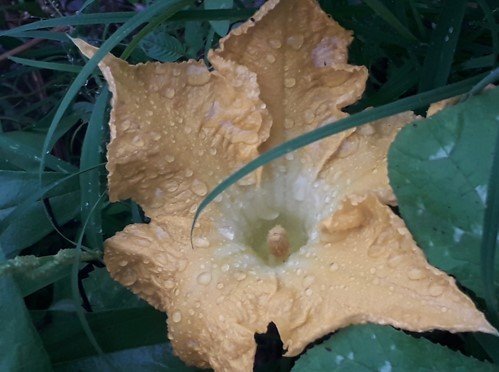 Vegetables are a group of vegetables in which the edible part consists of green organs (leaves, stems or inflorescence). According to the part of the plant that is used as food, they are differentiated into:
[1]-Roots and tubers (potato, carrot, beet, radish, etc.).
[2]-Bulbs (onions, leek, spring onion, etc.).
[3]-Leaves and tender stems (lettuce, chard, spinach, etc.).
[4]-Sprouts (red cabbage, cabbage, cauliflower, etc.).
[5]-Vegetable fruits (cucumber, tomato, bell pepper, green bean, pumpkin, pea, eggplant, etc.).
Information consulted in Food Microbiology: Analytical Methodology for Food and Beverages... by Diana Ximena Suárez Moreno, 2003.

The most important its benefit for our organism, thanks to great studies in the field of nutrition, biology and medicine achieved evidence:
It prevents the oxidation of LDL (which is a low density lipoprotein), also promotes the formation of white blood cells, which strengthens the immune system favors the production of repair enzymes, if it was not more to have the property of increasing the formation of repair enzymes and anti-cancerous, its action is effective that immediately, activating the enzymes responsible for stimulating block the development of malignant cells, which can form within our bodies.

One of the important points, which was that I called my attention is that it prevents the oxidation of LDL, since:
Hypercholesterolemic diets cause an impairment of endothelial function, which seems related to the damage caused by low density lipoproteins (LDL), and especially oxidized LDL, in this tissue. The exact processes leading to LDL oxidation are not known in vivo, but when oxidation of this protein takes place, its structure undergoes changes, including the conversion of phosphatidylcholine to lysophosphatidylcholine.
Information consulted in Función y disfunción endotelial by María Amaya Aleixandre de Artiñano, Ana Isabel Ortega Mateo, 2000.

Aditional continuing with its benefits for the organism, this flower is a carrier of vitamin A, it plays the role of preventive agent of visual pathologies such as: cataracts, diabetic retinopathy, it is truly is a fantastic flower, I used to vote it without knowing it, now I take care of it and with respect to its care, it is recommended to consume it fresh, since it does not tolerate a long time after being harvested, apart those are considered apt, the one that are free of agrochemical, chemical fertilizer, insecticide, since this flower tolerates various types of climate, it can be treated in an ecological way.

All photos were taken by @newton666 using Samsung J4.

[1]- Food Microbiology: Analytical Methodology for Food and Beverages... by Diana Ximena Suárez Moreno, 2003.

[2]- Endothelial Function and Dysfunction by María Amaya Aleixandre de Artiñano, Ana Isabel Ortega Mateo, 2000.