Dear readers, we are again participating in the question of the week sponsored by
@ecotrain
, we consider that interesting topics related to the environment and climate change are being addressed. Last week we talked about sustainability, whose approach is related to achieving a balance in ecosystems to reduce climate change among other things. In that sense, to the question of the week we firmly answer that for the reduction of climate change new production models must be implemented in different economic areas, such as the agricultural area. In the previous article it was mentioned that in society came a point where the economic thing began to prevail over the quality of life healthy food, ecosystems free of pollution among other elements that translate into better human well-being.
Beautiful sunset in a livestock ecosystem of the South of Lake Maracaibo Venezuela.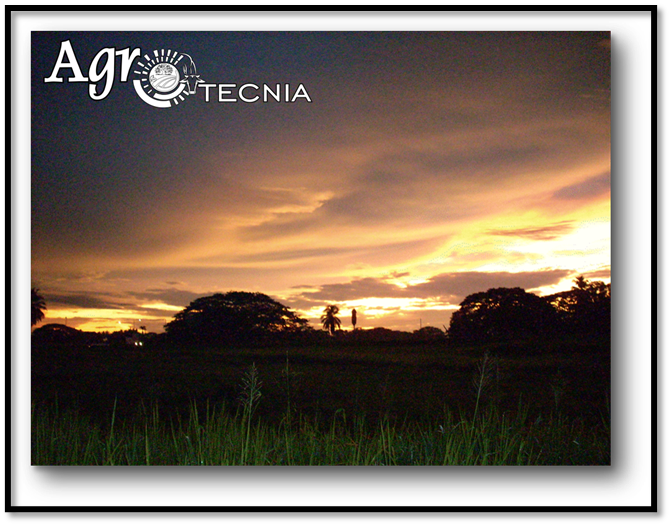 AGROTECNIA design by @amestyj and @pinedaocl with own images.
With the advent of the industrial revolution, we went from a traditional agriculture based on strategies a little slow to produce but very friendly to the environment, to conventional agriculture based on technological packages made up of synthetic products which, apart from generating pollution in ecosystems, generate certain gases that have a high influence on the atmosphere, in my view, I would call this way of producing dependent agriculture, because they significantly reduce the natural processes generated by functional biodiversity, leaving agrochemical use as the only alternative to increase production.
Because of the above, in the agricultural sector many producers, technicians and scientists asked the same question: What can be done to reduce pollution of ecosystems, climate change and remain productive? the answer was forceful, it must be integrated into the ancestral technical agroecosystems of the traditional agriculture of our grandparents, from these concerns arises the agroecological paradigm known as AGROECOLOGY, which is a science based on the use of productive alternatives that enhance natural processes, such as nutrient recycling, also began with the study of some local resources that can be used to increase production at a lower cost and in an ecological way.
Agroecology is a synonym of sustainable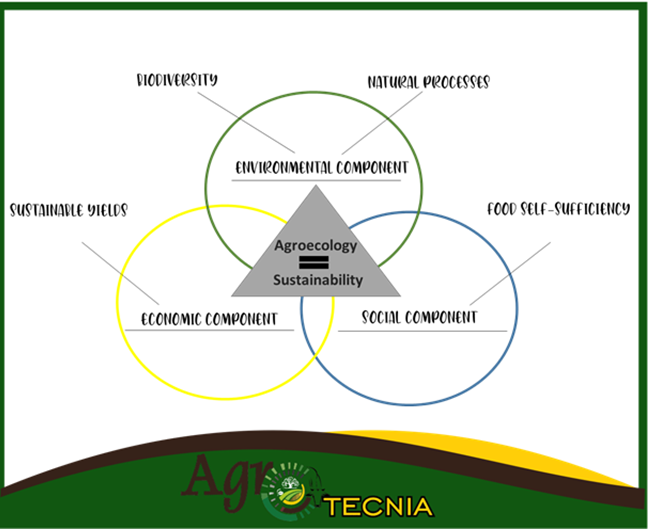 AGROTECNIA design by @amestyj and @pinedaocl with own images.
On the other hand, we all know that climate change is influenced by the excessive accumulation of greenhouse gases such as methane (CH4) and carbon dioxide (CO2). Agricultural activity is one of the sectors that can produce and capture this type of gas. For example, when you want to establish an agricultural space you begin to deforestate the trees present in the natural ecosystem, these trees capture part of the carbon dioxide present in the atmosphere which causes more CO2 to accumulate, Cattle that produce methane are also introduced into agricultural ecosystems, which is why there have been campaigns against meat consumption. I particularly think that cattle managed on grasslands that feed naturally on pastures are not a danger to the environment, and their excreta can be efficiently managed for the production of fertilizer or biogas.
Image of a livestock system and the way the cattle emit the métano.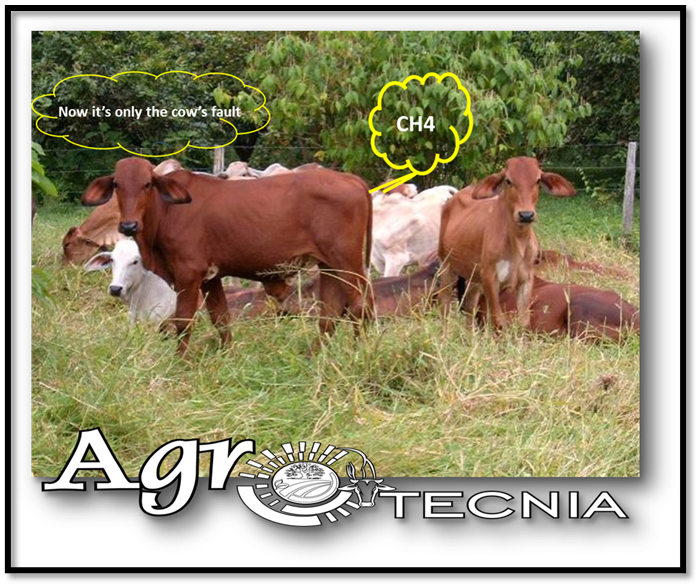 AGROTECNIA design by @amestyj and @pinedaocl with own images.
To mitigate these effects, in the agricultural sector ecological alternatives can be implemented, such as planting trees in livestock systems that generate enough shade for animals and these in turn voluntarily consume the pastures. Silvopastoral systems can also be established which consists of associating shrubs and grasses, with the intention of generating an ideal microclimate for the animals, enhancing the recycling of nutrients through the leaves of trees and their decomposition in the soil and the uptake of carbon that is fixed to the soil. It is an ecologically ideal system as it generates money and keeps the ecosystem in balance.
Dear readers, I am sure that there are ecological responses from different areas to minimize climate change, sustainable development seeks precisely that, live in harmony and ensure the quality of life of future generations, You just have to have the will and start applying strategies at small scales until you make it daily and in this way you can replicate our experiences.
If you want to read more about it, I invite you to read the following articles published in our blog hive:

From agrotecnia we reiterate our gratitude to our followers and all the communities that value our agricultural content, this commits us to continue sharing quality information with the whole hive.