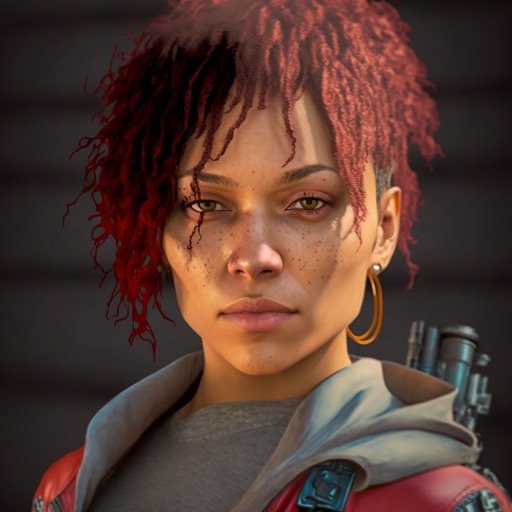 You can tell by someone's lingo whether they are really into something or not.
As you can see by the title of this post I am not a true gamer 😂. Well, at least in the sense of what it used to be (these are my thoughts and perceptions so they could be off just a bit lol).
I was one back then who was enthused by getting our first game systems. First we received an Atari, then came the Nintendo, next was our Sega Genesis and finally the X-box (I believe I was a teen by the time those came out).
My siblings and I played these games till they didn't work anymore 😆. I was a true competitive gamer and loved the full experience of it.
Fast forward to now, I play occasional games on my phone or iPad. I also jump in on Fortnite or the Apple TV games when my kids force ask me to. But I don't consider myself a real gamer person since I don't game as often as my family does. Come on, you guys know I'm all about that needlework life! 😜
Anyhoo, my brother recently started talking this AI language to me about how he was exploring some amazing things and new ways to create graphics. I wasn't really amused or interested because I didn't know much about it.
He knows that showing me instead of just explaining will grip my attention more.
While I was out grocery shopping this week I get a text with this image he generated on Midjourney. He used a recent photo of me and from my understanding it is an idea or an imagination of what I would look like in this form based on my profile from that pic.
I think he was having too much fun and got carried away adding the gun knowing I'm not a gamer 🤦🏽‍♀️😄. I actually really like the image though. It was time I added something different for the new year so it is now my Hive profile.
This image was the original he sent me before adding the other details.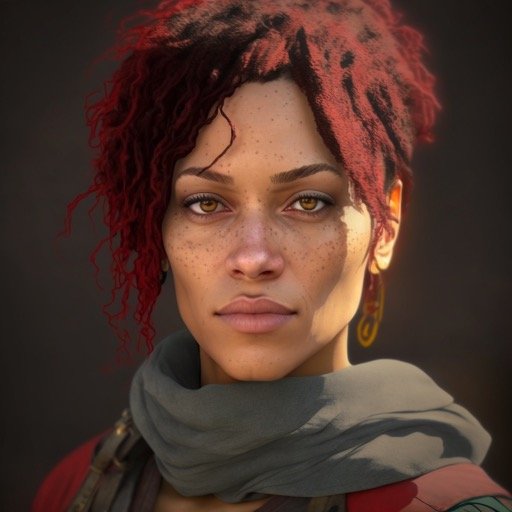 It's a much softer version with the structure of her face, less detailed jacket and of course no weapon. Even the scarf she was wearing on this one makes it more supple. This image doesn't look like a gamer one but it's more my style.
I struggled picking which one to use as my profile because even though this softer version is more my taste that gamer chic version looks so much more awesome. 😅😎
It's something about her rugged look that draws me in lol.
What I do like better about this photo is that she is looking straight on at the camera which is what I was doing in my photo.
He also sent me this pixelated looking image…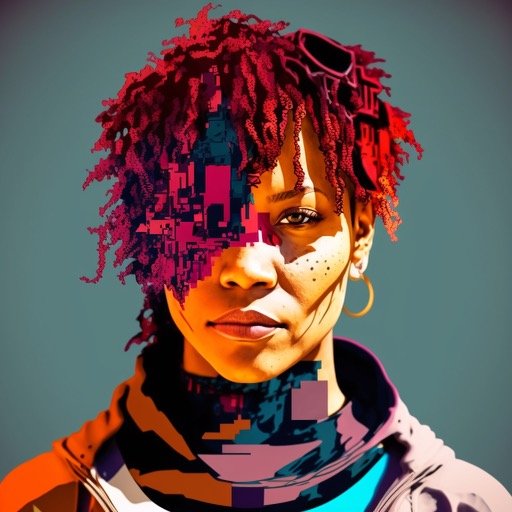 This one doesn't look like me as much as the first one but it's so striking! I love the colors and vibrancy of it and how a section of the hair looks regular while the other pixelated. It's really the same with the rest of her body, like a half and half situation.
So of course I show my husband and he loves the images. I'm sure you can guess what he does next. He finds a photo of himself to send to my brother to get gamified. 😂
He sent my husband's to him that same night and I must say I really like his too.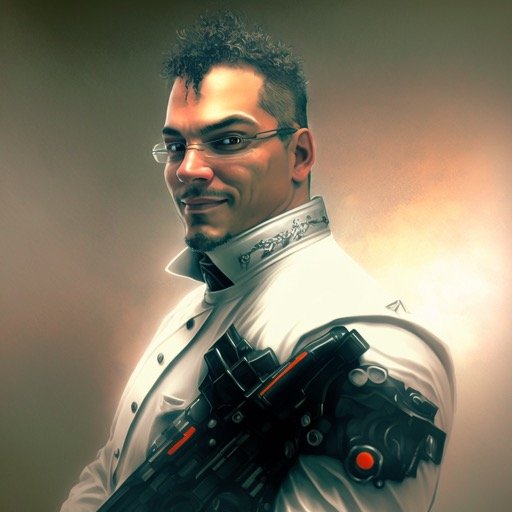 I love how clean it looks and it definitely looks very similar to him.
I think we make a pretty good looking gaming couple. 😍😅🤭
He also got an additional option from my brother. He likes this one the most because he plays sniper mode in Battlefield and other games and this pic depicts that more…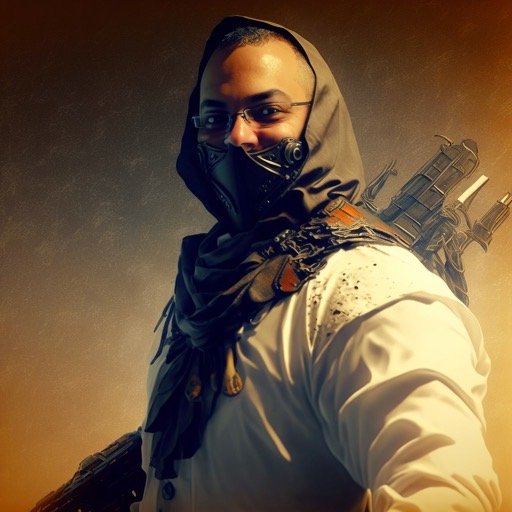 This will be the image he uses as his gaming profile.
I kind of feel like this AI stuff is like a fantasy world where you can imagine up anything you'd want to be and make that come to life through these images. It's like another layer of virtual reality.
Since receiving these from my brother I've been more interested in looking into what this is really all about and some of the background of where it's coming from.
I've read and even seen here on Hive many opinions about it and the questioning of the morality of it all. I even see that some are nervous and fearful of the direction we are heading in with the developments of this technology.
I have always said that while people think movies are just entertainment I know there is so much more to them than just that. I feel movies give us a glimpse into the future about what's in store for us. When I, Robot came out years ago I remember saying to myself "I don't want to be around when this crazy stuff breaks out". 😳🙅🏽‍♀️
Hmmmm, doesn't look like we are too far from it now. 😬
That's all I'll get into about that. I feel I don't know enough about this AI subject to really shape a solid opinion yet.
I will say that I don't plan on doing much with any of this other than what I have already done…using the images for profile pics. I am quite amazed at the graphics and enjoy looking at them.
I'll leave you with two more images he did of his younger daughters. I thought they were so cute and the girls really liked them too.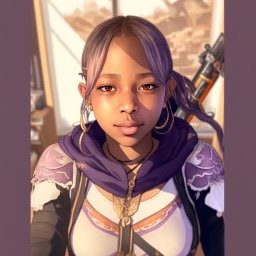 I'm not a Gamer is signing off. 🤣


Shoutout to @doze for making his awesome Hive graphics available for use. The new background banner I used is all credit to his work. I love it! He's been added on as a beneficiary of this post as my thank you. 😊


Thanks for Reading ~