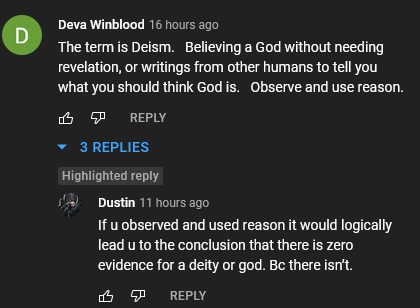 Deva Winblood
16 hours ago
The term is Deism. Believing a God without needing revelation, or writings from other humans to tell you what you should think God is. Observe and use reason.
REPLY I RECEIVED:
Dustin
Dustin
11 hours ago
If u observed and used reason it would logically lead u to the conclusion that there is zero evidence for a deity or god. Bc there isn't.
MY RESPONSE:
@Dustin - Research Simulation Hypothesis. Also realize because we have not observed a thing is NOT evidence for its non-existence. We can only reason properly about things we CAN observe. There are many things we know exist today that we cannot OBSERVE with our naked senses. Does that mean they just popped into existence when we developed tools to measure them? I'll tell you now that ABSOLUTES and DOGMA of which you are also pushing just like those that push the dogma of various religions is a narrow minded thing. One is not better than the other. I am a Deist though I used to call myself an Atheist/Deist being well aware of the contradiction. In thinking long and hard about the Simulation Hypothesis I decided it is probable in my mind. That implies a creator. It doesn't mean the creator is a supreme being and it doesn't mean I endorse any of the books written by other humans telling me what the creator is. Yet unlike most people I don't hold onto my views as an absolute. I change my mind as I encounter new ideas, new information, and new perceptions. I am aware there are things I cannot nakedly observe that exist.
ANOTHER REPLY I RECEIVED:
Another Cat
16 hours ago
I observe that you're telling us a revelation about God and who you think God is to other humans.
The earliest Christian Tradition emphasizes that God is immeasurable. Our thoughts about what God is is always a compromise and is always incorrect.
MY FIRST RESPONSE:
Deva Winblood
1 second ago
@Another Cat - Nope I didn't tell you ANYTHING about God. I didn't tell you one single trait. Try again...
I felt compelled to give a longer response:
Deva Winblood
Deva Winblood
1 second ago
@Another Cat - Which tradition? The ones compiled in the Bible by the Council of Nicea at the behest of Roman Emperor Constantine over 300 years after the time of Christ? Or do you mean some of those that have been found in things like the Dead Sea Scrolls? Perhaps you are referring to Judaism which is where most of the old Testament comes from, I mean after all Jesus was a devout and practicing Jew. That is not said as a bad thing just to offer a perspective people may not be aware of. I actually collect bibles and religious texts. I have a lot of them. I give them a lot of thought. They have been edited too many times and often compiled and edited by groups I do not see reason to trust. I still value the texts. To me they simply are not the word of God, but the word of man/humans. They are quick to change them when they don't like something. This is not unique to Christianity by the way. I've seen this in all religions that push a dogma or a "way". I am a Deist. I believe in a creator. My bible is what I can observe. i see the wonders in biology, geology, physics, etc. I don't try to define that creator and I am also not so arrogant to say the creator is something and try to force other people to agree with me.
---
EDIT: Interesting thing about being a Deist...
We get attacked by the atheists and the devout religious...
Yet most people don't know that
Founding Father Thomas Jefferson was a Deist.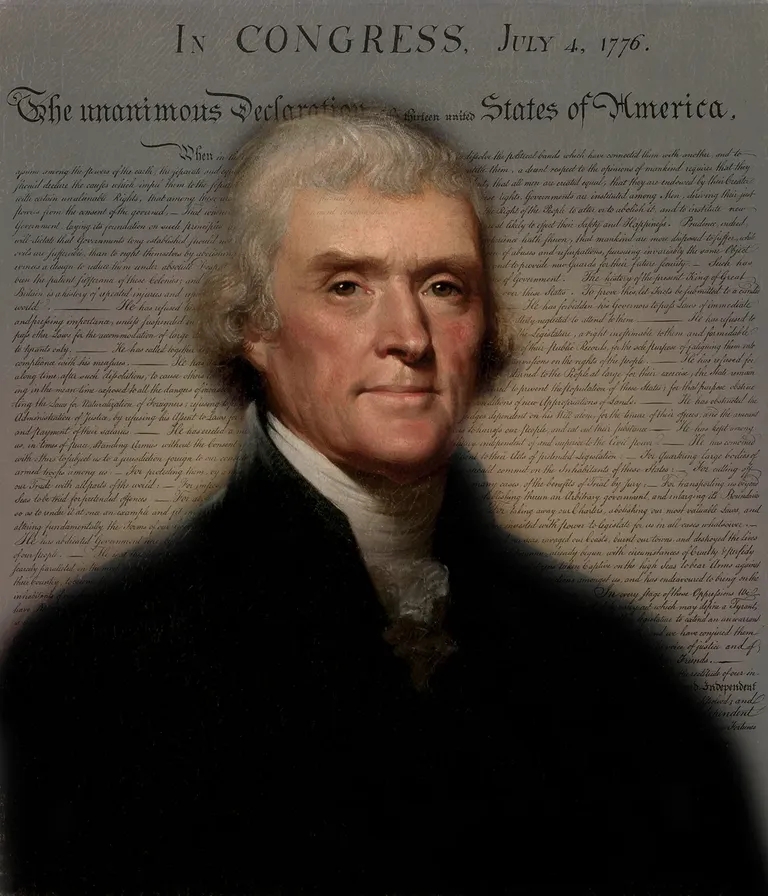 Founding Father Thomas Paine was a Deist.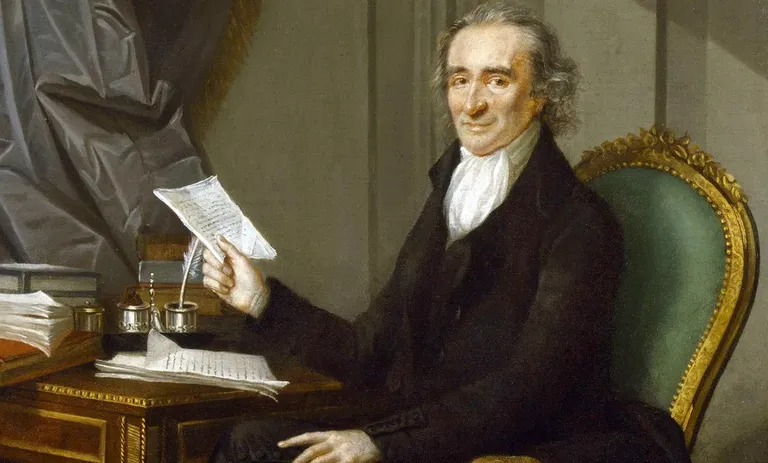 ---
Jefferson wrote the Jefferson Bible which is the Christian Bible with Revelations, Miracles, etc. removed. He did the same for the Qur'an I believe. I do not go that far. I don't feel the need to rewrite anyone's texts. I can read a thing without requiring the entire thing to be true to me. I can still find value, moral teaching, history, and philosophy. Yet some people DO think they must agree with everything in a text. Perhaps this is why Jefferson chose to write his edited versions.
Thomas Paine wrote "Common Sense" which arguably was the brushfire that lead to the Revolutionary War. It has been stated that without that publication there very likely would be no United States of America. After the war he went on to write the text "Age of Reason" which was a very Deist text and he was attacked and angered a lot of people for writing it. Unlike Jefferson, Paine did show his anger at organized religions within his later writing. This tends to happen when people have been on the receiving end of discrimination or persecution due to beliefs.