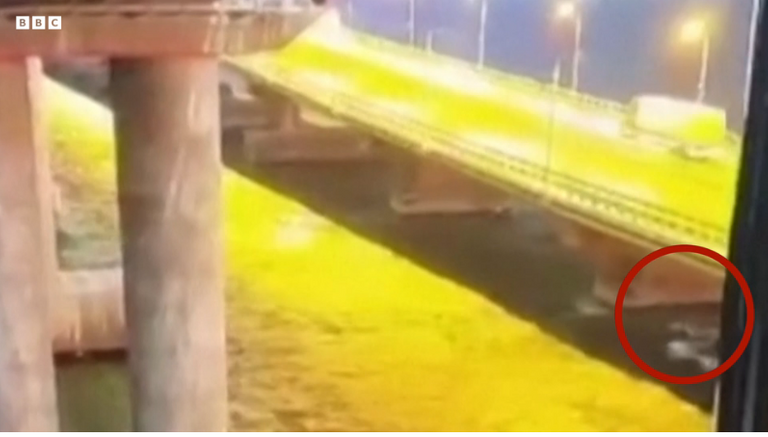 I wrote about the 8 October attack on the Crimean Bridge that had severely diminished the bridge's throughput, caused massive economic damage to Russia, massively undermined its ability to logistically support its military operations in the South of Ukraine and also dealt a significant blow to the image or Russia as a mighty power. Now new details emerge of what may have happened.
In its recent report the BBC theorizes that a watercraft seen under the bridge moments before at least one of the explosions took place may have been involved (see image above). They also theorize that bridges are designed to better withstand pressure from above than from below. ThatI think is possible and the trick may have been to lift the spans affected and then drop them back into place, hoping they would crack under dynamic impact. Which may have been what happened, indeed.
Personally, I am not jumping to any conclusions yet but I think this hypothesis is interesting. As always, don't trust me blindly - or anybody else, for that matter. Do your own research, acquire your own knowledge, form your own opinions.
References
Crimean bridge: Who - or what - caused the explosion?
BBC, 10 October 2022
The Crimean Bridge severely damaged by an explosion or series of explosions
@borepstein , 8 October 2022