Hive Power Up Month - Feedback from February day 5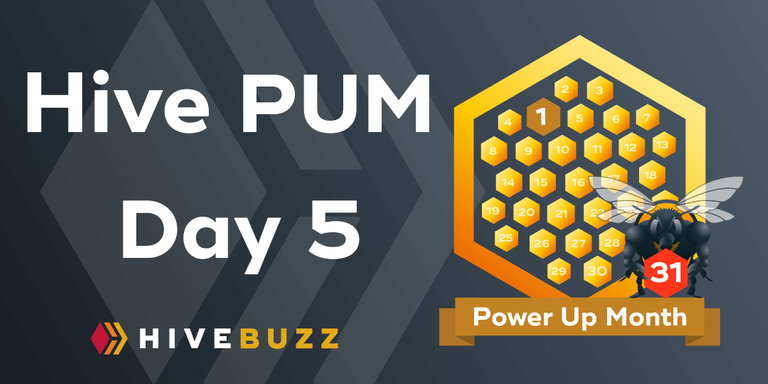 The Hive Power Up Month has now been running for 5 days. Let's see how things have been going so far. We have lost participants along the way, but some are hanging on to get their PUM badge.
For those who missed it, you can read the challenge announcement here.
Number of participants
After an excellent start on HPUD day, it is slowly becoming more difficult to stay committed to the challenge.
Let's see how things have been going so far with an updated graph: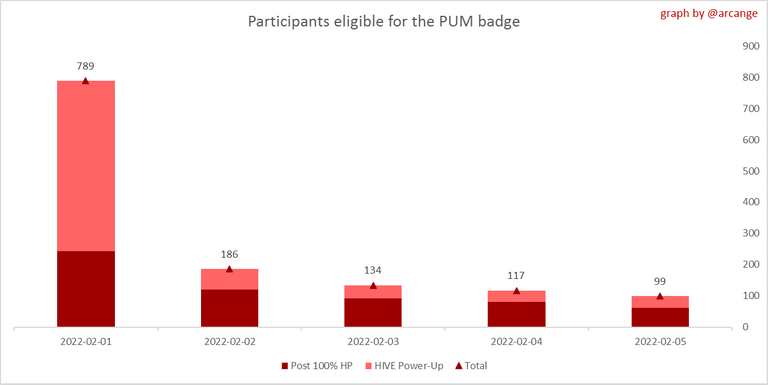 Things are going than in the previous editions with a good 10% more eligible participants. Hopefully this will continue.
List of eligible ones
Since there are now fewer people on this list, we can mention all of them without risk of tag spamming ;)
Congratulations to @aay.life, @ackza, @actifitmayer, @alexvan, @amaari, @andrastia, @andy-plays, @antikus369, @antonireviewer, @arcange, @awah, @axel-mccornstack, @blitzzzz, @borjan, @bradleyarrow, @brianoflondon, @btcsam, @buzzgoblin, @cezary-io, @chaodietas, @charlie80, @coccodema, @coquicoin, @cryptokungfu, @cursephantom, @darrenfj, @daveks, @davidthompson57, @definethedollar, @dizzyapple, @drugelis, @eddwood, @efectivida, @emeka4, @femcy-willcy, @forykw, @fotostef, @gone-hive, @herbacianymag, @hive-153476, @hivebuzz, @ifarmgirl, @jacobtothe, @jang, @jbtc19warrior, @jomancub, @jomarbym, @jychbetter, @keco, @kephler, @kolbjorn, @ksteem, @kwilley, @littlebee4, @malomi, @manuvert, @mein-senf-dazu, @methodofmad, @michelmake, @mightpossibly, @mmckinneyphoto13, @music1sound, @namelessnameless, @nicklewis, @orionvk, @photosnap, @pogier, @ppics, @python13, @ricestrela, @sagesigma, @savvyplayer, @shadowalker21, @shiftrox, @skylinebuds, @steem82868, @synrg, @taskmaster4450, @tawadak24, @tdctunes, @technocrypton, @temmylade, @tengolotodo, @tferris, @thomasthewolf, @timehacker, @traciyork, @trezzahn, @trippymane, @tsunsica, @tydynrain, @ultratrain, @valerianis, @vanje, @vickoly, @w74, @walkinverse, @xels and @ynwa.andree
You are the ones who still deserve the PUM badge.
Good luck to everyone who is in the race!
---
HiveBuzz is a project created by @arcange
#TAGS:
#PERMLINK: pum-202202-5
#SHORT:
The Hive Power Up Month has now started for several days. Let's see how this challenge unfolds.
---
---