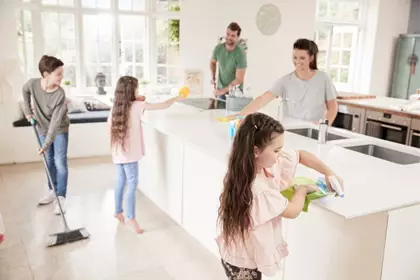 The ability to take responsibility for words and deeds, property and oneself is one of the main elements of growth. Therefore, it is necessary to teach children to be responsible as soon as possible, so that in the school years they take their responsibilities seriously and know the limits of what is permissible ...
What is responsibility and when should you know it?
What is responsibility? This concept is complex and multifaceted, it is impossible to single out one feature in it - it must be perceived in a complex way. So this is the ability to see and accept the connection of your actions with their consequences.
This is the conscious result of an honest and respectful attitude towards oneself and towards others, an understanding of the responsibilities and freedoms of other people who are not obliged to assume the obligations of others. A responsible person understands that he has certain goals and their achievement rests solely on his shoulders.
At the same time, he also understands that the attitude of other people towards him depends on a high or low responsibility: if he does not take responsibility for his words or actions, they will treat him badly, they will stop trusting him and will not take into account his responsibility. . opinion. It is easy to notice: In all definitions, the individual must have a sufficiently high degree of consciousness, it is necessary to have certain skills of analysis and introspection, logical thinking.
So one might think that a child who is just learning all this cannot yet be fully responsible for his affairs and therefore it is better to teach responsibility at least from 7-8 years. But this opinion is wrong.
Responsibility for oneself
Although the concept of responsibility is multifaceted, in the case of a child several areas of work can be distinguished in it. And let's start by instilling responsibility for ourselves: this is probably the basis of everything. Of course, a baby at the age of 1-3 years, in principle, still cannot protect himself from all adversities. And, of course, you can't properly care for your entire body. That is why the help of his parents is vital to him! But even in this case, you shouldn't take absolutely everything (read about the risks of overprotection here).
It is necessary to constantly find new opportunities to show the child that he can do something for himself, take responsibility and, most importantly, show him how the consequences of these actions are connected to the actions themselves. Get started simple: put your baby to sleep in his kine. Yes, yes, this is already one of the simplest examples of children's independence.
After all, thanks to this approach, the baby will begin to realize that mom or dad cannot always be around and therefore you must learn to fall asleep without feeling their warmth by your side. Well, if a child understands speech, you need to constantly remind him: adult children sleep apart from their parents, this is their duty and a symbol of growth in itself. And so it should be literally in everything!
Responsibility for your affairs
Gradually expand your ability to take responsibility for non-personal care activities. Although in the initial stage, one is inseparable from the other. Take, for example, self-cleaning toys .... Explain to the child: the toys are his, he played with them and that is why he must return them to their place. You're not asking him to put your clothes back or make dinner for you, are you? Therefore, you should not ask to do something yourself. Be sure to immediately stipulate what the disclaimer leads to. If you don't put the toys away yourself, you will run out of candy for lunch, if you don't take all the toys, some toys may be lost, you will get angry yourself.
Responsibility for your property
Taking responsibility for falsehoods is also an important part of raising a child. Teach that words are as important as deeds. And the habit of getting what you want with crafty or broken promises does not lead to anything good. Once they believe, but when they understand that he is not responsible for his own words, they will stop believing. And this will lead to the fact that they will not be friends with him and will communicate, help him when necessary.
Explain that the words are in fact your valuable property, property. How you get rid of them is up to you. You can waste it all, throw it left and right, brag and promise beyond measure, but then lose its meaning. They are worthless to those around them with such behavior! The same goes for courtesy, the lack of it is irresponsible in building new relationships. The skill also works well in keeping secrets.
Explain that if you or someone else entrust your child with important information and emphasize that it is not intended for strangers, you should approach the problem responsibly and leave that "property" with you, not share it with others. Otherwise, the one who revealed the secret will be offended and you may forget about the friendship. But, of course, real estate must also be held accountable.
Like many other things in education, it is easy to cross everything off with a negative example. Remember: the child sees in the parents, if not ideal, something like this. And if mom and dad can promise something and then they don't keep it without explanation, if they don't consider it necessary to send them to work on time, if they don't keep their own clothes and, moreover, they don't. make sure the child strictly observes the word "must", it will all go to waste. The child will feel the weakness of the parents and will start to take advantage of it ... So start with yourself first!
Source of information:
Source