Hi there. In this math education post, I provide an overview for the Arcademics website for math games. This website is one of my favourite websites for math games. I use this website as a supplementary tool in my Mathnasium work.
Arcademics.com also has games for language arts but in this post I focus on the math games. A lot of the photos here are screenshots from the website.
Math games are great for learning as it does not feel like work and it is less boring compared to doing pages of math exercises.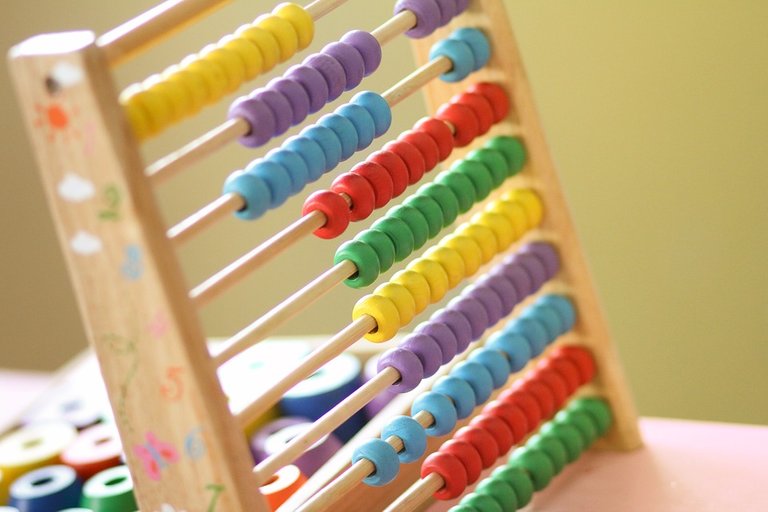 Pixabay Image Source
Topics
---
The Arcademics Website
Math Games By Grade
Math Games By Subject
Featured Math Games
Some Cons With Arcademics
The Arcademics Website
---
Arcademics.com contains a lot of free games that combine arcade and academics for fun learning. When it comes to starting a game you may be prompted to choose a fun and friendly name. It is probably best to not use a full name and use a temporary alias name.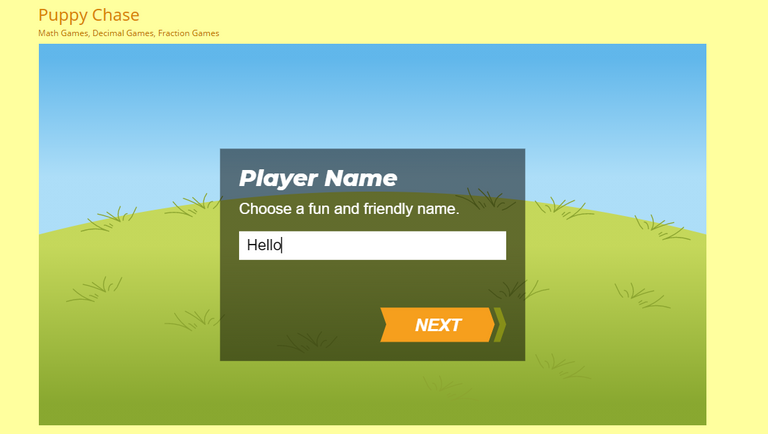 Many of the games are in a multiplayer format. You can still play in single player as users would face off against computer players. There is a neat feature where you can create and host a private game. A password is needed to complete the create game function. Leaving the password part blank would make the game public instead of private.
Other players can join the private game as long as they have the password for entering. This reminds me of the setup in Battle.net for Starcraft Remastered.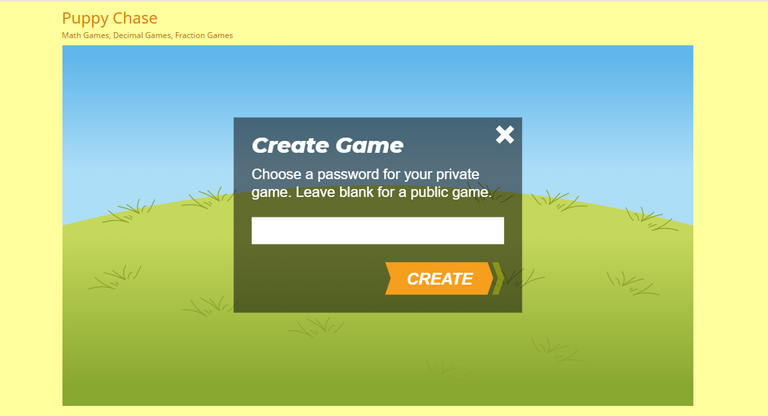 They have a sign up free and login but I have never used those.
---
The games on Arcademics are mostly in the flashcards format with immediate feedback. Right answers help you win the multiplayer race, stay in the game longer, or help with a high score. Wrong answers do give you punishments but they are not that severe. Your racing character would get stuck after a wrong answer.
As there are so many games in the website, I have not tried them all. I can say that a lot of them are in a multiplayer racing format or tug of war format.
Availability On App Store & Google Play
Arcademics.com also has apps available on iPad and Android tablets on top of the desktop version. I have not tested these apps. These apps can be great for quick learning and casual gaming on the go for young students.
Math Games By Grade
---
From the website you can find games by grade. This can be on the top of the main webpage. The games are from grades 1 to grade 6. This is somewhat misleading as some of the games do contain some algebra which can be more for grade seven to grade nine math students.
The math games from grades 1 to 2 are mostly addition, subtraction with some money counting games. The currency used here is in USD. Games in grade three include multiplication, division, shapes recognition and fractions.
For grades four and five, the math games focus more on fractions, ratios, basic algebra and rounding.
The math games for grade six does vary in terms of subject difficulty. Topics include basic algebra, converting fractions to decimals, evaluating exponents, adding and multiplying negative numbers, decimal conversions, adding/multiplying fractions and multiplying variables with exponents. Some of these topics are at a higher level than grade six. Negative numbers are more for grade seven math students up to grade nine students. The multiplying variables with exponents topic is for grade nine and maybe grade ten.

Math Games By Subject
---
You can filter out games by topic on Arcademics. Although I feature math games here you can use Arcademics for spelling, typing, geography and language arts games. Instead of me typing out the topics, it is better to show a screenshot with the topics.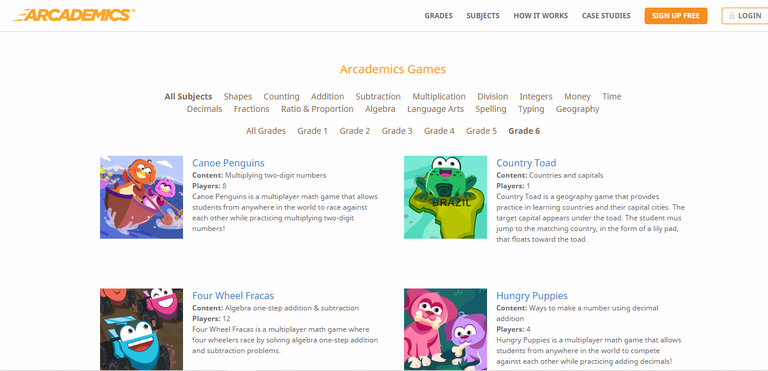 Featured Math Games
---
In this section, I feature five of my favourite math games from Academics.
1) Orbit Integers - Adding Integers
Orbit Integers is a math game where contestants race each other through adding integers. This game is suitable for middle school students in grades 7 to 8 and for some high school students who need review with adding negative numbers.
Every correct answer in this game gives your racing spaceship a boost. A wrong answer would not give a boost and there would be a slight delay in answering the next question.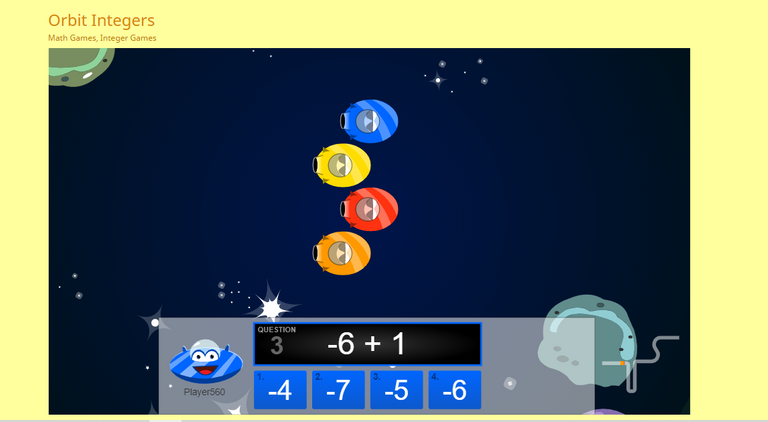 There is a multiplying integers version of this game in the form of Integer Warp.
2) Spider Match - Make A Number Using Integer Addition
This Spider Match game is a neat one. A random integer appears in the middle. The task is to select two numbers that add together that makes that number. New number options appear as numbers are used. One point is received for each successful integer addition of obtaining the middle number. Score the most points within the time limit to win the game.
I like this game as it feels like an old school Mario Party game. It is also educational with some time pressure along with it.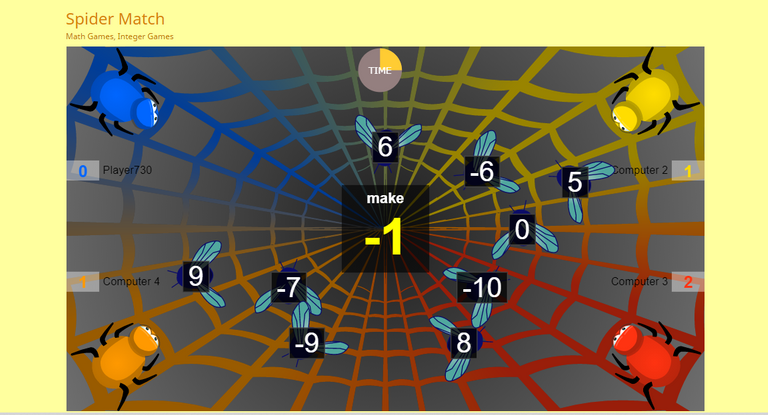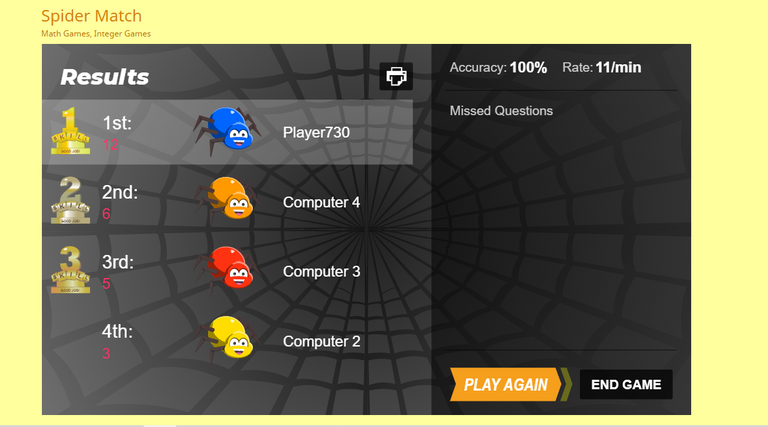 3) Pizza Pandas - Determine Fractions
In this Pizza Pandas multiplayer game, players identify the correct fraction that represents the number of pizza slices out of eight in the whole pizza. The catch is that some of the answers are in reduced form. A correct guess gives the player a point while wrong guesses subtracts one point from your points. The player with the most points at the end of the time wins the multiplayer game.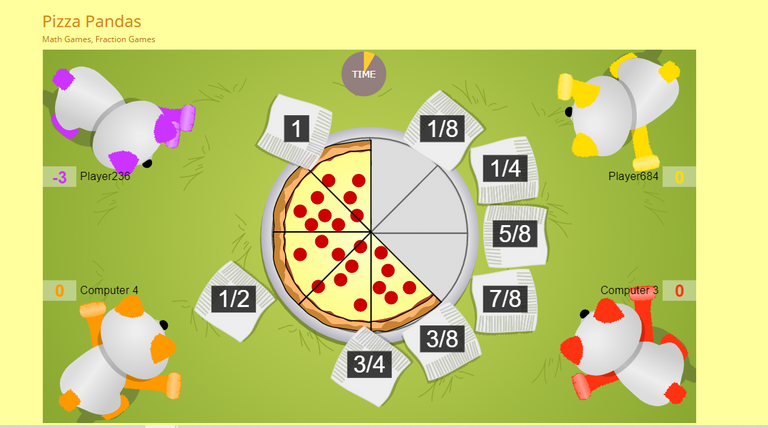 4) Puppy Chase - Fractions To Decimals
It was somewhat difficult to find games that had a mix of fractions and decimals. This Puppy Chase game is a multiplayer game which gives players good practice in converting fractions to their corresponding decimal values. Players and computers compete on a race track answer flashcard style questions in converting mixed fractions into decimals. Some of the mixed numbers presented are in reduced form such as 6 1/4.
Correct answers gives a boost to your puppy character while wrong answers gives a temporary pause. Win the race to get first place.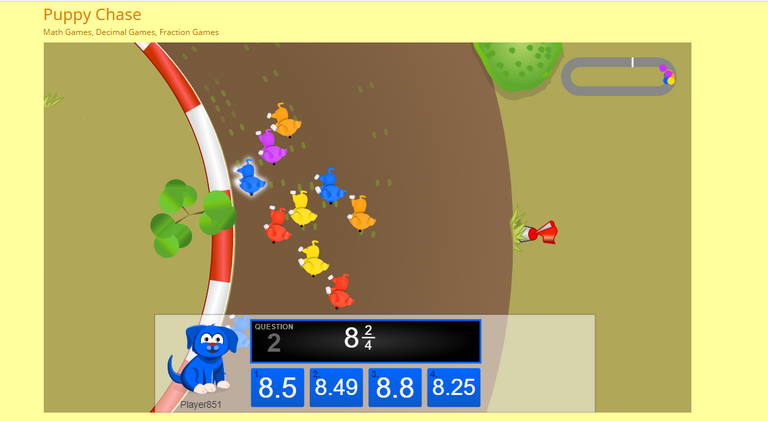 5) Jumping Aliens - Multiplying Exponent Variables
This Jumping Aliens game is one of the most technical math games on Arcademics. The website labels this as a game for grade 6 but it is more for upper middle school math and for high school students (grade 9).
The objective is to win the four player race by hopping on to the correct space each time. Questions are listed on the bottom for you to multiply the monomials. Answers are listed at the front of each of the four space options. Click on the correct space with the right answer to have your alien character advance forward. Wrong answers will make you momentarily stuck before another guess.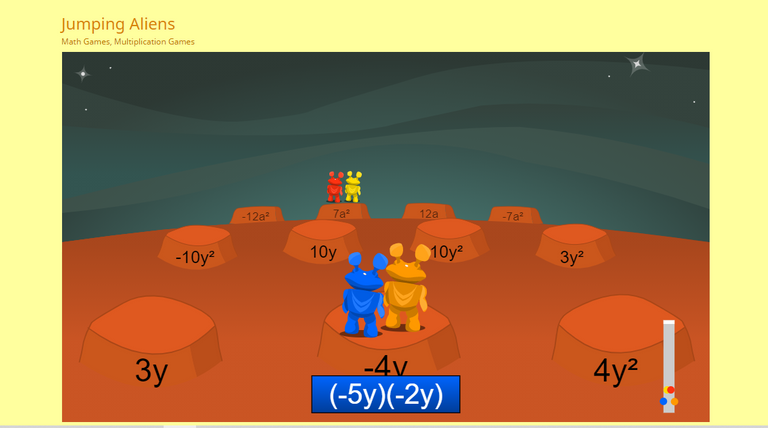 Some Cons With Arcademics
---
I do like this Arcademics website a lot. They have a lot of math games that cater to young math students to grade 8 and 9. There are a few cons with this website. Here is my list:
Games could be too fast paced for some learners.
Too much repetition in games and game styles
Some games could be too easy.
Lack of games in geometry and graphing
Grade levels can be misleading.
Jumping Aliens game not easily searchable on Arcademics website.
Lack of high school math games.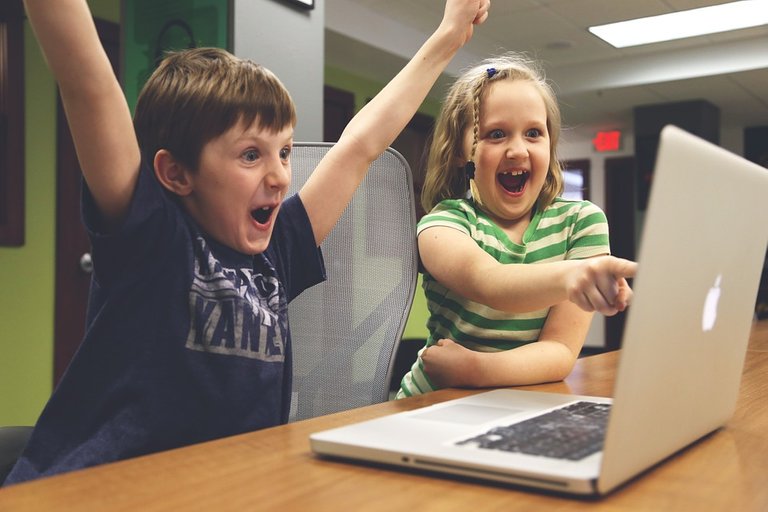 Pixabay Image Source
Thank you for reading.