This publication was also writen in SPANISH and PORTUGUESE.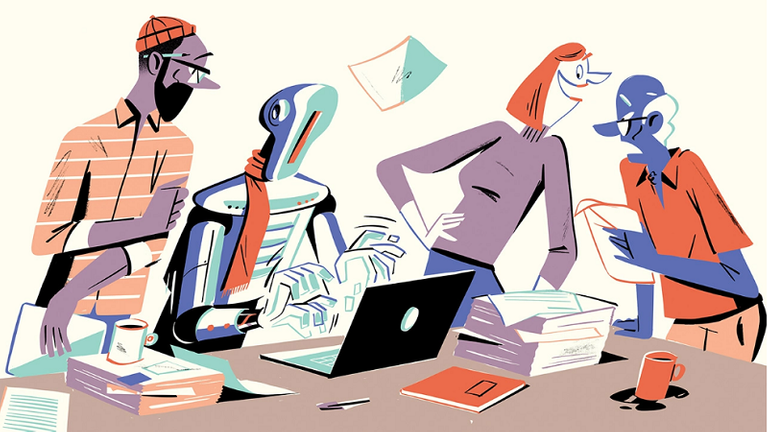 The Hollywood Reporter
Running away from technological advances is a losing fight, it is no longer an option, because sooner or later it will reach all people, in all sectors. Innovative processes are arriving from all sides, and it is no longer possible to resist what is surrounding us in all directions. Hollywood knows this a lot, and with a more connected look considering the reality of artificial intelligence, "mechanical" scripts will be a trend.
Officially, the "American mecca" of the Seventh Art has decided that it will accept the use of technological programs involving artificial intelligence for scripts to be written, and potentially produced. However, despite being a controversial idea, the objective is not to replace the use of human work (the mind of the screenwriters) by machines, but rather, to use this tool to write scripts from a new perspective, connected with the reality of the current world.
Once this type of script is ready, it will be reviewed by human professionals so that the text can be improved (edited, rewritten or modified with the insertion of new ideas). Movies produced from this type of scripts will be eligible for any type of award, and will not be "neglected" or "ignored" by a possible backlash that may arise from more traditional professionals. The future will be very "interesting".
Particularly speaking, I think it is not yet the time to insert artificial intelligence in Cinema within this type of field. It doesn't seem right to me, considering the huge amount of intelligent screenwriters and full of incredible ideas that are spread around the world, that Hollywood encourages this type of textual production, because this will only strengthen (even more) the "invisibility" of these professionals who still seek for their acknowledgments.
---
Hollywood da la bienvenida a la inteligencia artificial.
Huir de los avances tecnológicos es una pelea perdida, ya no es una opción, porque tarde o temprano llegará a todas las personas, en todos los sectores. Los procesos innovadores están llegando de todos lados y ya no es posible resistirse a lo que nos rodea en todas direcciones. Hollywood sabe mucho de esto, y con un look más conectado considerando la realidad de la inteligencia artificial, los guiones "mecánicos" serán tendencia.
Oficialmente, la "meca americana" del Séptimo Arte ha decidido que aceptará el uso de programas tecnológicos que involucren inteligencia artificial para la escritura y producción potencial de guiones. Sin embargo, a pesar de ser una idea controvertida, el objetivo no es sustituir el uso del trabajo humano (la mente de los guionistas) por el de las máquinas, sino utilizar esta herramienta para escribir guiones desde una nueva perspectiva, conectada con la realidad de la mundo actual.
Una vez que este tipo de guión esté listo, será revisado por profesionales humanos para que el texto pueda ser mejorado (editado, reescrito o modificado con la inserción de nuevas ideas). Las películas producidas a partir de este tipo de guiones podrán optar a cualquier tipo de premio, y no serán "desatendidos" o "ignorados" por un posible contragolpe que pueda surgir por parte de profesionales más tradicionales. El futuro será muy "interesante".
Particularmente hablando, creo que aún no es el momento de insertar la inteligencia artificial en el Cine dentro de este tipo de campo. No me parece correcto, considerando la enorme cantidad de guionistas inteligentes y llenos de ideas increíbles que se esparcen por el mundo, que Hollywood fomente este tipo de producción textual, porque esto solo fortalecerá (aún más) la "invisibilidad". de estos profesionales que aún buscan sus reconocimientos.
---
Hollywood dá boas-vindas à inteligência artificial.
Fugir dos avanços tecnológicos é uma luta perdida, não é mais uma opção, porque mais cedo ou mais tarde ela irá alcançar todas as pessoas, em todos os setores. Os processos inovadores estão chegando por todos os lados, e não é mais possível fazer resistência ao que está nos cercando em todas as direções. Hollywood sabe muito disso, e com um olhar mais conectado considerando à realidade da inteligência artificial, os roteiros "mecânicos" serão uma tendência.
Oficialmente, a "meca americana" da Sétima Arte decidiu que irá aceitar o uso de programas tecnológicos envolvendo inteligência artificial para que roteiros sejam escritos, e potencialmente produzidos. No entanto, apesar de ser uma ideia polêmica, o objetivo não é substituir o uso de trabalho humano (a mente dos roteiristas) por máquinas, mas sim, utilizar essa ferramenta para escrever roteiros sob uma nova perspectiva, conectada com a realidade do mundo atual.
Uma vez que esse tipo de roteiro fique pronto, ele será revisado por profissionais humanos para que o texto consiga ser aprimorado (editado, reescrito ou modificado com a inserção de novas ideias). Os filmes produzidos a partir desse tipo de roteiros serão elegíveis para qualquer tipo de premiação, e não serão "negligenciados" ou "ignorados" por um possível contragolpe que possa surgir por parte dos profissionais mais tradicionais. O futuro será muito "interessante".
Particularmente falando, eu acho que ainda não é o momento para inserir inteligência artificial no Cinema dentro desse tipo de vertente. Não me parece correto, considerando a enorme quantidade de roteiristas inteligentes e cheios de ideias incríveis que estão espalhados pelo mundo, que Hollywood incentive esse tipo de produção textual, porque isso só vai fortalecer (ainda mais) a "invisibilidade" desses profissionais que ainda buscam pelos seus reconhecimentos.