The Tesla Model S is now almost a decade old and definitely needed to catch up with the Tesla Model Y and 3, so it was only a matter of time until we get a refreshed version of it - the time has finally come and four days ago Tesla released the new 2021 Tesla Model S on their website!
In this post I'm explaining all the new features and specs of the three versions of the new Model S:
Lets start off with the design, they didn't change much about the design and stayed mostly with the design of the original Model S from 2012 and only made a few minor changes!
The only bigger change is the now black trim where the chrome one used to be (as you can see in the pictures below).
And the fog-lights on the front are a little bit more narrow, the Model X got that change too, which means they now have a kinda unified front look!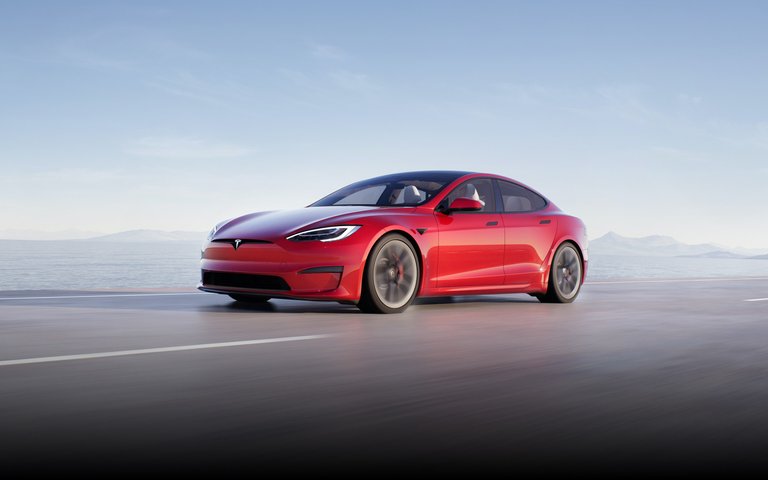 The interior on the other hand had far more changes done to it:
There's a new steering wheel (-type), which is called Yoke Steering Wheel and is just a normal steering wheel but like the top part of it is missing! If you don't konw what I mean jsut look for yourself: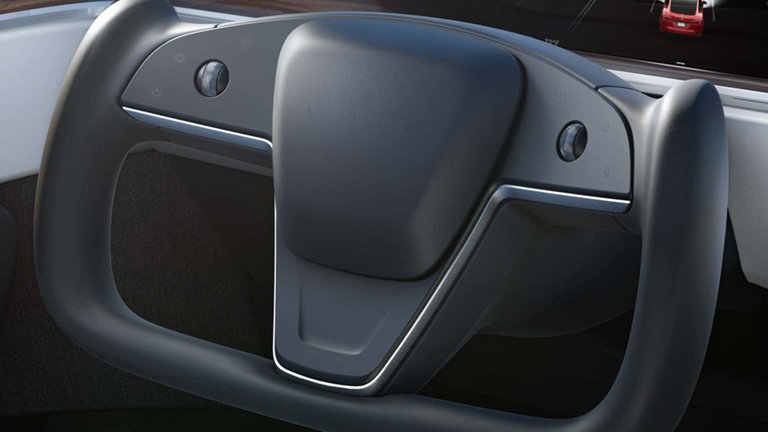 As you can also see in the picture is that there aren't any stocks, levers or anything behind the steering wheel, but all the functions are accessible on the steering wheel itself which is what all the buttons alingned on it are for. With the Model S as well as with the Model X you also still get a screen behind the steering wheel!
Now to the overall front interior:
There's a new 17 inch, 2200x1300 resolution, horizontal touchscreen panel in the middle with a double wireless charging pad right beneath it!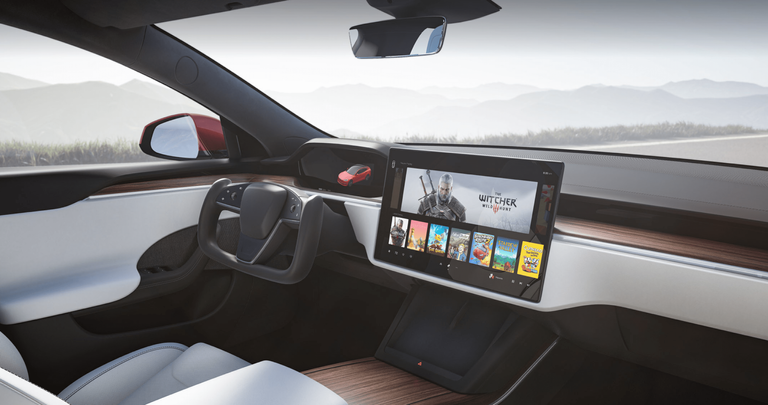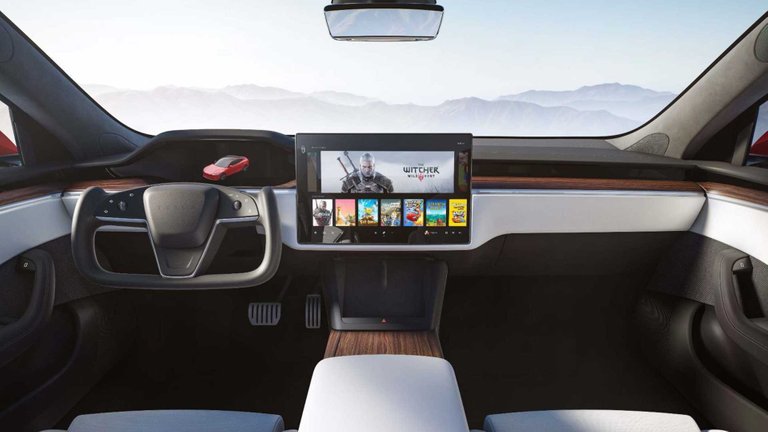 Here the pair of wireless charging pads: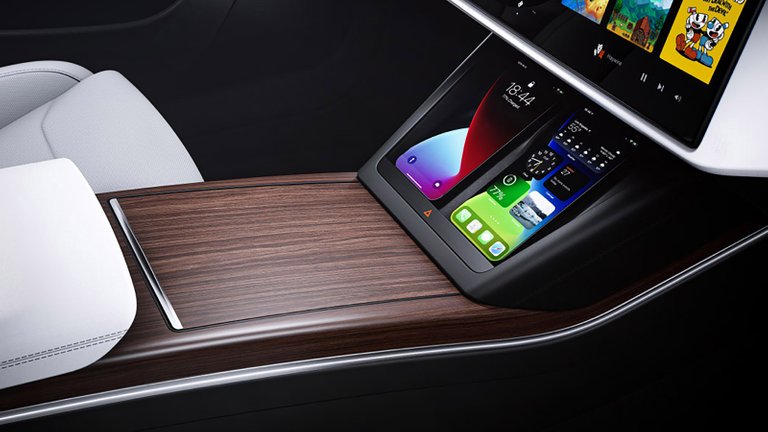 Now lets take a look into the back of the Model S, where you can see a third screen has been added between the two front seats for your kids to play games or watch films on!
In the middle is an armrest with two cupholders and furthermore again two wireless charging pads for your passengers! You may recognize the door handels from the Model 3!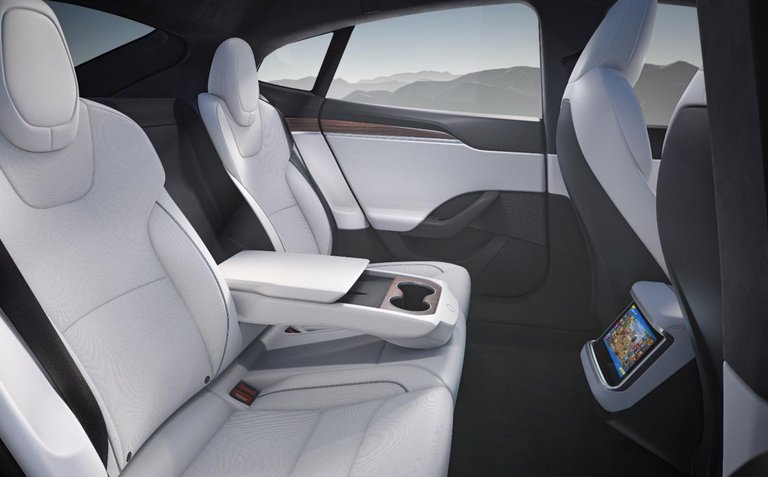 Besides all that, there's a new speaker system with 22 speaker and even active noise canceling onboard!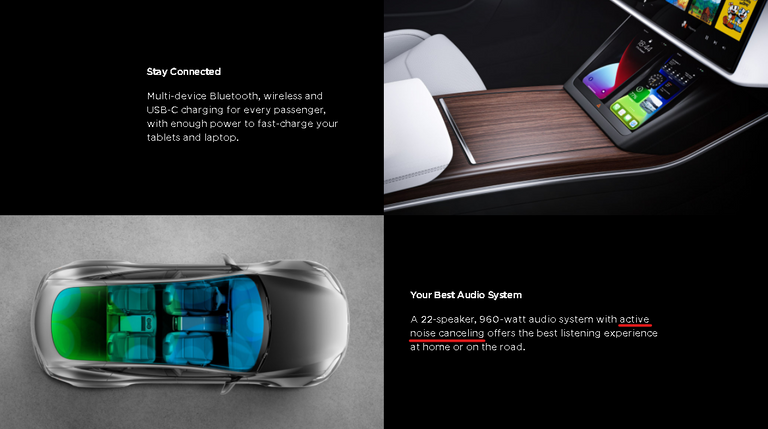 Lets leave all the design beside and lets take a look onto the specs: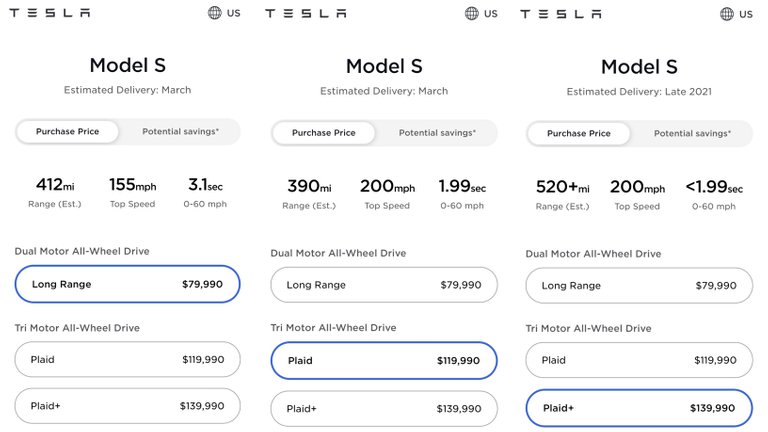 As I've already told you, there are three different models offered:
The 'cheap' Long Range one which starts at a price that's a bit higher than the price of the
first Model S and starting at $79,990, has a range of 412 miles, a top speed of 155 mph and goes from
0-60 in 3.1 seconds!

If you thought that was impressive, just take a look at the Plaid Model with a starting price of
$119,990, a range of 390 miles, a top speed of 200 mph and going from 0-60 in just under 2.00 seconds!

But now for the last and most expensive Plaid+ Model with a starting price of $139,990, an
incredible range of 520+ miles, a top speed of again 200 mph and with 0-60 in less than 1.99 seconds!
That's it for today I hope you enjoyed reading this post as much as I enjoyed writing it😊
pictures from: www.tesla.com
Das Tesla Model S ist nun fast 10 Jahre alt und mittlerweile schon veraltete Technik im Vergleich mit dem Model Y oder dem Model 3, also war es nur eine Frage der Zeit, bis Tesla eine neue Version veröffentlicht - diese Zeit ist nun endlich gekommen und Tesla hat vor vier Tagen das neue Tesla Model S auf seiner Webseite veröffentlicht!
In diesem Post möchte ich euch alle neuen Features und die beeindruckenden technischen Daten der drei neuen Modelle/Versionen des Model S vorstellen:
Last uns als erstes mit dem Design anfangen:
Eigentlich gibt es gar nicht viel zum neuen Design des Model S sagen, man erkennt auf alle Fälle noch, dass vom ersten Model S von 2012 "abstammt". Die einzigen großen Neuerungen sind die nun schwarzen, vorher chrom-farbenen Akzente, z.B. die Türgriffe und die nun etwas näher aneinander liegenden Nebelscheinwerfer, beim neuen Model X ist dies übrigens auch der Fall!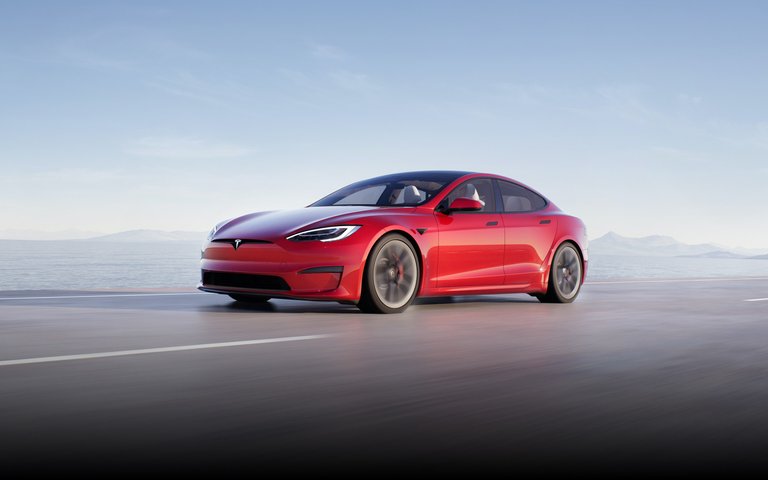 Im Innenraum dagegen gab es einige signifikante Änderungen:
Es wird jetzt ein komplett neues Lenkrad verbaut, welches Yoke-Lenkrad genannt wird und mich an ein Kampfjet oder einen Formel 1 Wagen erinnert :)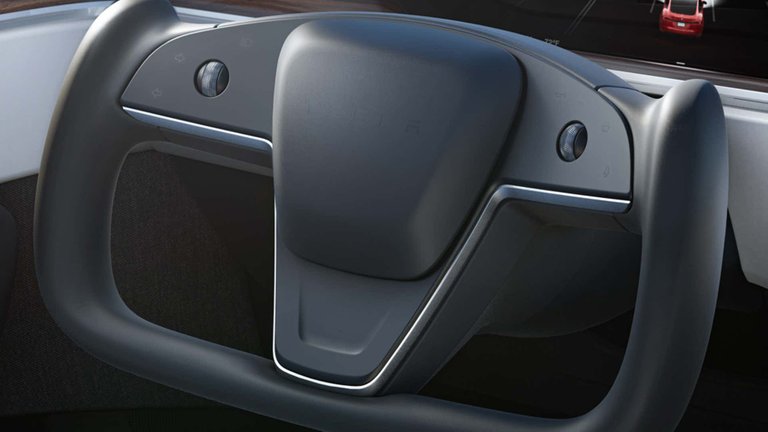 Wie man auf dem Bild erkennen kann gibt es auch keinerlei Hebel oder ähnliches hinter dem Lenkrad, sondern es sind alle Funktionen durch Knöpfe am Lenkrad erreichbar! Wie beim Model X bekommt man auch hier noch ein Display hinter dem Lenkrad!
Jetzt zum generellen Design des vorderen Bereichs:
In der Mitte gibt es einen neuen 17 Zoll, 2200x1300 Pixel Auflösung, horizontalen Touchscreen mit einem doppeltem Wireless Charging Pad direkt darunter!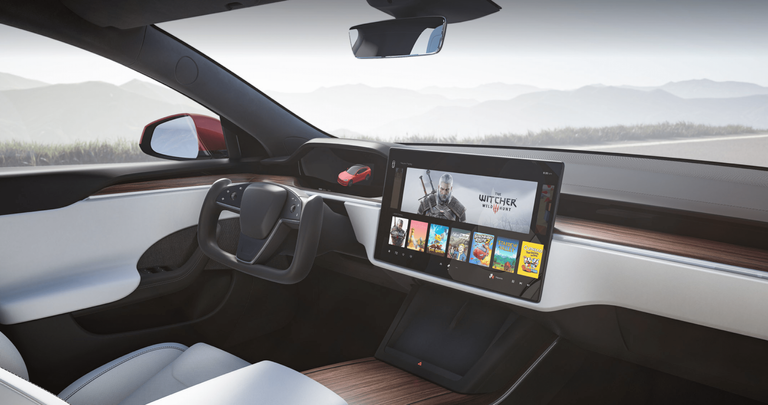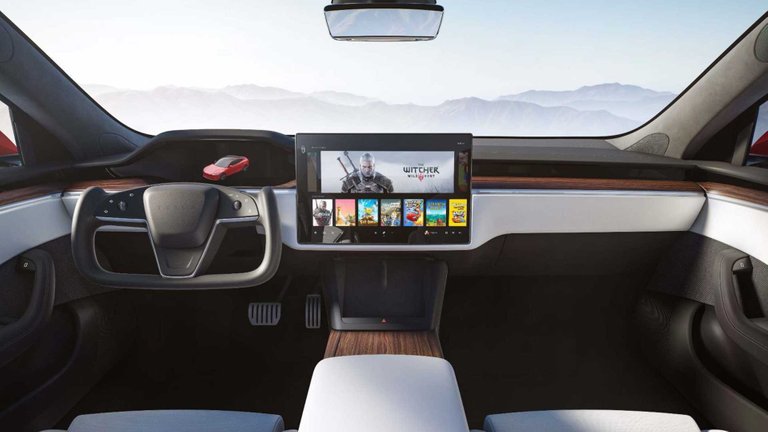 Hier die zwei Wireless Charging Pads: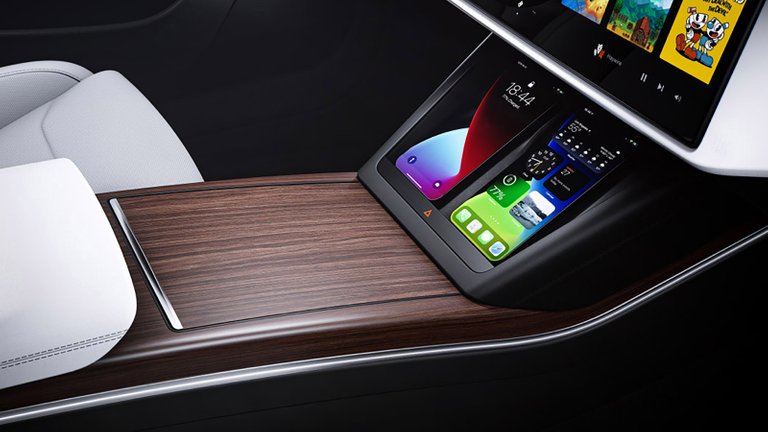 Jetzt lasst uns einen Blick auf den hinteren Bereich werfen, wo man das dritte, neue Display zwischen den beiden vorderen Sitzen sehen kann, auf dem deine Kinder Spiele spielen oder Filme schauen können! Außerdem gibt es eine hochklappbare Armlehne mit zwei Becherhaltern und wiederum zwei Wireless Charging Pads zwischen den Sitzen! Die Türgriffe hat man im Model 3 schon gesehen!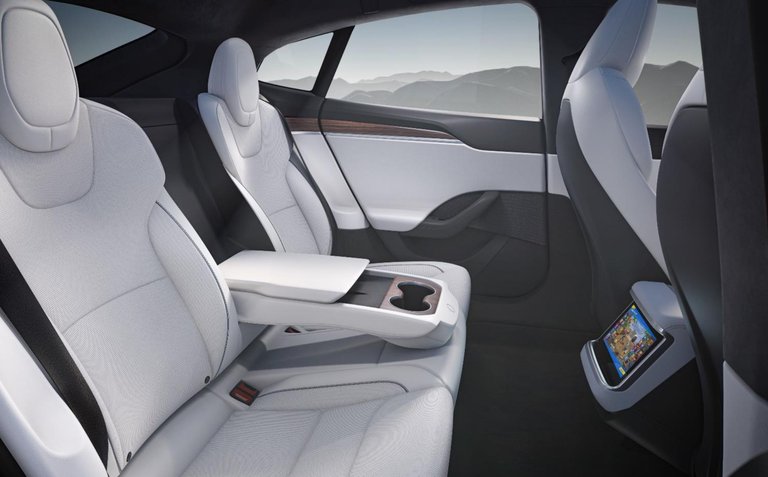 Zu dem kommt auch noch ein neues Lautsprecher System mit 22 Lautprechern und sogar Active Noise Canceling!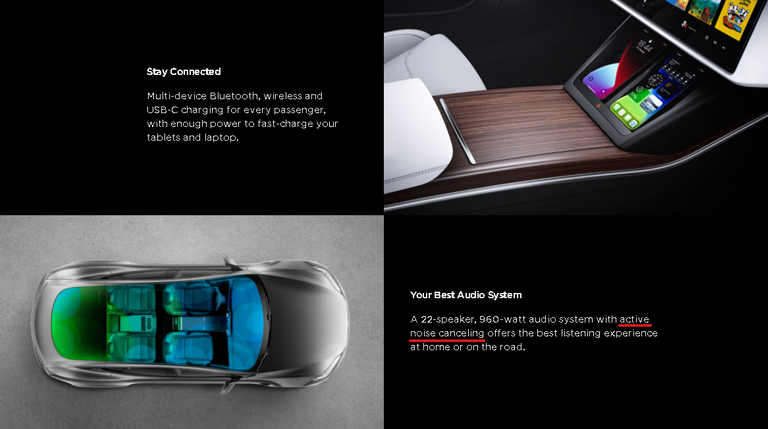 Jetzt aber zum wichtigsten Teil, den Technischen Daten: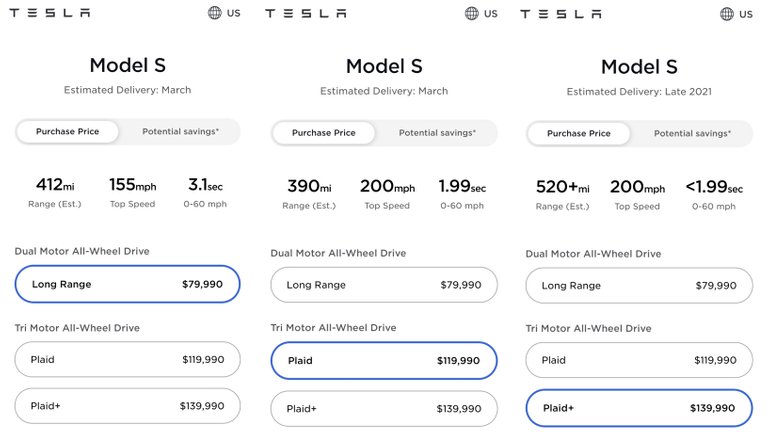 Wie schon gesagt gibt es drei Modelle die angeboten werden:
Das "günstigste" Long Range(deutsch: Maximale Reichweite) Modell, welches etwas teurer als das alte Model S bei 86.990€ startet, eine Reichweite von ca. 663 km, eine Höchstgeschwindigkeit von 250 kmh und eine Beschleunigung von 3,2 Sekunden von 0-100 hat!

Falls dich das beeindruckt hat, dann wird dich das Plaid Modell mit einem Preis von 116.990€, einer Reichweite von ca. 628 km, einer Höchstgeschwindigkeit von 322 kmh und einer Beschleunigung von 2,1 Sekunden von 0-100 noch mehr beeindrucken!

Jetzt zum letzten und teuersten Plaid+ Modell, mit einem Startpreis von 139.990€, einer Reichweite von ca. 837 km, einer Höchstgeschwindigkeit von ebenfalls 322 kmh und einer unfassbaren Beschleunigung von unter 2,1 Sekunden von 0-100!
Das wars erstmal von mir ich hoffe sehr, dass ihr genau so viel Spaß hattet meinen Post zu lesen, wie ich beim Erstellen/Schreiben😊
Bilder von: www.tesla.com