engl. summary: scientists found out that there is in fact a reverse transcriptase in human cells which can potentially transfer (m)RNA to DNA! This has implications on the potential long-term side effects of mRNA-vaccines!
Liebe Interessierte und Zeugen Coronas,
was haben uns die "Experten" und Faktenchecker nicht versichert, dass die mRNA-"Impfungen" keine unbeabsichtigten Gentherapie seien, da ja mRNA nicht von den menschlichen Zellen in DNA umgeschrieben werden und so in die Erbsubstanz des Körpers gelangen könne!
Ich war von Anfang an skeptisch, denn zwar besitzt der Körper, so das state-of-the-art Wissen, keine reverse Transkriptase (das ist das Enzym, das RNA in DNA umschreibt) (1), aber der Mensch ist nicht isoliert wie ein Objekt unter einem Mikroskop, sondern er interagiert auf die vielfältigste (noch bei weitem nicht verstandene) Weise mit seiner Umwelt. Ständig ist er z.B. Viren ausgesetzt, und manche schaffen es, sich dauerhaft im Körper schlafenderweise einzunisten (zu persistieren), ohne dass es das Immunsystem bemerkt. Im Fall des Epstein-Barr-Virus (EBV), das zu den Herpesviren gehört, nimmt man an, dass ca. 98 % aller Menschen ab 40J. mit diesem Virus infiziert sind (2)! Das ist zwar ein DNA-Virus, aber andere wie etwa die Retroviren (z.B. HIV) oder die Familie eben der Coronaviren sind RNA-Viren (3), haben also eine reverse Transkriptase.
Es besteht also durchaus die Möglichkeit, dass sich in einer Körperzelle eine über einen RNA-Virus eingeschleuste reverse Transkriptase befindet, und somit extern zugefügte mRNA in DNA rückverwandeln und dauerhaft in das Genom integrieren kann (mit weitreichenden Folgen).
Doch kürzlich hat ein Team um Richard T. Pomerantz aus Philadelphia herausgefunden (4), dass ein menschliches Enzym namens Polymerase theta ebenfalls RNA in DNA umkopieren kann und damit ganz ähnlich wie die virale reverse Transkriptase arbeitet. Bisher ist man davon ausgegangen, dass menschliche Polymerasen (es gibt 14 verschiedene (5)) immer ein Stück DNA als Ansatzpunkt brauchen und damit DNA replizieren (wichtig für die Zellteilung und überhaupt die Fortpflanzung von Lebewesen), reparieren oder auch in RNA umschreiben (=Transkription, der erste Schritt für die Herstellung von Proteinen).
Diese neue Fähigkeit einer Polymerase, die einer Revolution gleichkommt und ein jahrzehntealtes Dogma in Frage stellt, könnte auch erklären, wie Erbgut-Fragmente des Coronavirus bei einer Infektion in die DNA gelangen und manche Menschen "dauer-positiv" sein lässt, was fallweise beobachtet wurde (6).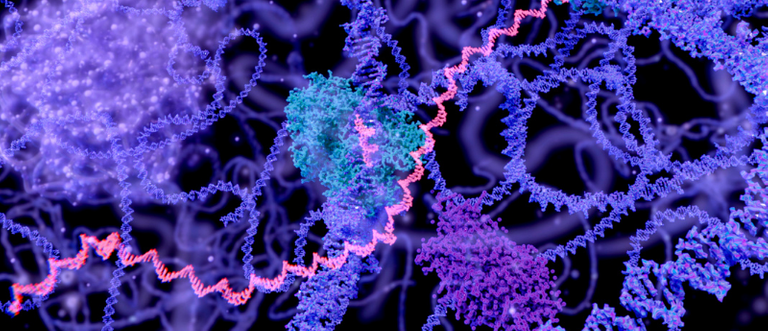 https://www.biotechniques.com/molecular-biology/vindication-for-a-misunderstood-polymerase/
Die Kernfrage ist jetzt, wie hoch die Wahrscheinlichkeit ist, dass auch die "Impfstoff"-mRNA über die körpereigene Polymerase theta ins Erbgut gelangen könnte? Die US-Forscher halten es zumindest für unwahrscheinlich. Für den Start der reversen Transkription wird laut Prof. Pomerantz ein sogenannter Primer (ein kurzes Stück RNA) benötigt, an dem das Enzym ansetzen kann. Die Impfstoffe liefern eine geeignete Startsequenz angeblich nicht mit und bieten somit keinen Ansatzpunkt für Polymerase theta. Nun, es wäre nicht der erste Irrtum oder die erste Wissenslücke rund um SARS-Cov-2.
Aber auch wenn es unwahrscheinlich ist, hat jemand schon mal nachgedacht, was passiert, wenn ein frisch GenmanipulierterGeimpfter, der also voller Kopien der Spike-mRNA ist, auf den Omikron-Erreger trifft? Soll ja vorkommen, dass auch kürzlich Geboosterte sich die hochansteckenden Omikrons einfangen, da sie sich fälschlicherweise in Sicherheit wiegen. Die gleichzeitige Anwesenheit der Omikron-RNA und der Vakzin-Spike mRNA erhöht die Wahrscheinlichkeit, dass Fremd-RNA in DNA umgeschrieben und ins Erbgut verankert wird. Im Reagenzglas konnte man eine Integration viraler SARS-Cov-2-DNA ins Genom zumindest schon nachweisen (7). Falls so eine mutierte Zelle nicht durch das zelluläre Immunsystem aufgespürt und ausgeschaltet wird, könnte sie auf sehr lange Zeit kontinuierlich die toxischen Virenproteine ausscheiden oder zumindest an der Außenseite der Zelle präsentieren und so das Immunsystem dauerhaft beschäftigen und damit schwächen!
Ein Grund mehr, sich nicht an diesem Experiment zu beteiligen!!
Quellen:
(1) Nicht einmal das stimmt ganz, den die sog. Telomerasen sind streng genommen auch reverse Transkriptasen, https://flexikon.doccheck.com/de/Reverse_Transkriptase
(2) https://de.wikipedia.org/wiki/Epstein-Barr-Virus
(3) https://de.wikipedia.org/wiki/RNA-Virus
(4) https://www.science.org/doi/10.1126/sciadv.abf1771
(5) https://www.biotechniques.com/molecular-biology/vindication-for-a-misunderstood-polymerase/
(6) https://www.scinexx.de/news/medizin/coronavirus-dna-auch-in-unserem-erbgut/
(7) https://www.pnas.org/content/118/21/e2105968118