engl. summary: A gene from the Neandertals protects from severe Covid-19, a new study shows!
Liebe Ex-Neandertaler,
diese Zeiten lassen sich nur mit einer gehörigen Portion Satire ertragen!
Aber vermutlich gar nicht satirisch gemeint ist das Ergebnis einer im PNAS publizierten Studie, wonach ein Gen, das wir von den Neandertalern geerbt haben, deren Träger vor einem schweren Covid-19-Verlauf schützt (Quelle).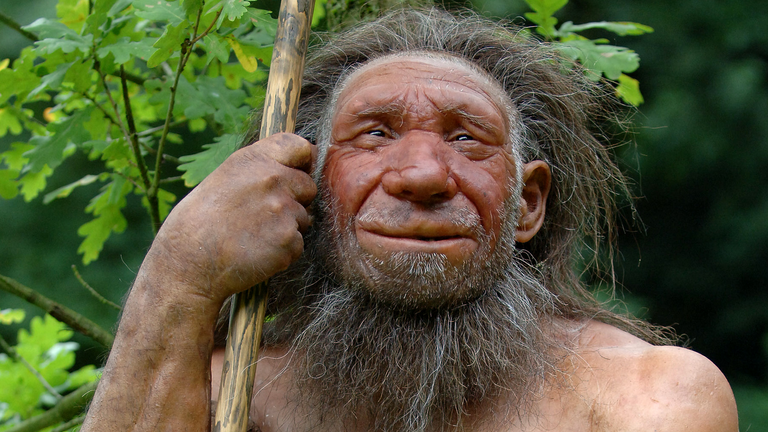 Rekonstruktion eines Neandertalers Quelle
Das Gen, das für ein Protein kodiert, das mit der Spaltung viraler Protein zu tun hat, senkt angeblich das Risiko, intensivmedizinisch behandelt zu werden, um 22 Prozent. Es hilft auch gegen das West-Nil-, Hepatitis-C- und bestimmte andere SARS-Viren neben SARS-Cov-2.
Und wer hat dieses Gen? 30%-50% aller Menschen außerhalb von Afrika sollen dieses Gen besitzen, so schwammig drückte sich der Artikelschreiber aus, um möglichst keinen Rassismusvorwürfen ausgesetzt zu sein. Aber was ist ein Mensch "außerhalb Afrikas"? Gehört z.B. ein Nigerianer, der sich nach Deutschland schleppen lässt, Dauergast in Mitteleuropa aus der Elfenbeinküste auch dazu? Wenn er gesagt hätte, dass das Gen bei Weißen weit häufiger als bei Schwarzen vorkommt, was wäre da für ein Shitstorm ausgebrochen! Im Original heißt es da schon aussagekräftiger "the haplotype is almost completely absent in African populations south of the Sahara".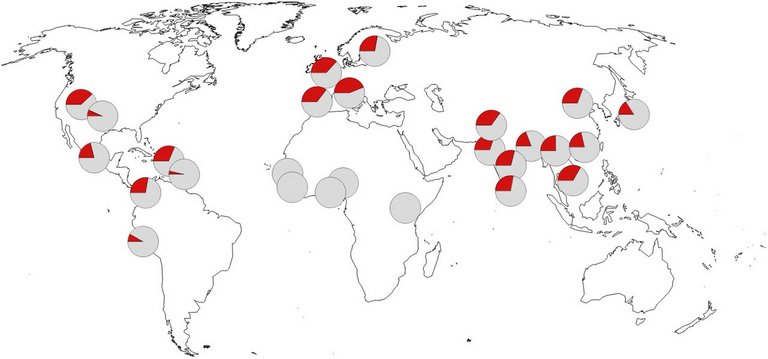 Geographische Verbreitung des schützenden Neandertalergens Quelle
Falls sich wer wundert, wie ein Neandertalergen in unsere DNA kommt, es ist ja bekannt, dass 1 bis 4% unserer DNA ist mit der von Neandertalern identisch ist, es muss also in der Vergangenheit eine Vermischung gegeben haben (Quelle). Aber trotzdem kann der moderne Mensch den Neandertaler ausgerottet haben, wie einige Anthropologen meinen. Oder er wurde ohne Blutvergiessen nach und nach verdrängt, da er nicht so anpassungsfähig war. Genau wird man es vermutlich nie erfahren, warum die Neandertaler ausgestorben sind, aber ein Teil lebt ohnehin in uns weiter.
Allerdings haben die Studienautoren schon 2020 eine komplett gegenteilige Entdeckung gemacht. Ein anderes Gen, das von den Neandertalern stammt, ist für einen schwereren Verlauf der Covid-19 Erkrankung verantwortlich. 50% der Menschen in Asien und 16% der Europäer sollen dieses Gen tragen.
Erinnert frappant an Chartanalysen, die ja auch vorhersagen, dass es entweder rauf- oder runtergeht!
Apropos: Statt sinnlose absolute Inzidenzzahlen zur Begründung der Lockdownverlängerung zu Rate zu ziehen (denn die hängen stark davon ab, wieviel getestet wird), könnte man doch Chartanalysen der Infektionszahlen machen, die wären vermutlich aussagekräftiger!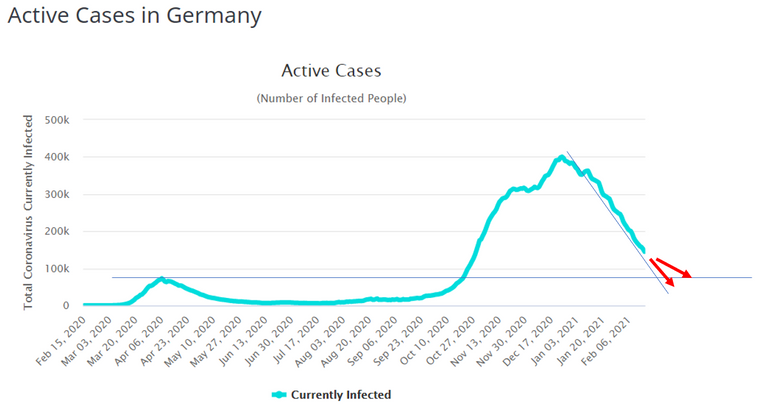 Auch Infektionszahlen-Trading wäre doch was, ähnlich wie es bei Wahlen Vorhersageplattformen gibt, wo man auf die aussichtsreichsten Kandidaten setzen kann! Wer setzt einen Lockdown-Token auf? Je länger der Lockdown, desto mehr wird er wert! Ach den gibts ja schon, nennt sich Bitcoin :)
Quellen:
https://www.pnas.org/content/118/9/e2026309118
https://www.businessinsider.de/wissenschaft/ein-gen-das-wir-von-den-neandertalern-geerbt-haben-schuetzt-viele-von-uns-vor-einem-schweren-covid-19-verlauf/
https://www.planet-wissen.de/geschichte/urzeit/der_neandertaler/pwiewarumstarbderneandertaleraus100.html