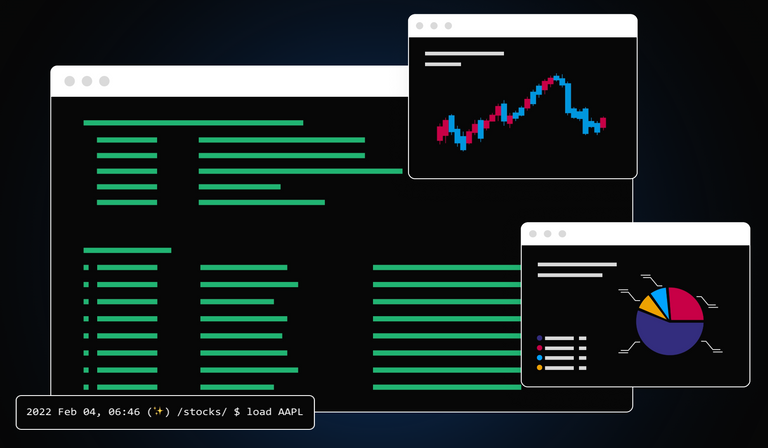 Ever wondered where do professional traders and hedge funds get their data from? To make an educated investment decision, one must be able to see nooks and crannies of their asset. You would often see a terminal style picture on social media showing some plots of an asset. The terminal is famously called as the Bloomberg terminal. Yes, it is a paid service and not a cheap one! You would have to pay around 30000$ to get access to the terminal. Funnily enough, the data on the Bloomberg terminal is not coming from some kind of secret server, the data is out there in the public domain. The customer pays for organization and visualization of the data.
Up until now a retail investor did not have the right sources in hand. But now an amazing tool has been released and its name is OpenBB. It is till one of the best investment research platform out there for retail. Why the best? First, it is open source. Second, it collects all publicly available data of an asset in one place. Last but not least, it is available to everyone for free!
The upgraded version of OpenBB terminal was launched last week and I am impressed by what the developers have achieved in such a short span of time. Check out their launch video to hear from the developers themselves. They have also added various machine learning and AI models.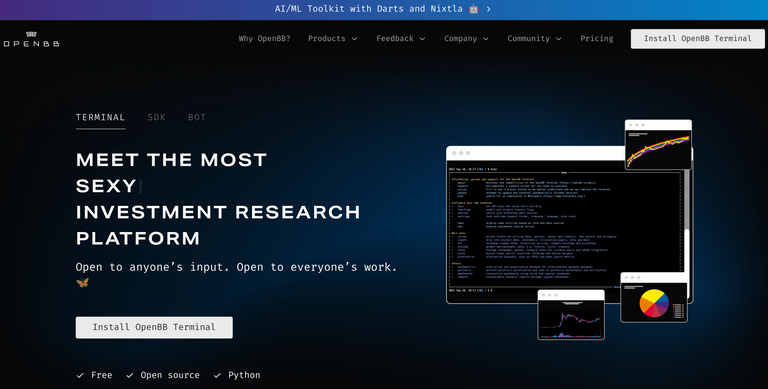 The OpenBB terminal currently offers Terminal, SDK, and Bot. The terminal is the easiest to get started on. If you are developer with knowledge of jupyter notebook, try out their SDK. The bot is to share your market analysis to the groups.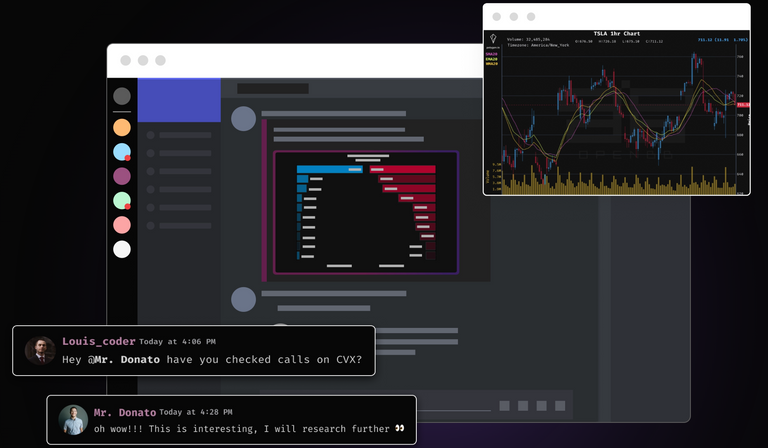 Have an amazing weekend! 😇
---
Deutsch (Übersetzt mit www.DeepL.com/Translator)
Haben Sie sich jemals gefragt, woher professionelle Händler und Hedge-Fonds ihre Daten beziehen? Um eine fundierte Anlageentscheidung treffen zu können, muss man in der Lage sein, alle Ecken und Kanten eines Vermögenswertes zu sehen. In den sozialen Medien sieht man oft ein Bild im Stil eines Terminals, das einige Diagramme eines Vermögenswerts zeigt. Das Terminal ist bekannt als Bloomberg-Terminal. Ja, es ist ein kostenpflichtiger Dienst und kein billiger! Um Zugang zum Terminal zu erhalten, müssen Sie rund 30000 Dollar bezahlen. Lustigerweise kommen die Daten auf dem Bloomberg-Terminal nicht von einem geheimen Server, sondern sind öffentlich zugänglich. Der Kunde zahlt für die Organisation und Visualisierung der Daten.
Bis jetzt hatte ein Kleinanleger nicht die richtigen Quellen zur Hand. Aber jetzt wurde ein erstaunliches Tool veröffentlicht und sein Name ist OpenBB. Es ist bis heute eine der besten Investment-Research-Plattformen für Kleinanleger. Warum die beste? Erstens ist es quelloffen. Zweitens sammelt es alle öffentlich verfügbaren Daten zu einem Vermögenswert an einem Ort. Und nicht zuletzt ist es für jeden kostenlos verfügbar!
Die aktualisierte Version des OpenBB-Terminals wurde letzte Woche vorgestellt, und ich bin beeindruckt von dem, was die Entwickler in so kurzer Zeit erreicht haben. Schauen Sie sich das Video zur Einführung an, um von den Entwicklern selbst zu hören. Sie haben auch verschiedene Modelle für maschinelles Lernen und KI hinzugefügt.
Das OpenBB-Terminal bietet derzeit Terminal, SDK und Bot. Das Terminal ist am einfachsten zu bedienen. Wenn Sie Entwickler mit Kenntnissen des Jupyter Notebooks sind, sollten Sie das SDK ausprobieren. Der Bot dient dazu, Ihre Marktanalysen mit den Gruppen zu teilen.
Ich wünsche euch ein tolles Wochenende! 😇
---
The content above is for educational purposes only. It is not a financial advice.