Hello @Hivers,
As we are all aware, the use of herbal medicines continues to expand rapidly across the globe with many people resorting to herbal products for the treatment of various health challenges. In recent time, I have read several write up discussing plants and their health benefit. Indeed many medicinal plants such as Jatropha curcas, Rauvolfia vomitoria, Amblygonocarpus andogensis, Piper guineense and others have been reported to be beneficial for the treatment of wide-range of diseases. Here, I will talk about Piper guineense; a west Africa black pepper which has been ascertain to confer enormous health benefit and traditionally/scientifically identified for the management of psychosis and other related diseases.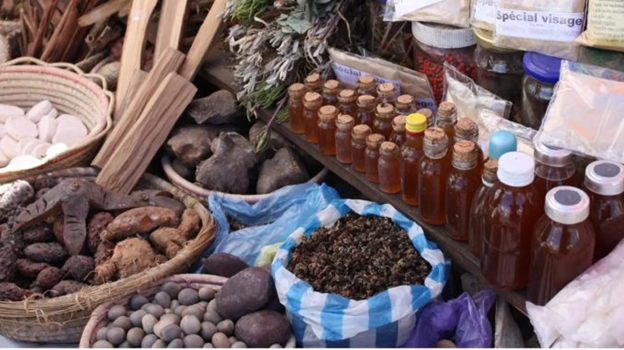 Fig 1: Traditional Medicine Store
Introduction
Description of Piper guineense
Piper guineense, regionally Known as "West African Black Pepper", is an herbaceous climber normally found in the African tropical forest zones, with hundreds of species spread in tropical regions of the world. It is also called Ashanti pepper, Guinea cubeb, Benin pepper, and Bush pepper. It belongs to the plant family Piperaceae and somewhat cultivated in Southern Nigeria, where the leaves and seeds are used to flavor soup. The fruits of Piper guineense are rich in a wide range of natural products such as volatiles oils, lignans, amides, alkaloids, flavonoids and polyphenol. I am familiar with the plant since my childhood. As a child we do collect the seed, dry and sell it in order to make extra money while working on farm. I have also witnessed the traditional use of it leaves, roots, seeds and stem back in curing some common diseased such a fever, boil and several others that I will later mentioned. The fruits from this plant is sacred to the extent that it finds it uses in core folklore medicine and in preparation of numerous traditional concussions by the traditionalist (Herbalist).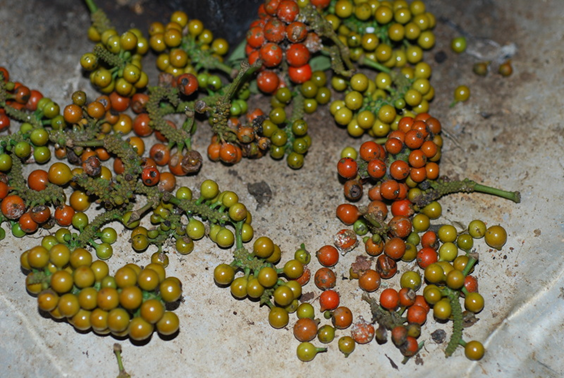 Fig 2: Fresh fruit of Piper guineense
Anti-psychotic uses of Piper guineense
Psychosis is a severe mental ailment pigeonholed by several symptoms affecting thought, emotion, perception, volition and the over-all wellbeing of the victims. It is characterized by hallucination, depression, anxiety, sleep disturbance, thought disorder, delusion, social withdrawal and reduced role functioning. Medically, psychotic brain suffers insufficient development of cell and the neuronal processes of schizophrenic nerve cells, leading to reductions in the thickness of the cortex. In Africa, Psychosis are habitually managed by traditional medical practitioners, who deployed varieties of medicinal plants.
Piper guineensea reputable medicinal plant used in folk medicine for the treatment of mental illnesses in Nigeria. It has a wide range of uses including flavoring of soups, medicinal, cosmetic and insecticidal applications. It is also traditionally used for the treatment of illness closely associated with the central nervous system (CNS).
Preparation and Extraction
Just as findings have reported ethanolic extracts of the fruits of Piper guineense and that of its essential oil to possessed antipsychotic effects. Traditionally, the seed of Piper guineense are been used for Psychotic treatment by either sun dry or air dry the seeds depending on how soon is to be used. The dried seeds are pulverized to a coarse powder, which is then soaked into either ethanol or water for 72 hours or more. The mixture is allowed to settled with the filtrate on top. The filtrate is then administered to Psychotic patient.
Scientifically, the use of the extract of Piper guineense has been reported to significant cause retardation on rearing, locomotion activity and reduced head dips in hole boards, thus adding credence to the CNS depressant effect of the plant. Similarly, the essential oil of Piper guineensis also exhibited good hypothermic and sedative activities by decreasing rectal temperature with increasing total sleeping time. The anti-psychotic effect of the essential oil was established by its capability to prompt catalepsy and attenuating apomorphine induced climbing behavior.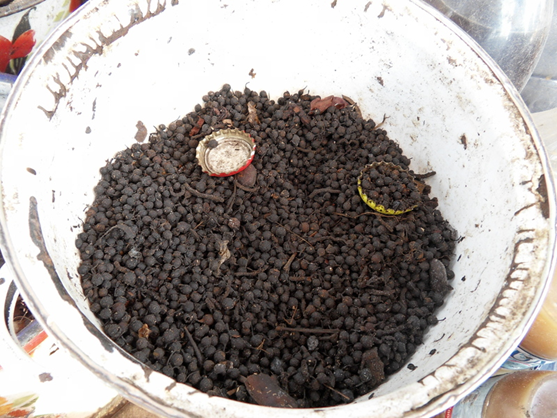 Fig 3. Dried fruits of Piper guineense
Some Active compound in Piper guineense
Wide range of active compounds has been reported in west Africa black pepper. This include: Myristicin, Safrole, Sarisan, Elemicin, β-pinene, α-pinene, Germacrene-B, D-Limonene, Caryophyllene, Car-3-ene, 1,8-cineole, γ-terpinene.st
Other health benefit
Africa black pepper has been reported to be useful in the treatment of different medical conditions including catarrh, fever, chest pains, boils, bronchitis, coughs, dyspepsia, impotence, insect repellant, uterine fibroid, wounds, stomach aches, lumbago and rheumatism.
The roots are used as for aphrodisiac, colds and respiratory diseases. Findings have reported that a mixture of leaves, roots and fruits when incorporated can be used for the treatment of infectious diseases and can also serve as antibacterial agent. In Nigeria, the leaves are used for womb contraction, a pre-labor stimulation process.
Final Remarks
Aside the anti- psychotic effect of the fruit of Piper guineense, it leaves are gives a peppery flavor to soups while the seeds give African dishes a spicy flavor. In most remote African community, it used by women for shrinking the uterus back to its original size. The leaves and seeds are rich in vital nutrients such as protein, carbohydrates, calcium, magnesium, potassium, lipids, iron and sodium. Extract from Piper guineense contain antioxidants such piperine and other phytochemicals. However, just like every other medicinal plant, caution should be taken when utilizing Piper guineense for medicinal purposes.
I hope you enjoy reading it. Thanks
References
http://tropical.theferns.inf /viewtropical.php?id=Piper+guineense
Abdulwakeel Ayokun-nun Ajao, Afolakemi Abibat Alimi, Olusanya Abiodun Olatunji, Fatai Oladunni Balogun & Sefiu Adekilekun Saheed (2017): A synopsis of anti-psychotic medicinal plants in Nigeria, Transactions of the Royal Society of South Africa.
OYEDEJI, A.O. & AKANMU, M.A. 2015. Psychoneuropharmacological activities and chemical composition of essential oil of fresh fruits of Piper guineense (Piperaceae) in mice. Journal of Ethnopharmacology 166:240–249.