Wonderful Hive community day!
How many of us have not bought personal hygiene products and do not really know what it contains
We buy a shampoo of recognized brand, fabulous smell and spectacular consistency and it turns out that it causes us some allergic reaction
Much of this is due to the chemical components that are used in its manufacture.
For this reason, natural products are an excellent alternative and they also protect the environment.
It is really important to know what products we consume and their effects on our health.
Here I bring you some toxic components of traditional cosmetics so that they are attentive to the labels


Maravilloso dia comunidad de Hive!
Cuantos de nosotros no hemos comprado productos de higiene personal y no sabemos realmente que contiene
Compramos un shampoo de marca reconocida, olor fabuloso y consistencia espectacular y resulta que nos causa alguna reaccion alergica
Mucho de esto se debe a los componentes quimicos que se utilizan para su fabricación.
Por ello los productos naturales son una excelente alternativa ademas cuidan el medio ambiente.
Realmente es importante conocer que productos consumimos y sus efectos en nuestra salud.
Aqui les traigo algunos componentes toxicos de la cosmetica tradicional para que esten atentos a la etiquetas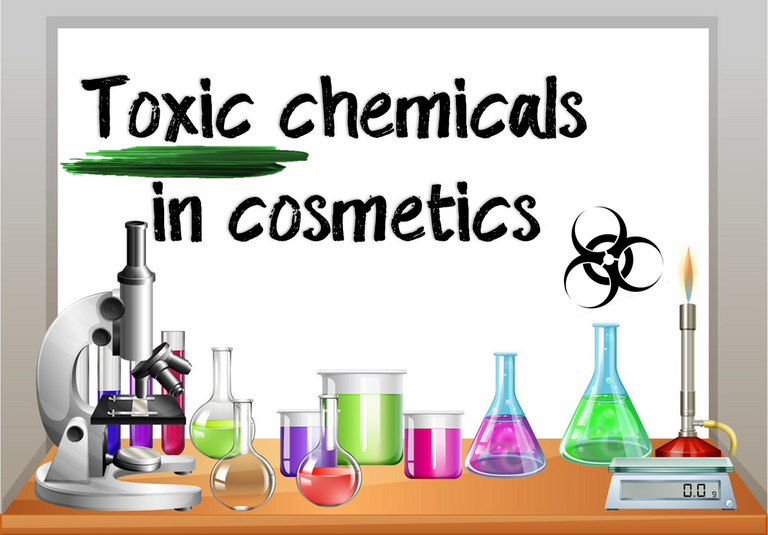 All the names are INCI, we can read them in any language
Todos los nombres son INCI, los podemos leer en cualquier idioma
** Detergent agents: **
Sodium Laureth Sulfate
Sodium Lauryl Sulfate
Sodium Myreth Sulfate
Ammonium Lauryl Sulftate
Products:
Gels, shampoo, toothpastes
Effects
They are very irritating
Aluminum
Aluminum Chloride
Aluminum Chlorhydrate
Aluminum Chlorohydres
GLY
Zirconium Trichlorohydrex
Products:
They are found in deodorants and antiperspirants
Effect
Alters the functioning of the hormonal system
** Amines DEA MEA TEA **
Diethanolamine
Monoethanolamine
Triethanolamine
Use
PH regulators
Effects
They are carcinogenic, can cause allergic reactions and dry skin
** Preservatives **
Phenoxyethanol or Rose Ether
Methylchloroisothiazolinone
Methylisothiazolinone
Effects
Toxic to the immune system, irritable and causes allergic reactions
** PEG and PPG derivatives **
Acronyms PPG PEG, followed by a number and ending –eth: Ceteareth-, Ceteth-, Cetholth, Poloxamer 407
Applications
They are emollients and emulsifiers in bath gel, soaps, wet towels, sunscreen
Effects
They are carcinogenic
** Derived from petroleum and silicones **
Mineral oil
Petrolatum
Paraffin
Silicone Quaternium
Vaseline
Ceresin
Microcristaline wax
Applications
Creams, Vaseline, Masks, Shampoo, Conditioner
Effects
Plug the skin

Agentes detergentes:
Sodium Laureth Sulfate
Sodium Lauryl Sulfate
Sodium Myreth Sulfate
Ammonium Lauryl Sulftate
Productos:
Geles, shampoo, dentrificos
Efectos
Son muy irritantes
Aluminio
Aluminium Chloride
Aluminium Chlorhydrate
Aluminium Chlorohydres
GLY
Zirconium Trichlorohydrex
Productos:
Se encuentran en Desodorantes y antitranspirantes
Efecto
Altera el funcionamiento del sistema hormonal
Aminas DEA MEA TEA
Dietanolamina
Monoetanolamina
Trietanolamina
Uso
Reguladoras de pH
Efectos
Son cancerígenas, pueden causar reacciones alérgicas y resecar la piel
Conservantes
Phenoxyetanol o Rose Ether
Methylchloroisothiazolinone
Methylisothiazolinone
Efectos
Tóxicos para el sistema inmune, irritable y origina reacciones alérgicas
Derivados PEG y PPG
Siglas PPG PEG, seguidas con un numero y terminacion –eth: Ceteareth-, Ceteth-, Cetholth, Poloxamer 407
Usos
Son emolientes y emulgentes en Gel de baño, jabones, toallas húmedas, protector solar
Efectos
Son cancerigenos
Derivados del petróleo y siliconas
Mineral Oil
Petrolatum
Paraffin
Silicone Quaternium
Vaseline
Ceresin
Microcristaline wax
Usos
Cremas, vaselinas, mascarillas, shampoo, acondicionador
Efectos
Taponan la piel

There are many more, but these are the common ones, if you have doubts you can visit INCI
Son muchos mas, pero estos son los comunes, si tienes dudas puedes visitar INCI
Knowledge is power, it allows us to have a conscious command of our surroundings, also to be responsible in this case, for the substances that we put in our body
El conocimiento es poder, nos permite tener un dominio consciente de nuestro alrededor, también ser responsables en este caso, de las sustancias que ponemos en nuestro cuerpo