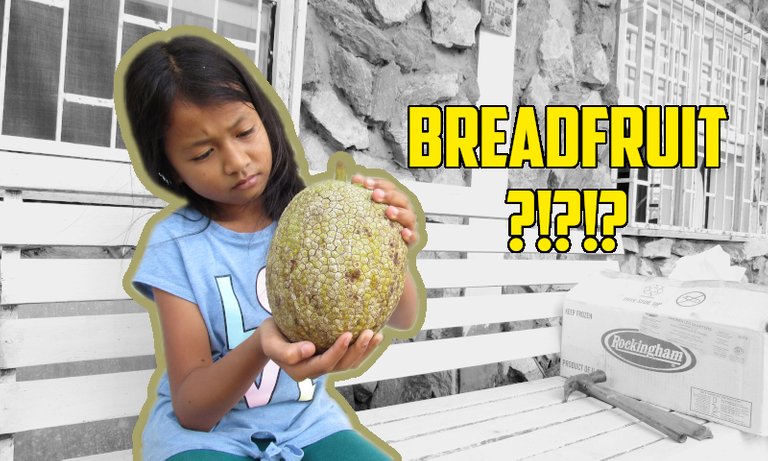 With our new life in Suriname, I've had the opportunity to introduce the Cambodian family to my favorite fruit.

🍈 What Is Breadfruit? 🙋

     As we are a diverse group from all corners of the globe, some of you may not be familiar with breadfruit (Artocarpus Altilis). Jackfruit belongs to the Moraceae family, sometimes known as Mulberry, but what more of you may be familiar with is the genus Artocarpus.
     The Artocarpus genus contains the much more internationally known jackfruit. Jackfruit, the world's largest tree-born fruit, is quickly becoming a popular vegan meat substitute, and is very common throughout SE Asia. Being in the same genus, there are some striking similarities between these two fruits.
     The most notable and visible difference between the two fruits are breadfruit's lack of spikes on the fruit exterior. From a distance the two fruits could be easily confused for one another.
     Breadfruit is most widely know in the Caribbean as well as the South Pacific, although it's seedless variety has been widely cultivated in the Caribbean for over 200 years, and has come to be what most folks commonly know as "breadfruit."

💃🏿 Ya Waan' Breadfruit? 🍈

     Just for I thought I would search for a breadfruit song on YouTube, and sure enough, I found one. I assumed there would be an old reggae song from the 70s about breadfruit, but I only found a modern dancehall tune.
     Definitely not my type of music, and I wouldn't endorse the sexually charged dancing style. Regardless, it's worth a watch to understand how important breadfruit is to Jamaicans. It's somewhat common in Suriname, but nothing compares to JA!
     "Roast or fry roast or fry," as the song says, are pretty much the only two ways to eat this literally bread-like fruit. The best, in my opinion, is to roast then fry, and that is how I prepared it for the family to try.

🍈 Tracking It Down In Cambodia 🙋

     Long before we arrived in Suriame, I once told @Sreypov about breadfruit while we were living in Cambodia. I mentioned it because I had been driving around the outskirts of town and swore I passed two young fruitless trees.
     I took Sreypov back to the site, and she said she thought it was something called "soup jackfruit" in Khmer, but without having visible fruit, she wasn't 💯% sure. We left Cambodia without ever confirming whether or not "soup jackfruit" was indeed breadfruit.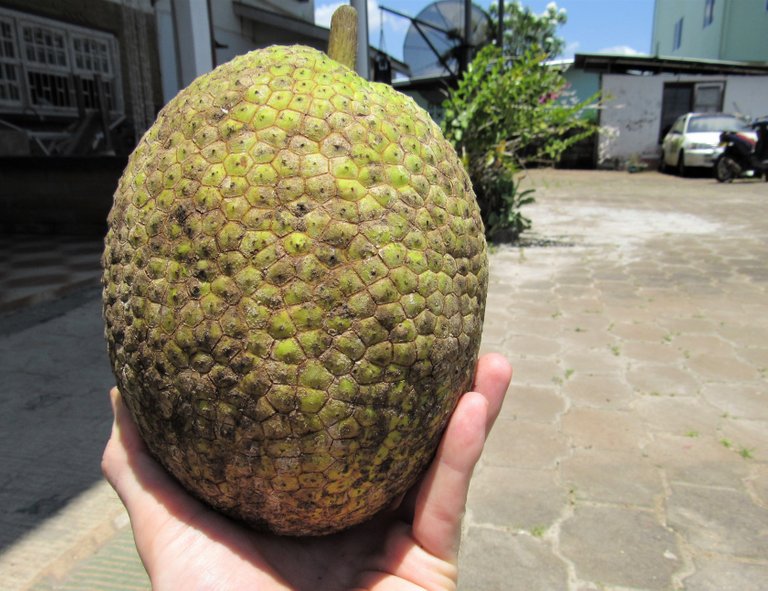 Me holding a breadfruit in Suriname
     I recently had some free time and decided I would do some research using the Latin name of breadfruit while searching for existence in Cambodia. I stumbled upon the name "ផ្លែសាកេ" (plae saakee) in Khmer, and that new name quickly led to some cool discoveries.
     Sreypov began searching all over Facebook in Khmer for any results. Strangely enough, we stumbled upon a Khmer woman in our old town who happened to have a breadfruit tree in her yard. Apparently it's not well-known in Cambodian cuisine, not highly desired at markets, and therefore not grown much.
     Breadfruit in Cambodia is most commonly prepared as a dessert, just as in the video below. So strange we never encountered breadfruit in all of our combined years in Cambodia. Our former town, Kampot, is actually famous for durian and jackfruit, so I guess there's no room for the humble breadfruit.

🔬 The Health Benefits 💪

     Breadfruit trees can reach 26 meters in height, and are found scattered throughout Suriname and the wider Caribbean. You will see below that breadfruit is a great source many vitamins, micronutrients and Omega-3 and 6 fatty acids.
Nutrition Facts

1 cup fruit, raw (220g)

Calories - 227
very low in saturated fat, sodium and cholesterol
excellent source of fiber, potassium and vitamin C
| Amount per serving | % DV |
| --- | --- |
| Total Fat 0.5 g | 1% |
| Cholesterol 0.0 mg | 0% |
| Sodium 4.4 mg | 0% |
| Total Carbohydrates 59.7 g | 20% |
| Protein 2.4 g | 15% |
| Total Omega-3 Fatty Acids 39.6 mg | |
| Total Omega-6 Fatty Acids 106 mg | |
| Vitamin C 63.8 mg | 106% |
| Potasssium 1,078 mg | 31% |
| Thiamin 0.2 mg | 16% |
| Magnesium 55 mg | 14% |
| Vitamin B-6 0.2 mg | 11% |
| Niacin 2.0 mg | 10% |
| Pantothenic Acid 1.0 mg | 10% |
| Copper 0.2 mg | 9% |
| Folate 30.8 mcg | 8% |
| Manganese 0.1 mg | 7% |
| Iron 1.2 mg | 7% |
| Calcium 37.4 mg | 4% |
| Riboflavin 0.1 mg | 4% |
| Selenium 1.3 mcg | 2% |
| Zinc 0.3 mg | 2% |
| Vitamin K 1.1 mcg | 1% |
| Vitamin E 0.2 mg | 1% |

👨🏻‍🍳 Let's Prepare It 🔥

     I wanted to show the family the Jamaican way of preparing and eating breadfruit. Normally, a wood fire is the best way to roast breadfruit, but if you've only got one fruit and you're in a hurry, the stove can get the job done.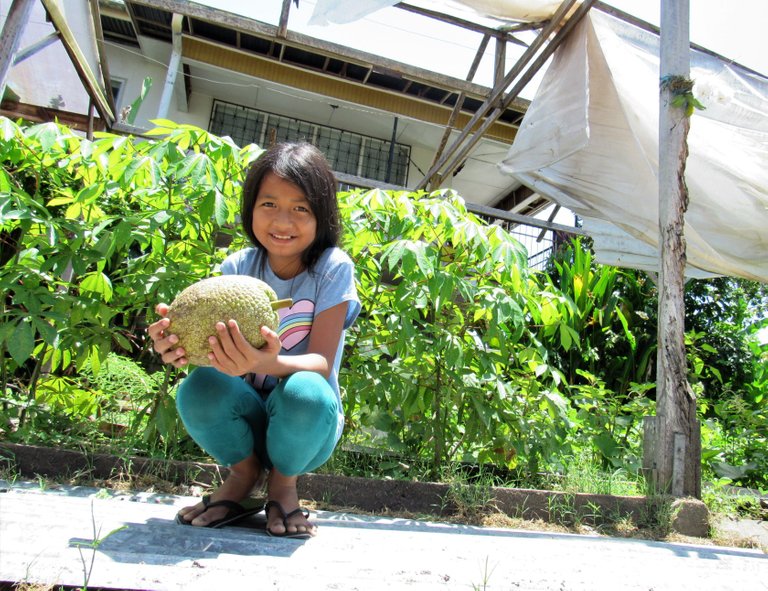 Srey Yuu now enthusiastic to try it
---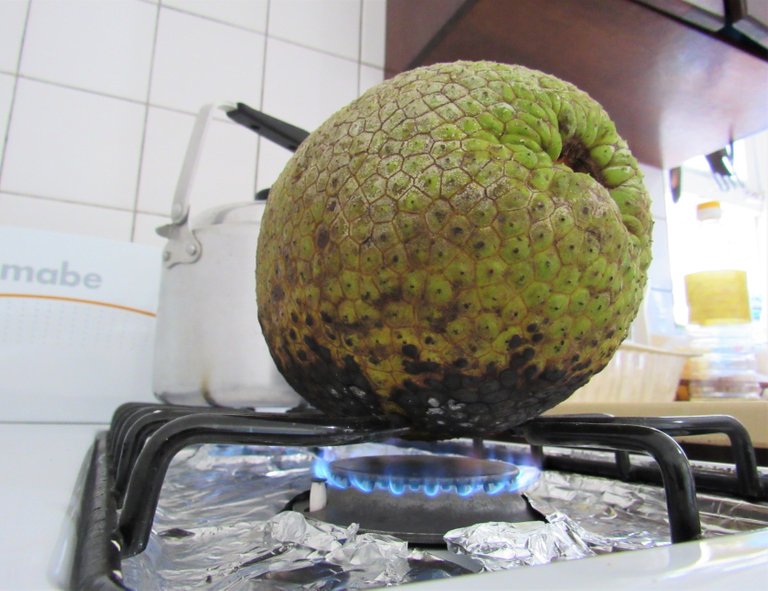 STEP 1
     Carve an 1-2cm X into the bottom of the fruit to allow steam to escape.
     With a low-medium flame, place the washed and dried breadfruit directly on the stove.
---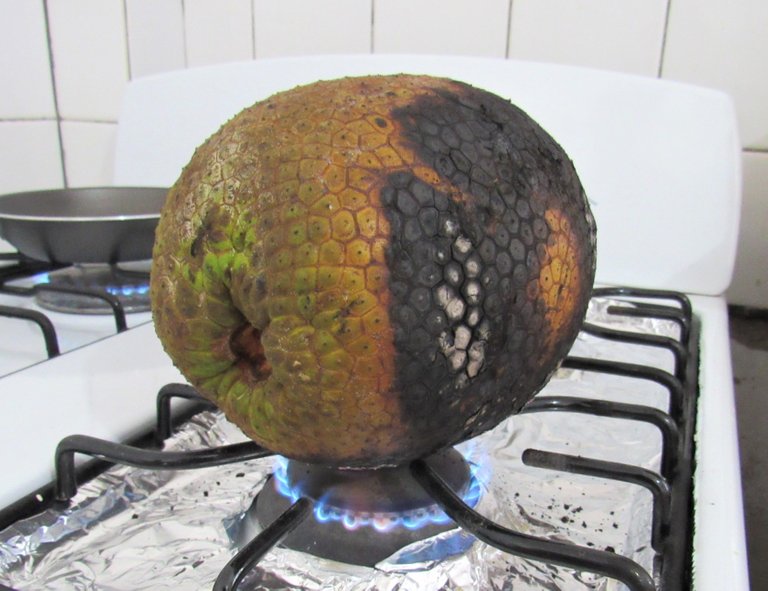 STEP 2
     Roast the breadfruit on a low-medium flame, turning every 10-15 minutes.
     It may take as long as 1 or 2 hours cook completely, it depends on the size of the fruit and your flame or roasting method.
---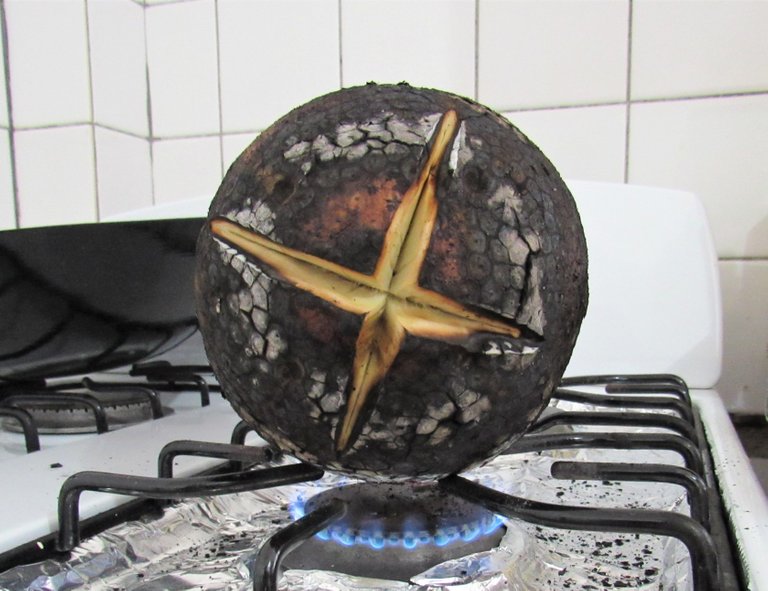 STEP 3
     Roast, roast, roast, and when you think you're done roasting, roast some more.
     Roast all sides until the whole fruit is blackened and the steam has subsided.
     Notice the carved "X" now exposed by the shrinking fruit.
---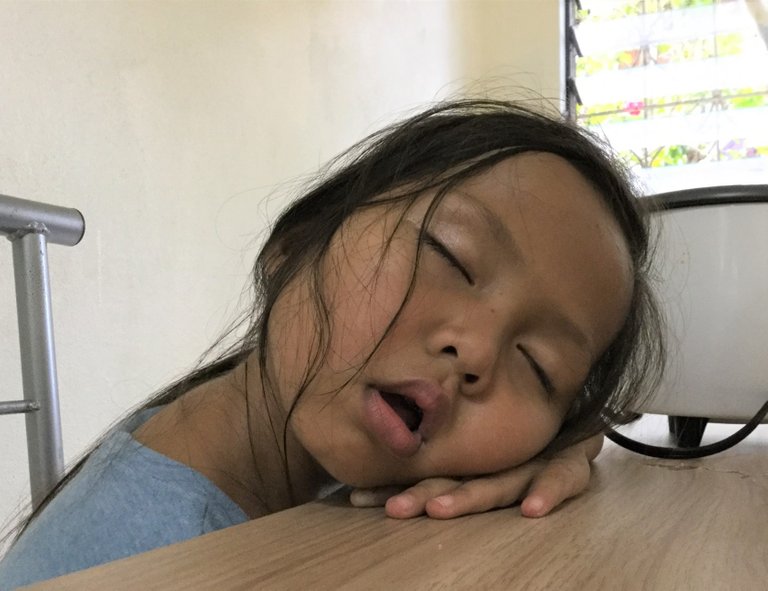 STEP 4
     When the breadfruit is fully cooked, turn off the stove and transfer the breadfruit to a suitable cooling area.
     Relax, take a nap, the breadfruit will be too hot to handle for quite awhile.
---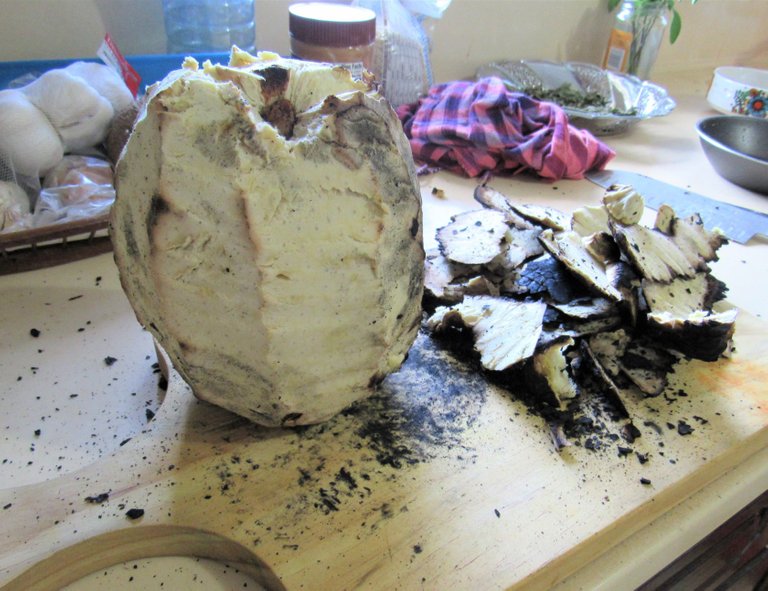 STEP 5
     When the breadfruit is cool enough to handle, begin slicing off the burnt skin to reveal the cooked fruit.
     Continue cutting away all the charred skin until you have a carbon-free fruit.
---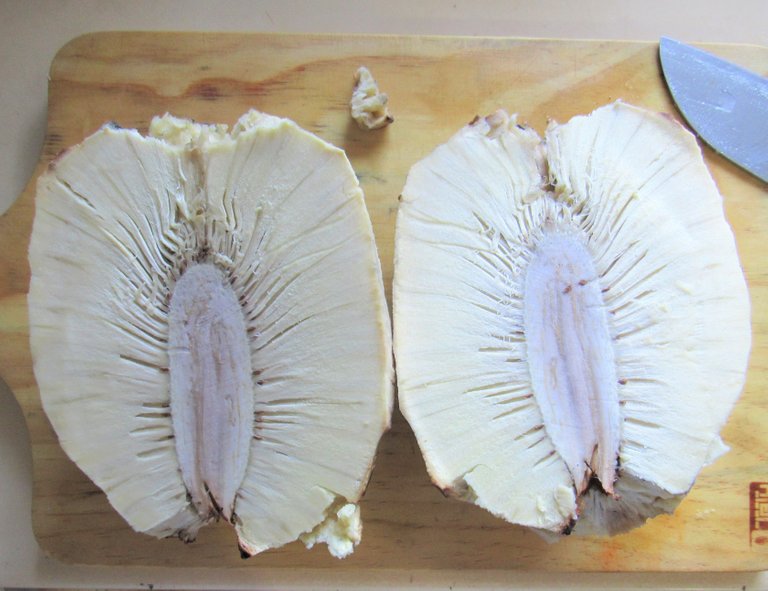 STEP 6
     Halve the fruit and cut away the inner seed pods.
     Notice it is structured internally a bit like a jackfruit.
---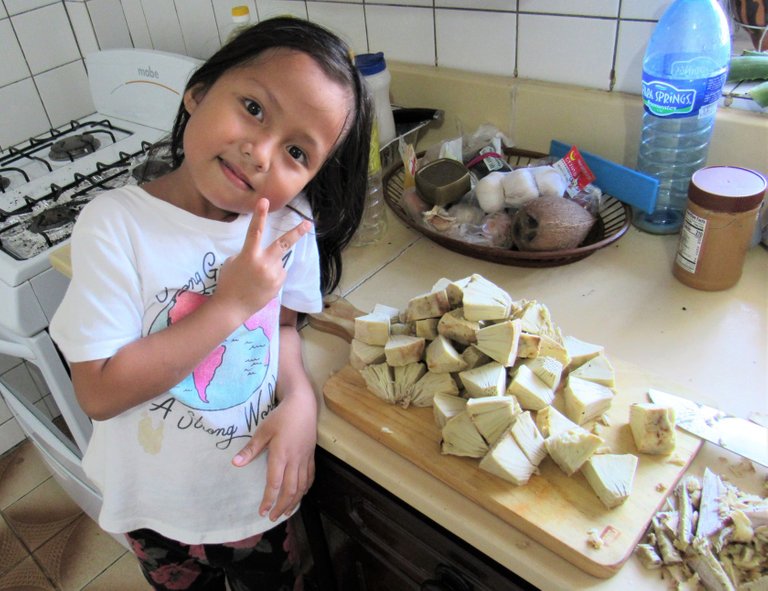 STEP 7
     Cut the remaining fruit into triangluar wedges to prepare for frying.
     Begin heating a small shallow pan of oil with a medium flame.
     If you can afford it, frying in coconut oil is the most delicious.
---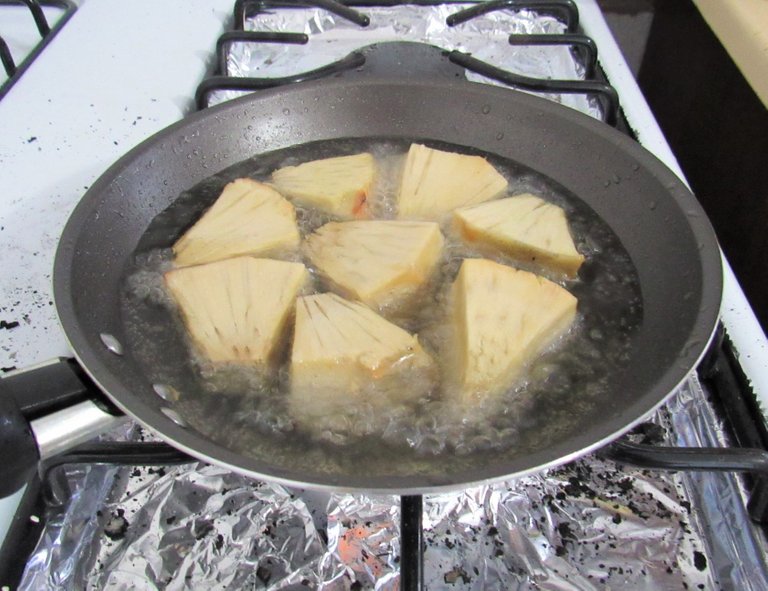 STEP 8
     Begin frying the breadfruit pieces in small batches, turning once during cooking.
     Fry all pieces until golden-brown, and transfer to a paper towel to absorb some oil and cool down.
---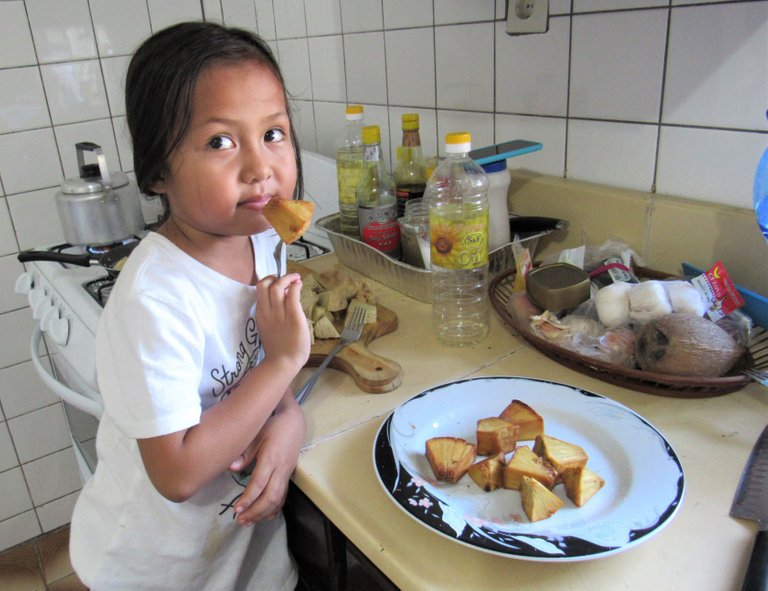 STEP 9
     When cool enough to eat, eat immediately. Fried breadfruit isn't going to get more delicious with time.
     Try to let enough cooling occur so you can avoid burning the roof of your mouth.

     Even though the wait is long, it is well worth it. The whole family now loves this incredible fruit, and we try buy a breadfruit at least once a month. It is truly bread-like, especially if you eat it after roasting without frying.
     In this non-fried form, it is very spongy and soft, and very good for soaking up curries. It can be used very similar to idlis, and is delicious alongside a spicy sambar.

REFERENCES
"Moraceae." botany.hawaii.edu: Department of Botany - University of Hawai'i at Mānoa. Web. 17 May 2020. http://www.botany.hawaii.edu/faculty/carr/mor.htm (link is external)
"JACKFRUIT Fruit Facts." crf.org: California Rare Fruit Growers, Inc. Web. 17 May 2020. https://www.crfg.org/pubs/ff/jackfruit.html (link is external)
"Breadfruit." ag.purdue.edu: Purdue University - College of Agriculture. Web. 17 May 2020. https://www.hort.purdue.edu/newcrop/morton/breadfruit.html (link is external)
"Breadfruit, raw Nutrition Facts & Calories." nutritiondata.self.com: SELF Nutrition Data - Know What You Eat. Web. 17 May 2020. https://nutritiondata.self.com/facts/fruits-and-fruit-juices/1857/2 (link is external)

🙏 THANKS FOR READING 🙏
If you enjoyed this post, please upvote and reblog.

WE PROUDLY SUPPORT
@themarkymark
@joshman
@canadian-coconut