As advanced as technology and research in science are, there still remains a whole lot of things that remain a mystery to man and all his brilliance. When it comes to health and the well-being of man, a host of ill-healths exist whose origin remains a major illusion in the medical world. These diseases are mostly non-pathogenic, that is, they are caused by factors different from pathogens, the disease-causing organisms.
Up till today, There are several theoretical assumptions about what actually causes cancer, but none of these has any solid and scientifically plausible evidence. Virtually everything has been linked to cancer. From what we eat to what we say and even to what we wear. You can observe all the precautions against cancer and still come down with the abnormality.
In a similar vein, what causes the appendix of some people to inflame and results in what is medically known as appendicitis remains a medical mystery. Most of the theories as to what causes it remains at best, mere hypotheses. Most ulcer forms have been found to be associated with a bacterium known as Helicobacter pylori but that is just about the closest they have got, the primary cause remains largely unclear.
In all these, what if someone just knocks on your door and tells you that the solution to your ill-health which has defied all forms of treatments - traditional and modern medicine inclusive - is to start walking bare-footed? It might sound entirely ridiculous but research has shown that there are several benefits to it.
I grew up in what can be classified as a ghetto back then, although it has since become a semi-urban city. Walking bare-footed was a norm back in the days and only the children of elites wear footwear while playing within the vicinities of our homes. Many of us only remember our footwear when we are going out on special occasions. In other words, we all considered wearing slippers or any form of footwear within the vicinities of the home a bougie lifestyle.
Without debate, the primary purpose of putting on shoes is to protect the feet, and rightly so. Walking barefooted may expose one to mechanical injuries as well as infection by disease-causing organisms. Beyond this, however, the phenomenon of wearing shoes has evolved beyond just protection to aesthetics. A beautiful shoe also beautifies its wearers, that is a popular saying in my hood.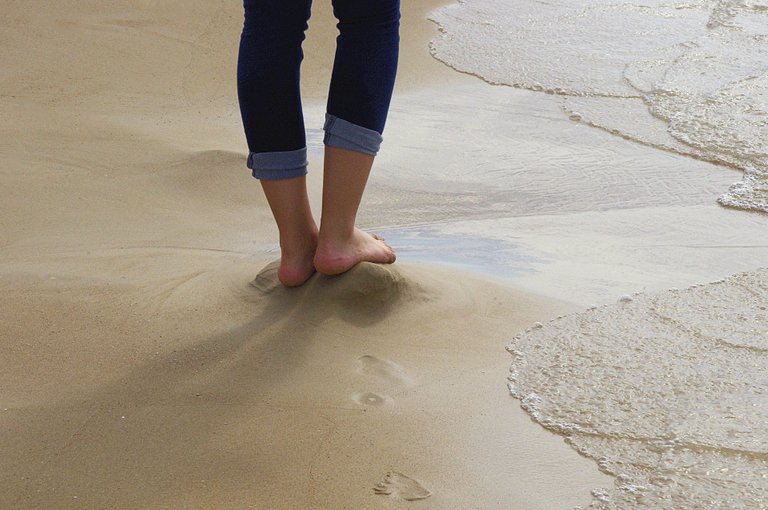 source: public domain pictures
Constantly walking with shoes might make one's walking pattern to be unnatural. In other words, barefoot walking has been theorized to have the tendency to restore the natural walking pattern of an individual. Walking in shoes excessively can also limit the development of certain leg muscles which have the tendency to affect the entire body, especially the lower back region.
Perhaps one of the most important, yet overlooked aspects of walking barefooted is that it serves as a channel that connects the body to the earth. The body is considered to be an electrical system and just as connecting an electrical system to the earth benefits the system, connecting the body to the earth has also been found to be of immense benefits to the body. It has been implicated in inducing better moods, sleep, and even relieve some pains.
The heart of humans contracts through electrical impulses generated by pacemaker cells. The impulses are generated at intervals and this results in the regular heartbeat that we often experience. Apart from the heart, the entire body of humans and higher animals is powered by nerves that act as wires for the transfer of information. The charges required to activate the system are generated from the body's electrolytes.
When the human body is connected to the earth, there is a constant exchange of energy between the two systems and this has been reported to make the body function maximally. The free electron the earth posses has been reported to have antioxidant as well as the capability to burst free radicals in the body.
Another benefit of earthing can be seen in the research of Karol Sokal and his colleagues in 2011 during which they set out to find out the effects of earthing, if any, on certain body's physiological processes such as calcium-phosphate homeostasis, endocrine, and nervous system as well as general metabolic activities. The effects were not just found to be positive but also significant.
Conclusion
Walking barefooted might be a good and natural way to make your body get rid of what could have otherwise cause health-related issues. The action connects the body to the earth and also develops some muscles in the leg that could benefit the natural walking pattern as well as the lower back muscles. However, caution should be observed in walking barefooted because of mechanical injuries and infections by pathogens.
Thank you all for reading.
Resources